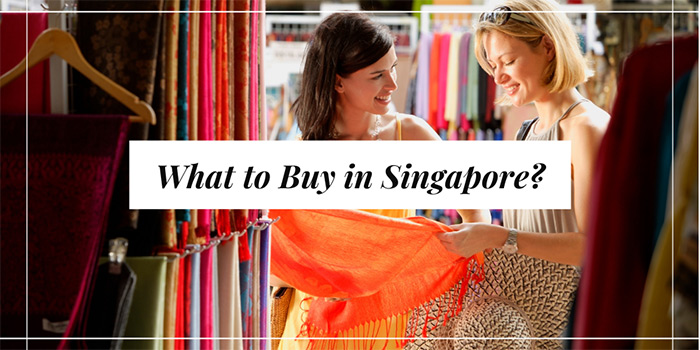 "The complete summary of the best things to buy in Singapore."
Shopping in Singapore
You might be wondering what to buy in Singapore? This is a common question that visitors to Singapore ask. Every time that you go to a new country or destination, you want to know what are the best local products and what are the cheapest. For example, Davao City in the Philippines is famous for durian, whereas Jakarta in Indonesia is known for its batik and wood carvings. Different places around the world specialize in unique products and foods that are simply the best if you can get them right at the source. 
Fortunately, Singapore is no exception. 
Like some major cities around the world, Singapore has an extensive selection of shopping malls to choose from. This means that regardless of which hotel you decide to stay at, you should be able to access malls using public transport such as the MRT and bus network. Singapore has malls catering to budget travellers and many luxury options that attract affluent shoppers. 
In addition to malls, expect to find a healthy range of local markets. These tend to offer rock-bottom prices on low-priced products. Food markets in Singapore are also considerably cheaper than typical restaurants. 
In this article, we will outline what to buy in Singapore. Our goal is to make sure that you have a thorough understanding of what popular products are and where to buy them.  Hopefully, this will make your time in the city even more enjoyable.
---
The Best Things to Buy in Singapore
1. Singapore Sling – the most famous drink in the city!
It is hard to read a travel guide for Singapore without hearing about enjoying a famous 'Singapore Sling.' This is a gin-based sling cocktail that was first developed before 1915 by bartender Ngiam Tong Boon at the Long Bar in Raffles Hotel in Singapore.
There is no better place to try out a sling than in Raffles Singapore, where it was first invented. Although there are now modern variations of the Singapore Sling, key ingredients include gin, cherry brandy and one each of orange, pineapple, and lime juice. 
Expect to pay around $30 Singapore dollars for a Sling. Not the cheapest drink in the city, but a must-try before you leave!
---
2. Tiger Balm – got a stiff neck?
Wondering what to buy in Singapore if you have a stiff neck or muscle pain?
Well, Tiger Balm by Haw Par Corporation might just be the fix that you need. If you have never tried some of the Tiger Balm products, you should. They create a deep burning sensation that helps alleviate muscle pain. 
The convenient thing about buying Tiger Balm is that you can find it all over Singapore. Convenient stores, pharmacies and department stores are familiar places to purchase this product line. 
---
3. Buy some Ya-Kun Kaya Spread in Singapore 
If you have visited other malls in other cities such as Jakarta, then you have probably seen some vendors selling Singapore 'kaya' toast. Kaya toast is made up of coconut jam that is composed of sugar, coconut milk, eggs, pandan, and often margarine or butter.
Ya-Kun Kaya Spread has become very popular amongst Singaporeans and Malaysians. 
This is the perfect thing to try for breakfast or a snack while in the city. If you don't get the chance to try it, consider buying it at the airport before you leave Singapore. It also makes for an excellent gift for family and friends.
---
4. Laksa or Laksa Paste
If you have travelled to Melaka, Penang or Singapore, then you may have either seen or tried Laksa. This is a spicy noodle soup is famous in the Peranakan cuisine of Southeast Asia. The soup consists of thick wheat noodles or rice vermicelli with chicken, prawn or fish, served in spicy soup based on either rich and spicy curry coconut milk or sour asam.
Singapore is a great place to try Laksa. Although Malaysians and Singaporeans may argue about who makes better Laksa, we suggest trying this soup in both places to judge for yourself!
You might also be glad to hear that Laksa is quite affordable and one of the cheaper dishes in Singapore. If you are wondering what to buy in Singapore while on a budget, put this near the top of your list!
---
5. Buy some Bakkwa
Bakkwa is a delicious salty-sweet dried meat product that you can buy in Singapore. You might find it similar for jerky. Typically, it is made of pork, beef or mutton. It is  typically prepared with spices, sugar, salt and soy sauce. Bakkwa is dried on racks at around 50 to 60 °C until it reaches a final water activity between 0.60 and 0.69. It is traditionally consumed during Chinese New Year in Singapore and in other countries throughout Asia. 
Don't expect all Bakkwa shops in Singapore to create the same flavour. Recipes differ, and you might have to sample a few places before you settle on a favourite.
---
6. Bak kut teh
Bak kut teh is one of the most delicious dishes in Singapore. It is best described as a pork rib dish cooked in broth. 
Similar to Laksa, Bak kut teh can be found at hawker stalls or specialty restaurants throughout the city. Again recipes can vary, but Bak kut teh usually consists of pork ribs in a broth of herbs and spices (including star anise, cinnamon, cloves, dang gui, fennel seeds and garlic). It is also immensely popular amongst the Chinese community in Malaysia. 
Bak kut teh may not be the healthiest dish, but it can be incredibly delicious if prepared correctly.
---
7. Merlion Souvenirs
The Merlion is one of Singapore's most iconic symbols. Ideally located beside Marina Bay, this is a must-see in the city. There are multiple replicas of the Merlion throughout Singapore, and even abroad, so it is incredibly famous among locals and tourists. 
Naturally, there is also a surplus of Merlion-themed souvenirs. If you are wondering what to buy in Singapore for your loved ones back home – try a Merlion souvenir! They tend to be somewhat affordable and come in all shapes and sizes. Even if it's a key chain or mug, go for it! 
Must Read: 
---
---
Other ideas 

for

 what to buy in Singapore!
We hope that this list featuring what to buy in Singapore has been useful for you!  Keep in mind that there are also many other things you might want to buy in the city. For example, Singapore is loaded with luxury shopping malls. A great area to find malls is along Orchard Road. This is where you can find some of the best designer bags and internationally branded products in the city. 
Another excellent mall for high-end designing clothing and accessories is the Shoppes at Marina Bay Sands (beside Marina Bay Sands hotel). There are lots of 'celebrity-chef restaurants' there to try out. The MRT well services it via Bayfront Station.