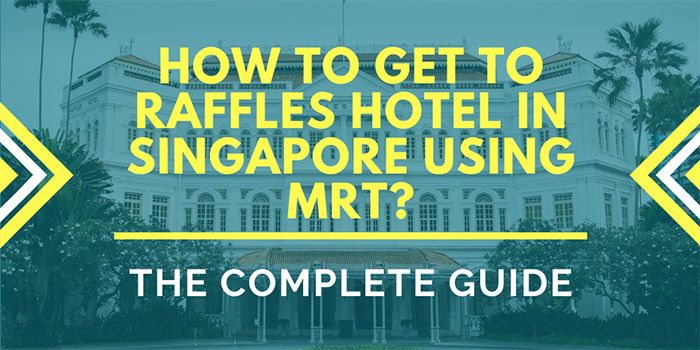 This article has been written to provide you with a step-by-step guide on how to get to Raffles Hotel in Singapore using MRT. Before we get started with all the details we wanted to let you know that this is based on our own travel experience using the MRT to get to this destination. 
Singapore, fortunately, is one of the best cities in the world for public transportation.  It is extremely well-organized in terms of using buses and trains throughout the city.  Actually, it's quite possible to visit Singapore for a week without even stepping foot in a vehicle. You can buy an MRT Pass and a cost-saving attraction pass to enter multiple attractions. Not only does the MRT save you some serious cash by avoiding taxi and private car fees, you also save the environment as you share the transportation with other people in the city.
---
Why stay or visit Raffles Hotel in Singapore?
After Raffles Singapore opened its doors in 1887 it became a 'happening place' due to its elegant grandeur and charm. If you are looking for 'classic colonial' charm this is the place to go in Singapore. Raffles Hotel has hosted no shortage of celebrities and royal figures since its inception. In case you are wondering, it is named after Sir Stamford Raffles, founder of Singapore. Aside from being an iconic symbol of Singapore's past and present, Raffles was also declared a National Monument in 1987. 
Needless to say, almost every Singaporean should be quite familiar with Raffles Singapore if you mention it in a conversation. 
Raffles Hotel is quite popular as both a place to stay and also a social venue. Many visitors and locals regard it as one of the best places to get a 'Singapore Sling' – one of the city's famous alcoholic beverages. You can expect exceptional, world-class service standards here. Consequently, many wealthy Singaporeans choose to stay at the hotel for 'staycations' where they can get pampered.  
Also, don't forget about Raffles' location.
It is situated in a popular sightseeing area, within walking distance to Marina Bay Sands, Fullerton Hotel, the Merlion and the Esplanade. 
It would be hard to find a better hotel in Singapore to celebrate a wedding or anniversary (or another special celebration) that's for sure! 
---
Getting to the Raffles Singapore by MRT
Step 1: Find nearest MRT Station to your hotel
Obviously, if you are staying at Raffles Singapore you're not going to take the MRT to get there unless you head out sightseeing or shopping. Therefore, we are under the assumption here that you are staying at another hotel or apartment in Singapore. 
One of the first things that we recommend people do when they visit Singapore is to get a hotel within walking distance to an MRT station. Singapore's train network consists of many different lines that allow passengers to access all kinds of areas throughout the city. This includes direct access to Raffles Singapore.
Once you have your hotel sorted, walk to the nearest MRT Station. 
---
Step 2: Buy a ticket to Esplanade Station or City Hall Station
When you enter an MRT station and you are ready to go to Raffles Singapore you got to be prepared to buy a ticket. There are two main types of tickets that are relevant while you were in the city:
A stored value card that can be used for multiple trips

A Singapore Tourist Pass 
Selecting the best type of MRT Ticket
Singapore Tourist Passes are very convenient if you plan on using the MRT extensively while you were in the city. These are not designed for permanent residence for Singaporeans. Instead, visitors can purchase a pass that allows them to use unlimited MRT rides or bus rides for a specific number of days.  If you want to use the MRT as your primary form of transportation when you are using the MRT we recommend that you use this if you are visiting the city.
We highly recommend using a Tourist pass along with a multiple attraction entry pass. Over 200,000 of these passes have been purchased already because guests can save up to 52% off entrance fees by buying them at one time!
Stored value cards are similar to Singapore tourist passes in that you tap each time you want to enter the MRT Network. These cards you purchase and then top up with cash and then you can use them for multiple trips until your balance is gone. These tend to be quite efficient because you bypass ticketing lines every time you want to access the MRT.
Where can you get tickets/passes?
After you have decided what type of ticket you were going to use you want to purchase your trip ticket to either Esplanade or City Hall Station. Esplanade is the best, and closest option to the hotel, but City Hall is also within short walking distance. 
You can get one of the following stored-value cards:
ez-link 

Nets FlashPay card
You can purchase these at TransitLink Ticket Offices, MRT stations and 7-Eleven stores. When we were first figuring how to get to Raffles Hotel in Singapore using MRT we used an EZ link card.
Go to one of these merchants to top up your cards:
DBS/POSB/OCBC Automatic Teller Machines

7-Eleven stores

General Ticketing Machines,

SingPost Outlets

AXS Stations

Add Value Machines

TransitLink Ticket Offices 
---
Step 3: 

Travel on the MRT to Esplanade or City Hall
Esplanade is the most convenient station if you want a short walk from the MRT. It is on the Circle Line (yellow on the MRT Map) It is important to know the adjacent stations to Esplanade when you are heading to Raffles:
Bras Basah Station
Promenade Station
Alternatively, you could travel to City Hall Station. The walk is a bit farther, but still very manageable. City Hall is part of two different Lines:
East West Line (green on the MRT Map)
North South Line (red on the MRT Map)
As you are traveling on the MRT you can expect that your verbal announcements about upcoming stations regardless of the line you are on. This will inform you of when to move closer to one of the exits so that you can get off at either Esplanade or City Hall. They also have screens above each exit that outlines where you are on the MRT line.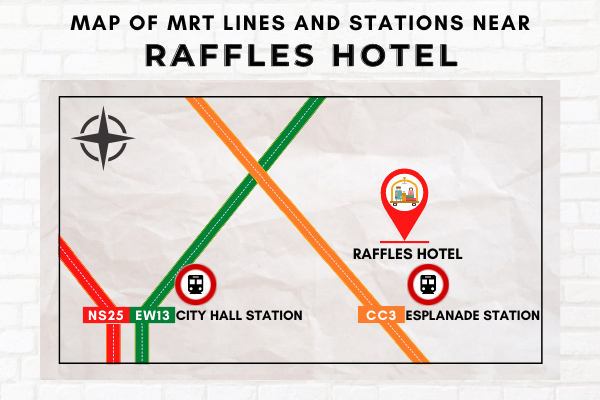 ---
Step 4: Walk to Raffles from Esplanade or City Hall
As you arrive and get off the train at either Esplanade or City Hall, it's time to think about which exit you should take from the station. 
Like many of Singapore's MRT Stations, Esplanade Station has 7 different exits: A, B, C, D, E, F, and G. Preferably, use Exit E to walk to Raffles Hotel in Singapore. You should be there in no time. Raffles Hotel is a 2-minute (100 meter) walk from Esplanade Station!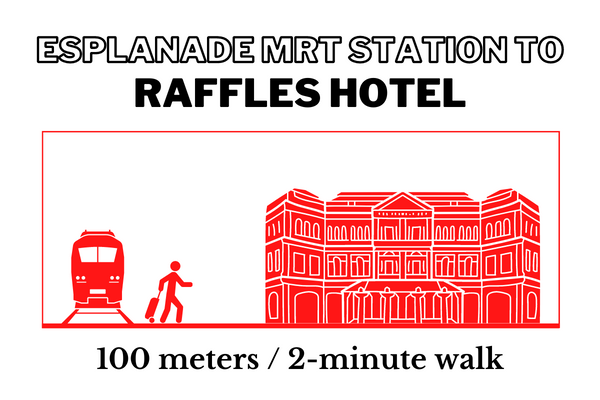 Exiting Esplanade MRT Station…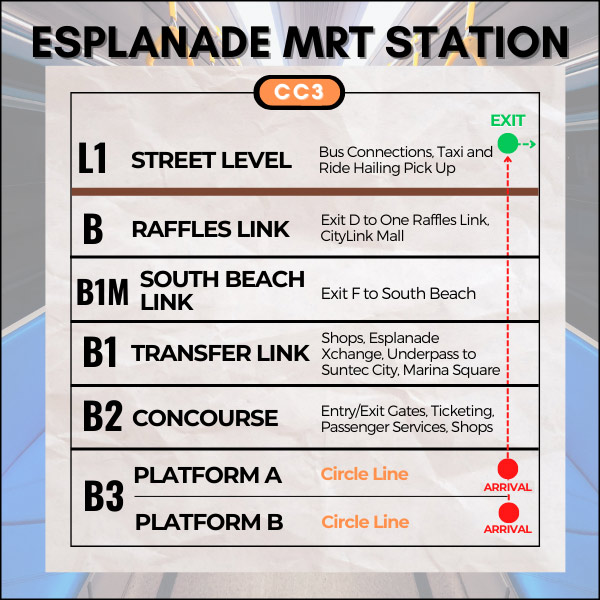 Alternatively, City Hall has four exits: A, B, C, and D. Take Exit A to walk to Raffles. It is a 5-minute, 450 meter walk from the station.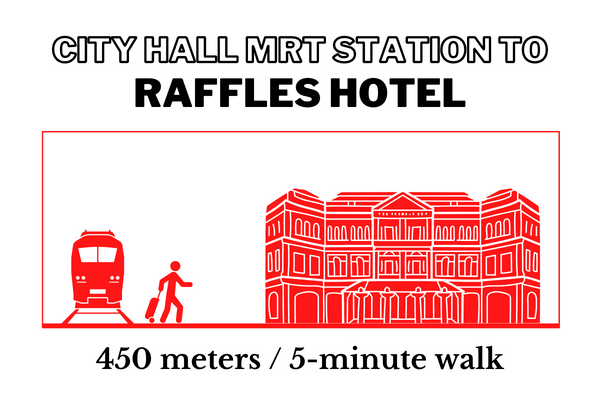 Exiting City Hall MRT Station…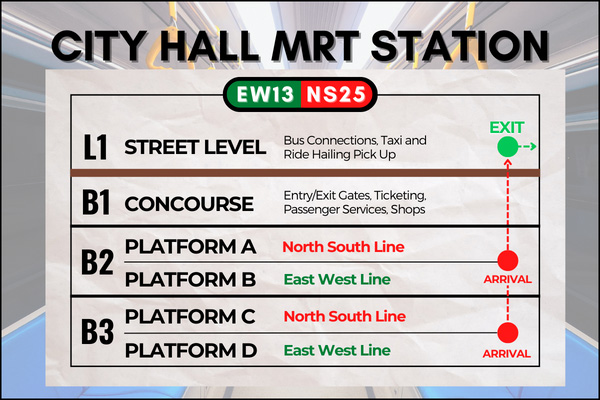 ---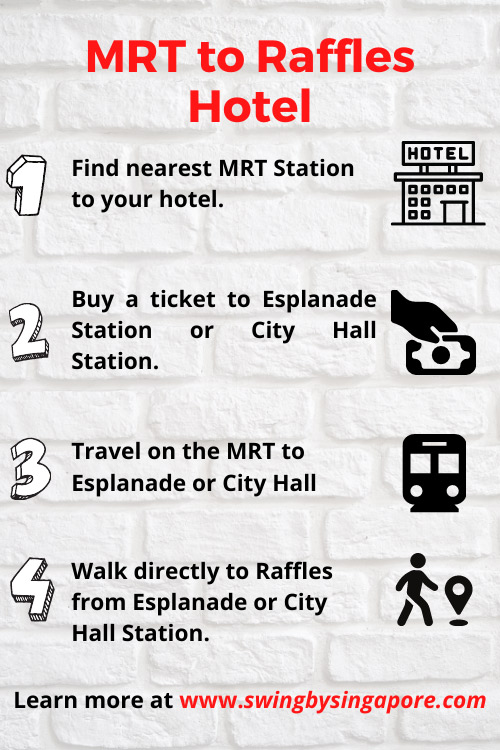 ---
Should you stay at Raffles or somewhere else nearby?
There is no denying the fact that Raffles Singapore is one of the best hotels in Singapore, and all of Asia for that matter.  It is usually rated well above 9.4 out of 10 on major combination sites according to verified guest reviews. This is a favorite place to stay for people that are wealthy and those that are looking to celebrate special occasions. If you do have the budget we would strongly suggest trying to stay here for at least one night if possible.
Naturally, many people choose not to stay at Raffles because it is a luxury hotel in a city known for hefty accommodation prices. If you cannot afford Raffles Singapore you are not alone! Fortunately, here is an extensive selection of other great hotels in this area of the city that are within close walking distance to Esplanade and City Hall.
Some of the most popular and best hotels within walking distance of the Raffles Hotel include:
Fairmont Singapore (5-star, 9.0/10 rating)
Mandarin Oriental Singapore (5-star, 8.9/10 rating)
The Fullerton Bay Hotel Singapore (5-star, 9.4/10 rating)
The Ritz-Carlton Millenia Singapore (5-star, 9.2/10 rating)
The Fullerton Hotel Singapore (5-star, 9.1/10 rating)
Marina Bay Sands (5-star, 9/10 rating) 
The scores listed above are taken from leading accommodation websites at the time of writing. They are subject to change over time as different guests continue to review these properties. All of these properties, as you can see by their high rating scores, typically have excellent world-class standards for service, food, and beverage. 
If you want more affordable options then we suggest trying further northeast along Beach Rd. passed Raffles.  
---
Any more questions getting to Raffles Hotel in Singapore?
We do hope that this step-by-step guide on how to get to Raffles Hotel in Singapore using MRT has been detailed enough for you to complete this journey in a stress-free manner. If not? Feel free to reach out to us with an email or a comment. We would be glad to assist! 
You should also keep in mind that Raffles Singapore is within walking distance to some of Singapore's most famous attractions. Marina Bay, for example, offers breathtaking views of Singapore's skyline. This is especially true at night when all of the towers are illuminated. 
Also, consider exploring popular sites such as the Singapore Flyer and Merlion (Directions) – two famous points of interest. With Esplanade Station just next door to Raffles, consider walking to Chinatown, Little India, Orchard and social districts such as Clarke Quay and Boat Quay. They are literally minutes away via MRT.