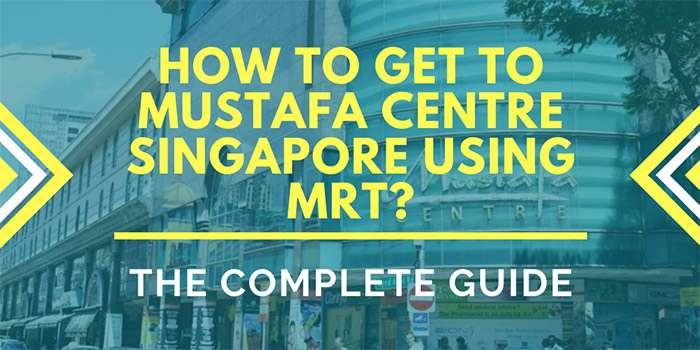 This article has been written to provide you with a step-by-step guide on how to get to Mustafa Centre Singapore using the MRT Network. Fortunately, we have had the opportunity to complete this trip on multiple occasions using Singapore's train system, so we will try to provide you with as much detail as possible.
Singapore has an extensive MRT Network that you have to be prepared to use if you plan on sightseeing throughout the city. There are excellent hotels located right beside stations throughout the city. The MRT is extremely organized and it consists of multiple lines that allow Singaporeans, permanent residents living in Singapore and also provides opportunity to access most tourist attractions (with an attraction pass) without stepping foot in a vehicle. The Mustafa Centre in Little India is just one of many points of interest that you can quickly access by using MRT. 
---
Why should you visit Mustafa Centre in Singapore?
Mustafa Centre is a very popular 24-hour shopping venue that is located right in the heart of Little India. It is located along Syed Alwi Road in the cultural district of Little India. Mustafa Centre's main drawing card is 'Mustafa Department Store'. This primarily caters to the budget market. There is a broad range of products here and the selection is quite impressive. You will be able to buy products at Mustafa Centre that are related to:
Jewelry

Household appliances

Food and Imported products

Books

DVD's

Watches

Perfumes/colognes 

Electronics

Footwear

Toys

Clothing
As you can see by the list above, the selection of goods at Mustafa Centre is impressive. At one point in time they sold around 300,000 different products. 
Singapore is regarded as a very expensive city in terms of visiting or staying permanently. Therefore, Mustafa Center and places like this are quite popular because they offer a wide range of products that are quite affordable in relation to branded products that you will find at shopping malls such as Marina Bay Sands and those along Orchard Road.
---
Getting to the Mustafa Centre Singapore by MRT
Step 1: Find nearest MRT Station to your Hotel
One of the benefits of visiting Singapore is that they have a lot of hotels that are located within walking distance of MRT stations within the city. This makes it very convenient because you can book a room at a hotel and literally spend only 30 seconds walking in order to access the MRT.
Since Mustafa Centre is directly accessible via MRT, plan on finding a hotel or apartment right near a station. This will help you to avoid pricey taxi fees that can be completely avoided by using the MRT network.
---
Step 2: Buy a ticket to Farrer Park Station
When you enter an MRT station and you are ready to go to Mustafa Centre, first make a decision about the ticket you want to purchase. In Singapore, currently there are two forms of MRT (public transportation) tickets.
A stored value card that can be used for multiple trips

A Singapore Tourist Pass 
All three forms of tickets have their own pros and cons.
Pro's and Cons of Tickets/Passes
If you do consider yourself to be an 'active tourist' then you might want to get a Singapore Tourist Pass. These are cards that you can use for unlimited public transportation trips for a set number of days while you are in the city. These passes are the best option if you plan on seeing a lot of different sights while in Singapore. 
We highly recommend getting an Attraction Pass for Singapore to use with your Singapore Tourist Pass (already over 200,000 sold). Singapore is expensive, so buying a bundle of attraction passes can save you over 40% on entrance fees!
Staying longer than a few days?
The most popular choice for permanent residents, Singaporeans and visitors that are spending an extended period of time in the city are 'stored value cards'.  You can purchase these cards at different offices throughout the city and then talk them up with cash. Then, you avoid lining up every time that you want to purchase a ticket at the station. When we were first trying to discover how to get to Mustafa Centre Singapore using MRT we used an ez-link card.
You can get one of the following stored-value cards:
ez-link 

Nets FlashPay card
Buy them at TransitLink Ticket Offices.
Go to one of these merchants to top up your cards:
DBS/POSB/OCBC Automatic Teller Machines

7-Eleven stores

General Ticketing Machines,

SingPost Outlets

AXS Stations

Add Value Machines

TransitLink Ticket Offices
To get to the Mustafa Center in Singapore you have to purchase the ticket to Farrer Park Station.  This is the most convenient station for walking to Mustafa after you get out of the system.
---
Step 3: Travel on the MRT to Farrer Park Station
While you are traveling on the MRT to Farrer Park Station it is important to take note of what line you will be traveling on and what the neighboring stations are to Farrer Park.
Farrer Park is a stop on the North East Line. This line is shown in purple colour on Singapore's MRT Map.
The two adjacent stations in relation to Farrer Park are:
Little India (west of Farrer Park)
Boon Keng (east of Farrer Park)
Take note that while you are traveling on the way to Mustafa Center you will hear verbal announcements made on the train to alert you of the next upcoming station along the line. There are also screens above each exit that tell passengers where they. 
Once you hear the announcement for Little India or Boon Keng make your way closer to an exit because you will be shortly stopping at Farrer Park Station.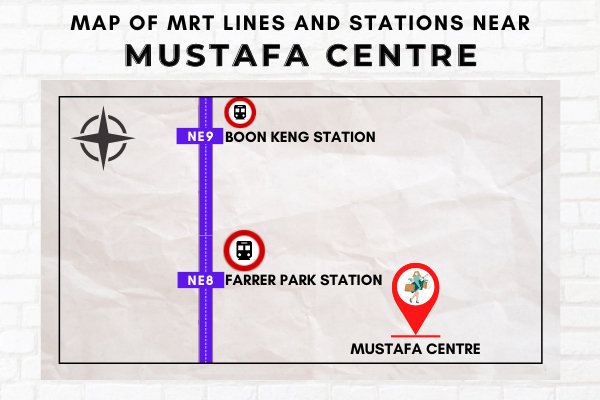 ---
Step 4: Walk to Mustafa Centre from Farrer Park Station
Once you arrive at Farrer Park Station then you have to be prepared to walk to Mustafa Centre.  Conveniently, this should only take you 2 or 3 minutes because the walking distance is only 300 meters.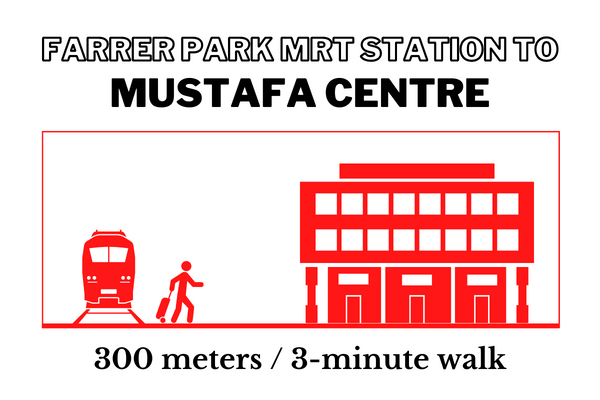 Like many of Singapore's MRT stations, Farrer Park station has multiple exits which can get a bit overwhelming when you get off the train. Exits are Farrer Park Station include: A, B, C, D, E, F, G, H and I. 
Take Exit G from Farrer Park Station to get to Mustafa Centre. This is a short and convenient walk. If for some reason you need additional help, just ask an MRT attendant or a local once you are out of the station.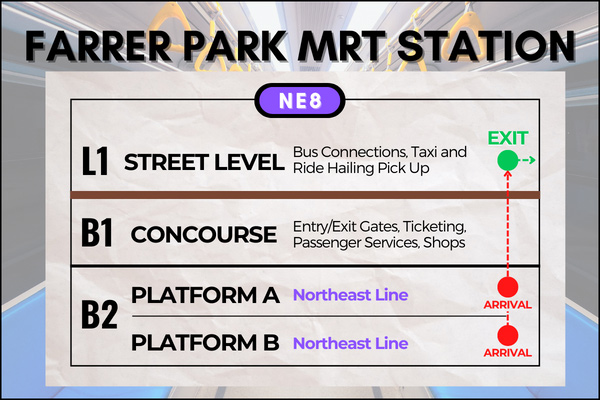 ---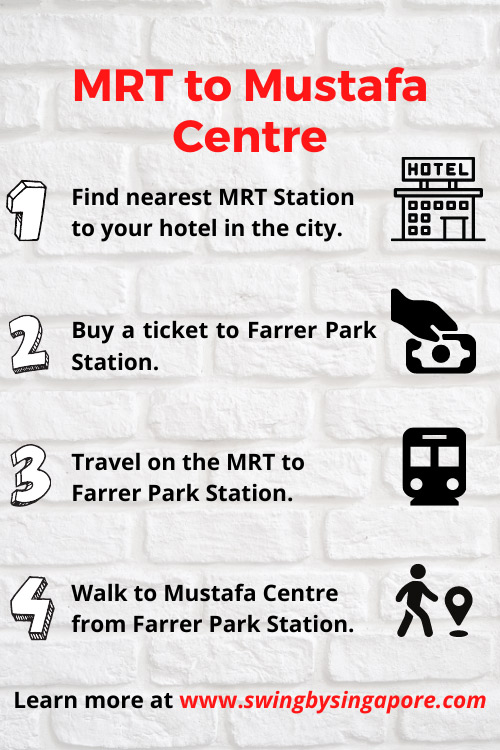 ---
Should you stay near Mustafa Centre in Singapore?
Singapore often gets considered as one of the most expensive places to visit in Southeast Asia.  One of the reasons for this is that accommodation prices tend to be very expensive relative to other cities such as Kuala Lumpur, Bangkok, and Jakarta.
Little India in Singapore is considered to be a fairly popular spot for finding budget and affordable accommodation choices. Prices here tend to be quite reasonable for the most part. This is especially true if you consider the average price of properties in Little India in comparison to places like Marina Bay and Orchard Road.
Properties such as Marina Bay Sands, Raffles Singapore, and the Fullerton Bay Hotel can sometimes be three or four times as much as properties in Little India. Therefore, you have to really think about your budget and how much you are willing to spend when you are selecting a place to stay. 
Most hotels in Little India are clustered between Little India Station and Jalan Besar Station. However, there are two very good properties within a few hundred meters of Farrer Park Station:
Park Hotel Farrer Park (4-star, 8.1/10 review rating)
One Farrer Hotel (5-star, 9.1/10 review rating)
PARKROYAL on Kitchener Road is also close to Farrer Station, but a few hundred meters farther away from the station. 
While you are reading our hotel recommendations please keep in mind that we do not have a direct partnership with these properties. They have not paid us anything to include them in this article. Also, keep in mind that the review scores listed above are based at the time of writing and according to leading online websites. Therefore, they are subject to change over time.
---
Anymore questions about getting to Mustafa Centre in Singapore?
This has been a step-by-step guide on how to get to Mustafa Center in Singapore using MRT.  One thing that you should know about this journey is that Farrer Park is definitely the most convenient station to access Mustafa Center.  However, it isn't the only MRT station within walking distance of the shopping center in Singapore. 
You could also walk from Little India Station or Jalan Station as well to get to Mustafa Centre. The main difference will be the walking time. You can expect the walking time from either one of these stations to Mustafa Centre to take you at least 10 minutes if not more. However, depending on which line on the MRT you originally traveling on it may not make sense to transfer lines if you can just simply walk from another station. Also keep in mind that Singapore gets very hot during the peak afternoon hours so this is something that you should also consider when you were traveling to Mustafa Center.
Making an Itinerary
A lot of visitors to Mustafa Center also visit other attractions in Little India.  Remember, there are interesting temples and markets to explore in this cultural area of the city. Therefore, you may want to create an itinerary for a little India before you actually visit the shopping center. This will make your trip more efficient and you will also save transportation costs in the process.
You are also quite close to other interesting areas such as Chinatown, Clarke Quay and Orchard Road when you are in Little India. Consider using the MRT to access these areas during the same day.
If you require additional information about how to get to Mustafa Centre Singapore using MRT and other public transportation options, please send us a comment or an email. We would be more than happy to provide you with more information regarding this interesting shopping center in Little India Singapore!