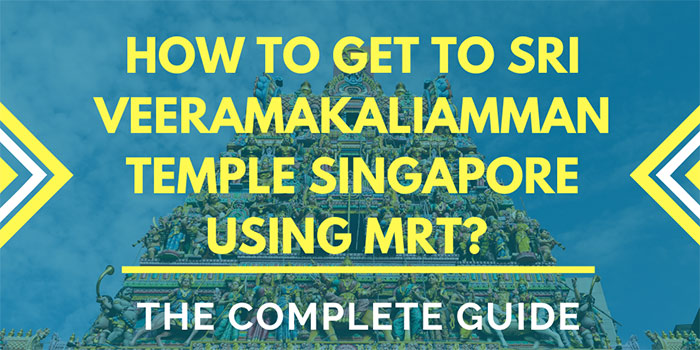 We have written this guide on how to get to Sri Veeramakaliamman Temple Singapore using MRT based on our own personal travel experience. This Temple is located in the heart of Little India which is a very interesting cultural center in Singapore.
One of the clear benefits of traveling in Singapore is that it has a very organized and well-developed public transportation system.  This includes multiple MRT and LRT lines and public buses. This makes it super convenient to access interesting cultural sites such as Sri Veeramakaliamman Temple. Not only is the MRT a very affordable option, you also bypass traffic jams and reduce gas emissions which is beneficial to the environment. 
---
Why should you visit Sri Veeramakaliamman Temple in Singapore?
Sri Veeramakaliamman Temple is one of the oldest temples in all of Singapore and an important religious and cultural landmark in the city. It is visited by many worshippers and tourists on an annual basis and it is considered to have a 'very photogenic' design. 
It was originally built by Indian pioneers. The British Colonial Government provided settlement patterns according to ethnicity, and this initiated the growth of Little India.
This temple is dedicated to the Hindu goddess Kali, fierce embodiment of Shakti and the god Shiva's wife, Parvati. During World War II, many people prayed for Kali's protection.  Fortunately, the temple and all its statues escaped the bombings. 
Sri Veeramakaliamman Temple has undergone some major reconstruction work over the years. During the 1980's a gopuram (front tower) was added as well as multiple domes. It was again renovated in 1999 and in the 2000's.
From a tourism perspective, this is a 'must-see' in Little India. The combination of its vibrant colour combinations, intricate statues and fine attention to detail, makes Sri Veeramakaliamman Temple one of the best places to explore in all of Singapore's Little India.  
---
Getting to the Sri Veeramakaliamman Temple Singapore by MRT
Step 1: Book a room near an MRT Station
In our opinion one of the smartest things you can do when you are sightseeing in Singapore is booking a room close to an MRT station.  Singapore has an extensive MRT system that enables passengers to avoid vehicular traffic through their entire stay in the city.
The key to the strategy is making sure that you can easily walk to and from your station so that you do not have to get in the vehicle and deal with unnecessary traffic jams and high taxi charges.
Book your room at a hotel such as Marina Bay Sands or Fullerton Bay Hotel that are very close to MRT Stations. This will make your trip more efficient, economical and more environmentally friendly. 
---
Step 2: Buy an MRT ticket to Little India Station
The first decision that you will have to make when you are booking a ticket to Sri Veeramakaliamman Temple is determining what kind of ticket you are going to use.
 Currently, there are three different forms of MRT tickets in Singapore to choose from. 
A single trip ticket 

A stored value card that can be used for multiple trips

A Singapore Tourist Pass 
These tickets all have their own pros and cons so you have to consider your own priorities when travelling throughout the city. 
Pro's and Con's of Public Transportation Tickets/Passes 
Arguably the best choice if you are only going to use the MRT system once or twice during your trip is just buying a single journey ticket at a ticketing machine in the station.  Although it will cost a bit more for your trip, you will not be required to purchase a card or make it down payment if you use the MRT.  Single Journey tickets are ideal for people who do not want to travel extensively and just want to get from 'point A to point B' a few times while they're in the city.
Singapore tourist passes are the best option if you are only in Singapore for a few days and plan on sightseeing a lot during this time.  You can use Singapore tourist passes on buses and trains (including the MRT/LRT) an unlimited number of times within a given period. Typically, these passes are designed for 1-3 days in Singapore. These can be a really good decision if you do plan on seeing a lot of different attractions. However, you may lose money by getting one of these passes if you were only going to use public transportation a few times.
Value Cards: Best for Long Term Visitors
Stored value cards are the best option if you are going to be in Singapore for more than 3 days. You buy these cards, top them up and then you can use them for multiple trips. The cash balance just continues to be reduced as you use the card more. You will pay less per trip than a single journey ticket if you use a stored-value card.  This is the number one choice of Singaporeans, permanent residents and tourists staying 5 days or more in the city.
You can buy one of the following stored-value cards at TransitLink Ticket Offices.
ez-link 

Nets FlashPay card
Later, you can top up your card using one of the following options:
DBS/POSB/OCBC Automatic Teller Machines

7-Eleven stores

General Ticketing Machines,

SingPost Outlets

AXS Stations

Add Value Machines

TransitLink Ticket Offices
To get to Sri Veeramakaliamman Temple buy your ticket to Little India Station.  This is the closest station to the Temple in Little India. 
---
Step 3: Travel on the MRT to Little India Station
You should have some familiarity with which MRT Line you will be traveling on and also the adjacent stations to Little India. 
Little India Station is on two different MRT Lines in Singapore:
North East Line (Shown in purple on the MRT Map)
Downtown Line (Shown in blue on the MRT Map)
Therefore, the four adjacent stations to Little India are:
North East Line
Dhoby Ghaut (West of Little India)
Farrer Park (East of Little India)
Downtown Line
Newton (North of Little India)
Bugis (South of Little India)
When you are traveling on the MRT to Little India station then you should move closer to one of the exits on the train when you hear any of these four stations above being announced. Typically, there are verbal announcements on Singapore's MRT system that inform passengers of upcoming stations on the line. You can also refer to the signs above the exits that indicate what station you were at and where you were traveling.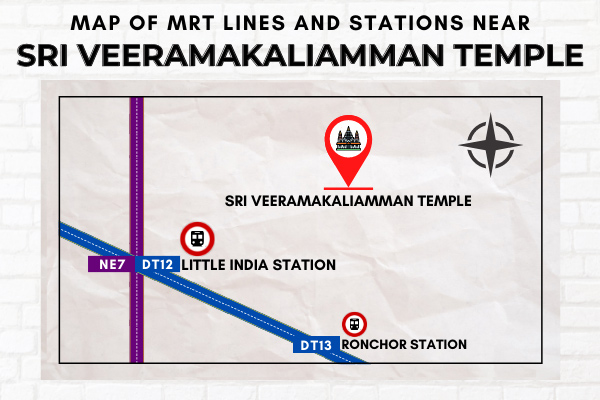 ---
Step 4: Exit, and then walk to Sri Veeramakaliamman Temple from Little India Station
Get off the train and bring all your bags. 
Little India Station has a total of six exits: A, B, C, D, E and F. 
Take Exit E from Little India Station to Sri Veeramakaliamman Temple. This will bring you to Buffalo Road.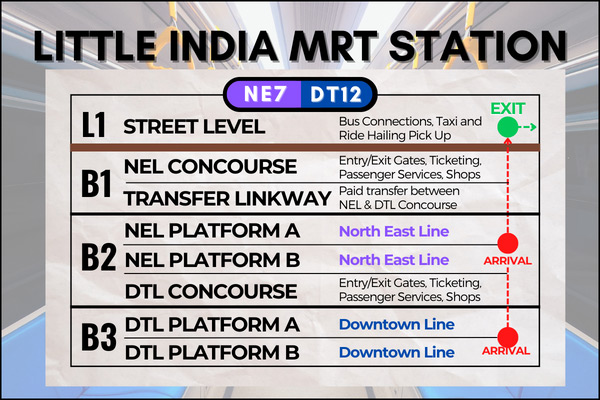 You can expect the 450-meter walk from the station to Sri Veeramakaliamman Temple to take you only about 4-5 minutes.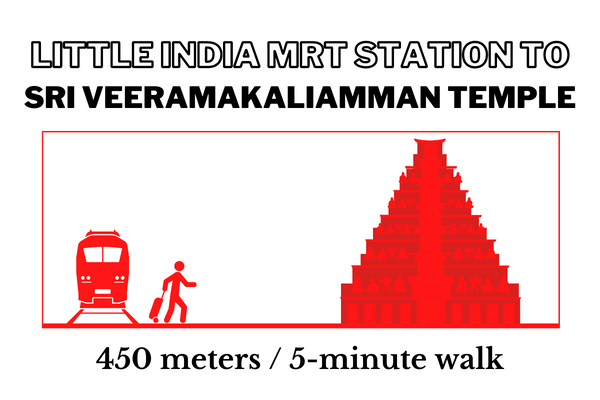 ---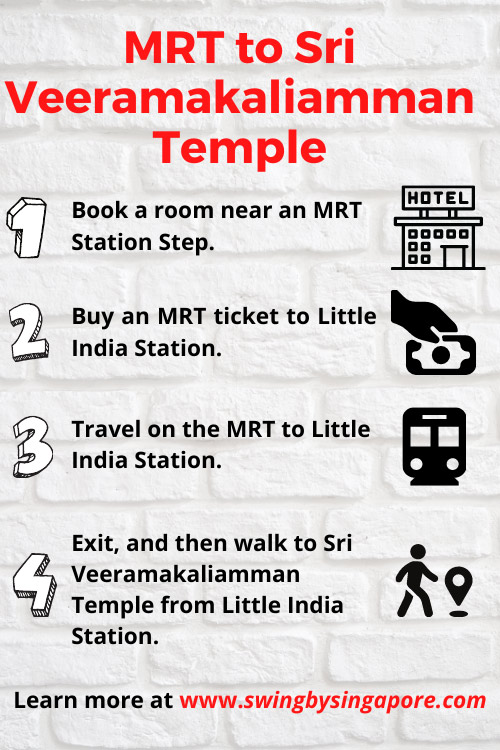 ---
Should you stay near Sri Veeramakaliamman Temple in Singapore?
Sri Veeramakaliamman Temple is located right in the heart of Little India.  This is a popular area for sightseeing, shopping and dining out.
In terms of accommodation, the area Sri Veeramakaliamman Temple is well-known for budget hotels and hostels. The properties in this area tend to be much cheaper than prominent hotels such as Marina Bay Sands, Raffles Singapore, and the Fullerton Bay Hotel.
If you compare the prices of most of the hotels in Little India to the prominent hotels listed above (in Marina Bay) you may find that they are four to five times cheaper or sometimes even less. Therefore, Little India is a practical place to stay if you are budgeting while you are in Singapore. Keep in mind that you will also have convenient access to affordable shops and restaurants in this area. 
Hotels in Little India
Singapore is known as an expensive place to visit. Staying near Sri Veeramakaliamman Temple will allow you to save money on meals and transport because you will be within walking distance to 2-3 MRT stations. 
Some of the hotels in Little India do receive very low review scores from verified guests. Therefore, always be sure to double-check recent reviews before you confirm any property in this area. At the time of writing, some of the highest-rated properties near Little India station included the following:
Park 22 Hotel Little India (3-star, 7.8/10 review score)
Hilton Garden Inn Singapore Serangoon (4-star, 8.1/10 review score)
7 Wonders Hostel @ Upper Dickson (1-star, 7.9/10 review score)
Please take note that we do not have a direct partnership with any of these properties listed above. The review scores that are listed are based at the time of writing and according to leading online accommodation websites.  You can expect these review scores to change over time as more and more guests review these properties in Little India.
You should be able to walk to any of these properties in 5-minutes from Little India Station.
---
More questions about getting to Sri Veeramakaliamman Temple in Singapore?
This has been a step-by-step guide on how to get to Sri Veeramakaliamman Temple in Singapore by MRT.  Also keep in mind that Little India is technically not the only MRT station that you could travel to in order to access this Temple. 
Farrer Park Station is definitely not as close as Little India, but you could also walk from there to the Temple in about 10-12 minutes. Another interesting idea would be to access Little India using Little India Station and then walk through the area and depart using Farrer Park Station. You would get a better overview of the area using this strategy!
Most visitors to Sri Veeramakaliamman Temple also visit other attractions in Little India. There are lots of cool temples and markets to explore in this cultural area of the city. Consider creating an itinerary for a Little India opposed to just visiting this Temple. This will help you to save money on transport costs. 
 Other popular areas such as Chinatown, Clarke Quay and Orchard Road are also close to Little India. You can access them via MRT in minutes. 
If you would like more information about getting to Sri Veeramakaliamman Temple using public transportation please send us a comment or an email. We will try our best to make sure that you have enough information so that this is a completely stress-free journey in Singapore.