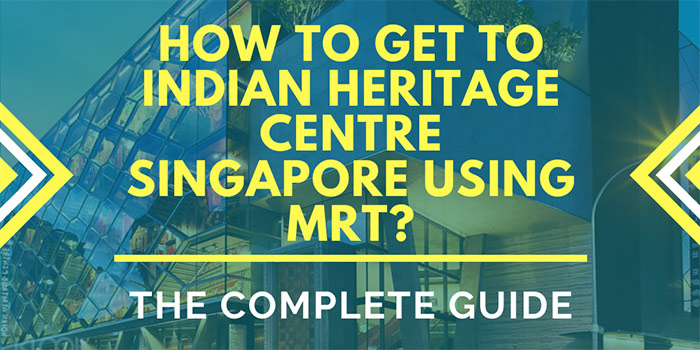 This article is designed to provide you with a step-by-step guide on how to get to Indian Heritage Centre Singapore using MRT. We personally have made this trip using the MRT Network and would like to share our experience with you.
Fortunately, Singapore has an extensive public transportation network that includes MRT and buses. You can literally land at Changi Airport and then take the MRT into the city. Once in Singapore, chances are that you won't even have to step foot in a vehicle during the entire time. You can access the Indian Heritage Centre by taking a short walk from the MRT. This will save you unnecessary taxi fees and help you to avoid time spent in traffic.   
---
Why should you visit Indian Heritage Centre in Singapore?
Little India in Singapore is known for its historic roots and strong culture.  The Indian Heritage Centre is one of many different places that you should explore in this area of the city. 
The Indian Heritage Centre traces the history of the Indian and South Asian communities in the Southeast Asian region. It is a four-storey building that was opened on May 7th, 2015 by Prime Minister Prime Minister Lee Hsien. It seeks to create an urban forum for the celebration and appreciation of Indian culture. There are five permanent galleries within the center, a souvenir shop and spaces for different activities. 
When you visit the Indian Heritage Centre you can take videos throughout the galleries if it is for private, non-commercial use. You are not allowed to use flash photography or tripods throughout the museum, however. While visiting Little India, try to add this to your itinerary. It is within walking distance to many popular points of interest such as: 
Tekka Centre
Tan Teng Niah
Abdul Gafoor Mosque
Sri Veeramakaliamman Temple
---
Getting to the Indian Heritage Centre Singapore by MRT
Step 1: Book a room near an MRT Station
If you plan on exploring Little India in Singapore then it is a wise idea to stay as close as possible to an MRT station. Getting a hotel near an MRT station in Singapore is a very strategic decision because you not only save time getting to and from the station, but you also save a lot of money in terms of transportation costs.
Fortunately, Singapore accommodation developers have built a lot of hotels and apartments that are within a few minutes of many stations throughout the city. A few popular examples include Marina Bay Sands (Bayfront Station) and Fullerton Bay Hotel (Raffles Place Station). 
Once your hotel booking is completed you can walk to the nearest MRT station in order to access the Indian Heritage Centre.
---
Step 2: Buy an MRT ticket to Little India Station
When you are taking the MRT to Indian Heritage Centre you first have to make a decision about the type of ticket(s) you want to purchase while you are in Singapore.
A single trip ticket 

A stored value card that can be used for multiple trips

A Singapore Tourist Pass 
Technically,  there are three different types of tickets that are available to visitors in the city. The first and most basic form is a single trip ticket. As its name suggests this is a ticket that you would buy from a ticketing machine in the MRT station.  The benefit of using standard single Journey tickets is that you do not have to pay upfront for a card.  In other words, you are not locked into using the MRT a certain number of times while you were in the city.  This is ideal for visitors who plan on using the MRT only once or twice while they are visiting Singapore. The trip tickets are more expensive if you simply buy one at a time from a ticketing machine. You also may have to wait in the line in order to get the ticket each time you use the MRT system.
Tourist Passes
Singapore tourist passes are a popular choice for people that are visiting the city for 3 days or less. You can purchase these at TransitLink stations throughout the city.  These are a good choice if you plan on seeing a lot of different attractions while you are in the city. They allow you to use the MRT and bus network for an unlimited number of times in a set number of days.  Therefore, this is the best option if you are a busy traveler.
Stored value cards are a very popular choice with permanent residents, expats and local Singaporeans.  You need to purchase these cards up front and to make sure that you have a cash balance on the card. Then, you can just simply tap each time you want to access the MRT system.  The benefit of using a stored-value card is that you bypass the lines ticketing machines every time you want to take a trip. Similarly, the cost per trip is less once you purchase the card up front. 
You can buy one of the following stored-value cards at TransitLink Ticket Offices.
ez-link 

Nets FlashPay card
Later, you can top up your card using one of the following options:
DBS/POSB/OCBC Automatic Teller Machines

7-Eleven stores

General Ticketing Machines,

SingPost Outlets

AXS Stations

Add Value Machines

TransitLink Ticket Offices
To get to Indian Heritage Centre buy your ticket to Little India Station.  This is the most popular station for accessing this area of Singapore.
---
Step 3: Take the MRT Little India Station
It is important that you have some familiarity with getting to Little India in terms of what MRT lines you have to travel on. Little India Station is actually a stop on two different MRT Lines in Singapore:
Downtown Line (Shown in blue on the MRT Map)
North East Line (Shown in purple on the MRT Map)
It also be to mail your with the adjacent stations to Little India so that you know when to get closer to the exit on the train. The last thing that you want to do is just forget about getting off at the right time.  There are four adjacent stations to Little India and they are summarized below for your convenience:
Downtown Line
Newton (North of Little India)
Bugis (South of Little India)
North East Line
Dhoby Ghaut (West of Little India)
Farrer Park (East of Little India)
While on the train to the Indian Heritage Centre be prepared to hear verbal announcements made about the upcoming station on the line. This should prompt you to get closer to one of the exits as you get closer to Little India Station.  They also have signs above each exit that illustrate where passengers are on the MRT line.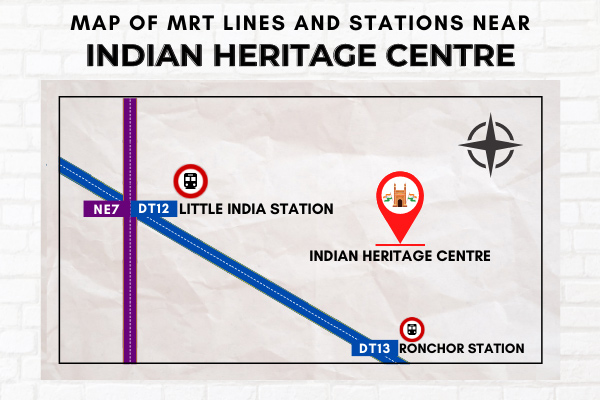 ---
Step 4: Get off the train and walk to Indian Heritage Centre 
Like most of Singapore's MRT stations, Little India has multiple exits that you can choose from. This can sometimes get overwhelming for passengers because they don't know which direction to go once they get off the train.
Little India Station has a total of six exits: A, B, C, D, E and F. After alighting from the train take Exit E from Little India Station to get to Indian Heritage Centre. This will bring you to Buffalo Road.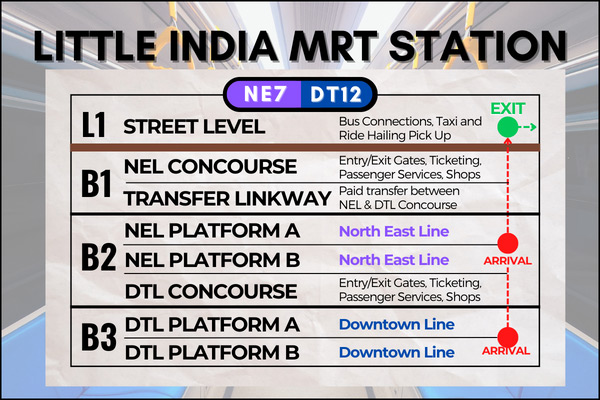 You will walk in the southeastern direction from the station. The 350-meter walk to the Indian Heritage Centre should take you about 5 minutes.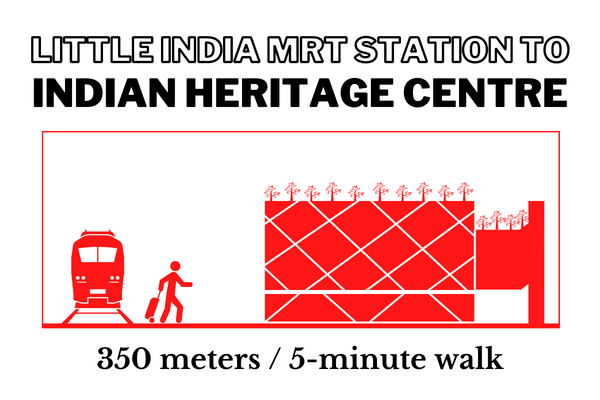 ---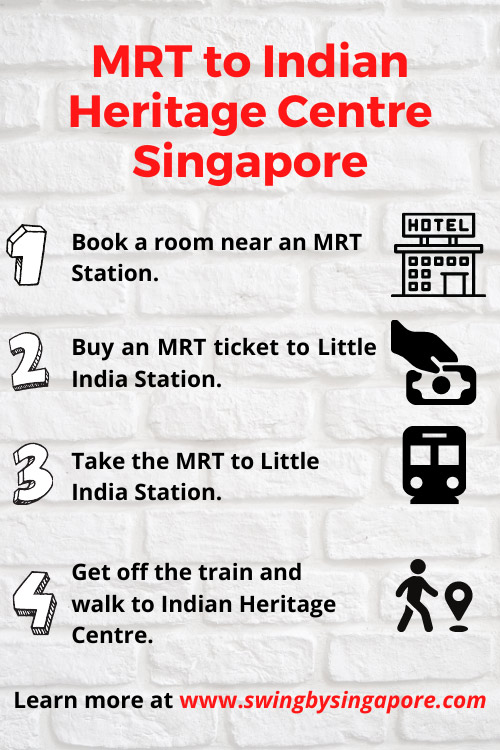 ---
Should you stay near Indian Heritage Centre in Singapore?
The Indian Heritage Centre is situated right in the middle of Little India.  Although this area is not particularly well known for five star hotels or luxury properties, it does have a significant number of budget accommodation choices. Therefore, the area around Indian Heritage Centre should be considered if you want to save some money and get a reasonably priced room while you are in the city.
As you may already know Singapore is regarded as one of the most expensive cities in the world.  If you want to stay at a five-star hotel you can expect to spend upwards of $500 per night. However, in Little India you may be able to find accommodation for just a fraction of that cost.  The properties in this area tend to be much cheaper than prominent hotels such as Marina Bay Sands, Raffles Singapore, and the Fullerton Bay Hotel.  If you do want to stay in more upscale areas such as Marina Bay or Orchard Road you have to be prepared to shell out a lot more cash. 
Options in Little India
Due to the affordable prices in Little India this area is quite popular with budget travelers and backpackers.  You can expect to find a lot of hostels in this area, some capsule hotels and a lot of boutique hotels that have small room sizes.
You should also know that some hotels in Little India tend to receive very low review scores from verified guests.  Consequently, it is essential that you double check recent reviews and review scores before you finalize a room in Little India. You do not want to take the risk of finding a property that is not up to appropriate service standards or safe to stay at. 
At the time of writing, some of the highest-rated properties near Little India station included the following:
Park 22 Hotel Little India (3-star, 7.8/10 review score)
Hilton Garden Inn Singapore Serangoon (4-star, 8.1/10 review score)
7 Wonders Hostel @ Upper Dickson (1-star, 7.9/10 review score)
The hotels that we have lifted listed above or suggestions based on their verified review scores from leading accommodation websites at the time of writing. These review scores are subject to change over time. Also take note that we have no direct affiliation with any of these hotels. They have not directly paid us to provide them in this article. They are solely suggestions based on their location near the Indian Heritage Center and Little India station and their review scores.
---
Do you have more questions about getting to Indian Heritage Centre in Singapore?
This has been a step-by-step guide on how to get to Indian Heritage Centre in Singapore by MRT. We hope that we have provided you with enough information to make this a stress-free journey.  
There is one thing but you have to keep in mind when you visit this area of Little India. India Station is not the only MRT station that you can use to access the Indian Heritage Museum.  You can also take the MRT to the following stations:
Rochor Station
Jalan Besar Station
For both of these stations you can expect to walk to the Indian Heritage Center to be for five minutes longer than from Little India station. But, depending on your itinerary they may be more convenient to access from the sites that you are seeing.
Also take note that there are many other points of interest in Little India that you should explore aside from the Indian Heritage Center. We suggest that you make a detailed itinerary before you visit Little India. You might even find it more convenient to take the MRT to Little India station and then exit from a different MRT station in this area. This will allow you to walk through more of the Little India district and get a better feel for what this cool area of Singapore has to offer.