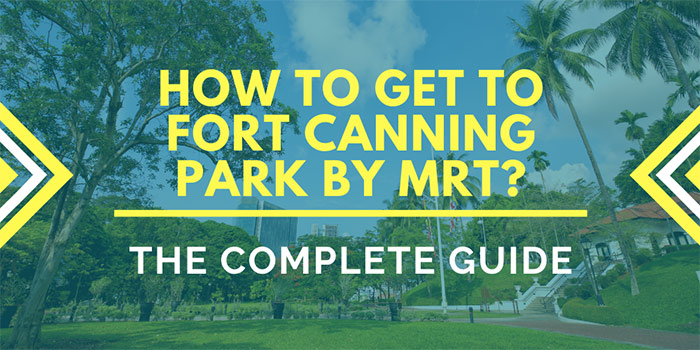 This article is designed to give you a step-by-step guide on how to get to the Fort Canning Park using MRT. Unlike many cities around the world, Singapore is extremely well connected with an amazing public transportation system. This includes both buses and trains. 
While you are visiting the city you can get right to Fort Canning Park by MRT. If you book a room beside an MRT station then you can easily access the network and navigate it to visit the city's top attractions. This article will provide you with an overview of how to reach the park in a stress-free, efficient manner. 
---
Why should you visit Fort Canning Park in Singapore?
Singapore is becoming more and more 'green' as a city. Currently, with over 350 parks and 4 nature reserves the city clearly emphasizes the importance of parks and recreation. A popular, and very accessible park that you might want to check out is Fort Canning Park. 
Steeped in history, Fort Canning Park has served various functions over the years. For instance, at one point in time it sited the palaces of 14th century Kings and served as the Headquarters of the Far East Command Centre and British Army Barracks. The Hill was also the location where Singapore surrendered forces to the Japanese on 15 February 1942.
Currently, Fort Canning Park is a popular and scenic area of greenspace which is north of Clarke Quay and Southeast of Orchard. It showcases nine historical gardens:
Pancur Larangan, 

Artisan's Garden

Sang Nila Utama Garden

Jubilee Park (Phase 1)

Raffles Garden

First Botanic Garden

Farquhar Garden

Spice Garden

Armenian Street Park
One of the most popular activities for visitors to Fort Canning Park is to explore the Hill by walking throughout Fort Canning Trail. At the moment, the total length of the trail is about 2.5 km. There are eight checkpoints that are located throughout the park that you can check out on their cell phone app. 
Nature lovers love Fort Canning Park, but it is also a popular 'social venue' for events such as festivals and concerts. They have hosted festivals such as 'Shakespeare in the Park' and 'Films at the Fort'. Weddings and private parties are also popular throughout the park's venue spaces. The cool thing about Fort Canning Park is that it caters to a lot of different people, with different interests. Whether you are seeking history, tranquility, social interactions, or some exercise this is a great spot to visit while you are in the city.
---
Getting to Fort Canning Park by MRT: The Step-by-Step Guide
Step 1: Find the nearest MRT station to your hotel/apartment.
When you were planning your trip to Singapore one of the first priorities you should have is booking a hotel room near an MRT station. People always talk about how expensive Singapore is. Well, one strategy to make your trip more affordable is to book a room within walking distance of a station. This ensures that you avoid taxi fees and traffic jams throughout your entire stay in Singapore. 
This just isn't possible in a lot of cities around the world because of the limited transportation infrastructure that they have. Singapore is well connected and this makes it easy to rely on the MRT during trips. 
Once your hotel is sorted, walk to the nearest station to begin your trip to Fort Canning Park.
---
Step 2: Buy a ticket to Fort Canning Station.
At the station you are going to have to buy a ticket to Fort Canning Station. 
As its name suggests, this is the most practical MRT Station to go to. It is directly adjacent to the southwest corner of the park. 
There are two main ticket options for reaching Fort Canning MRT Station: 
A stored value card that can be used for multiple trips

A Singapore Tourist Pass 
Selecting the right type of MRT Ticket
If you were visiting Singapore for tourism purposes then your best bet is getting a Singapore Tourist Pass.  When you purchase a Singapore tourist pass you can use the MRT and bus system in Singapore an unlimited number of times according to a set number of days. This option is ideal if you are going to use the system a lot and plan on seeing a lot of different attractions in Singapore.  This can also be the cheapest option by far if you do use the MRT and buses multiple times each day.
Stored value cards are a very popular option with people who are staying in Singapore for a long period of time.  These are cards that you can purchase at merchants in Singapore and then top them up with a running cash balance.  When you use a stored value card in Singapore each trip is less than paying for a single journey ticket.  an added benefit of using these cards is that you do not have to wait in line at ticketing machines every time you want to go somewhere. Therefore, they are both economical and efficient.  If you use one of these cards you will not feel pressured to go on multiple trips throughout the city if you don't want to. Therefore, some tourists may actually prefer a stored-value card in comparison to a Singapore Tourist Pass.
COST-SAVING TIP: We highly recommend getting a MULTIPLE-ATTRACTION PASS to use alongside your transportation card. When you buy several entrance tickets online you can save up to 52% off Singapore's best attractions. Over 200,000 of these have already been sold!
Where to get them?
To get a stored value card to get to Fort Canning Station there are two main types you can choose from: 
ez-link 

Nets FlashPay card
You can purchase these at TransitLink Ticket Offices, MRT stations and 7-Eleven stores. 
Go to one of these merchants to top up your cards:
DBS/POSB/OCBC Automatic Teller Machines

7-Eleven stores

General Ticketing Machines,

SingPost Outlets

AXS Stations

Add Value Machines

TransitLink Ticket Offices 
---
Step 3: Travel on the MRT to Fort Canning Station
Fort Canning Station is one stop on the Downtown MRT in Singapore. This line is shown in purple colour on MRT route maps in Singapore. 
While you are traveling on the MRT in Singapore you can expect to hear verbal announcements about what the upcoming station is on the line. Also, above each exit on each train there is also a screen that shows where you are.
When you are heading to Fort Canning station it is important to know what the adjacent stations are to this stop. This will remind you that you should get closer to the exit when you hear either one of these stations being announced on the train
Chinatown Station 
Bencoolen Station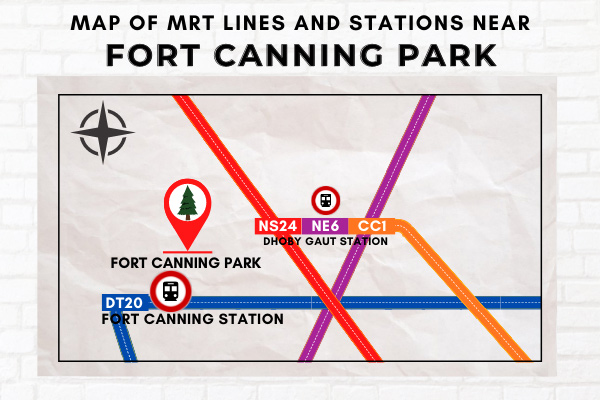 ---
Step 4: Walk to the Park from Fort Canning Station
Fort Canning Station is unlike many stations in Singapore because it only has two exits. Most stations have a lot more. When you arrive you can either exit using A or B.
Exit A is used to access Robertson Quay and Clarke Quay.
Take Exit B to walk to Fort Canning Park from the Station.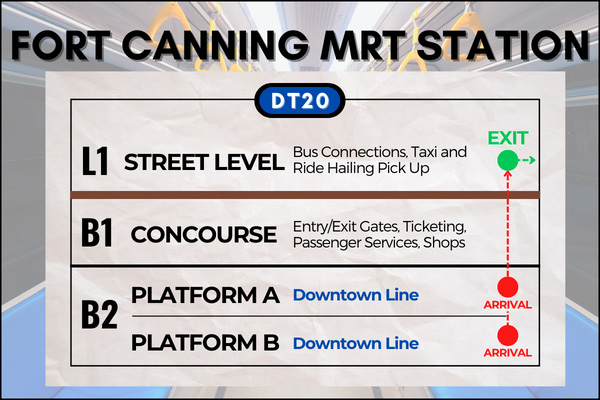 Conveniently, the walk from Fort Canning Station to the entrance of the park is only 250 meters which should take you about 3-4 minutes walking time.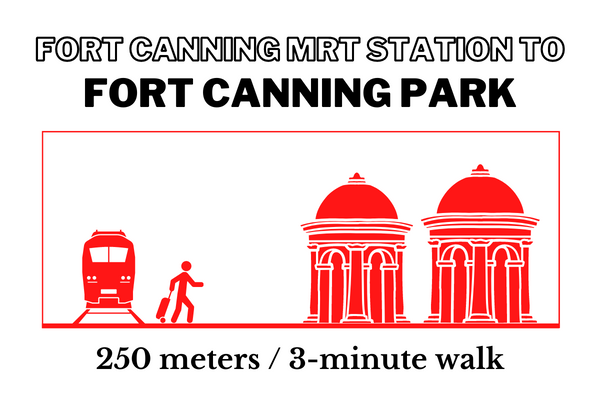 ---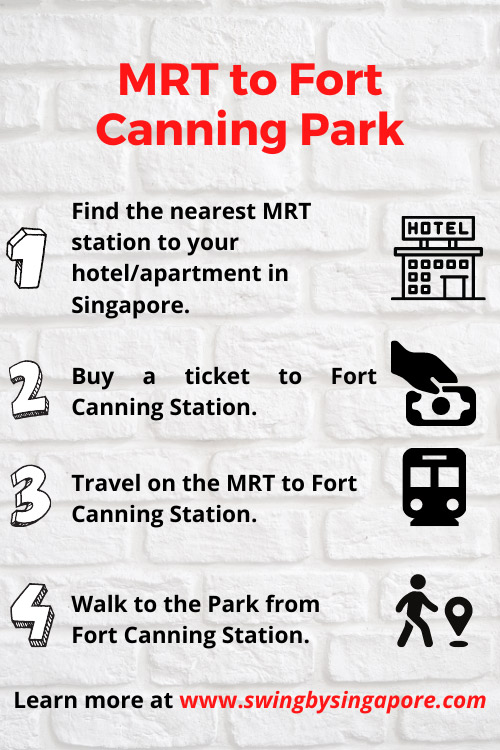 ---
Best Places to Stay near Fort Canning Park
Geographically, Fort Canning Park is actually located quite close to a lot of big-time tourist attractions in Singapore. Therefore, there are some high-quality hotels that are within direct walking distance of the park.
Actually, one of the coolest places to stay is actually 'inside this park'. There's one property called Fort Canning Hotel that you can stay at that is in a beautiful location. It also receives a superb verified guest score of 8.9/10 at the time of writing. If you want beautiful scenery and fresh air this is the best place to stay. 
There are also a bunch of good properties around the exterior of the park as well.
The Capitol Kempinski Hotel Singapore (5-star, rated 9.1/10) 
Iyf Funan Singapore by Ascott (4-star, rated 8.6/10)
Grand Park City Hall (5-star, rated 8.8/10)
Park Avenue Clemenceau (4-star, rated 8.8/10)
As you can see above the verified review scores from major accommodation websites suggest that these are all well managed properties. Once you get above 8.5 out of 10 that suggests that the hotel is very positively received by guests.  Although all of these properties are solid choices if you want to stay around the park in Singapore, we suggest that you stay at Hotel Fort Canning if you want a unique experience.
It is important to note that we do not have any direct partnership with any of the specific properties listed above. The review scores were quoted at the time of writing based on leading online accommodation websites. Therefore, these values are subject to change over time according to how guests perceive their stay.
---
Any more questions about getting to Fort Canning Park using MRT?
The most convenient things about visiting Fort Canning Park in Singapore is that it is really close to a lot of the coolest areas in the city. In a lot of places you have to drive very far to reach Parks such as this.
Some areas that you might want to consider visiting when you are checking out this park include Boat Quay, Clarke Quay, Orchard Road, Chinatown, Little India, and Marina Bay. All of these attract tons of tourists every year. 
If you do end up visiting Fort Canning Park don't forget to bring your cell phone or camera long as well. There are some excellent views of downtown Singapore from the southern portion of the park. A lot of people simply go here to get photos taken of themselves with other friends and family members due to the picturesque scenery.
We have written this article with the intention of providing you with a step-by-step guide on how to use the MRT to get to Fort Canning Park. If for some reason we have not provided you with enough information please feel free to send us an email or comment about any questions that you may have. We would be more than happy to provide you with additional information for this trip.