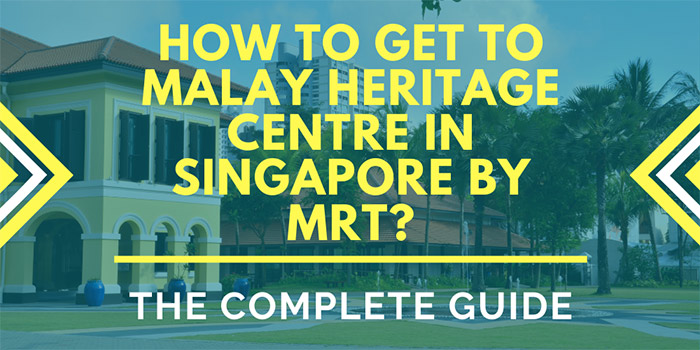 This article is designed to give you a step-by-step guide on how to get to the Malay Heritage Centre in Singapore by MRT. Singapore is extremely well known for being organized. This is especially true when it comes to public transportation and the options available to tourists visiting the city. 
When you first land at Changi International Airport you will have direct access to the MRT system. From the airport to your hotel and to most areas you should have no problem using only the MRT. This is also the case if you are planning on getting to the Malay Heritage Centre which is located in the 'Kampong Glam' area of the city. We have written this article according to our own travel experience visiting Malay Heritage Centre and the surrounding area. 
---
Why should you visit Malay Heritage Centre in Singapore?
The Malay Heritage Centre was officially opened in June 2005 by Prime Minister Lee Hsien Loong. This serves as one of many places of interest worth checking out in the Kampong Glam area of Singapore.
This cultural centre provides visitors with exposure to Malay Singaporean culture and other educational opportunities. The Malay Heritage Centre hosts exhibits, programmes and activities to honour the history of the Malay community in Singapore while looking towards the future. It is managed by the National Heritage Board and the Malay Heritage Foundation. 
Aside from exhibits and programmes the grounds at the Malay Heritage Centre also have Gelam trees, an interesting replica of a Bugis prahu boat, the Pinisi, and information regarding the history of the Bugis people and their trade in the area. 
While you are in the Kampong Glam area of the city you can also check out other noteworthy points of interest such as Sultan Mosque, Haji Lane and Arab Street. There has also been a growing number of affordable accommodation options around the Malay Heritage Center. A few examples below are within walking distance of Bugis MRT Station:
CUBE Boutique Capsule Hotel @ Kampong Glam (2-star, rated 8.7/10) 
Beary Best! Kampong Glam (2-star, rated 8.6/10)
Expect a healthy number of restaurants, and shops that specialize in textiles to be located in Kampong Glam. 
---
Getting to Malay Heritage Centre by MRT: The Step-by-Step Guide
Step 1: Find the nearest MRT Station to your hotel.
When you were planning your trip to Singapore make sure that you book a room as close as possible to an MRT station. Unlike most cities around the world, Singapore has such an extensive public transportation system in place that is possible to avoid using a vehicle during your entire trip here.
When you book your hotel room near an MRT station in Singapore you immediately start saving money because you do not have to get a taxi or private car to drive you to and from the station every time you want to go somewhere. You also bypass traffic using this strategy which can make your stay a lot more efficient. 
---
Step 2: Get an MRT ticket to Bugis Station.
When you are ready to begin your journey to the Malay Heritage Centre enter the MRT station closest to you and get ready to purchase the ticket.  
The best and most practical station to go to in order to reach the Malay Heritage Centre is Bugis Station.        
As you prepare to travel to Bugis Station you will consider three different MRT ticket options: 
A single trip ticket 

A stored value card that can be used for multiple trips

A Singapore Tourist Pass 
Which ticket matches your travel needs?
Single trip tickets are designed for people that are not going to be using the MRT extensively while they are in Singapore. These are the type of tickets where you enter the station and walk to the ticketing machine to buy a single journey ticket. These tickets tend to be the most expensive in Singapore and they do require you to sometimes wait in the line in order to get the ticket. They are ideal if you are only going to use the MRT once or twice while in the city. 
Singapore Tourist Passes, as the name suggests, is marketed towards temporary visitors to Singapore.  These are cards that you can purchase that allow you to use the MRT and bus networks in Singapore unlimited times for a set number of days. If you are a busy traveler and plan on using public transportation a lot this is by far the best option while you were visiting the city.
Stored value cards are used by many people that are in Singapore for a long period of time.  You have to purchase a card and then talk it up. But, once the card is topped up the price is cheaper than buying single journey tickets. Since you only have to tap these cards when you enter a station you also bypass ticketing machine lines. 
If you plan on using a stored value card to get to Bugis Station there are two main types that you can get:
ez-link 

Nets FlashPay card
You can purchase these at TransitLink Ticket Offices, MRT stations and 7-Eleven stores. 
Go to one of these merchants to top up your cards:
DBS/POSB/OCBC Automatic Teller Machines

7-Eleven stores

General Ticketing Machines,

SingPost Outlets

AXS Stations

Add Value Machines

TransitLink Ticket Offices 
---
Step 3: Travel on the MRT to Bugis Station
Bugis Station is considered to be the main MRT station for the Kampong Glam area which includes the Malay Heritage Centre. Bugis is a stop on two different MRT Lines in the city: 
East-West MRT Line (Shown in Green colour on the Map)
Downtown Line (Shown in Blue colour on the Map) 
It can also be beneficial to have some familiarity with the adjacent stations to Bugis. This will help you to make sure that you get off at the right time.
East West Line
Lavender MRT Station
City Hall MRT Station
Downtown Line
Rochor MRT Station 
Promenade MRT Station
As you approach any one of these adjacent stations you will hear verbal announcements on the train to alert you of what station you are stopping at. When we were just figuring out how to get to the Malay Heritage Centre in Singapore by MRT we never realised how helpful these announcements were! Similarly there are signs above each exit on each train to show where you are on the line. As you enter MRT stations in Singapore you can also see route maps that are placed in each station. Therefore, you should have no problem navigating your way to Bugis Station.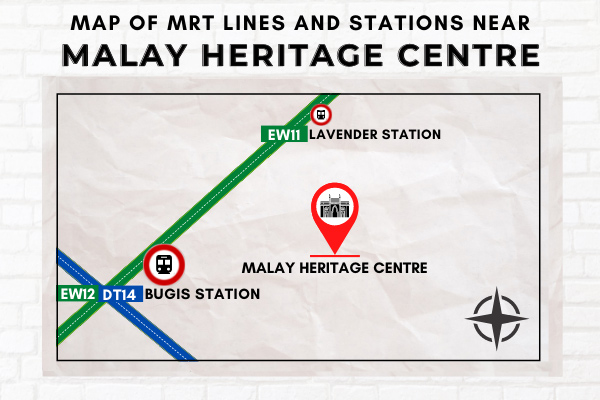 ---
Step 4: Walk to Malay Heritage Centre from Bugis Station
Bugis Station, like most of Singapore' public transportation stations, has multiple exits that you can choose from. It has six exits in total: A, B, C, D, E and F.  
Take either exit B or exit D to get to Malay Heritage Centre.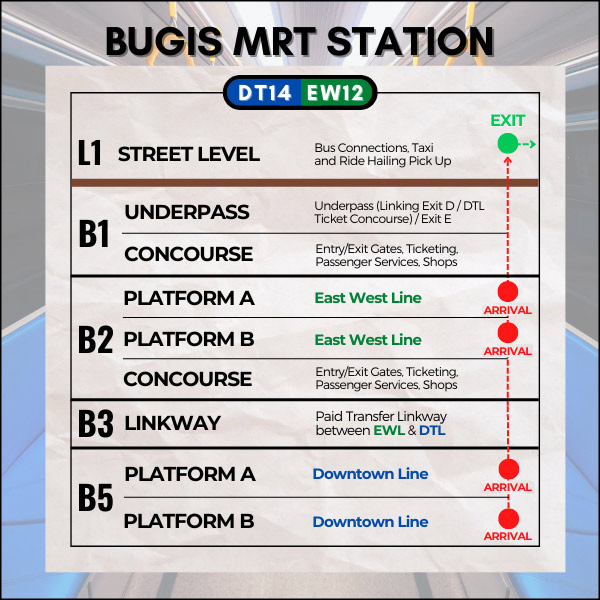 You can expect it to take you about 8 minutes to walk the 600 meters to get there. Along the way you will pass by Haji Lane, Arab Street and Sultan Mosque.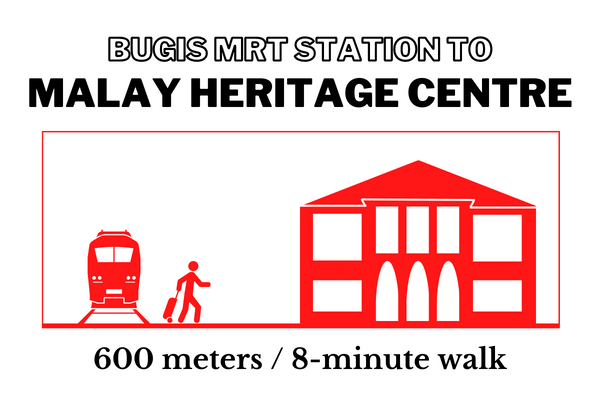 ---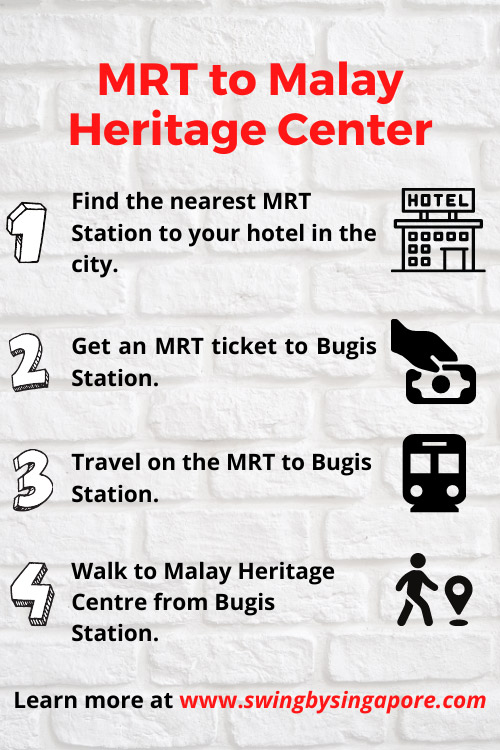 ---
Best Places to Stay near Malay Heritage Centre
If you are booking a room near the Malay Heritage Centre in Singapore you really have to first consider how much money you want to spend. This area is tailored towards backpackers and travellers who are budgets budget-conscious. Over the last 10 or 15 years there has been a growing number of hostels and capsule hotels in this area.  Although the prices might still seem very high relative to other countries in Southeast Asia, the Kampong Glam area is known as a pretty affordable place to stay while you are in the city. Conveniently, most of the hotels in this area are within 5 minutes or less of the MRT station. A few of the most highly-rated two star properties are listed below:
CUBE Boutique Capsule Hotel @ Kampong Glam (2-star, rated 8.7/10)
Beary Best! Kampong Glam (2-star, rated 8.6/10)
If you are not particularly worried about spending a bit more for a room, there are also some really high-quality four and five star properties in the vicinity of Bugis that you can easily walk to:
Andaz Singapore – A concept by Hyatt (4-star, rated 9.2/10)
Pan Pacific Serviced Suites Beach Road (5-star, rated 9/10)
PARKROYAL on Beach Road (4-star, rated 8.8/10)
One of the benefits of staying in this area is that you can easily access a lot of different Middle Eastern and Eastern European restaurants. Due the Islamic influence in Kampong Glam expect to get different food choices in relation to other touristy areas of Singapore. In other words, you may appreciate the different choices in this area.
---
Any more questions getting to Malay Heritage Centre using MRT?
If you were staying in another area other than Kampong Glam while you are in Singapore, then you should definitely consider checking out this area of the city as part of an excursion.  Although the Malaysian Heritage Center is definitely worth visiting, there are multiple other attractions in this area that are even more popular with tourists.
Haji Lane and Bussorah Street, for instance, are both vibrant roads that are very photogenic and welcome tons of people on a daily basis. They are lined with trendy cafes and artsy boutique shops.
Sultan Mosque is a photogenic religious place of worship that has a beautiful golden dome. Arab Street is lined with textile shops that sell high quality rugs and fabrics such as batik.
We hope that this guide on how to get to the Malay Heritage Centre in Singapore by MRT has been detailed enough for you. Please send us an email or a comment if you want some more information about this trip. We would be delighted to help you to get to the Kampong Glam area of the city.