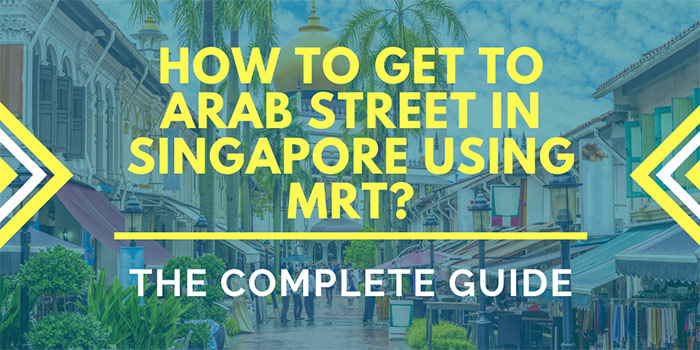 We have written this article to provide you with a step-by-step guide on how to get to Arab Street in Singapore using MRT. One of the first things that you need to know about Singapore is that it has one of the best public transportation systems in the world. Regardless of whether you are sightseeing downtown near Marina Bay Sands or shopping along Orchard Road, you will find consistent accessibility to MRT stations throughout the city. 
This is also true when you land at Changi Airport.  The MRT is even connected to the airport and allows seamless transportation to major areas of the city providing access to Singapore's Top Attractions.  Although we plan on writing hundreds upon hundreds of articles on how to get around Singapore using the MRT, this article will specifically focus on getting to Arab Street which is in the Kampong Glam area of the city.
Also take note that this article is based on our own personal experiences traveling on the MRT system in Singapore.
---
Why should you visit Arab Street in Singapore?
The first and most obvious question about Arab Street is why would you even want to go there in the first place?
Prior to our first travel experience visiting Kampong Glam and Arab Street we actually asked ourselves the same question! Fortunately, there are a lot of reasons why you should visit Arab Street and the surrounding area. 
Arab Street is one of the main roads in Kampong Glam. This area is often described as the 'Islamic area' of Singapore, where food choices and textile merchants are prominent. This is one of Singapore's most interesting cultural areas filled with boutique shops, trendy cafes and popular sights such as Haji Lane, Sultan Mosque and the Malay Heritage Center (Directions via MRT).
If you are looking for colourful textiles this is the place to go. You can find all kinds of fabrics, including batik. Most of these shops are located along Arab street in traditional shophouses.
Also keep in mind that vver the last 10 years more and more boutique hotels and hostels have opened inKampong Glam. A few examples are listed below:
CUBE Boutique Capsule Hotel @ Kampong Glam (2-star, rated 8.7/10) 
Beary Best! Kampong Glam (2-star, rated 8.6/10)
Now that there is a healthy selection of restaurants and shops in this area more and more people are choosing to stay near Arab Street. The hotels and hostels tend to be well priced and within walking distance of Bugis MRT Station.
---
Getting to Arab Street by MRT: The Step-by-Step Guide
Step 1: Find the nearest MRT Station to your Hotel
When you are booking your hotel in Singapore the first priority that you should have is staying close to an MRT station. Fortunately, this is quite easy to do considering her there are literally hundreds upon hundreds of hotels within walking distance of stations around the city.
Staying close to an MRT Station makes sure that you avoid taxis and traffic during your entire stay and also ensures that you help the environment at the same time.  Singapore's MRT system is also extremely affordable in comparison to other modes of transportation.
Some popular hotels that are located close to MRT stations include:
Marina Bay Sands (minutes from BayFront MRT Station)
Raffles Hotel Singapore (minutes from Esplanade MRT Station)
Once you are checked in and ready to go, it's time to walk to the station in order to get to Arab Street.
---
Step 2: Buy an MRT ticket to Bugis Station.
Once you enter in MRT station in Singapore, your next step will be to purchase a ticket to Bugis Station. This is by far the most popular 'access station' to get to Kampong Glam and Arab Street.
You were going to have to make a decision about what kind of ticket you want to purchase in Singapore. Technically, there are two main types of MRT tickets that you can purchase. The one that you choose really depends on your own personal circumstances while you were in the city.
Here are the current ticket choices:
A stored value card that can be used for multiple trips

A Singapore Tourist Pass 
Pros and Cons of Types of  MRT Tickets
If you are strictly visiting Singapore for tourism purposes than you might want to get a Singapore tourist pass. This is a card that you can use for unlimited rides on buses and trains within the city for a set ratio of time. For example, if you were traveling in Singapore for only 2 days this would be the best option if you plan on using the MRT a lot.
We highly recommend buying an Attraction Pass to use along with the Tourist Pass. With over 200,000 passes already sold, it's a proven way to save up to 52% on entrance fees throughout Singapore.
A stored value card is a card that you can purchase and top up with cash.  It allows you to get discounted rates relative to buying tickets using cash and also allows you to bypass lines while you are in Singapore. Stored-value cards are very popular with local residents in the city. When we were first figuring out how to get to Arab Street in Singapore using MRT we used a stored value card.
There are two main types of stored value cards that you can purchase:
ez-link 

Nets FlashPay card
You can purchase these at TransitLink Ticket Offices, MRT stations and 7-Eleven stores. 
Go to one of these merchants to top up your cards:
DBS/POSB/OCBC Automatic Teller Machines

7-Eleven stores

General Ticketing Machines,

SingPost Outlets

AXS Stations

Add Value Machines

TransitLink Ticket Offices 
---
Step 3: Take the MRT to Bugis Station
Bugis Station is part of two different MRT Lines within the city:
East-West MRT Line

(Shown in Green colour on the Map)

Downtown Line

(Shown in Blue colour on the Map) 
It is also a wise idea to have some familiarity with the adjacent stations to Bugis so that you know when you are going to have to get off the train.  
Singapore is known to be a very organized City. The MRT is no exception. As you ride on the MRT you will hear clear verbal announcements that prompt you about the next station on the line. Also you will find signs above each exit that highlight where you are on the line. The adjacent stations to Bugis and their respective lines are listed below for your convenience: 
East West Line
Lavender MRT Station
City Hall MRT Station
Downtown Line
Rochor MRT Station 
Promenade MRT Station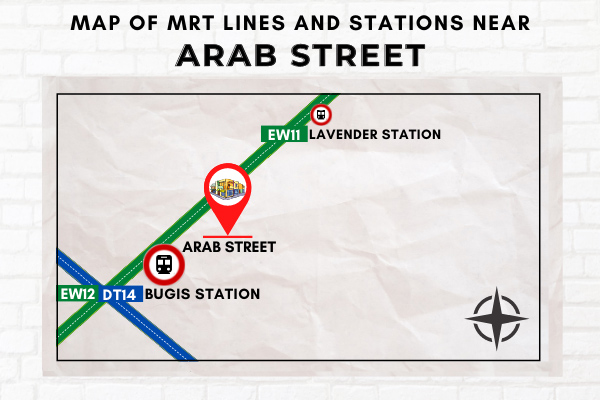 ---
Step 4: Walk to Arab Street from Bugis Station
Like most of Singapore's MRT stations, Bugis has multiple exits that you can choose from. It has six exits in total: A, B, C, D, E and F.  
You can take either exit B or exit D to get to Arab Street.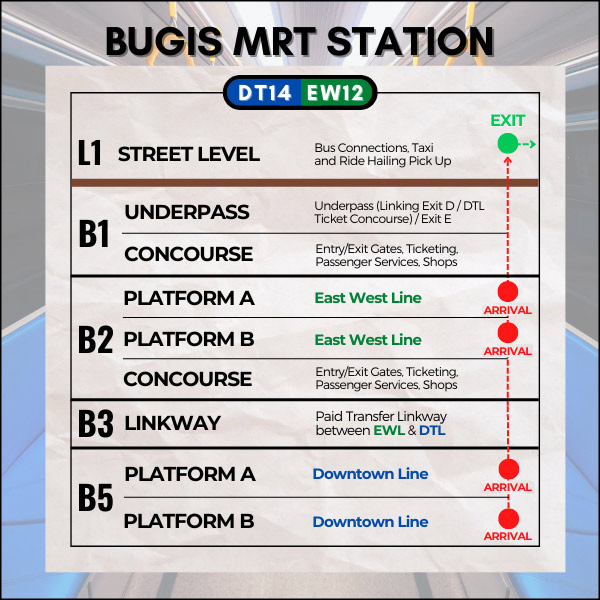 You can expect it to take you about 5 minutes to walk the 300 meters to Arab Street.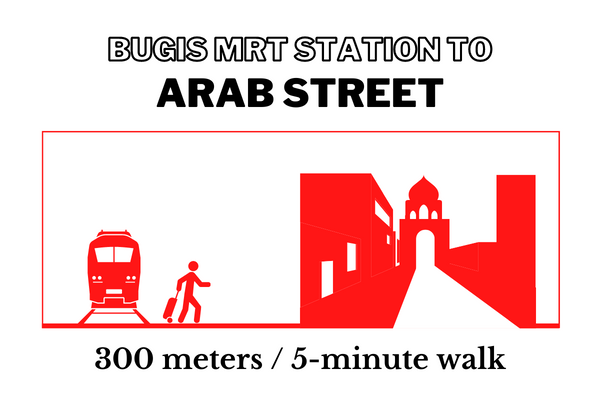 ---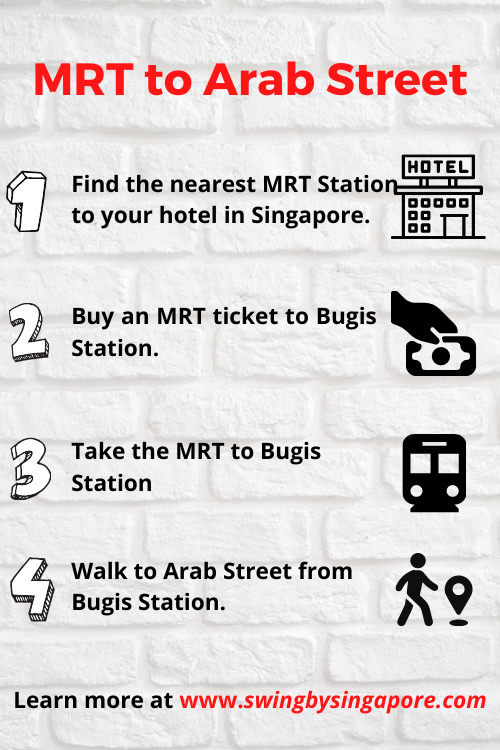 ---
Best Places to stay near Arab Street
Over the last 10 or 15 years there has been an increasing number of accommodation choices around Arab Street.  With Bugis station nearby it is quite convenient to take the MRT to this area to access a bunch of different hostels and hotels. In general, the hotels in this area tend to be oriented towards budget travelers including backpackers.  Capsule hostels, sometimes called pods in Singapore, are quite prevalent in Kampong Glam.
Two examples are listed below:
CUBE Boutique Capsule Hotel @ Kampong Glam (2-star, rated 8.7/10)
Beary Best! Kampong Glam (2-star, rated 8.6/10)
You can expect pretty clean, well-managed properties in this area for the most part. In comparison to other popular areas of the city Kampong Glam properties are considered to be good value for what you get.  Do not expect large rooms and luxurious amenities but you will get good clean rooms for an appropriate price.
Although most rooms in this area are very affordable, there are some excellent higher-end options here as well that are within walking distance of the station:
Andaz Singapore – A concept by Hyatt (4-star, rated 9.2/10)
Pan Pacific Serviced Suites Beach Road (5-star, rated 9/10)
PARKROYAL on Beach Road (4-star, rated 8.8/10)
One strategy that you could follow is booking your room in this area of Singapore and using the MRT Network to access different areas that would cost more money to stay in. There is a growing number of restaurants in this area and there are lots of little boutique shops and cafes that provide more than enough shopping opportunities for guests.
---
Any more Questions getting to Arab Street using MRT?
Arab Street is actually not the most 'touristy street' in this area.  It still has a lot of different textile shops so it does have a feel like it is more business-oriented. However, nearby Haji Lane (Directions via MRT) and Bussorah Street are both great places to explore if you want to take photos and grab some food or beverages. The food in this area tends to be middle eastern or eastern European. Expect some top quality eateries around Sultan Mosque. Also remember to check out the Malay Heritage Center as well. 
We hope that this guide to how to get to Arab Street in Singapore using MRT has provided you with enough information to make this super easy! Please send us an email or a comment if you want some more information about this trip. We would be delighted to help!