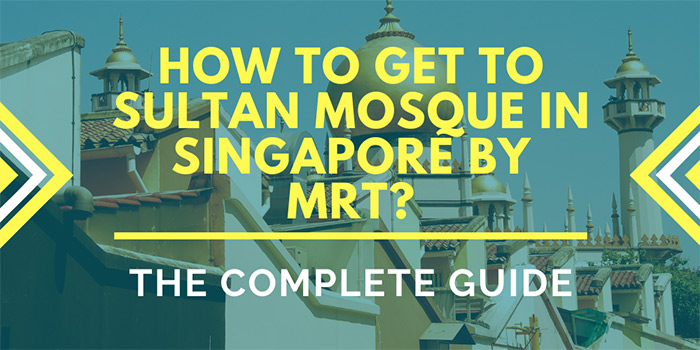 We have written this article to provide you with a step-by-step guide on how to get to Sultan Mosque in Singapore using the MRT network. One of the best things about visiting Singapore is the amazing public transportation system that they have developed. We have extensively used the MRT to get around the city and we have used it many times to get to Sultan Mosque and other points of interest in Kampong Glam.
It is completely possible to spend 5 days or even a week in Singapore without stepping foot in a vehicle. The MRT is fast, affordable and convenient. Unlike many cities around the world, Singapore's train network has enough lines that it can almost get you to all the cool spots within the city. Fortunately, the Kampong Glam area is one of them. 
---
Why should you visit Sultan Mosque in Singapore?
Sultan Mosque, also known locally as Masjid Sultan, has a long history that goes back all the way to 1824. It is a very photogenic mosque and a prominent landmark in the Kampong Glam Malay Heritage District of the city.  The Kampong Glam area has become increasingly popular over the years because of lots of textile shops, vibrant streets like Haji Lane and Arab Street and excellent middle eastern restaurants. 
Many tourists visit Kampong Glam to learn about and understand the religion, culture and the diverse ethnic group that make up the Muslim Singaporeans today.
Sultan Mosque has a prayer hall that accommodates up to 5000 people. It is managed under a Board of Trustees of 12 members who represent 6 ethnic groups namely Malays, Bugis, Javanese, Arabs, Southern and Northern Indians.
From a tourism perspective, Sultan Mosque is one, if not the most photographed structure in all of Kampong Glam. It has a beautiful golden dome and facade that are stunning during the day and at night. 
Over the last 10 years more and more boutique hotels and hostels have been opening in this area of Kampong Glam as well. A few examples are listed below:
CUBE Boutique Capsule Hotel @ Kampong Glam (2-star, rated 8.7/10) 
Beary Best! Kampong Glam (2-star, rated 8.6/10)
Prior to the opening of these properties most tourists went to the area around Sultan Mosque as a day excursion. Now, Kampong Glam is a pretty convenient place to stay with direct accessibility to the MRT network.
---
Here is a step-by-step guide on how to get to Sultan Mosque by MRT.
Step 1: Depart your hotel and find the nearest MRT Station.
Ever since the MRT Network in Singapore started being developed, hotel developers  were keen to build properties within walking distance of these stations.  Now, when you visit Singapore you will have the opportunity to select from hundreds of hotels that are within walking distance of convenient MRT stations within the city.
Therefore, the first step in planning your trip to Sultan mosque is making sure that you book a room that is within walking distance of an MRT station.  There are some popular hotels such as Marina Bay Sands (minutes from Bayfront MRT Station) and the Fullerton Bay Hotel Singapore (minutes from Raffles Place MRT Station)  that many tourists prefer to stay at.
Regardless of how much your budget is for your trip to Singapore, make it a priority to book a room near a station.   Excursion within the city because you avoid taxi fees. It is also more environmentally friendly to be using public transportation.This ensures that you save money on every excursion within the city because you avoid taxi fees. It is also more environmentally friendly to be using the public transportation
After you have checked into your hotel room in Singapore get ready to walk to the nearest MRT station in order to access Sultan Mosque. 
---
Step 2: Buy a ticket to Bugis Station to reach Sultan Mosque.
Once You have entered your origin station for this trip you want to make sure that you purchased a ticket going to Bugis Station. Bugis is by far the most popular MRT Station used by both tourists and Singaporeans to access Kampong Glam and Sultan Mosque. 
While in the station you have to make a decision about what kind of ticket do you were going to use for this journey. Keep in mind that there are three different variations of MRT tickets in Singapore that you can choose from:
A stored value card that can be used for multiple trips

A Singapore Tourist Pass 

A single trip ticket 
Pros and Cons
Now of these three options you really have to see what fits your plan best. For example, the Singapore tourist fast is designed for visitors to the city that are not staying permanently.  In other words, if you are spending three days in Singapore this is likely to be the best MRT ticket auction assuming that you were going to ride the public transportation system a lot. You simply pay for the past and use it for unlimited bus and train rides while you are in the city.
Stored value cards are actually just an alternative version of the Singapore tourist pass except they are not designed for just one or two days of use.  In this case, if you purchase a stored-value card you can top up the card with cash and then use the card on multiple occurrences. Every trip you take just simply removes some balance from your account. It is cheaper to use the stored-value cards than buying single tickets.
Single journey tickets are ideal if you are only going to take one or two trips on the MRT during your entire stay in Singapore. These tickets are purchased from ticketing machines and cost more per trip than the other cards. However, you don't have to worry about loading a card and spending time dealing with that. You can, however, expect to wait in line to buy a ticket every time you access the MRT system.
While you are in Singapore there are two main types of stored value cards that you can purchase:
ez-link 

Nets FlashPay card
Considering buying these at TransitLink Ticket Offices, MRT stations and 7-Eleven stores. 
When you need to top up your stored-value card you can go to one of the following retailers below in order to add some cash to your account value.
DBS/POSB/OCBC Automatic Teller Machines

7-Eleven stores

General Ticketing Machines,

SingPost Outlets

AXS Stations

Add Value Machines

TransitLink Ticket Offices 
---
Step 4: Ride the MRT all the way to Bugis Station
Bugis Station should be your intended destination while you are traveling on Singapore's MRT to get to Sultan Mosque.  Therefore, having some familiarity with the MRT lines in Singapore can make this a lot easier for you to manage.
This station is actually part of two different MRT Lines within the city.  You can access it from either of the two lines listed below:
East-West MRT Line

(Shown in Green colour on the Map)

Downtown Line

(Shown in Blue colour on the Map)
It is a smart idea to know what the adjacent stations are to Bugis:
East West Line
Lavender MRT Station
City Hall MRT Station
Downtown Line
Rochor MRT Station 
Promenade MRT Station
Singapore makes it very straightforward to ride the MRT. As you approach each station you can expect to hear verbal announcements made on each train.  Similarly, trains usually have illuminated screens above each exit door to show passengers where they are on the line and what the next station will be coming up. When we were first figuring out how how to get to Sultan Mosque in Singapore by MRT we listened carefully and checked the twins signage.
As you hear the verbal announcement for any of these four adjacent stations to Bugis  make your way closer to an exit on the train. Your stop is coming up soon.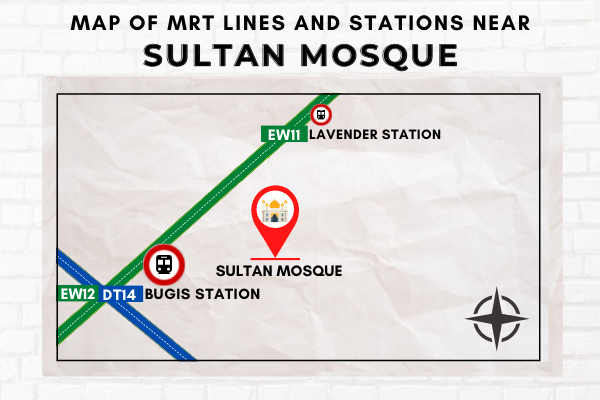 ---
Step 5: Exit Bugis Station and Walk to Sultan Mosque
You can expect to have the choice of multiple exits when you arrive at Bugis Station. Bugis Station has a total of 6 different exits which can get a bit overwhelming when you arrive. These exits include A, B, C, D, E and G. 
Technically you can make it to Sultan Mosque from any of them. But the most popular one is Exit D.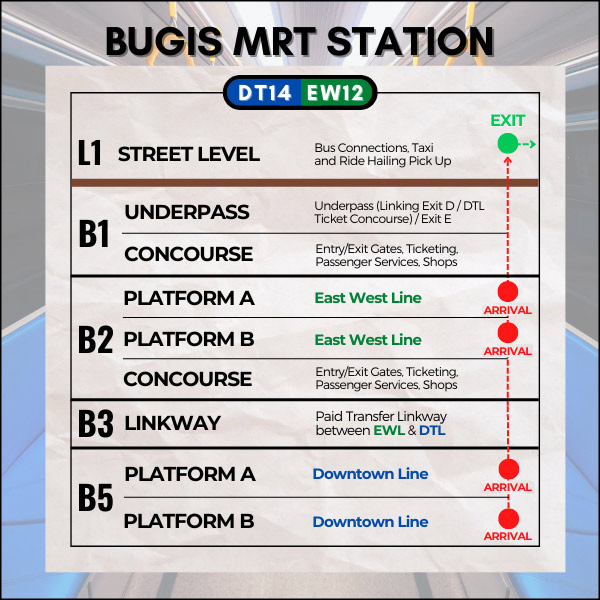 The walk from Exit D of Bugis Station to Sultan Mosque is about 500 meters and this should take you about 5 minutes to walk there. The quickest way to walk there is northeast via North Bridge Road.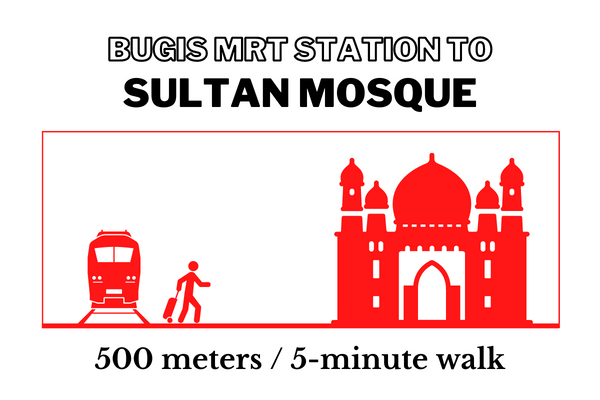 ---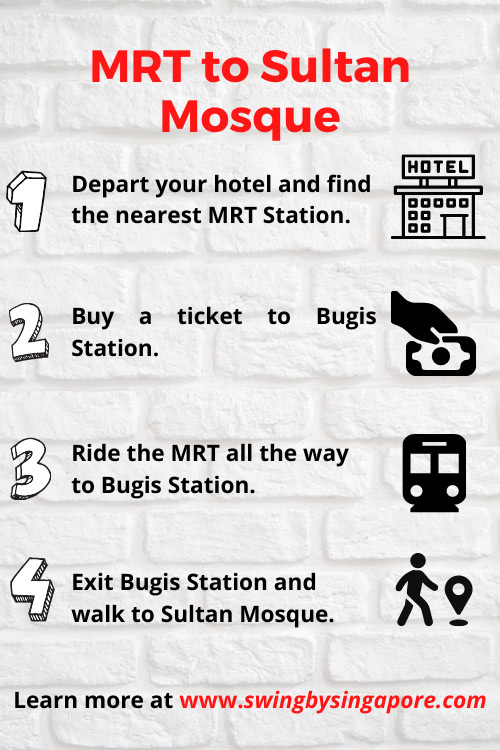 ---
Where should you stay near Sultan Mosque in Singapore?
As mentioned before, the accommodation scene in Kampong Glam in Singapore has evolved a lot over the last 10 or 15 years. There are currently multiple high-quality accommodation options that are within 10 minutes or less of Bugis Station.
It is important to note that most of the accommodation in this area focuses on budgeting tourists, backpackers and business travelers trying to save a bit of cash. Prices in this area are good and much cheaper than hotels in popular areas such as Marina Bay and Orchard Road. 
The two properties below are positively reviewed by verified guests:
CUBE Boutique Capsule Hotel @ Kampong Glam (2-star, rated 8.7/10)
Beary Best! Kampong Glam (2-star, rated 8.6/10)
If you are willing to spend more to get larger rooms, better service and pools, spas etc., there are also some good options near Sultan Mosque:
Andaz Singapore – A concept by Hyatt (4-star, rated 9.2/10)
Pan Pacific Serviced Suites Beach Road (5-star, rated 9/10)
PARKROYAL on Beach Road (4-star, rated 8.8/10)
You should be able to reach any of the properties listed above in 5-minutes from Bugis Station. Also, take note that these suggestions are based on review scores from leading online accommodation sites at the time of writing. We do not have a direct partnership with any of them.
---
Anymore questions getting to Sultan Mosque using the MRT?
We believe that Kampong Glam is an underrated area of Singapore. It has some interesting Islamic culture and vibrant textile shops worth exploring. We also loved the artsy feeling of Haji Lane which is a few minutes from Sultan Mosque. 
You should also consider visiting Bussorah Street. It has many restaurants and stores that are beside Sultan Mosque. Arab Street is the main thoroughfare in this area – go there if you want to buy rugs, carpets and garments. 
We hope that this guide how to get to Sultan Mosque in Singapore by MRT has provided you with enough information to make this trip a stress-free one! Please send us an email or a comment if you want some more information about this trip. We would be delighted to help!