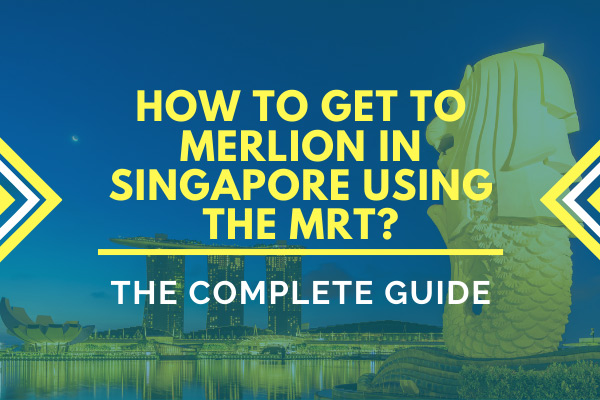 This article is designed to provide you with a step-by-step guide on how to get to the Merlion in Singapore using the MRT.
The information presented in this article is guaranteed to be reliable because it is based on our personal travel experiences visiting the Merlion in Singapore on multiple occasions. 
What is the Merlion in Singapore?
As one of the prime symbols of Singapore, the Merlion has become famous amongst both locals and tourists within the city. The Merlion is considered to be the official mascot of Singapore.
If you have yet to see photos of the famous Merlion in Singapore, it is a statue that consists of a lion's head fused with the body of a fish.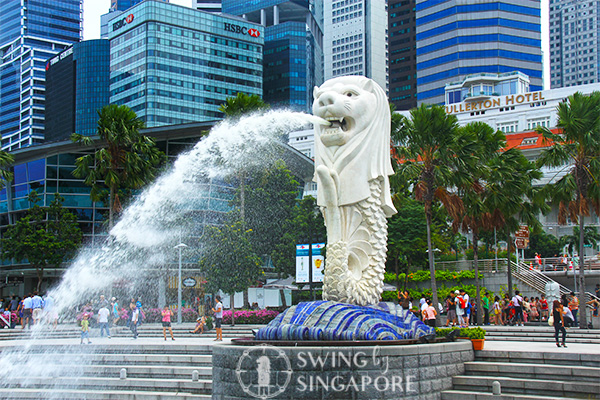 Although there are currently a few different Merlion statues situated in Singapore, this article is focusing on the most famous one of all: the Merlion statue that is located in Marina Bay, surrounded by many of Singapore's 5-star luxury hotels.
This Lion Statue was officially installed on September 15th, 1972 during a ceremony by Minister Lee Kuan Yew. The original installation of the Merlion was situated at the most of Singapore River. However,  the statue was relocated in 2002 and shifted 120 m to the east.
Currently, the Merlion faces Marina Bay and Marina Bay Sands Resort and has a prominent location in one of the nicest areas of all of Singapore.
Aside from a tourist attraction, the Merlion logo is used to represent sporting franchises and is used in advertising and branding platforms as an identity symbol linked to Singapore.
---
Why should you consider visiting Merlion if you are in Singapore?
Naturally, the first question that should come to mind is why should you consider visiting the Merlion in the first place?
Based on our experience visiting the Marina Bay area of Singapore, the Merlion is one of many prime points of interest in this area of the city. The Merlion, and the direct area around it, is primarily used as a background for photos.
In other words, when you visit the Merlion, chances are there will be other tourists that will be queuing for photo opportunities. Due to his prominent location in Marina Bay, it is possible to get creative when you take photos at the Merlion.
For example, if you have a wide-angle lens it might be possible for you to take photos of the Merlion and capture the Singapore Skyline in the same photograph.
You can also try to get photos of the Merlion with Marina Bay Sands Resort in the background as well.  Marina Bay Sands Resort is one of the most iconic and famous buildings in Southeast Asia due to its innovative architectural design.
Visiting the Merlion is completely free. Therefore, it is just a fun sight to quickly see you while you are in Singapore.
---
Here is a step-by-step guide on how to get to the Merlion:
Step 1: Leave your hotel and access the closest MRT Station in Singapore.
If you are planning your first trip to Singapore then you might not be completely familiarized with the public transport options within the city.
One of the most popular options for visitors to Singapore is the MRT Network.  Singapore undoubtedly has one of the best public transportation systems in the entire world.
Therefore, the first step in terms of taking the MRT to the Merlion is figuring out how close your hotel is relative to the nearest station.
Singapore has done an excellent job of making sure that their MRT stations are distributed throughout the entire city. However, you may have to walk or take a taxi or bus to the closest MRT station depending on where you are staying.
---
Step 2: Navigate Singapore MRT to Merlion
Once you have arranged transportation from your hotel to the closest MRT Station, you have to familiarize yourself with the lines in Singapore and which connections you have to make to get to the Merlion.
To do this you have to know what is the closest MRT Station to Merlion. 
The closest station to the Merlion is Raffles Place MRT. 
Which MRT Lines Service Raffles Place MRT Station and the Merlion?
Currently, the Singapore MRT network consists of six lines. Two of the six lines service trains to Raffles Place MRT Station and the Merlion. 
If you want to take the MRT to Merlion then get on either the North-South Line or the East-West Line. 
The North-South Line is represented with red colour on Singapore MRT Maps, whereas the East-West Line is represented with green colour.
You can also transfer between these two lines at Raffles Place MRT Station.
---
Step 3: Purchase your MRT Ticket
Once you know whether you are going to take the North-South Line or the East-West Line to Raffles Place Station and the Merlion, the next step is paying for the MRT ride.
There are several ways to pay for your MRT ride in Singapore. The options are listed below:
Stored value card

Concession card

Cash

Standard ticket 

Debit card/Credit Card

Singapore Tourist Card
It is really up to you which form of payment you want to go with. If you happen to be in Singapore for an extended period of time, you might want to get a stored-value card. This is the most efficient method because you can top it up and then use the card for multiple rides. 
There are two acceptable stored value cards for Singapore MRT:
EZ-link 

Nets FlashPay card
You can purchase these at any TransitLink Ticket Office, MRT station and 7-Eleven stores. 
Once you have purchased your card you can top them up at the following venues:
General Ticketing Machines,

Add Value Machines

TransitLink Ticket Offices 

SingPost Outlets

AXS Stations

DBS/POSB/OCBC Automatic Teller Machines

7-Eleven stores
If you're a tourist consider getting a Singapore Tourist Card for your transport within the city.
---
Step 4: Take the MRT to Merlion
Once you've paid for your ticket to take the MRT to Merlion, it's time to get on the train and relax along the way.  Just keep in mind that Singapore is very strict about eating and bringing garbage onto the MRT system.  
Eat your food and drink or drinks prior to entering the MRT and avoid littering at all times. 
You can expect the MRT to be busy during peak times, but during non-peak times it is awesome possible to find a seat and comfortably sit down during your journey.
How long does it take to travel to Merlion using the MRT?
If you are taking the MRT to Merlion in Singapore then it really depends on where your trip is beginning.  
Travel time, consequently, can vary significantly.  For example, somebody travelling from Changi Airport to Merlion will take a completely different amount of time than someone staying at a hotel in downtown Singapore. 
You are best to check the expected travel time using Google maps or the official MRT site in Singapore for more detailed approximations. 
$$$ How much does it cost to take the MRT to Merlion in Singapore?
MRT prices in Singapore can vary depending on multiple variables. For example, adults will not pay the same fare as children or senior citizens when they take the MRT to Merlion.
You also have to consider your origin station and the distance from that station to the Merlion. The further the journey, the more expensive it will be.  
Another variable that you have to consider is whether you were travelling during peak rush hour or during a quiet time. Prices can vary depending on the time of day and how busy the MRT system is.
In general, expect to pay around $1 if you are close to this area of Singapore.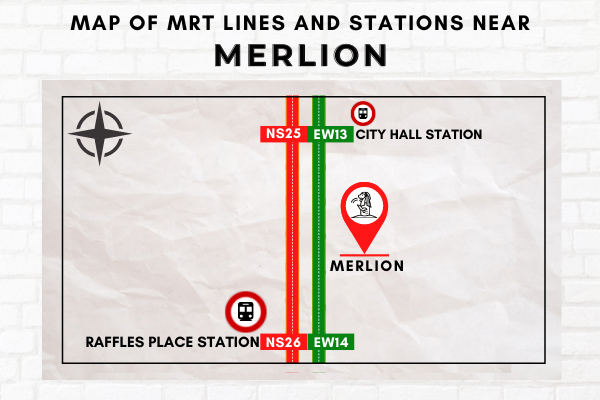 ---
Step 5: Which exit should I use from Raffles Station to get to Merlion?
Once you arrive at Raffles MRT Station you have to keep in mind that the Merlion is located only about 500 meters northeast of the station. Consequently, regardless of which exit you take, it should only take about 5 minutes to reach the Merlion. G and I are popular choices.
Walking down Battery Road, past The Fullerton Hotel is the most practical pathway to the Merlion.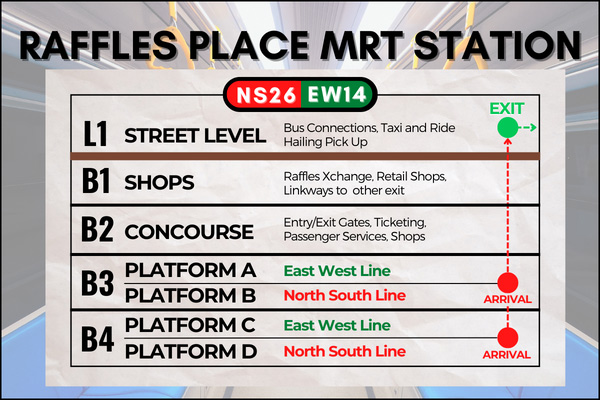 How long should it take you to walk from Raffles Place MRT Station to Merlion?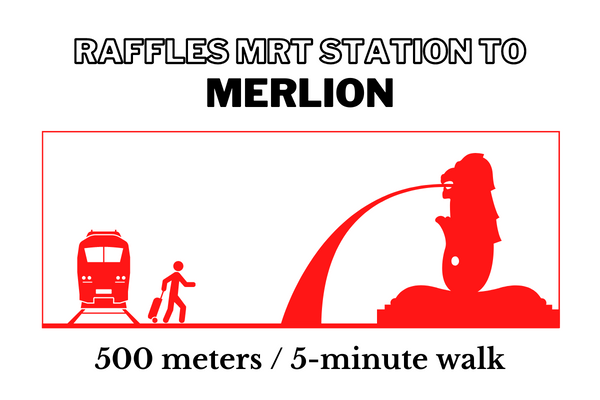 ---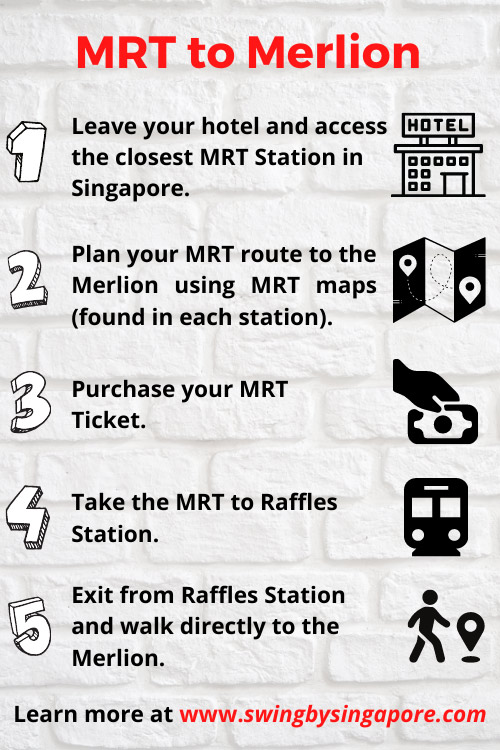 ---
Selecting the Best Hotel to Stay at Near Merlion
When you are selecting a hotel in Singapore where it really comes down to is budget.
If you plan on getting a direct view of Marina Bay or a view of Singapore's famous skyline then you have to be prepared to spend some serious cash.  Popular hotels such as Marina Bay Sands often charge around $500 Singapore Dollars per night and up. 
Based on our extensive experience in Singapore you can often find much more affordable rooms by staying near Boat Quay or Clarke Quay.  
Hong Kong St. and South Bridge road have many affordable options that include everything from pod hostels to high-quality 3-star properties.
From there you can walk along the water to the Merion without spending a penny. 
If money is not an issue for you then try to stay at The Fullerton or the Fullerton Bay Hotel. They are only a few minutes from the Merlion and they are excellent properties that consistently receive positive guest reviews.
---
Where did we stay in Singapore when we visited the Merlion?
We have stayed in the vicinity of Merlion on multiple occasions.  During our last trip, we wanted to save some cash and opted for a hotel that was near Clarke Quay's nightlife. 
We stayed at Hotel Bencoolen Hong Kong Street. 
This is a nice, small boutique hotel that is located only about 3 minutes away from Clarke Quay MRT station. 
This is a practical option if you want close access to the MRT while still being within walking distance of Marina Bay and other attractions near the Waterfront. 
We found the rooms to be extremely clean and the breakfast was quite extensive for the price. We would definitely stay at this property again.
Clarke Quay and Boat Quay have an extensive selection of restaurants to choose from which makes it very convenient or meals during your stay.
If you walk briskly you can access Merlion in about 10 minutes from Hotel Bencoolen Hong Kong Street. You will pass by the Fullerton Hotel and Anderson Bridge along the way. 
We have also stayed at Jayleen 1918 which is located on Carpenter Street. This is even more affordable than Hotel Bencoolen but it is older. It really depends on your budget and how much you plan on spending.
Keep in mind that these properties have not paid us anything to share this information. This is our honest opinion based on our travel experience in Singapore.
---
Any more questions about your trip to Merlion using the MRT?
If you happen to have any additional questions about taking the MRT to Merlion in Singapore please let us know.  
This is one of the most famous areas in the entire city for sightseeing. Therefore, it is important that you can make it here in an efficient, stress-free manner.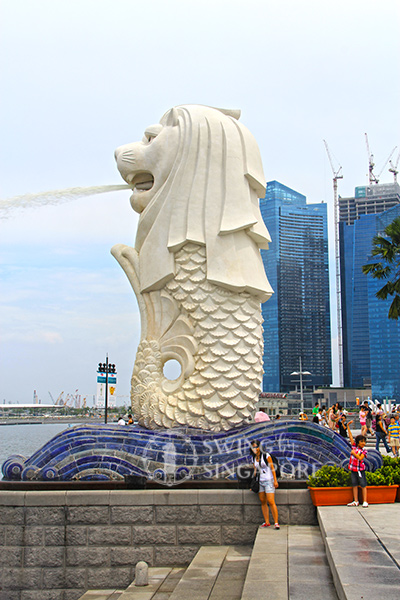 It is very convenient to walk from one attraction to the Waterfront to another. One of the benefits of visiting Singapore is that it is very convenient to walk from one attraction near the waterfront to another.
Keep in mind that there are many attractions within 1 kilometer or less of Merlion. A lot of travelers who visit this area of Singapore also visit:
Boat Quay 
Clarke Quay
Singapore Flyer 
Raffles Place
Gardens By the Bay
Esplanade

(among other things)
You can purchase attraction ticket bundles in Singapore to see several of these sights and other attractions for big discounts. It is safe to say that most tourists that visit the Merlion also check out various attractions during the same day.  The Esplanade, for instance, is only about 2 minutes away from the Merlion. This is a popular venue for international concerts and live musical performances.
---
This has been a step-by-step guide on how to get to Merlion using the MRT.   Please don't hesitate to send us an email if you require additional information about this trip!