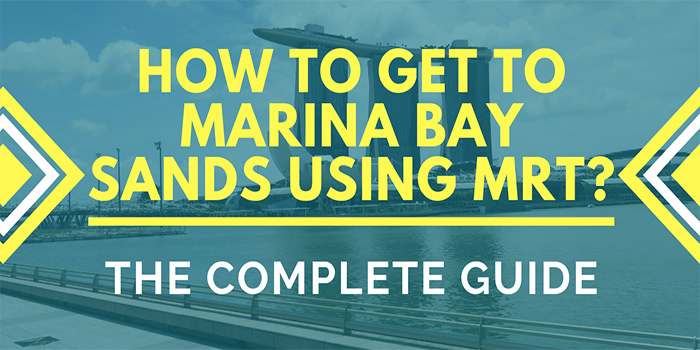 This article is designed to provide you with a step-by-step guide on how to get to Marina Bay Sands using the MRT.  The information that we have presented within this article is based on official Singapore public transport information and our own travel experience.
Regardless of your travel experiences, is hard to argue against the fact that Marina Bay Sands has become one of the most iconic landmarks in Southeast Asia.  Very few people visiting Singapore leave without seeing Marina Bay Sands overlooking Singapore's world-famous skyline. And if you don't stay there, tons of people still buy tickets to view Singapore from their awesome SkyPark. 
Although Marina Bay Sands is actually a large shopping, hotel, and entertainment complex, it is mainly famous because of its iconic architectural design.  It is very common for visitors to Singapore to spend hours trying to get the perfect photo of Marina Bay Sands with the rest of Singapore's skyline in the same shot. 
Why Should You Consider Visiting Marina Bay Sands if You're in Singapore?
This article explains how you can get Marina Bay Sands by MRT.  The next obvious question that you may have is why would you want to go to Marina Bay Sands in the first place?  Well, the interesting thing about Marina Bay Sands is that it is popular for different reasons.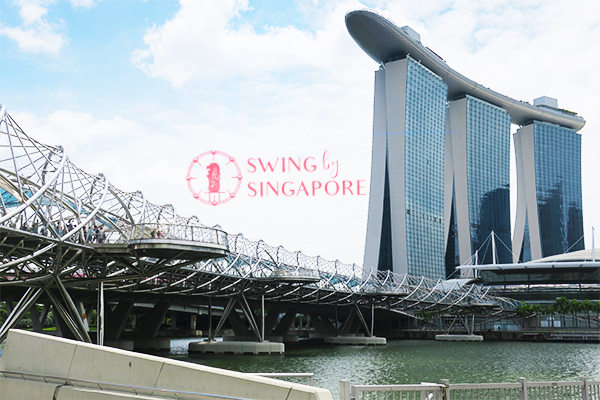 Some people who are visiting Singapore want to get more to Marina Bay Sands simply to take photos of this world-famous structure. Others, however, visit Marina Bay Sands because it is a fully functional, world-class hotel it offers breathtaking views of Singapore's downtown area and it's famous skyline. 
Many of Marina Bay Sands' skyline view rooms sell out on a regular basis because of the high tourist demand.  If you have the budget to afford a room facing the city it is a once-in-a-lifetime opportunity to capture these breathtaking views.
Another reason why people visit Marina Bay Sands is because of the shopping opportunities and dining opportunities that are there. 
Marina Bay is also a popular luxury mall that has many of the world's top branded clothing, bag and accessory stores. You can also find a broad array of different top-notch restaurants in Marina Bay Sands cater to a sleek, upper-class group of visitors. 
Don't forget the Marina Bay Sands is also an entertainment complex. You can choose to gamble at the Casino or watch live entertainment at one of the theatres if you wish.  Even the Rolling Stones played in concert at Marina Bay Sands to put things in perspective. 
You may even want to get to Marina Bay Sands because you want to exercise in the Marina area, or walk to Gardens by the Bay – another extremely popular attraction in Singapore.
---
Here is a step-by-step guide on how to get to Marina Bay Sands:
Step 1: Leave your hotel and access the closest MRT Station in Singapore.
If you have read a lot about Singapore then you probably already know that it has a world-class public transportation system.  The MRT is extremely popular and extremely efficient. Therefore, it's a matter of checking where your hotel is in Singapore relative to nearby MRT stations.
Once you checked on Google Maps where your hotel is route to the station you're going to have to make a decision whether or not you were going to walk or get a ride to the station.  
Ideally, if you are planning effectively for your trip Singapore you will realize that it makes sense to stay as close as possible to the MRT stations in the city. This cuts down on transit time and also reduces the amount of money you will spend during your trip.
---
Step 2: Navigate Singapore MRT to Marina Bay Sands
Once you have departed your hotel and you have access close to a station, you are going to have to look over which lines you have to take on the MRT to access Marina Bay Sands.
Although there are a few MRT stations close to Marina Bay Sands, the station that you want to get to is called Bayfront Station. This is far the best and most practical station to access Marina Bay Sands Resort. 
Which MRT Lines Service Bayfront MRT Station and  Marina Bay?
Bayfront MRT station is physically connected to Marina Bay Sands. There are two MRT Lines in Singapore that service trains to Bayfront that you should be familiar with:
Circle Line 
Downtown Line
Both of these stop at Bayfront Station. 
Also, you should be aware that there are two other MRT Stations within close proximity to Marina Bay Sands:
Marina Bay MRT Station
Downtown MRT Station
Technically, can walk to either one of these Marina Bay Sands but they are definitely farther away than Bayfront MRT Station.
---
Step 3: Purchase your MRT Ticket
Once you know your intended MRT route to Marina Bay Sands, the next step is paying for the ride. 
There are two main cards for getting around Singapore via MRT:
Stored value card

Singapore Tourist Pass
If you are in Singapore for a while, you might want to get a stored value card. This is the most efficient method because you can top it up and then use the card for multiple rides. 
There are two acceptable stored value cards for Singapore MRT:
EZ-link 
Nets FlashPay card
You can purchase these at any TransitLink Ticket Office, MRT station and 7-Eleven stores. Once you have purchased your card you can top them up at the following venues:
General Ticketing Machines,

Add Value Machines

TransitLink Ticket Offices 

SingPost Outlets

AXS Stations

DBS/POSB/OCBC Automatic Teller Machines

7-Eleven stores
If you're a tourist consider getting a Singapore Tourist Pass for your transport within the city.
We also highly recommend buying a multi-attraction pass while in Singapore. You can then use the MRT to get around and save up to 52% on entrance prices by buying in bulk. There have already been over 200,000 passes sold online!
---
Step 4: Take the MRT to Marina Bay Sands
Once you've paid for your ticket to take the MRT to Marina Bay Sands, it's time to get on the train and relax along the way. 
Just keep in mind that Singapore is very strict about eating and bringing garbage onto the MRT system.  Eat your food and drink or drinks prior to entering the MRT and avoid littering at all times. 
How long does it take to travel to Marina Bay Sands using the MRT?
If you are taking the MRT to Marina Bay Sands in Singapore then it really depends on where your trip is beginning.  
Travel time, consequently, can vary significantly.  For example, somebody travelling from Changi Airport to Marina Bay Sands will take a completely different amount of time than someone staying at a hotel in downtown Singapore. 
You are best to check the expected travel time using Google maps or the official MRT site in Singapore for more detailed approximations. 
$$$

How much does it cost to take the MRT to Marina Bay Sands in Singapore?
MRT prices in Singapore can vary depending on multiple variables. For example, adults will not pay the same fare as children or senior citizens when they take the MRT to Marina Bay Sands.
You also have to consider your origin station and the distance from that station to Marina Bay Sands. The further the journey, the more expensive it will be.  
Another variable that you have to consider is whether you were travelling during Peak rush hour or during a quiet time. Prices can vary depending on the time of day and how busy the MRT system is.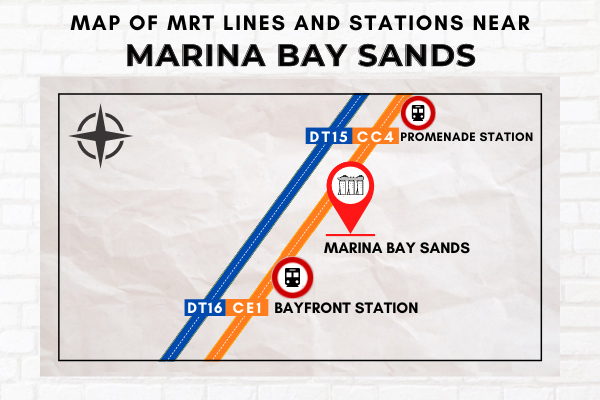 ---
Step 5: Which exit should I use from Bayfront Station to access Marina Bay Sands?
Once you arrive at Bayfront MRT Station you will have a few choices in terms of which exit you want to take. there are multiple exits but exit C and D are the most important if you want to access the main components of the Marina Bay Sands complex. 
 Refer to the summary below for additional information about which station you should take when you arrive at Bayfront.
Exit A – To Bayfront Avenue street level. 
Exit A – To Gardens by the Bay.
Exits C & D – To….
The Shoppes at Marina Bay Sands (1-minute walk)
Sands Expo & Convention Centre (3-minute walk), 
Marina Bay Sands Hotel (5-minute walk)
Sands SkyPark (10-minute walk)
ArtScience Museum (10-minute walk)
Sands Theatre (10-minute walk)
Exit E – To Sands Expo & Convention Centre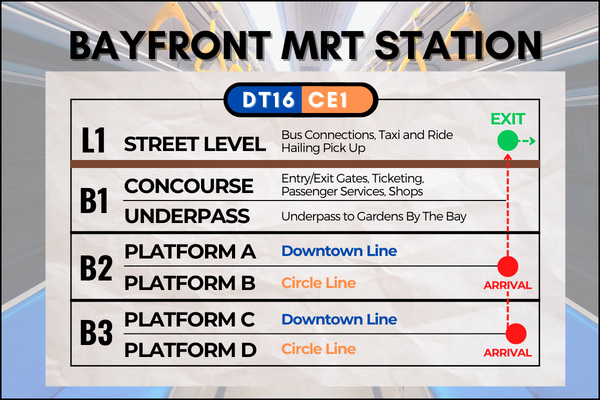 How long should it take you from Bayfront MRT Station to Marina Bay Sands?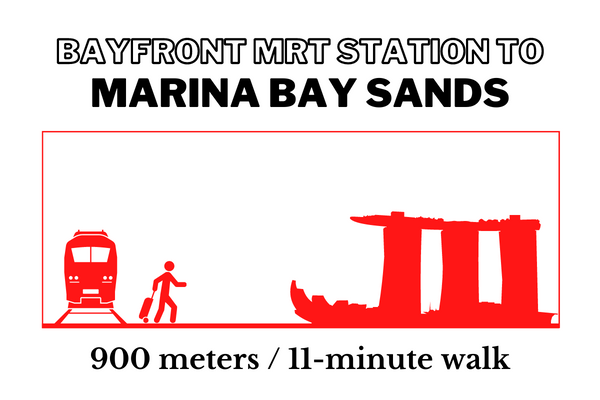 ---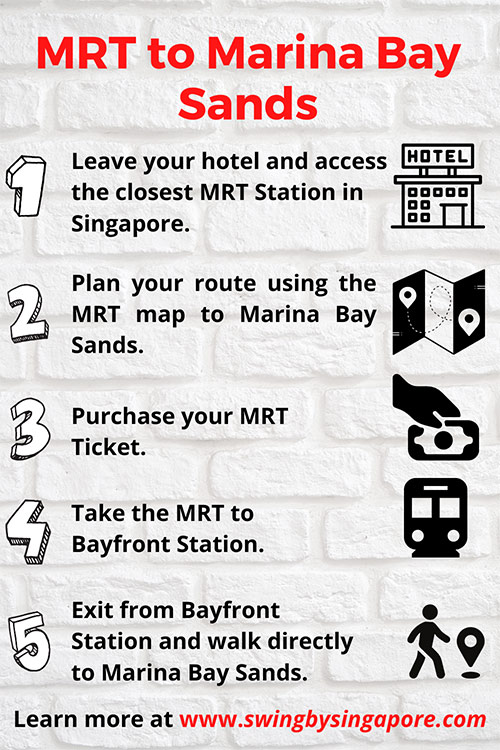 ---
Selecting the Best Hotel to Stay at Near Marina Bay Sands
When you are selecting a hotel in Singapore where it really comes down to is budget.  Because Singapore is regarded as one of the most expensive places to visit in the world, it naturally attracts a lot of affluent tourists. But this doesn't mean that budget travellers do not visit Singapore as well.
Marina Bay Sands Hotel is a very well-managed, reputable property that offers breathtaking views of Marina Bay and Singapore's amazing Skyline.  But you can expect a penny well over 300 USD a night at this hotel. Despite the high price, it is still a very, very popular option amongst tourists visiting the city. 
If you stay at  Marina Bay Sands Hotel then you naturally will be able to access the mall and be within walking distance of many of Singapore's top attractions.
If you want to have convenient access to Marina Bay Sands and this beautiful area of Singapore, you can also get more affordable rooms by staying near Boat Quay or Clarke Quay.  From there you can either take the MRT or walk along the water up to the hotel area. 
---
Where did we stay in Singapore to visit Marina Bay Sands?
We have stayed in the vicinity of Marina Bay Sands on multiple occasions.  During our last trip, we wanted to save some cash and opted for a hotel that was near Clarke Quay's nightlife. 
We stayed at Hotel Bencoolen Hong Kong Street. 
This is a nice, small boutique hotel that is located only about 3 minutes away from Clarke Quay MRT station.  During our stay, we were quite impressed with the cleanliness of the rooms and service standards at the hotel.
It had a nice family feel and the breakfast was surprisingly good for the amount of money that we paid. It is a very well priced property in Singapore in comparison to many other hotels we can walking distance of Marina Bay Sands.
If you walk briskly you can access Marina Bay Sands in about 15 minutes from this hotel. You will pass by the Fullerton Hotel and Anderson Bridge.
Keep in mind that this property has not paid us anything to share this information.
---
Any more questions about your trip to Marina Bay?
If you happen to have any additional questions about taking the MRT to Marina Bay Sands in Singapore please let us know.  This is one of the most famous areas in the entire city for sightseeing. Therefore, it is important that you can make it here in an efficient, stress-free manner.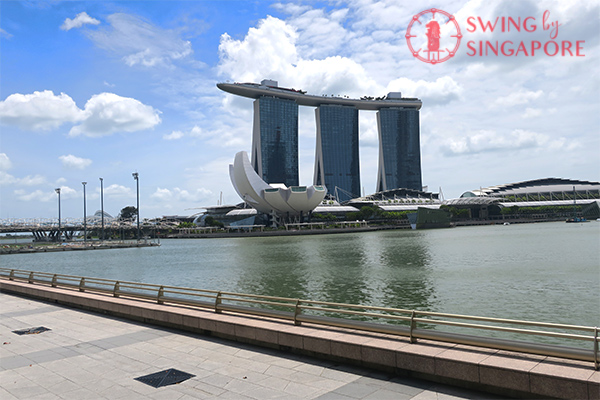 Keep in mind that there are numerous attractions within 1 kilometre or less of Marina Bay Sands. 
A lot of travellers who visit this area of Singapore also visit the Merlion, Boat Quay and Clarke Quay, Singapore Flyer, and the Esplanade (among other things).
There is so much to see around Marina Bay Sands consider making this a full day of sightseeing. You can also arrange boat rides to capture beautiful photos of Singapore Skyline and Marina Bay Sands.
---
This has been a step-by-step guide on how to get to Marina Bay Sands using the MRT.  Send us an email if you require additional information regarding this connection.