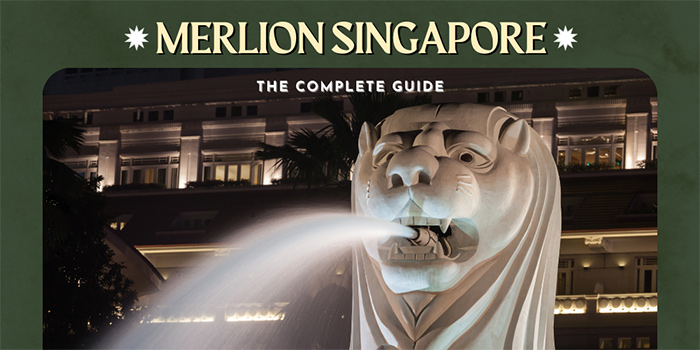 "Everything you need to know about visiting the Merlion in Singapore."
Why should you visit the Merlion? Visitor Information
The Merlion is arguably the most iconic landmark in all of Singapore.  It is best described as a mythical creature that consists of a lion's head with the body of a fish. A steady stream of water pours from its mouth. Although there are a few 'official' Merlion statues located around Singapore and abroad, in this article, we are describing the Merlion that is located in Marina Bay. The area around the Merlion is called 'Merlion Park'.  This is one of the most frequently photographed landmarks in all of Singapore, and Asia for that matter.
In case you are wondering, Merlion Park was first designed by the Singapore Tourism Board way back in 1964. Since then it has undergone some significant changes in terms of its location and structure. For example, on February 28th, 2009 the Merlion statue was struck by a bolt of lightning during a storm. After some repairs, it resumed operation less than a month later on March 18th, 2009. 
When you visit the Merlion in Singapore you can expect to see large crowds during peak periods of the day. Everybody wants to take a photo beside this iconic landmark in Singapore. It is something that you will see on countless postcards at tourist and souvenir shops throughout the city.  There is no direct shade right at the Merlion, so make sure that you are well hydrated and wearing sunscreen during your visit. 
Singapore has built a concrete platform that extends out onto Marina Bay which enables you to take 'face on' photos of the Merlion. Consequently, you can get creative and take photos from multiple angles. A popular photo here is capturing the Merlion and Marina Bay Sands in the same shot across scenic Marina Bay. 
---
How to get to the Merlion by MRT?
The Merlion can be accessed by multiple MRT stations if you are willing to walk.  However, the most convenient station to use to get to the Merlion is Raffles Station. 
The Merlion is about 500 meters northeast of the Raffles Station which should take you approximately 5 minutes. Along the way, you will pass by The Fullerton Hotel (5-star, 9.2/10 review score) 
---
Things to see and do around the Merlion: Best Itinerary Ideas 
The Merlion is famous because it is an iconic symbol of Singapore. 
Aside from taking photos and selfies at the Merlion, this is not the spot where you can do a lot more, unfortunately.  It is the type of place where you can spend 15 or 20 minutes taking some great photographs but then you will most likely want to walk around the rest of Marina Bay.
Fortunately, this area of Singapore is extremely scenic and one of the most popular places for sightseeing.  As you walk around Marina Bay you will get the opportunity to visit many attractions and a surprising number of shopping malls.
If you continue past the Merlion you will walk by Esplanade, and then a series of shopping malls:
Marina Square
Millenia Walk
Suntec City
The Shoppes at Marina Bay Sands
 Some noteworthy attractions that you want to check out near the Merlion include Singapore Flyer, Helix Bridge, Gardens by the Bay and Marina Barrage. 
Directly across Marina Bay from the Merlion is Marina Bay Sands Hotel (5-star, 9/10 review score). If you walk into the hotel lobby and then take the elevator up to the 57th floor you can enter Sands SkyPark. This is one of the best places in all of Singapore to capture breathtaking panoramic views of Singapore's amazing skyline.  After you visit the Merlion, this is the one 'must-do' before you leave this area of the city.  
---
Is it a smart idea to stay at a hotel near the Merlion in Singapore?
The Merlion in Singapore is located right in the heart of Marina Bay. Being one of the most scenic areas in the entire city, we strongly recommend that you stay in this area if possible.
Most of the hotels in this area are classified as 5-star luxury properties. They tend to receive extremely high review scores from verified guests. Consequently, although they may be amazing places to stay, they do tend to be quite expensive even by Singapore standards!
If you decide to stay near the Merlion you will be able to walk to many shopping malls and attractions without stepping foot in a car, train or bus.  This can help to save you some serious time and money while you are in the city. 
The two most convenient hotels to stay at that are within walking distance of the Merlion are also two of the best properties in the entire city:
The Fullerton Hotel Singapore (5-star, 9.2/10 review score)
The Fullerton Bay Hotel Singapore (5-star, 9.4/10 review score)
Fullerton Hotel is closer to the Merlion than the Fullerton Bay Hotel.
You can find cheaper properties in the Clarke Quay and Chinatown areas if you find the hotels around the Merion too expensive.
---
Additional Points about visiting the Merlion
No visit to Singapore is complete without visiting the Merlion.  
It has influenced countless logos since its creation over the years. Actually, the Merlion has even influenced the logo of Swing by Singapore as you can see at the top of the screen!
A lot of tourists ask how much time should they allocate for a visit to the Merlion?
It is safe to say that most tourists walk around the Merlion and take a few photos with Marina Bay in the background.  If it is really busy it is sometimes challenging to get photos that do not have other people in your shots.  Therefore, on average, most people spend anywhere from 5 minutes to 20 minutes in Merlion Park taking photos.
We strongly suggest that you should incorporate other attractions into the same-day itinerary when you are visiting the Merlion.  
This will help to make your trip to Singapore more efficient and cost-effective.  You will limit the amount of transportation that is required to get around the city. Use the MRT if possible to get to the Merlion and then plan on walking around Marina Bay once you get there. Even consider using one MRT station such as Raffles Place to access the Merlion and then exit the Marina Bay area from a different station. Bayfront Station is a good option because it is physically connected to Marina Bay Sands. 
Please feel free to reach out to us if you have additional questions about visiting the Merlion. We would be more than happy to help!