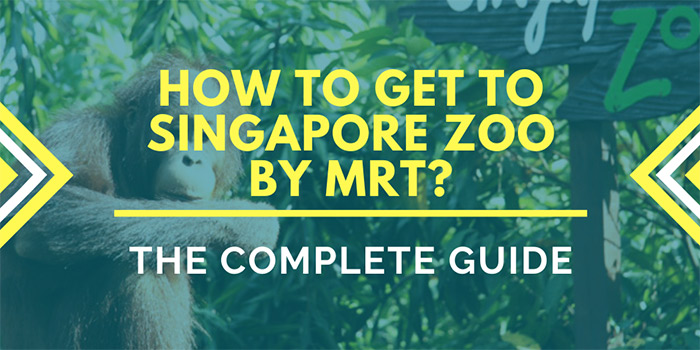 This is the complete, step-by-step guide on how to get to Singapore Zoo by MRT. Our goal in this article is to provide you with enough information to get to Singapore Zoo without spending additional cash or time getting there.  By the end of this article, we hope that you do not have any questions about this trip.
Fortunately, we have had the opportunity to use Singapore's extensive MRT Network on multiple occasions. We plan on summarizing our experience of getting to the Zoo. Unlike most cities around the world, Singapore is extremely well connected by public transportation options such as the train and bus network. It is even possible to fly into Changi Airport and avoid getting into a vehicle the entire time you are in the city. 
Using the MRT to get to Singapore Zoo is not only environmentally friendly but it is also very affordable. You can save some serious cash by relying on public transportation to get there.
---
Why should you visit Singapore Zoo?
Singapore Zoo is regarded as one of the best zoos in the entire world. On an annual basis, it welcomes around 1.9 million visitors.  It features an amazing "open-concept" that spans 26-hectares and allows visitors to experience an authentic view of more than 2,400 specimens and over 300 different species.
This massive range of species ensures that visitors leave with smiles on their faces. According to the official Singapore Zoo website, approximately 34% of their species are "threatened". Consequently, Singapore Zoo has developed a strong reputation for its breeding, conservation, and educational programs.
In 2006, a veterinary healthcare and research centre was opened here.  The Singapore Zoo maintains an emphasis on conservation, having bred over 100 animals back in 2014. They also share their knowledge and expertise through educational programmes, night camps and guided tours. 
One activity that you might really enjoy at the Singapore Zoo is called the "Jungle Breakfast with Wildlife". you can literally enjoy a meal with surrounding orangutans!
Awards and Recognition for Singapore Zoo
Due to its strong management and focus on conservation, Singapore Zoo has won countless tourism awards both locally and internationally.  For example, it won the Travelers Choice Awards for being one of the Top 3 Zoos in the World in 2018.  In 2017, it was awarded the best attraction experience at the Singapore tourism awards.
Although we won't go over every single award that the zoo has received, this does provide clear evidence that it is an attraction definitely consider visiting when you are in the city.
 We will outline how to get to Singapore Zoo directly below.
---
Getting to Singapore Zoo using MRT
Step 1: Find a convenient place to stay near an MRT Station.
Before you start planning your MRT trip to Singapore Zoo it is important to book a room in a convenient location.
We strongly suggest using the MRT as much as possible while you are in the city.  Staying close to a station can save you valuable time and money. First of all, you avoid unnecessary taxi fees to and from the airport. Secondly, you avoid traffic while you go to Singapore Zoo and other attractions. And thirdly, you help save the environment. 
Singapore has hundreds of hotels that are within walking distance to MRT Stations throughout the city.  We suggest trying to book a room within a 1 or 2-minute walk of a station. This will help you to avoid Singapore's intense afternoon heat. 
Although there are lots of options available, we have listed a few popular properties below that are known to be convenient and well-managed. 
The Fairmont Singapore (5-star, rated 9/10 based on reviews). Very close to Esplanade Station.
The Capitol Kempinski Hotel Singapore (5-star, rated 9.3/10 based on reviews. One minute from City Hall Station.
We are not a direct partner of any of these properties, but we are just providing some popular suggestions based on high review scores from guests.
---
Step 2: Get an MRT ticket to Khatib Station.
Once you have booked your hotel at your accommodation is sorted it's time to figure out what kind of MRT ticket you want to use to Singapore Zoo. 
It isn't possible to make it directly to Singapore Zoo by only using the MRT. You will also require a transfer to a bus service. Therefore, it is most practical to use a card that works for both the MRT and buses!!  
Currently, there are three different types of MRT tickets that visitors can use while they are in the city.
Singapore Tourist Passes

Stored-value cards

Single journey tickets
You can get all the specific details about buying MRT tickets in Singapore using this comprehensive guide.  However, we do suggest that you use a stored-value card (such as an EZlink Card for this journey) because it works for both buses and the MRT. 
Regardless of what ticket/pass you decide to use, make sure you are travelling to Khatib MRT Station.
Which MRT Lines service trains to Khatib MRT station on the way to the Zoo?
Khatib Station is only located on only one MRT line in Singapore – the North-South Line. 
This line is shown in red colour on Singapore's train map. Khatib Station is also considered to be the 14th station on this line. 
---
Step 3: Ride the MRT to Khatib Station
Travel along the North-South Line to Khatib Station. 
While you're travelling on the MRT be prepared to hear announcements that are designed to inform you of upcoming stations on the line. There are also signs over the exit doors to show you where you are.
If you are travelling towards the Zoo from downtown, then the preceding station before Khatib will be Yio Chu Kang. 
Once you hear the announcement for Yio Chu Kang Station, it's time to make your way closer to an exit. You will be getting off at the next stop which will be Khatib Station.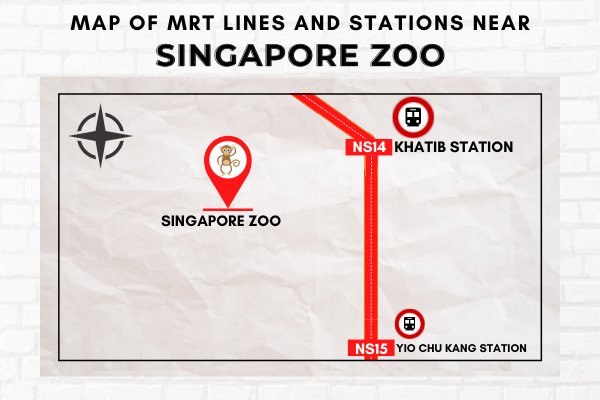 ---
Step 4: Exit at Khatib Station and walk to the Mandai Khatib Shuttle pick up area. 
Get off the train at Khatib Station. 
Then, use Exit A to leave the station on the way to the Mandai Khatib Shuttle bus pick up area. As you walk out of the station, follow the signs and take two left turns. 
You will reach the Mandai Khatib shuttle bus queuing area.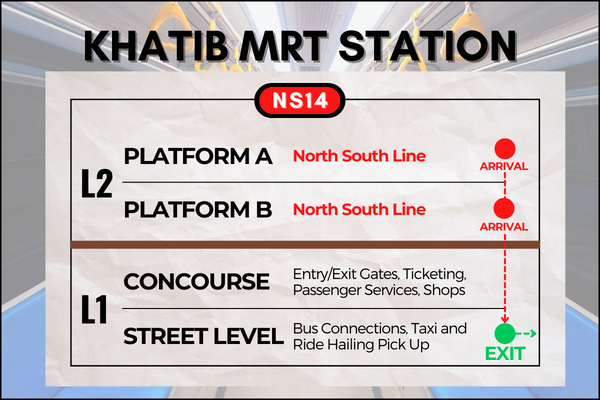 ---
Step 5: Get on the Mandai Khatib Shuttle bus and pay for your ride.
Once you get on the Mandai Khatib shuttle bus, pay for the ride using your stored value card. 
You can pay using an EZlink card or a NETS Flashpay card. 
Cash is not accepted so don't plan on paying with it. Get a card before you get on the bus because you will be rejected!
---
Step 6: Ride the Mandai Khatib Shuttle bus to Singapore Zoo
After you have paid for this bus ride it's very straightforward to get to the zoo. Do not expect the shuttle to make any stops along the way. This is a direct shuttle to Singapore Zoo, therefore there are no other pick-up points.
---
Step 7: Walk from bus stop #3 to the entrance of Singapore Zoo. 
You can expect the Mandai Khatib Shuttle bus to drop you off at bus stop #3. From there, it is a short walk to the entrance of Singapore Zoo. 
There are very clear signs that can help you to make it to the Zoo entrance without any problems. 
It should only take you a few minutes from the bus stop.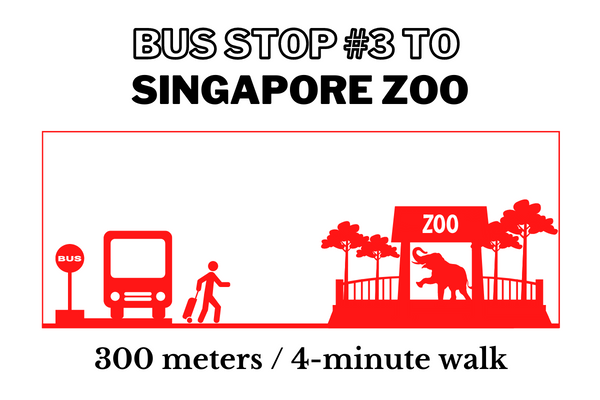 ---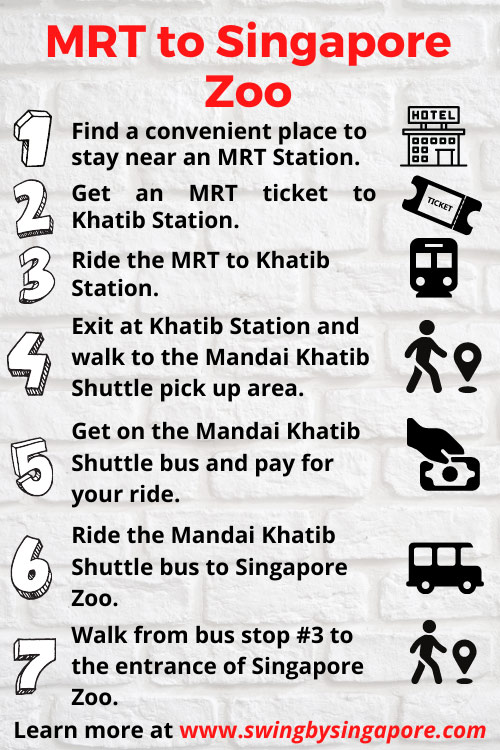 ---
Common

questions about taking the MRT to Singapore Zoo
When does the Mandai Khatib shuttle open and close?
Heading from the station to the zoo:
The first bus departs from Khatib MRT Station at 8:00 am.
Also, the last bus departs from Khatib MRT Station at 7:00 am.
Heading from the Zoo to the station:
The first bus departs from Singapore Zoo at 8:20 am.
Also, the last bus departs from Singapore Zoo at 7:20 pm.
---
How much does it cost to take the Mandai Khatib shuttle bus to Singapore Zoo?
The cost to ride the Mandai Khatib shuttle bus to Singapore Zoo is $1 dollar. Therefore, the total roundtrip cost is $2 dollars. Children below 3 years of age travel for free, however. 
---
How much time does it take from Khatib Station to Singapore Zoo (and vice versa) on the bus?
Usually, it takes about 15 minutes to go from Khatib Station to Singapore Zoo on the bus. 
---
How often do buses depart Khatib Station for Singapore Zoo?
The shuttle bus is scheduled to depart every 20 minutes from Khatib Station en route to Singapore Zoo. Obviously, it is challenging for this to be exact throughout an entire day but that is the published frequency.  
---
Should you stay at a hotel near the Singapore Zoo?
Most tourists that are in Singapore prefer to stay further south as opposed to staying near the Zoo. The Zoo is located quite far from a lot of the other major attractions in Singapore. 
We have stayed all over the city. Typically, we try to stay close to the Clarke Quay MRT Station. 
This allows us to quickly access the MRT while still being within walking distance to Marina Bay. 
If you decide to stay near Marina Bay, simply follow the directions outlined in this article if you want to get to Singapore Zoo. 
---
More questions about getting to Singapore Zoo by MRT?
We truly hope that this step-by-step guide on how to get to the Singapore Zoo by MRT has provided you with sufficient information.  If you do require more information please do not hesitate to send an email anytime. We would be more than happy to provide you with additional information about getting to Singapore Zoo or the other attractions in the city.
Also, keep in mind when you are developing an itinerary for Singapore that there are other things to see in this area. Singapore Zoo is only one of three major attractions here.  The Singapore Night Safari and the River Safari are also very popular and worth checking out!
The Singapore Zoo is a must-see if you are travelling with children. It's an awesome way to check out hundreds of unique species of animals in a jungle environment. Enjoy!