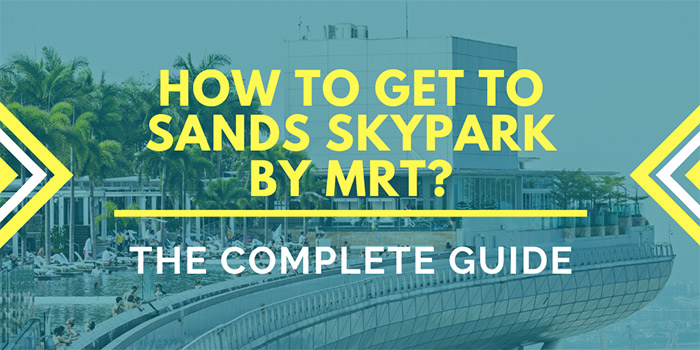 This is the complete, step-by-step guide on how to get to the Sands SkyPark by MRT. Regardless of whether you are a resident of Singapore or a guest this article is designed to get you to the observation deck at the top of Marina Bay Sands Hotel.
The cool thing about visiting Singapore is it the public transportation system is world-class. This means that it is quite possible to land at Changi Airport and spend a week in the city without stepping foot in a single-vehicle. Fortunately, you can get almost right to Sands Skypark by using the MRT. Once you get out of the MRT it is just a short walk to access the elevator up.
We hope by the end of this article you will have all the information that you require to get to this breathtaking spot in Singapore.
---
Why should you visit the Sands SkyPark if you are in Singapore?
Sands SkyPark is the famous observation deck that is ideally located at the top of Marina Bay Sands Hotel. It is located way up on the 57th story and offers amazing views of Singapore's spectacular skyline. 
Let's also not forget about the awesome views of Marina Bay as well!
But that's not all….
You can also get amazing views of the following points of interest:
Singapore Flyer
Gardens by the Bay
Supertree Grove
Singapore Strait
Esplanade
Merlion
Based on our extensive travel experience in Singapore we strongly suggest that you visit the Sands SkyPark Observation Deck. Although some visitors may find the admission fee slightly expensive, in retrospect, you will probably appreciate the amazing photographs and videos that you can capture from here. 
Also, keep in mind that you can get different packages that include the SkyPark. Therefore, be sure to refer to the official SkyPark website before you plan your trip as well. 
If you want a postcard photo of Singapore, this is the place to get one!
---
Getting to Sands SkyPark using MRT:
Step 1: Book a room beside an MRT station!
If you are not planning on staying right at Marina Bay Sands Hotel, then it is a wise decision to stay as close as possible to the MRT network.  This will ensure that you are moving around the city efficiently and saving money on every trip. Keep in mind that taxi and private vehicle expenses in Singapore can add up especially if you're staying in the city for more than a day.
We suggest that you try to book a hotel room that is within 2 or 3 minutes of a station.  This will ensure that you do not get too hot in Singapore's extreme heat during the afternoon hours. You will also bypass all vehicle traffic if you stick to the MRT throughout your journey.
Fortunately, Singapore hotel and apartment developers have made a lot of properties that are close to convenient MRT stations.  Obviously, Marina Bay Sands is a convenient place to stay because it is beside Bayfront Station. However, a few other popular choices for visitors to Singapore are listed below for your convenience:
The Fairmont Singapore (5-star, rated 9/10 based on reviews). Very close to Esplanade Station.
The Capitol Kempinski Hotel Singapore (5-star, rated 9.3/10 based on reviews. One minute from City Hall Station.
Please take note that we are not a direct partner of any of these properties, but we are just providing some popular suggestions based on high review scores from guests.
---
Step 2: Get an MRT ticket to Bayfront Station
Once you have booked your hotel at your accommodation is sorted it start it's time to start thinking about what kind of MRT ticket you want to use. 
Currently, there are three different types of MRT tickets that visitors can use while they are in the city.
Singapore Tourist Passes

Stored-value cards

Single journey tickets
You can get all the specific details about buying MRT tickets in Singapore using this comprehensive guide.  This will allow you to select the correct type of ticket for your journey.
But briefly, we suggest that you should use single journey tickets only if you are going to use the MRT only a few times while you are in the city. Singapore Tourist Passes tend to be the best option for tourists that plan on doing a lot of sightseeing over a short period of time. Stored value cards are popular with guests staying more than three days.
Once your ticket/pass is sorted, make sure that you are travelling to Bayfront Station. This is the most practical station for getting to Sands SkyPark Observation Deck.
Which MRT Lines service trains to Bayfront Station and Sands SkyPark?
Bayfront Station is part of two different lines in Singapore's MRT network. We have summarized them below for your convenience:
Circle Line (shown in orange colour on the MRT Map)
Downtown Line (shown in blue colour on the MRT Map)
There is no denying the fact that the BayFront is the best station to reach Sands SkyPark. 
However, there are also two other MRT stations that you could (technically) get off at to reach the Sands SkyPark as well. Since they are farther away, be prepared for a little walk from either of these stations below:
 Marina Bay MRT Station
Downtown MRT Station
If you have the choice go to BayFront!
---
Step 3: Ride the MRT to Bayfront Station
After your ticket is sorted, it's time to travel along the Downtown or Circle Line to Bayfront Station. 
Singapore's train network has two different pieces of information that can inform you of upcoming stations on a line.  First of all, you can expect to hear verbal announcements being made. These are designed to inform you of what the next station is. Once you hear an announcement for BayFront make your way closer to an exit to avoid missing your stop. 
This is particularly important during peak travel times when people are going to and from work.
The second option is looking at the signs above the exits on the trains. These should inform you where you are on your line and when you will be getting off.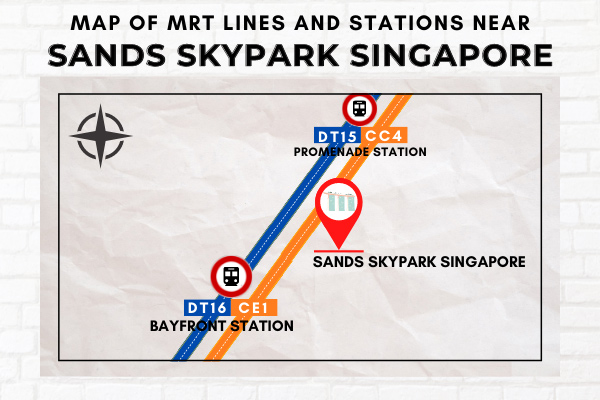 ---
Step 4: Exit at Bayfront and walk to Marina Bay Sands Hotel Tower Lobby 3
When you arrive at Bayfront Station your next step is getting out using Exit C or Exit D. 
Then,  follow the signs to Marina Bay Sands Hotel. When you reach the hotel you are looking for the Lobby of Hotel Tower 3.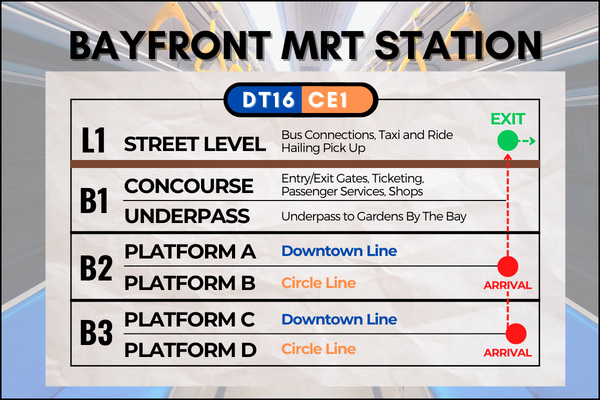 According to their official website, it should take you 10 minutes or less to walk to the Sands SkyPark from Bayfront Station.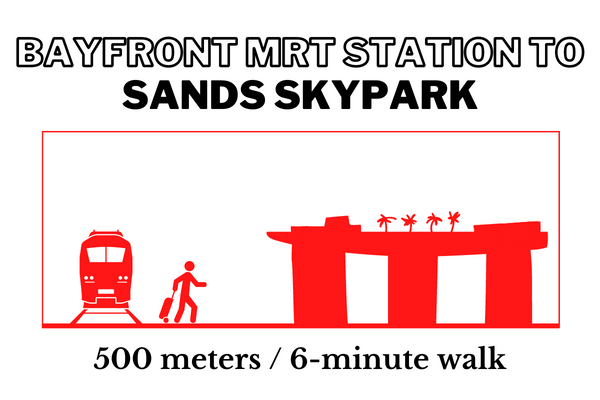 ---
Step 5: Take hotel tower 3 lobby elevator to level 57 and the Sands SkyPark. 
When you arrive at Marina Bay Sands' Hotel Tower 3 Lobby, find the elevator. This will whisk you up to the 57th floor. 
When you get to the top be sure to enjoy the amazing view! 
---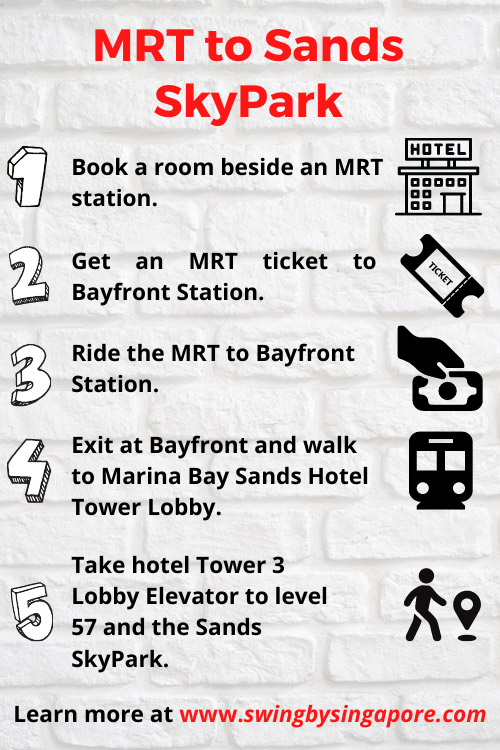 ---
Selecting the best hotel near the Sands SkyPark
One of the most important decisions you can make about visiting Singapore is selecting the right hotel for your budget. Hotels and apartments in Singapore are significantly more expensive than other capital cities such as Bangkok, Jakarta and Kuala Lumpur.
If you do have the budget then the most convenient option by far is staying right at Marina Bay Sands. You can directly access the SkyPark right from the Tower 3 Lobby and just take the elevator up. 
If you are not too keen about staying at Marina Bay Sands then there are some other excellent options around Marina Bay as well.  The two properties below consistently get positive review scores and they are within walking distance of the Sands SkyPark.
The Ritz-Carlton, Millenia Singapore (5-star, 9.2/10 review score)
Mandarin Oriental Singapore (5-star, 8.9/10 review score)
If all of these properties listed above are still too expensive for your budget, then we suggest that you stay in Chinatown or the Clarke Quay area.  Both of these spots have a wide range of budget hostels in boutique hotels within walking distance from their respective MRT stations.
You can also either walk or take a short MRT ride to the SkyPark from these areas. 
---
Where did we stay in Singapore when we visited the Sands SkyPark?
Fortunately, we have had the opportunity to stay near Sands SkyPark many times.
Usually, if we want to save some cash we try to stay near Clarke Quay MRT Station.
We enjoy staying here because the hotels are cheap and there are lots of restaurants and bars to choose from. 
Clarke Quay MRT station is also right in this area. And Rooms here are usually WAY CHEAPER than around Marina Bay.
We could still walk to the Sands SkyPark while still being close to the nightlife in Clarke Quay.
We stayed at Hotel Bencoolen Hong Kong Street. 
Why did we stay here?
This property is a 3-minute walk from Clarke Quay MRT Station.   
We felt that the major selling points for this property were the price, cleanliness and breakfast. It is a boutique hotel and it has a warm, cozy feeling because it isn't too big.
If you walk briskly you can access the SkyPark in about 15-20 minutes from this hotel. You will pass by the Fullerton Hotel and Anderson Bridge along the way.
***Although we feel like this is a good budget choice in Singapore please take note that we do not have a direct partnership with this property. We are just simply summarizing our stay and what we liked about it.
---
More questions about getting to Sands SkyPark by MRT?
We do hope that this step-by-step guide on how to get to the Sands SkyPark by MRT has provided you with all the info you need. If for some reason you do require more information please feel free to send us an email. We would be more than happy to provide you with additional information.
While you are planning your trip to Sands SkyPark also keep in mind that there are many other attractions nearby.  Gardens by the Bay, for instance, is directly behind the SkyPark and the Singapore Flyer is right across the river. The Merlion is also within walking distance, close to the Esplanade. 
Needless to say, when you were visiting Sands SkyPark you can plan an action-packed itinerary in no time! We suggest checking out two or three of these attractions during the day. Afterwards, consider watching a show at the Sands Theatre or the Esplanade. 
The Shoppes at Marina Bay Sands has tons of luxury shops and some world-class celebrity-chef restaurants as well.
Enjoy the view from Sands SkyPark Observation Deck and don't forget to bring your camera along!