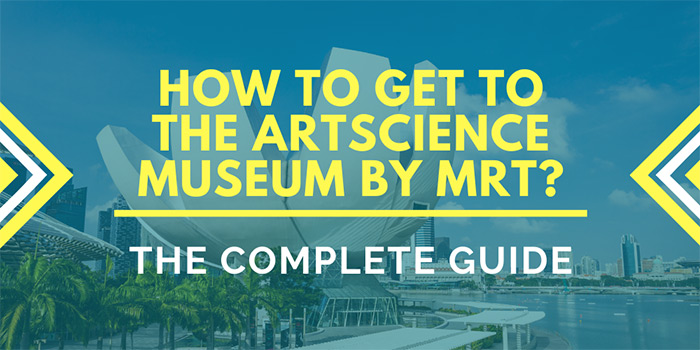 This is the complete, step-by-step guide on how to get to the ArtScience Museum by MRT.  Although there are lots of art and science museums around the world, this specific article is focusing on the museum in Singapore which is part of Marina Bay Sands.
Throughout our travels, in Singapore, we have learned that it is important to maximize the use of the MRT Network while you are in the city.  Fortunately, Singapore makes it very convenient for visitors to get around. You can literally land at the airport and not step foot in a single-vehicle throughout your entire stay. 
The ArtScience Museum is ideally located overlooking Marina Bay. 
You can easily purchase tickets for the ArtScience online in advance to plan your visit.
By the end of this article, we hope that you have been provided with sufficient evidence to get there without any stress.  When you stay at a hotel beside an MRT station and use the MRT to get to the art Science Museum you can bypass traffic jams, save the environment and save some serious cash. 
Here is how!
---
Why should you visit the ArtScience Museum if you are in Singapore?
The ArtScience Museum is a popular landmark in Singapore, and for good reason! This is the spot where culture, technology, art and science merge to showcase innovation and idea creation. Not only is the museum physically adjacent to Marina Bay, and Marina Bay Sands Hotel, it is also known for its stunning architectural design. 
Moshe Safdie is the renowned designer of the ArtScience Museum. His design was inspired by the lotus and it has since become one of Singapore's most photographed buildings. The Museum consists of 21 different gallery spaces which add up to approximately 5,000 m2 area. Due to its size, organized management and strong reputation, it has hosted some of the world's best exhibitions. 
Since its opening in February of 2011, the ArtScience Museum in Singapore has welcomed exhibits from the likes of Leonardo da Vinci, Andy Warhol and Vincent Van Gogh. Not only can you experience art exhibits here but science and technology themes as well. Expect to get a possible opportunity to learn about particle physics, paleontology or even space exploration. 
---
Getting to the ArtScience Museum using MRT:
Step 1: Book a room near the MRT and walk to the nearest station. 
The first step in getting to the ArtScience Museum in Singapore by MRT is making sure that you were staying close to a station.  This will ensure that you save valuable time and money by avoiding unnecessary taxi and private vehicle fees.
Also, keep in mind that staying close to an MRT station will help you to avoid traffic jams. This is especially important if you are in the downtown area that can get hectic during rush hour.  And finally, staying close to an MRT station will be better for the environment.
Fortunately, Singapore has many excellent hotels that are within walking distance to convenient MRT stations. A few popular and convenient examples include:
The Fairmont Singapore (5-star, rated 9/10 based on reviews). Very close to Esplanade Station.
The Capitol Kempinski Hotel Singapore (5-star, rated 9.3/10 based on reviews. One minute from City Hall Station.
---
Step 2: Purchase an MRT ticket to Bayfront Station
Once your accommodation is sorted and you are ready to use the MRT,  get to the nearest station.  Once you enter the station, this is when you will have to decide on what type of ticket you want to use to get to the ArtScience Museum. 
Two different types of tickets or passes that you can use on public transportation such as the MRT in Singapore:
Singapore Tourist Passes

Stored-value cards
The type of pass or ticket that you use depends on your own circumstances in Singapore. For instance, we strongly suggest that if you are only staying in the city for 1 to 3 days then you might want to look into getting a Singapore Tourist Pass.
Stored value cards are more popular with long-term visitors and permanent residents of the city.
Regardless of what kind of ticket you are going to use, you have to make sure that you are travelling to Bayfront Station. This is the most practical station for accessing the ArtScience Museum.
INSIDER TIP: We strongly recommend getting a Multiple Attraction Pass to use alongside your transport card in Singapore. You can save up to 52% in discounts when you buy multiple passes online. Already over 200,000 passes have been sold!
Which MRT Lines service trains to Bayfront Station and the ArtScience Museum?
There are two MRT lines in Singapore that service trains to Bayfront Station:
Circle Line (shown in orange colour on the MRT Map)
Downtown Line (shown in blue colour on the MRT Map)
Both of these stop at Bayfront Station, therefore it doesn't matter which line you take if you are getting to the ArtScience Museum.
There are also two other MRT stations that you could get off at to reach the ArtScience Museum as well:
Marina Bay MRT Station
Downtown MRT Station
These are both farther away from the ArtScience Museum when compared to Bayfront. However, if you are okay with walking, it is possible to walk over to the museum from these locations. 
---
Step 3: Travel on the MRT to Bayfront Station
Take either the Downtown or Circle Line to Bayfront Station. While you are travelling on the MRT be prepared to hear verbal announcements being made. These are designed to alert you of upcoming stations on the line. 
When you hear Bayfront getting announced it is time to start walking over to the closest exit on the train. This is especially important if the trains are busy and there are lots of people between you and the nearest exit.
You can also refer to the signs above the exits. These should highlight where you are on a line and when you will be getting off.
---
Step 4: Exit at Bayfront and walk to the ArtScience Museum
When you arrive at Bayfront Station it is really straightforward to get to the museum. Simply get off the train and follow the signs to Exit D. 
Take Exit D to reach the ArtScience Museum from Bayfront station.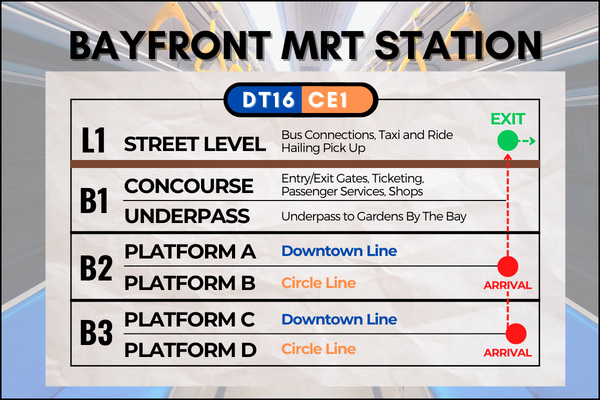 According to the official website for the ArtScience Museum, it should take you approximately 7 minutes to walk to the museum from the station. You can also reach the museum using exit B or C but you can expect this to take at least five minutes longer.
The ArtsScience museum is located directly in front of Marina Bay Sands Hotel and adjacent to Marina Bay.  You should have no problem seeing it if you are walking around the Bay Area.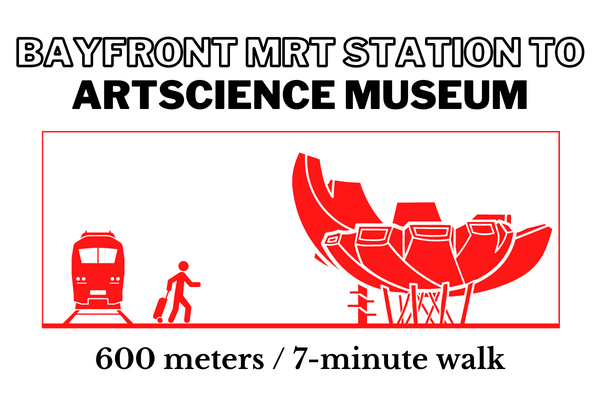 ---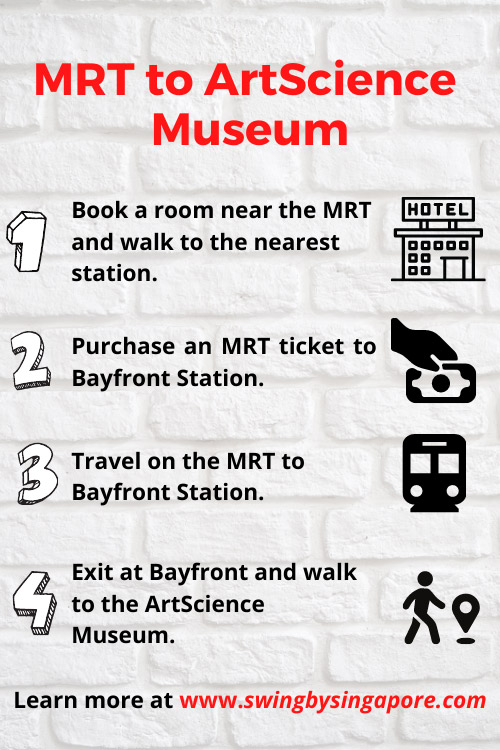 ---
Selecting the best hotel near the ArtScience Museum
Where you choose to stay in Singapore really depends on your budget. 
If you do have the money then the best place to stay near the ArtScience Museum is definitely Marina Bay Sands Hotel. It is only about 2-minutes from the museum and it offers breathtaking views of Singapore's skyline. 
It is also one of the most famous structures in all of Asia. 
Actually, this hotel is one of the most photographed structures anywhere. You also will have direct access to other nearby attractions such as Gardens by the Bay and the Singapore Flyer if you stay here. 
High quality choices
A few other options within walking distance of the ArtScience Museum include:
The Ritz-Carlton, Millenia Singapore (5-star, 9.2/10 review score)
Mandarin Oriental Singapore (5-star, 8.9/10 review score)
If you haven't noticed most of the properties around Marina Bay are luxury hotels. Therefore, you definitely have to have a large budget for accommodation if you want to consider this area.
Alternatively, you might want to stay around Boat Quay, Clarke Quay, or Chinatown if you want to be close enough to Marina Bay, but still, save a lot of money on accommodations.
---
Where did we stay in Singapore when we visited the ArtScience Museum?
We have stayed quite close to the ArtScience Museum on multiple occasions.  
If we want to save money on accommodation we try to stay near Clarke Quay. 
We like this area because there are some affordable restaurants across the road in Boat Quay. You can also have direct access to Clarke Quay MRT station. Rooms here are usually WAY CHEAPER than around Marina Bay.
We could walk to the ArtScience Museum while still being close to the nightlife in Clarke Quay.
We stayed at Hotel Bencoolen Hong Kong Street. 
When we stayed at this property we were within a 3-minute walk of Clarke Quay MRT Station.   We were quite impressed with the price of this property and the cleanliness of the room. Also, the breakfast was quite generous considering the bargain price that we got it for.
If you walk briskly you can access Marina Bay Sands in about 15 minutes from this hotel. You will pass by The Fullerton Hotel and Anderson Bridge.
***Even though we were quite impressed with this property please take note that we are not a direct partner. This hotel has not paid us to provide this information.  This is just our honest opinion of our stay because we enjoyed it!
---
More questions about getting to the ArtScience Museum by MRT?
We do hope that this step-by-step guide on how to get to the ArtScience Museum by MRT has been thorough. Please send us an email anytime if you require more information about this trip or the museum in general. We would be more than happy to provide you with additional information.
While you were planning your day trip to the ArtScience Museum, take note that there are all kinds of attractions here to add to your itinerary.
Three of the most popular attractions in this area are listed below: 
Gardens by the Bay (Buy Entrance Tickets Online)
The Merlion (MRT Directions)
Singapore Flyer (Entrance Tickets available here)
Also, remember that you can easily eat at celebrity chef restaurants or buy luxury goods at the Shoppes at Marina Bay. We love just walking around Marina Bay.  This is the best way to experience how beautiful Singapore actually is!