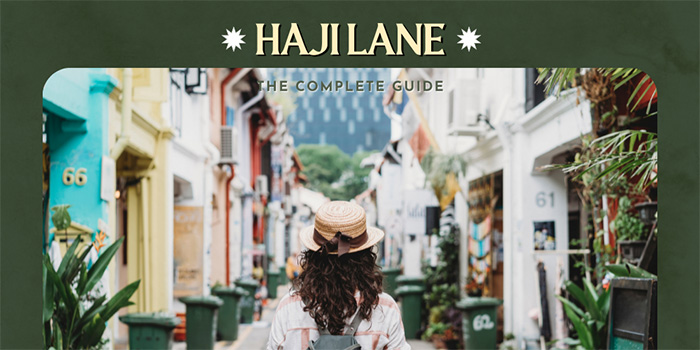 "Everything you need to know about visiting Haji Lane in Singapore. It is one of the city's prized attractions"
Why should you visit Haji Lane?
Haji Lane is a popular narrow street in the Kampong Glam neighbourhood of Singapore. It has become trendy over the years, especially with younger Singaporeans and tourists in the city. You can expect to find traditional shophouses along Haji Lane that have been creatively converted into independent fashion boutiques and hip cafes. Expect to see beautiful street murals, interesting art shops and some of the coolest 'hipster cafes' in Singapore. 
Be sure to bring a camera along to Haji Lane. This is one of the most photogenic streets in the entire city.
Any chance you are wondering about how the name Haji came to be it? 
Well, way back in the 1800s and even up to 1960, there were many Arab pilgrim workers who arranged the annual 'Haj' for Muslims living in Singapore. Since they worked along this 'lane' and other streets in the area, the name 'Haji Lane' was derived. 
Haji Lane is a great place to enjoy a coffee while watching people from all over the world as they enjoy wall art and window shopping. 
Convenient Location
Also, take note that Haji Lane is conveniently located in the Kampong Glam area of the city, which is a fascinating area to explore Malay and Middle Eastern culture. The area around Haji Lane is becoming increasingly popular as a haven for backpackers and budget travellers. Many hostels and boutique hotels are near Bugis MRT Station.
There are some excellent budget hotels right near Haji Lane, such as Beary Best Kampong Glam (2-star, 8.6/10 review score) and MET A Space Pod @ Arab Street (2-star, 8.5/10 review score). If you stay in this area, you will have direct access to the MRT and a range of attractions.
---
How to get to Haji Lane by MRT?
Fortunately, Haji Lane is very easy to get to using the MRT network in Singapore.  
The most convenient station that you can use to access Haji Lane is Bugis Station. Using Bugis Station is also the most popular way to get to all the other attractions in Kampong Glam as well. 
Haji Lane is about 400 meters east of Bugis Station, which should only take you approximately 4-5 minutes to walk between them. 
---
Things to see and do along Haji Lane – Best Itinerary Ideas 
There are three main activities that people do when they visit Haji Lane in the Kampong Glam neighbourhood of Singapore: shopping, eating and taking photos.
You will immediately get a hip, artsy vibe when you walk on to Haji Lane. The vibrant paintings on the walls of the aged buildings are incredibly photogenic. It's hard not to walk down Haji Lane without snapping a few selfies or pics of the trendy cafes. 
Although there are various cafes and eateries, you will find some crafty boutique shops and souvenir stores here as well. They are mixed between the cafes. 
Itinerary ideas for Kampong Glam
Haji Lane is only one of the many attractions in Kampong Glam. This area of the city has become more popular with visitors in recent years.  Consequently, you can add Haji Lane to your itinerary quite easily.
Some other must-see points of interest near Haji Lane include Sultan Mosque, Arab Street, Bussorah Street and Malay Heritage Centre. We suggest visiting all of these during the same day so that you make your stay more affordable and efficient. 
---
Is it a smart idea to stay at a hotel near Haji Lane?
Haji Lane in Singapore is ideally located in Kampong Glam – a popular sightseeing area that offers lots of shopping, delicious food and of course, culture. In comparison to other areas such as Marina Bay and Sentosa, Kampong Glam is more well-known for budget accommodation options. With direct access to the MRT via Bugis Station, there are a lot of affordable boutique hotels and pod capsules here to consider. 
Three popular and highly rated places to stay near Haji Lane and Bugis Station are:
Beary Best! Kampong Glam (2-star, 8.6/10 review score)
MET A Space Pod @ Arab Street (2-star, 8.5/10 review score)
CUBE Boutique Capsule Hotel Kampong Glam (2-star, 8.7/10 review score)
As you can see above, they are all rated 8.5/10 or more according to leading accommodation websites. This suggests that they are well-managed, clean and suitably priced. 
---
Additional Points about visiting Haji Lane
Haji Lane is undoubtedly one of the coolest streets in all of Singapore to check out.  Tons of people daily walk this narrow strip to take photos, dine and shop at some of the boutique stores. It is a 'hipster' paradise.
Different people value different travel experiences.  This raises is a really good question about Haji Lane: 
How much time should you spend there?
It's hard to say precisely how much time you will spend along Haji Lane. However, most people spend at least 10 to 15 minutes walking around, taking some photos of the street scene and murals.  For visitors who are more interested in looking at the shops and sampling a drink or two at one of the cafes, they probably spend at least an hour at Haji Lane.
Although it cannot be classified as a 'major attraction' in Singapore, it is one of the coolest places to walk around. It also doesn't hurt to have some really interesting cultural and religious attractions such as the Sultan Mosque in Malay Heritage Center within walking distance of Haji Lane. Combine these into your day-itinerary for Kampong Glam, and you should be well on your way to a great day of learning and sightseeing.
Please don't hesitate to reach out to us for additional information about visiting Haji lane or the other attractions in Kampong Glam. We would be more than happy to assist you!