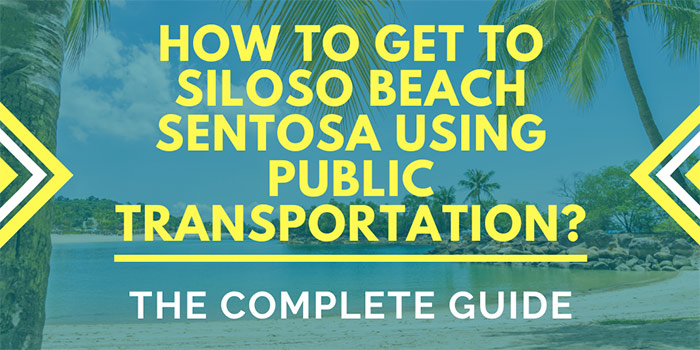 Welcome to the complete step-by-step guide on how to get to Siloso Beach Sentosa using public transportation.  Fortunately, we have had the personal opportunity of visiting Siloso Beach on Sentosa Island on multiple occasions using public transportation.
The purpose of this article is to make sure that this trip to Siloso Beach is completely stress-free. Meaning that we will provide you with a step-by-step overview of where to stay, and how to use the MRT and the Sentosa Express to get you within walking distance of Siloso Beach. 
One of the interesting things about this journey is that you do not even have to step foot in a vehicle the whole entire way if you do not want to.  Therefore, you can save a lot of money by simply using different modes of public transportation that are cheaper than taxis and also very efficient. You can also save a pile of money getting Sentosa Island attraction passes (Sentosa Fun Pass) online before you arrive. We will explain all the details for you in this article.
---
Why should you visit Siloso Beach on Sentosa Island, Singapore?
Siloso Beach is a beautiful sandy cove on Sentosa Island, just 30 minutes from the business district of Singapore. You can expect to see families here during the day, enjoying swimming and other beach activities. The beach offers breathtaking views and fresh breezes. The water at Siloso Beach is 'swimmable' but it isn't crystal clear like what you will find at remote Oceanic beaches. It's not too bad considering that Singapore has one of the world's busiest ports. 
During the evening hours Siloso takes on more of a party vibe with visitors relaxing over drinks and good times. 
You will be hard pressed to find a more convenient beach than Siloso. If you want food and drinks, they will be right at your fingertips. Also keep in mind that Siloso Beach is near many of Sentosa's top attractions and beach resorts. This makes it a great spot to explore while checking out other activities during the same day. In other words, it's easy to include Siloso Beach in many Sentosa Island itineraries.  
Consider bringing a volleyball or a frisbee if you want to run around on the beach while you are there.
There are two primary accommodation options on Siloso Beach. Therefore, it is possible to stay right here with your family or friends if you want to:
Shangri-La's Rasa Sentosa Resort & Spa (5-star, 8.6/10 review score)
Siloso Beach Resort, Sentosa (4-star, 7.5/10 review score)
Of these two options, Siloso Beach Resort is the more affordable option, but it does get lower review scores that the Shangri-La.
---
Getting to Siloso Beach using MRT and Sentosa Express
Step 1: Find the nearest MRT Station to your Hotel.
When you are planning your trip to Singapore one of the first things that you should try to prioritize is booking a room close to MRT station in the city.  Singapore has one of the best public transportation systems in the world. Therefore, we suggest that you try to maximize your trips using the MRT opposed to taxis and other private vehicles.
This will save you a lot of money in terms of the cost per trip, but it will also avoid needless transportation charges associated with getting to and from your hotel every time you want to go somewhere. Fortunately, Singapore hotel developers have purposely built properties near strategic stations because they know the demand will be high. 
Obviously, the most convenient places to stay near Siloso will be on Sentosa Island. In case, you can't or don't want to stay on the island, consider staying at one of the properties below. They are very popular with visitors to Singapore and they receive positive review scores:
Fairmont Singapore (8.9/10 Review Score) (Esplanade Station)
The Capitol Kempinski Hotel Singapore (9.3/10 Review Score) (City Hall Station)
If you stay at any one of the properties listed above you will be within a 2-minute walk of the nearest MRT Station. We have listed the MRT stations beside the hotel review scores (above) for your convenience. They are based off of leading accommodation websites at the time of writing. 
---
Step 2: Purchase an MRT Ticket to HarbourFront Station
Before you can take the MRT to Siloso Beach, you have to decide what kind of MRT ticket you are going to use. 
There are two main ticket options for the MRT in Singapore:
Buy and load up a stored value card 
If you are staying in Singapore for up to three days then you might want to consider getting a Singapore Tourist Pass. These provide card holders with the opportunity to use the pass for unlimited bus rides and MRT rides within the city for a set period of time.  These are the best cards if you plan on using public transportation a lot while you are in Singapore. If you only want to use the MRT once or twice then you're better off just using a single journey ticket. 
We highly recommend getting a Multiple Attraction Pass (like the Klook Pass) to use along with your transport card. Over 200,000 of these passes have been sold online because you can save up to 52% when you book several passes at the same time!!
Most Popular Option for Long Term Visitors and Residents
The second and most popular option for Singaporeans, expats and long-term visitors to Singapore are stored-value cards. These are cards that you can purchase and then top up with cash. You simply have to tap them to enter and exit the MRT system.  
These cards are perfect if you are in Singapore for more than 3 days and want to use public transportation a lot. While we were figuring out how to get to Siloso Beach Sentosa using public transportation we used an ez-card. This is a form of stored value card.
Once you have decided what kind of ticket you are going to use, you will have to purchase a ticket to HarbourFront Station.
This is the station that you have to transit at to reach Siloso Beach on Sentosa Island. 
---
Step 3: Ride the MRT to HarbourFront Station
HarbourFront Station is located on the North East Line (represented in purple colour on the train map). It is important to know the line that you are traveling on and the preceding station to HarbourFront so that you are ready to get off the train as you get closer to this station.
The preceding station to HarbourFront is Outram Park. Once you hear the verbal announcement on the train about Outram Park make sure that you make your way closer to an exit so that you get off the train at Harbourfront. 
Also keep in mind that they will have signs over the exit doors on the MRT trains to inform you where you are on a given line.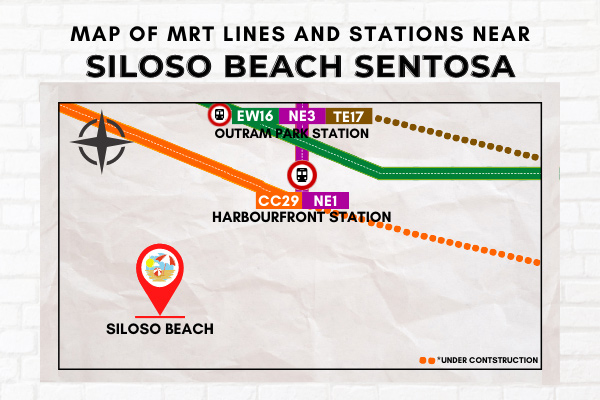 ---
Step 4: Exit HarbourFront and walk to Sentosa Express Monorail Station.
Once you arrive at HarbourFront Station you will have to transfer to the Sentosa Express Monorail System.
Use Exit E to get out of HarbourFront Station. 
Then, enter VivoCity shopping mall and follow the signs to the third floor. This is where you will find Sentosa Express Monorail Station. 
*** Note: You could, alternatively, take a shuttle bus or walk to Sentosa. The choice is really up to you, but since you are going to the far end of the train line, we suggest taking the train – especially if it's hot outside.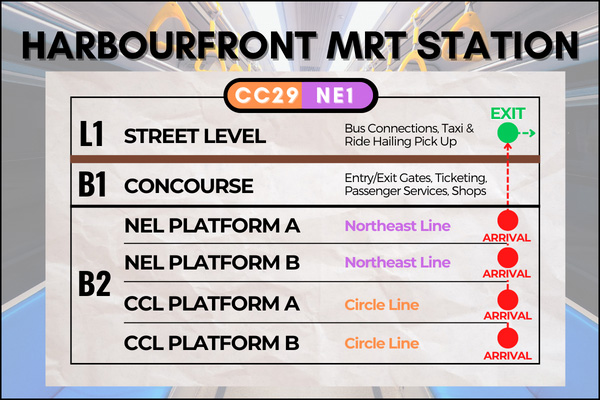 ---
Step 5: Buy ticket for Sentosa Express train to Beach Station
Next, purchase a Sentosa Express train ticket to Beach Station. 
You can do this in the ticketing office in VivoCity Mall. 
Get on the train and enjoy the short ride! Once you arrive at the Beach Station get off the train. 
---
Step 6: Walk, or take the beach shuttle to Siloso Beach.
Once you arrive at Beach Station using Sentosa Express get off the train and exit. 
The walking distance to Siloso Beach from Beach station is around 900 meters which should take you about 10 minutes or so to walk.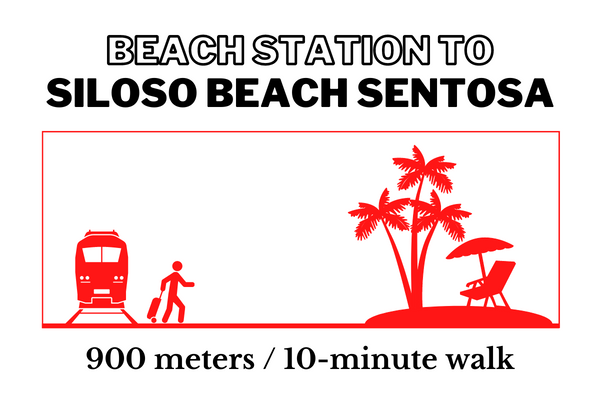 Alternatively, you can wait for the Beach Shuttle which can get you there in 2 minutes from Beach Station. If there is a long line up for the beach shuttle you might want to just consider walking if it is not too hot outside.
---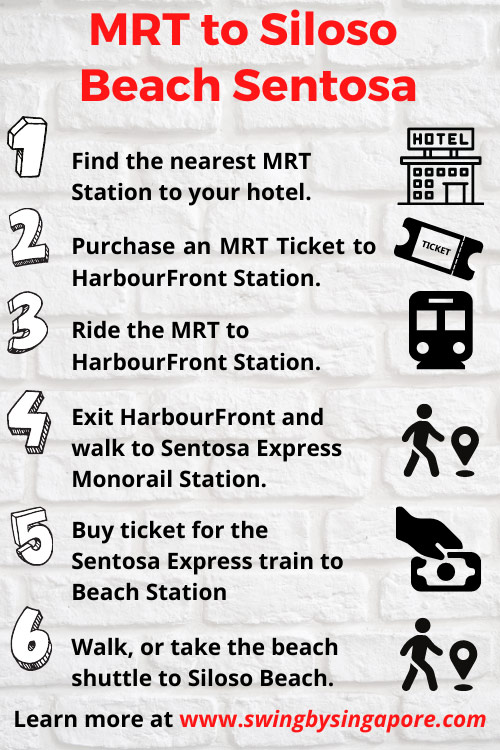 ---
Where should you stay near Siloso Beach?
There is no denying the fact that Singapore is loaded with accommodation choices. However, the city does have a reputation for being quite expensive when it comes to hotels and apartments.  Consequently, where are you choose to stay will really depend on your budget and whether or not you want to stay on Sentosa Island or in the city centre.  Ultimately, this decision will depend on whether or not you were traveling with a family or want to be close to some of the major attractions on the island.
The two best places to stay if you want to be right on solo Sol Beach r
Shangri-La's Rasa Sentosa Resort & Spa (5-star, 8.6/10 review score)
Siloso Beach Resort, Sentosa (4-star, 7.5/10 review score)
Of these two options Siloso Beach Resort is quite popular with families and it is definitely more affordable than the Shangri-La.  However, it does receive lower average review scores.
Highest Rated Properties
There are also many luxury hotels and resorts that are situated on Sentosa island that are not far from Siloso Beach. If you do have the cash and budget for better, more luxurious options on Sentosa Island then you might want to try one of the properties listed below:
Capella Singapore (5-star, rated 9/10)
Capella The Club Residences Singapore (5-star, rated 8.8/10)
The Outpost Hotel Sentosa by Far East Hospitality (5-star, rated 8.9/10)
W Singapore – Sentosa Cove (5-star, rated 8.7/10)
Please take note that these are only suggested properties. There are more properties available on Sentosa island as well. As you can see based on the review scores taken at the time of writing from leading accommodation websites, these properties are quite well managed and very positively reviewed. 
We do not have a direct partnership with any of these properties but we are just recommending them based on their location and review score rating. Therefore, you can expect these review scores to change over time as more guests review these respective properties.
---
Have more questions 

about how

 to get to Siloso Beach Sentosa using public transportation?
Sentosa Island is one of the most well-developed tourist islands in all of Asia.  Consequently, you literally could spend a week on Sentosa island checking out different sites and activities. There is literally something for everyone.  In general, the island does have a bit more of a family friendly vibe opposed to a party vibe.  But that doesn't mean that there are not restaurants and bars available for older patrons.
Even though this guide is written to get you to Siloso Beach you can also get to adjacent beaches by following similar directions. The adjacent beaches to Siloso are:
Palawan Beach (directions via public transport)
Tanjong Beach
If you have the energy you can walk between these beaches but most tourists take 10 to take the beach shuttle due to Singapore's extreme heat during the day. Sentosa island also has Resorts World that is the biggest drawing card on the island.  If you are a golfer there are also some world-class golf clubs on Sentosa that you can try out as well. Generally, they tend to be quite expensive relative to other golf courses in Southeast Asia but if you do have the money you can expect high quality greens and fairways.