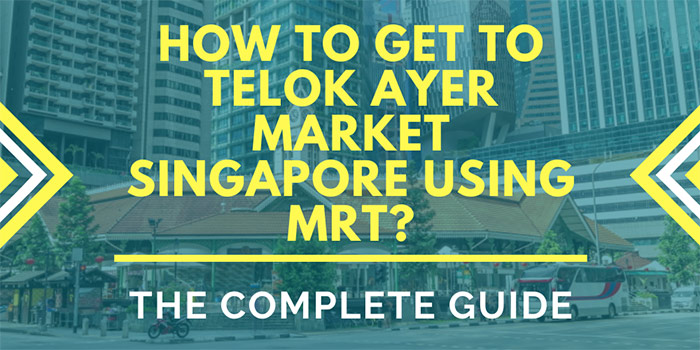 This is our personal step-by-step guide on how to get to Telok Ayer Market Singapore using MRT.  Often overlooked by many tourists visiting the city, this Market is phenomenal if you want to experience real Singaporean cuisine at a reasonable price.
The fortunate thing about traveling in Singapore is that the city has an extensive public transportation system that is world class.  We have used the MRT on countless occasions to access sights around the city including Telok Ayer Market. Therefore, our goal is to make sure that this connection is stress-free, efficient and affordable. 
We will provide you with information regarding buying tickets, what MRT stations to go to and how far you have to walk to reach Telok Ayer Market from the nearest stations.
---
Why should you visit Telok Ayer Market in Singapore?
Telok Ayer Market is also locally known as Lau Pa Sat which translates to 'old market'. It is considered to be one of the most historic markets in all of Singapore and was recognised and gazetted as a National Monument of Singapore on July 6th, 1973. 
Lau Pa Sat is situated in a historic 'Victorian' designed building and one of the first structures to be built of prefabricated cast iron in Asia. Originally it was built as a fish market but it was later relocated to its present location in 1894. Now, Telok Ayer Market is one of Singapore's best 'hawker centres' or food courts in Singapore and the perfect place to sample local dishes. 
One of the most famous dishes that you can purchase here is Hainanese Chicken Rice. 
When you visit Telok Ayer Market  you will notice that it is located directly beside the financial district in Singapore. Therefore, from a geographic perspective it is situated between Chinatown and all of the rises making up Singapore's famous Skyline. The stark contrast between the ultra modern vs. historic makes the location of this market really interesting.
Since Telok Ayer Market is close to Chinatown you can easily explore famous nearby attractions such as:
Sri Mariamman Temple
Buddha Tooth Relic Temple
Telok Ayer Market
Chinatown Street Market
Thian Hock Keng Temple
This market is also close to prominent areas such as Boat Quay and Marina Bay. Marina Bay has been popularized for amazing skyline views and the architectural gem – Marina Bay Sands Resort.
---
Getting to Telok Ayer Market Singapore using MRT.
Step 1: Find the nearest MRT Station to your hotel.
If you are not living in Singapore and you want to plan a trip which includes Telok Ayer Market, then it is a wise decision to book your room within walking distance of an MRT station.
Singapore has one of the best public transportation systems in the world so take advantage of it. Not only will this reduce carbon emissions but you will also save valuable cash and time. Avoid traffic jams and stay as close as possible to an MRT Station. 
A few popular examples of hotels that are within very close walking distance of MRT Stations include:
Fairmont Singapore (8.9/10 Review Score) (Esplanade Station)
The Capitol Kempinski Hotel Singapore (9.3/10 Review Score) (City Hall Station)
Ibis Budget Singapore Clarke Quay (7.5/10 Review Score) (Clarke Quay Station)
If you stay at any one of the properties listed above you will be within a 2-minute walk of the nearest MRT Station. We have listed the MRT stations beside the hotel review scores (above) for your convenience.
---
Step 2: Buy MRT ticket to get to the Market
Telok Ayer Market can be easily accessed from the MRT Network in Singapore.  However, before you even think about what station you want to go to you have to determine what kind of ticket you plan on using.  
There are three main types of tickets that people use while they ride the MRT in Singapore:
A Singapore Tourist Pass 

A stored value card that can be used for multiple trips

A single trip ticket 
Single trip tickets are the best option if you plan on being in the city only for a day or two. Ideally, these tickets are for people who want to make only a few trips while they are in Singapore on the MRT. You purchase them from ticketing machines directly in the station. Expect to pay more per trip than stored value cards but if you only plan on using the MRT a few times this is the way to go!
Singapore Tourist Passes are the best option for active visitors who will be in the city for only a few days – usually 1 to 3 days. Once you purchase the Pass you can use them for unlimited rides on the MRT and buses throughout the city. The downside is that once you pay, then you may feel obligated to use these services more than what you initially anticipated. 
Buying a Card
Stored value cards are popular with Singaporeans, locals and visitors spending more than three days in the city. You can purchase these at TransitLink offices. Once they are topped up with cash you can use them for different modes of public transportation. It is cheaper per trip than using single journey tickets. Upon departure from Singapore you may want to get a refund for this card, however. 
If want to buy a stored-value card there are two different types in Singapore:
ez-link 

Nets FlashPay card
You can purchase these cards at TransitLink Ticket Offices.  Afterwards, proceed to these merchants for subsequent top ups:
DBS/POSB/OCBC Automatic Teller Machines

7-Eleven stores

General Ticketing Machines,

SingPost Outlets

AXS Stations

Add Value Machines

TransitLink Ticket Offices 
---
Step 3: Buy an MRT Ticket to Telok Ayer, Downtown, or Raffles Place Station
If you plan on going to Telok Ayer Market or Lau Pa Sat this trip is unique in that there are actually three different MRT stations that are within walking distance of this famous Market.
You can walk to Telok Ayer Market from anyone of these MRT stations in Singapore:
Telok Ayer Station
Downtown Station
Raffles Place Station
Tourist-Pass holders and individuals with stored value cards don't have too much to worry about at the station because they can simply tap their cards to access the trains. If you are purchasing a single journey ticket then you will have to select one of these aforementioned stations at your starting station. 
---
Step 4: Ride the MRT to Telok Ayer, Downtown, or Raffles Place Station
When you are making your way to Telok Ayer Market you might as well know which MRT line these stations are on in order to know where you might have to transfer trains:
Telok Ayer Station and Downtown Station are both part of the following line:
Downtown Line

(shown in blue colour on MRT Map)
Raffles Place Station is part of two different lines:
North South Line

(shown in red colour on MRT Map)

East West Line (shown in green colour on MRT Map)
Regardless of which line you are traveling on to Telok Ayer Market  you can expect to hear verbal announcements on the train which are designed to inform you of upcoming stations on the line. They also have signs above each exit on the train to show where you are.
As you approach any of these three stations get close to an exit so that you do not miss your stop.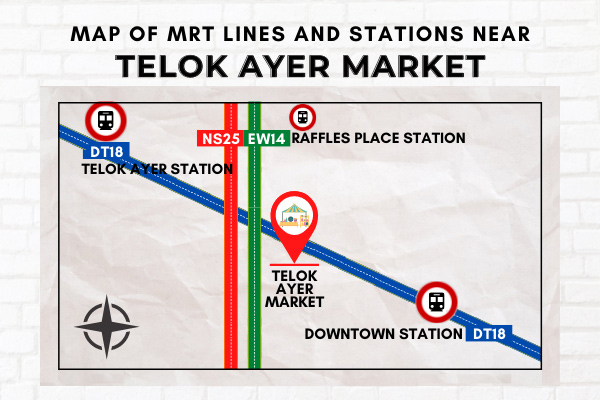 ---
Step 5: Walk to Telok Ayer Market from Telok Ayer, Downtown, or Raffles Place Station
With three potential stations to choose from to get to Telok Ayer Market it really comes down to convenience opposed to walking distance. All three of these stations are relatively close to the market so you may prefer to just get off at the most convenient station opposed to traveling longer on the MRT just to save a hundred metres of walking distance.
 Directions from Telok Ayer Station
Leave Telok Ayer Station through Exit A.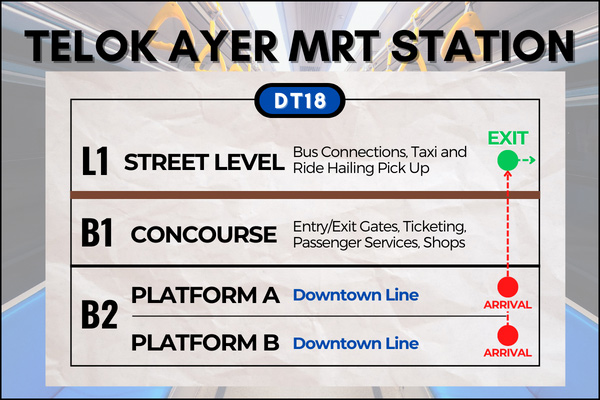 This will get you out onto Cross Street. From there walk 250 meters (3 minutes) south to reach Telok Ayer Market.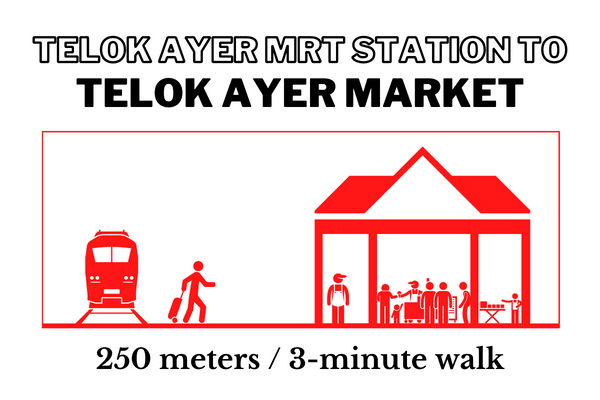 Walking Directions from Downtown Station
Leave Downtown Station through Exit E.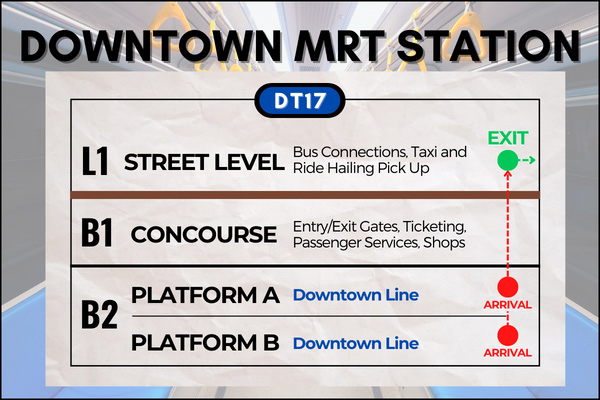 Walk north along Cross Street. It should take you about 4 minutes to walk to Telok Ayer Market from the station.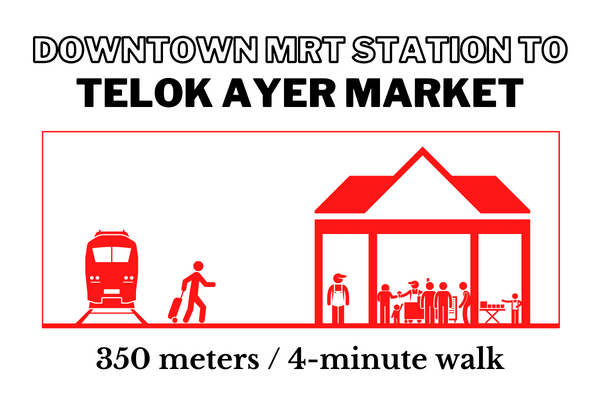 Directions from Raffles Place Station
Leave Raffles place station through Exit I.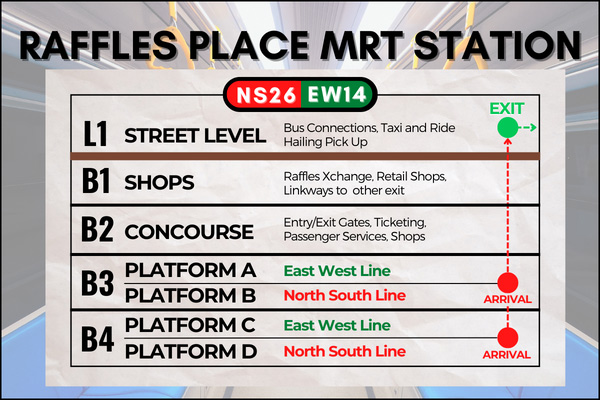 Walk southeast about 600 meters and this should take you about 8 minutes to reach the market.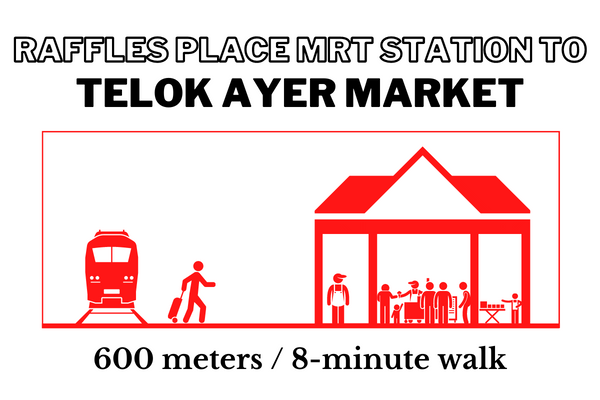 ---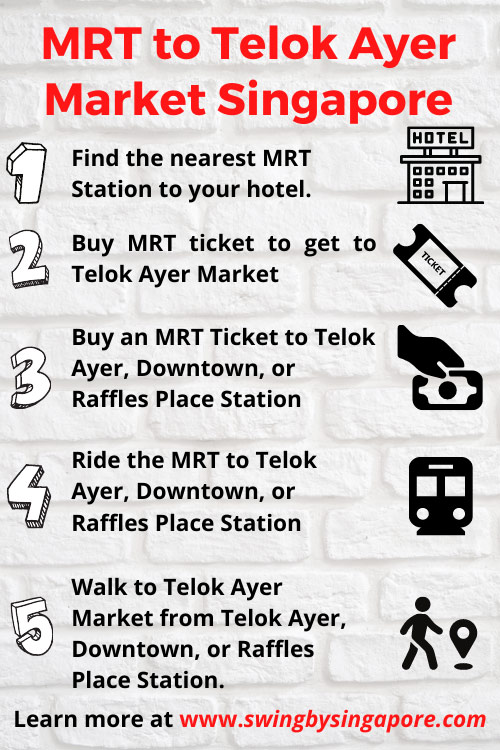 ---
Selecting the best hotel near Telok Ayer Market 
Telok Ayer Market (aka Lau Pa Sat) is located between Chinatown and the core business area of Singapore. Therefore, if you plan on staying in this area you are going to have to make a decision about whether you want to stay further north in Chinatown or northeast along Marina Bay.
Marina Bay is regarded as one of the best places in all of Singapore to stay. It features many world-class luxury hotels that offer breathtaking views of Singapore's amazing skyline. The catch here is that properties are quite expensive and mainly tailored towards wealthy guests.
We highly recommend Marina Bay if you have the budget for a room in this area. It's also an excellent place to run and exercise in the morning or late afternoon. Some of the best properties in Marina Bay include:
The Fullerton Bay Hotel Singapore (5-star, rated 9.4/10)
Marina Bay Sands (5-star, rated 9/10)
The Ritz-Carlton Millenia Singapore (5-star, rated 9.2/10)
If you want to stay further north in Chinatown you will experience completely different types of properties in this area. Chinatown is regarded as one of the best budget areas in the entire city for boutique hotels and hostels. Some of the best properties in Chinatown include:
Hotel 1888 Collection (8.4/10 review score)
Wink Capsule Hostel @ Thian Hock Keng Temple (8.4/10 review score)
CUBE Boutique Capsule Hotel @ Thian Hock Keng Temple (8.6/10 review score)
While you were looking over these Hotel suggestions keep in mind that we do not have a direct partnership with any of these properties. We've selected these based on our experience staying in Singapore and also verified guest review scores from leading accommodation websites at the time of writing. Therefore, these review scores are subject to change over time based on how guests enjoy their stay.
---
Do you have more questions about getting to the Market by MRT?
Hopefully this guide on how to get to Telok Ayer Market  has been detailed enough for this to be a stress-free journey.  Since this Market is sort of wedged between Marina Bay and Chinatown you can explore attractions in both of these areas over the course of one to two days. 
A  practical itinerary idea would be to start off in Marina Bay possibly in the morning and get some great photos of Singapore skyline, the Merlion and a visit to Singapore Flyer followed by lunch at Telok Ayer Market. 
Afterwards, you could walk through Chinatown and explore some of the world class attractions in this cultural area of the city:
Buddha Tooth Relic Temple
Chinatown Heritage Centre
These two areas of the city are ideal for sightseeing. Where you stay really depends on your budget but you can easily access Chinatown from Marina Bay or vice versa using the MRT if you find the weather too hot outside.