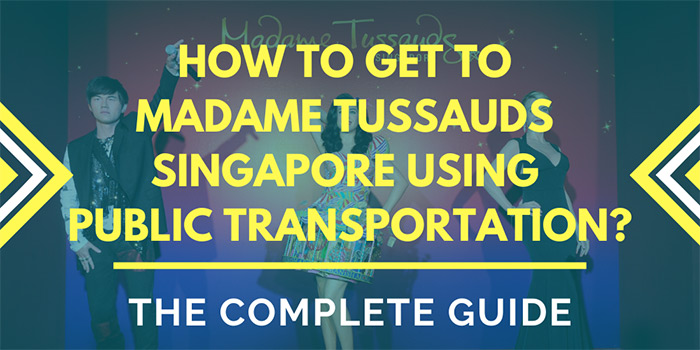 Welcome to our complete step-by-step guide on how to get to Madame Tussauds Singapore using public transportation. Regardless of whether or not you are from Singapore, we hope that our personal experience travelling to Sentosa island and Madame Tussauds can provide you with additional insight to make this a stress-free journey.
One of the clear benefits of travelling while you are in Singapore is using the extensive public transportation system. The city has clearly done an amazing job making multiple MRT lines that are affordable and efficient to use. The bus network in Singapore is also impressive and services even the remote areas of the city.  You can even land in Singapore and not even step foot in a single-vehicle during your entire trip to the city.
When you are travelling to Madame Tussauds Singapore you can almost get a right to the doorstep of this establishment by utilizing the MRT and the Sentosa Express Train.  This article will summarize the specific steps that you have to take in order to reach Madame Tussauds on Sentosa Island using a combination of these public transportation services.
---
Why should you visit Madame Tussauds Singapore?
Madame Tussauds Singapore is one of many famous and very popular attractions that is located on Sentosa Island.  This is one of the most developed islands in terms of tourist infrastructure in all of Asia. You can find everything here from world-class resorts, beaches and theme parks. 
Similar to other 'Madame Tussauds' around the world, Singapore's is a wax museum that features a rotating list of notable wax figures which have ranged from political icons, famous superstars, sports icons and others. This attraction officially opened on October 25th, 2014. It is considered to be the seventh 'Asian branch' of the Madame Tussauds brand in Asia. Therefore, you may have already checked out some of the other branches in major cities throughout Asia. 
Madame Tussauds Singapore offers visitors a lot more than just wax figures that are displayed in different rooms.  They have put a lot of effort into making this a more interactive attraction for people of all ages. Consequently, this is a very popular attraction with children and youth and not only adults.  
Interactive Shows
Although the exhibits and activities change within a given year at Madame Tussauds Singapore, they have focused on using technology and interactive live shows to impress guests. For example, at the time of writing, you could participate in an interactive 4D experience or try out cutting-edge virtual reality stations.  They also feature live shows with actors and impressive special effects. 
Also, keep in mind that Madame Tussauds Singapore is very popular because it is also adjacent to many other world-class attractions on Sentosa Island. Therefore, you can easily explore Resorts World Sentosa and beaches such as Siloso.
And let's not forget about convenient hotels right in the vicinity of Madame Tussauds Singapore. 
These two properties are only a five-minute walk from it: 
Le Meridien Singapore Sentosa (5-star, 8.3/10 review score)
Village Hotel Sentosa by Far East Hospitality (4-star, 8.5/10 review score)
---
Getting to Madame Tussauds Singapore using MRT and Sentosa Express
Step 1: Find the nearest MRT Station to your hotel.
Singapore is regarded as one of the most expensive cities in Southeast Asia to visit. Consequently, you should be well prepared if you were planning a trip here in order to save as much money as you can on costs such as transportation and accommodation.
One practical strategy is trying to book a hotel room as close as possible to an MRT station. This will help you avoid unnecessary costs associated with booking taxis and private vehicles. Also, you will bypass traffic jams throughout the city using the MRT. This is also the most environmentally friendly form of travelling throughout Singapore.
Fortunately, hotel developers in Singapore have made it very convenient for visitors to stay near MRT stations throughout the city. We have included two of the most popular hotels were staying close to stations to get you started booking room:
Fairmont Singapore (8.9/10 Review Score) (Esplanade Station)
The Capitol Kempinski Hotel Singapore (9.3/10 Review Score) (City Hall Station)
Once you have your room sorted then just make sure that you can get to the closest station without too much trouble.
---
Step 2: Purchase an MRT Ticket to HarbourFront Station
If you want to take the MRT to Madame Tussauds Singapore then you will first have to decide on what kind of ticket you plan on using to get there.  There are three major forms of MRT tickets in Singapore:
Single journey trip tickets

Stored value cards

Singapore Tourist Passes
The type of ticket that you plan on using really depends on your own personal circumstances in the city.  In other words, it depends on how much you want to spend and how often you want to use the MRT while you are travelling there. 
Single journey tickets are the most basic form of MRT ticket in Singapore. These are the tickets that you can directly purchase at ticketing machines within the station.  The benefit of these types of tickets is that you are not obligated to use the MRT or bus network a lot while you are there. You plan on using the MRT only once or twice while you are in Singapore this is the best option. Keep in mind that it will cost you more per trip than a stored-value card, but you do not have to worry about any refunds or anything like that.
Stored Value Cards: Popular Choice for Locals
Stored value cards are a popular option with Singaporeans, ex-pats and long-term visitors to the city. These are cards that you can purchase and then top up. Once you have a cash balance on the card you can simply tap to enter and exit each MRT Station. This effectively avoids the ticketing lines at each station. The cost per trip is also cheaper than getting single journey tickets. However, you may have to deal with a refund of your card when you do leave Singapore. While we were trying to figure out how to get to Madame Tussauds Singapore using public transportation we used an ez-link card which is one type of stored value card.
Tourist Passes
Singapore tourist passes are the best option if you are only spending one to three days in the city and you plan on seeing a lot of different sites. These passes allow you to use the bus and MRT Network an unlimited amount of times for a set duration. This can be the cheapest option by far if you plan on travelling extensively while you were in the city. However, you may feel obligated to travel more than you would like once you get one of these cards. We suggest that you think about the itinerary that you have planned and whether or not it is worth the investment of getting a pass.
Once you have determined what kind of ticket you are going to use make sure that you plan on going to HarbourFront Station.  This is the most practical station to travel to on the MRT if your intended final destination is Madame Tussauds Singapore.
---
Step 3: Ride the MRT to HarbourFront Station
HarbourFront Station is located on the North-East Line (represented in purple colour on the train map). 
The adjacent station to HarbourFront is Outram Park.  
How do you make sure that you get off at the right station?
When you are travelling on the MRT Network in Singapore you can expect to hear verbal announcements that are designed to alert passengers of upcoming stations on the line. When you were here 'Outram Park Station' being announced it is time to get closer to the exit doors on the train.
You can also expect to see signs above the exits on the train to inform you where you are on the line.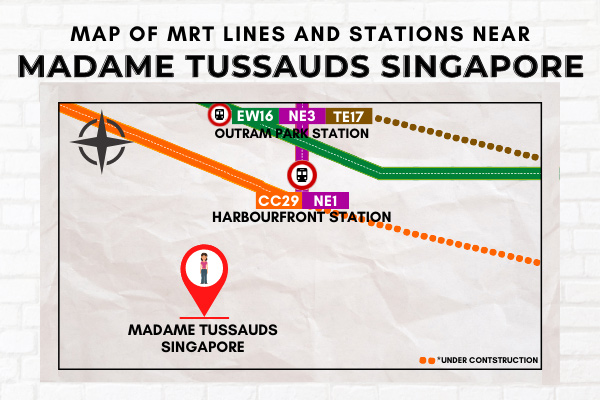 ---
Step 4: Exit HarbourFront and walk to Sentosa Express Monorail Station.
Once you arrive at HarbourFront Station you will have to transfer to the Sentosa Express Monorail System.
Use Exit E to get out of HarbourFront Station. 
Enter VivoCity shopping mall and follow the signs to the third floor. This is where you will find Sentosa Express Monorail Station. 
*** Note: You could, alternatively, take a shuttle bus, cable car or walk to Sentosa from HarbourFront. The choice is really up to you, but since you are going to the far end of the train line, we suggest taking the train – especially if it's hot outside.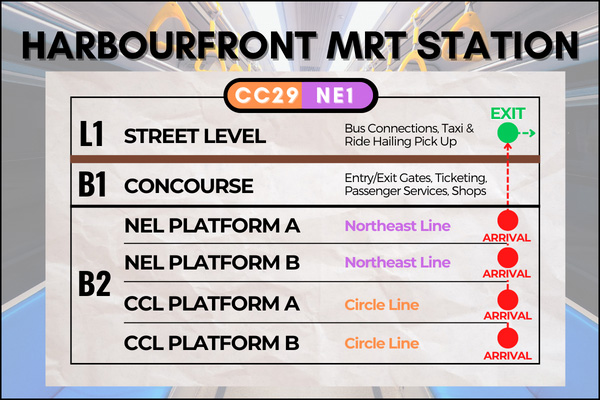 ---
Step 5: Buy a ticket for Sentosa Express train to Imbiah Station
When you are purchasing a ticket to get to Madame Tussauds Singapore you want to get off the train at Imbiah Station. 
Purchase your Sentosa Express ticket to Imbiah Station and board the train. 
---
Step 6: Walk from Imbiah Station to Madame Tussauds Singapore  
Once you arrive at Beach Station using Sentosa Express get off the train. 
Then, follow the signs, and go up the escalators. 
After 3 flights of escalators, follow the signage to Imbiah Lookout carpark, and you should see the red carpet of Madame Tussauds Singapore.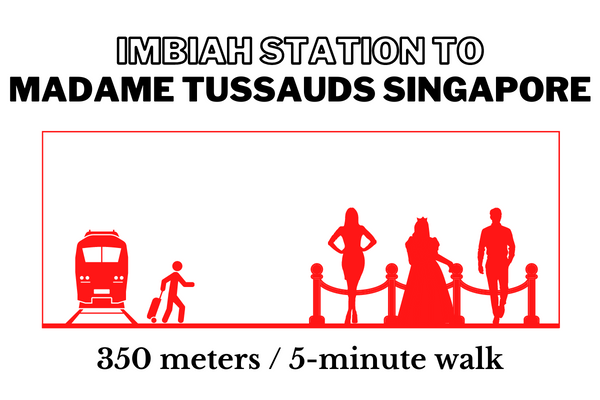 ---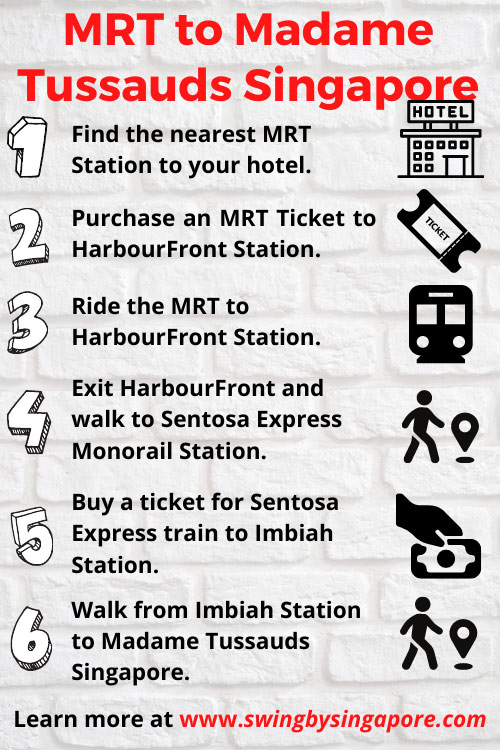 ---
Where should you stay near Madame Tussauds Singapore?
When you are booking a room in Singapore you have to consider whether or not you want to be stationed on Sentosa Island or within the city center?  We suggest that you should stay on Sentosa island if you plan on checking out a lot of the attractions such as Resorts World.
You should also understand that the hotels on Sentosa tend to be quite expensive but obviously very convenient for sightseeing. Therefore, some budget travellers may prefer to stay in areas such as Chinatown or Little India and then visit Sentosa using this guide. even with the cost of transportation included it would be still much cheaper to stay in one of these budget-friendly areas.
Options for Families
Sentosa can also be a great place to stay if you're travelling with children. There are few resorts on Sentosa that are cheaper and ideal for family stays:
Resorts World Sentosa Festive Hotel (5-star, rated 7.5/10)
Siloso Beach Resort Sentosa (4-star, rated 7.5/10)
A lot of visitors that are checking out Madame Tussauds Singapore Have the financial resources to stay at luxury hotels on Sentosa Island. If you fit into this category of tourist then you might want to consider staying at one of the properties that we have listed below. They are some of the highest-rated and most well-regarded properties on all of Sentosa Island:
Capella Singapore (5-star, rated 9/10)
Capella The Club Residences Singapore (5-star, rated 8.8/10)
The Outpost Hotel Sentosa by Far East Hospitality (5-star, rated 8.9/10)
W Singapore – Sentosa Cove (5-star, rated 8.7/10)
We have recommended and included the properties above based on their verified review scores and location on Sentosa Island.  We are not direct partners of any of these accommodation providers.  Also, keep in mind that these review scores may change over time as more guests submit verified review scores on leading accommodation websites.
---
Any more questions about getting to Madame Tussauds Singapore using public transportation?
The first time that we visited Sentosa island in Singapore we were truly impressed with the number of things to do on the island.  One could argue that there are almost too many options for visitors. But most visitors will agree that there is almost something for everyone!
The great thing about visiting Sentosa island is that you can draft up many different types of itineraries. For example, one day you could visit Madame Tussauds Singapore and Resorts World. Then on the next day, you could see the beaches (Siloso, Palawan, and Tanjong). And then possibly, Fort Siloso or the world-class golf courses?
Although we have written the step-by-step guide on how to get to Madame Tussauds Singapore using public transportation there is a possibility that you do require more information.  If that's the case please feel free to send us an email anytime and we would be more than happy to provide you with more information about this trip.  Also, take note that Madame Tussauds Singapore can get very busy on weekends and public holidays. This is especially true during peak travel seasons like Christmas and Chinese New Year.