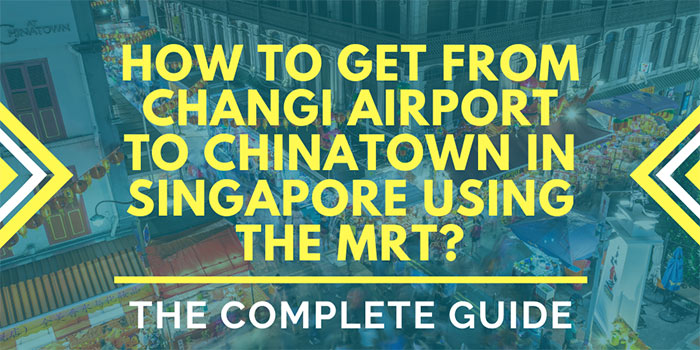 We have written this article to provide you with a step-by-step guide on how to get from Singapore airport to Chinatown using the MRT. As you read all the information in this guide take note that the information presented is based on our actual experience riding the MRT from the airport.
Based on our experience, staying at a hotel in Chinatown is a strategic and affordable area to stay with direct MRT access. And once you are in the area, you can access Singapore's top attractions efficiently using Singapore's multiple MRT lines. 
Changi Airport is physically connected to the extensive MRT network in Singapore. Therefore, take advantage of this and save some serious cash while saving the environment.
---
Why is Chinatown a popular area to visit in Singapore?
There is no denying the fact that Singapore has an extensive selection of different areas and attractions to explore. Some of Singapore's sights are designed for entertainment whereas others attract visitors because of the cultural and religious attractions such as temples and festivals. Chinatown in Singapore is without question a popular place to visit because of the strong culture here. There are temples to explore and festivals to photograph.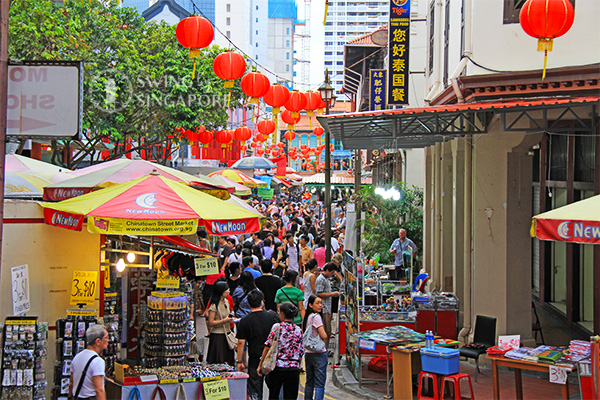 A lot of people visit Chinatown in Singapore because of the food as well. This is an excellent area to check out if you want to eat some tasty, traditional Chinese cuisine with a Singaporean twist. Chinatown also has street markets that are very popular with tourists in the city. You can casually walk around and take photos of the lanterns, temples and street snacks while buying some affordable products. 
And…let's not forget about hotels!
Chinatown in Singapore is regarded as one of the best areas in the entire city for budget-friendly accommodation choices. You can find all kinds of affordable room options within a few hundred meters of Chinatown MRT Station. Properties like The Bohemian and Capsule Pod Boutique Hostel are only about 2 minutes from the station and they receive excellent reviews for clean facilities at a great price. 
Also keep in mind that Chinatown is very close to other popular tourist areas such as Clarke Quay, Boat Quay, Orchard and Marina Bay.
---
Getting to Chinatown using the MRT
Step 1: Once you land, clear immigration and customs and then travel to the MRT.

 
Upon arrival in Singapore follow the airport signs to Changi MRT Station which is physically connected to the airport.  Before reaching the station you will have to clear immigration, collect your luggage and pass through customs. If there are no lines and no waiting for luggage you might be able to get to the station in 15-20 minutes. Expect over 30 minutes if you have to collect luggage. 
Follow the airport signs or ask airport personnel on how to get to Changi Station. This is where you will purchase your MRT ticket to Chinatown MRT Station. 
When you are buying tickets for MRT trips in Singapore you will have two main options:
Buy and load up a stored value card.

Buy a Singapore Tourist Pass.
The stored-value card is a more practical choice if you plan on using the MRT throughout your visit to Singapore.
Also, keep in mind that using the stored value card is more efficient because you won't have to wait in line every time you enter a ticket because you have already 'loaded up' your card with cash. When we were figuring out how to get from Changi Airport to Chinatown in Singapore using the MRT, we used an ez-link card. This is a type of stored-value card. 
Singapore Tourist Passes offer unlimited bus and train rides for a maximum of 3 days. They are best used along with a Multiple Attraction Pass, giving you cheap transport and up to 52% off entrance fees to the city's best attractions.
---
Step 2: Take the MRT East-West Line to Expo Station
Once you board the MRT at Changi Airport take it one station west to Expo MRT Station. Expo is the first station on the East-West Line. Expo station is a popular transit station for passengers arriving at Changi because it enables them to transfer between the East-West and Downtown MRT Lines. Alight at Expo and remember to take all of your luggage. 
---
Step 3: Transfer to the Downtown Line
Once you alight at Expo Station you now have to transfer to the Downtown Line. The Downtown Line is shown in Blue colour on the Singapore MRT Map. Board the next MRT train that is moving towards Bukit Panjang.
---
Step 4: Ride the MRT to Chinatown Station
After you have boarded the MRT on the Downtown Line, it is very straightforward to reach Chinatown Station. Simply relax on the train for another 15 stops. The 16th stop will be Chinatown Station – your intended destination. 
Singapore's MRT network has digital screens that are used to inform passengers about the next upcoming station on the line. They also make verbal announcements about what station is next. Fort Canning Station is the preceding station to Chinatown, so once you hear this getting announced, get your bags ready and begin getting closer to an exit.  
$$$ How much does it cost to take the MRT to Chinatown from the Airport?
You have to keep in mind that MRT prices in Singapore are different depending on whether you use a stored-value card or you pay per trip using a ticketing machine within the station.  Stored value cards do require you to actually purchased the card and top it up however, once this is done each trip is cheaper than paying directly in cash for every journey.
Also, take note that not all passengers pay the same amount to use Singapore's MRT system. Naturally, adults who are actively employed are required to pay higher fares for the same journey when compared to senior citizens, students and children.
The prices listed here are always subject to change over time. However, at the time of writing it costs $1.90 for adults to take the MRT from Changi to Chinatown with a stored-value card. 
Children and students cost the same amount. Their fare is $0.63 from the airport to Chinatown. Finally, senior citizens and disabled persons are required to pay $0.92 for this journey. Remember, all of these prices are 'stored-value card' prices.
It costs $2.70 from a ticketing machine for a standard ticket.
You will have to purchase a stored value card at the airport before you commence this trip to Chinatown. But as demonstrated above, it is considerably cheaper per trip once you have the card purchased and loaded with some cash. 
How long does it take to travel from the Airport to Chinatown using the MRT?
At the time of writing the average travel time from Singapore Airport to Chinatown via MRT was 52 minutes. We use the term average to describe this time because the train does not always take the exact same amount of time from the airport to the city. For instance, if the trains are very busy then it will take more time for passengers to board and alight at every station. There also could be some system delays where the frequency of trains being offered can change. 
The time of the above does consider the amount of time required to change lines at Expo Station.
---
Step 5: Exit Chinatown Station and walk to your hotel or point of interest.
Chinatown Station has a total of 6 different exits which can get a bit overwhelming when you arrive. Exits include A, B, C, D, E and G. Exit A and exit E are particularly popular with tourists because they are used to access the Buddha Tooth Relic Temple & Museum and the Chinatown Complex (Market & Food Centre).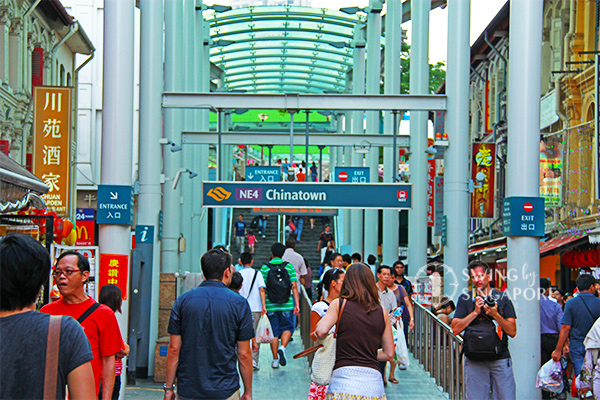 Our personal advice when you arrive at Chinatown Station is to refer to the station signs that outline what you can access. If you still require more direction, ask one of the station attendants for more information.  
---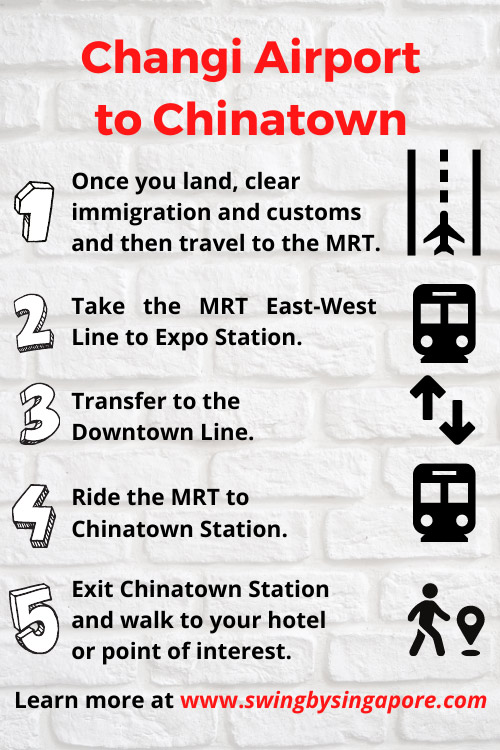 ---
Where should you stay in Chinatown?
The first thing that you have to realize that about staying in Chinatown in Singapore is that this area is particularly good for finding budget accommodation choices. This is not to say that there are not nice hotels in this area, but they do tend to cater to a lot of backpackers and families that are on a budget while they are visiting this beautiful city.
The two main types of accommodation choices that you will see in Chinatown are hostels and also boutique hotels. You can expect small rooms in the boutique hotels but many of them offer breakfast included in the room price. You can expect small rooms in the boutique hotels but many of them offer breakfast included in the room price.  The hostels in this area are very popular with backpackers. The hostels in this area are very popular because they are cheap, and for the most part, quite safe and well managed. 
When you arrive at Chinatown station you will have a choice of at least fifty different properties within a 10 to 15-minute walk of the station.  Therefore, where you decide to stay depends on your budget and personal preferences.
High-End Properties
There are two high-end properties that receive positive reviews around the station that you can walk to in five minutes:
Capri by Fraser China Square Singapore (4-star, 8.9/10 review score)
Parkroyal Collection Pickering Singapore (5-star, 9.1/10 review score)
There are a bunch of budget properties that are literally within a 2-minute walk of Chinatown station. These are the most convenient and efficient choices if you are on a strict budget because you will never require a taxi to and from the station. You can even walk directly from the station to your hotel with your luggage after you arrive via MRT from the airport.
Affordable Options near the Station
Some of the highest-rated properties right beside Chinatown station include the following:
CUBE Boutique Capsule Hotel @ Chinatown (8.6/10 review score)
Hotel 1888 Collection (8.4/10 review score)
---
Any more questions about your trip from the Airport to Chinatown?
Hopefully, this guide on how to get from Changi Airport to Chinatown in Singapore using the MRT has provided you with enough information to make this journey a stress-free one! If for some reason you still have questions or concerns about this trip please don't hesitate to send us an email or a comment. We are more than happy to provide you with more additional information.
Chinatown is considered to be a 'must-see' area in Singapore. It really has something for everyone according to the temples, markets, restaurants and hotels that are all clustered within 10-15 minutes around the MRT Station. 
Also, remember that there are popular areas nearby that you can either walk to or use the MRT to access. Some of them include Boat Quay, Clarke Quay, Marina Bay, Orchard and Little India.