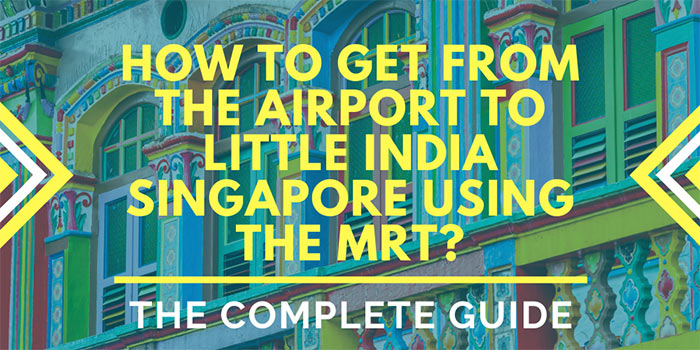 This article is designed to give you a very detailed step-by-step guide on how to get from the airport to Little India, Singapore using the MRT. All of our 'how-to' articles are based on our own travel experience navigating Singapore. For this particular connection from Changi Airport to Little India, you are in luck! You can complete this journey by only using the MRT system in Singapore. No bus or taxis or additional expenses required!  One of the main reasons why this is possible is because the MRT is physically attached to Changi International Airport. Therefore, no additional transportation arrangements are required to access the first station on this journey. 
---
Why is Little India a popular area to visit in Singapore?
Singapore is obviously known for many different things including its famous skyline, world-class hotels and fun family attractions. But let's not forget about culture! Little India is a very well known area in Singapore for a few different reasons, but culture is definitely one of them!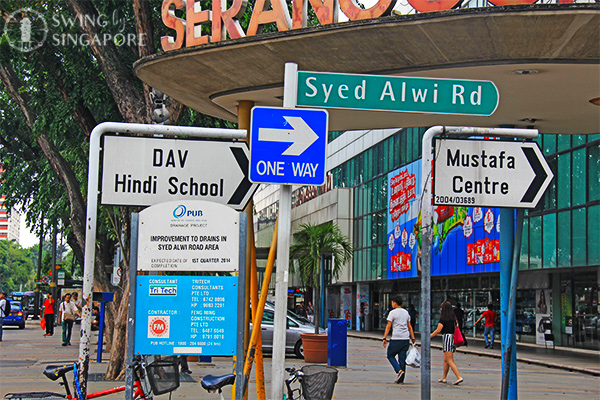 If you want to taste some amazing Indian dishes in Singapore this is the place to go! Also, let's not forget about shopping as well. Little India is regarded as a great place for budget products, especially those manufactured in India.  
Little India is also very well known for budget accommodation choices. Singapore is not the cheapest city in the world to visit or to live in. Therefore, visitors to Singapore are always looking for bargain room prices online. You will find a variety of accommodation choices in Little India but many of them are either hostels or boutique hotels. If you want to save some serious cash, consider staying in Little India and using it as your base to check out other areas using the MRT.
---
Getting to Little India using the MRT
Step 1: Collect luggage, and clear immigration and customs before walking to Changi Station.
Changi Airport in Singapore annually gets selected as one of the best airports in the entire world. It is extremely well organized and managed. Therefore, you can expect to access the MRT Network directly from the airport with very little hassle involved.
Once you clear immigration services, collect your luggage and clear customs, it's time to access the MRT network in Singapore. Fortunately, the first station of interest is physically connected to the airport. You are looking for Changi Station. Follow the airport signs or ask airport personnel on how to access it. 
Upon arrival at Changi Station, you will be required to purchase your MRT ticket to Little India. Technically, there are two MRT stations in Singapore that are commonly used to access Little India:
Little India MRT Station
Rochor MRT Station
If it's easier to remember, just focus on going to Little India Station.
When purchasing tickets for MRT rides in Singapore you will have three main options. You can either:
Buy a single journey trip ticket using a ticketing machine, or…

Buy and load up a stored value card 

Get a Singapore Tourist Pass
Based on our experience in Singapore, you may want to purchase and load up a stored-value card. This tends to be a more efficient and economic decision if you plan on using the MRT for a lot of trips while you are sightseeing or staying in Singapore. You will pay less per trip and also save time entering each station because you won't have to wait at ticketing machines. If you only plan on making one trip using the MRT during your entire stay, then stick with a single journey trip ticket.
If you are an active tourist then get a Tourist Pass for stays spanning 1-3 days.
---
Step 2: Take the MRT East-West Line to Tanah Merah Station
After entering the MRT at Changi Airport take it two stations west to Tanah Merah MRT Station. Tanah Merah is the second station on the East-West Line after passing Expo Station. Alight at Tanah Merah if the train is not going further along the East-West Line and remember to take all of your luggage off of the train. The MRT in Singapore usually only stops for a few minutes at each station. Prepare to grab your luggage and walk to one of the exits.  
---
Step 3: Get on a train moving west along the East-West MRT Line 
If you alight at Tanah Merah Station then you will have to wait for a westbound train that is heading towards central Singapore. The East-West Line is shown in Green colour on the Singapore MRT Map. 
---
Step 4: Ride the MRT to Bugis Station
Once you have boarded and brought all your luggage onto the train, you will have some time to relax. You will remain on this train until you reach Bugis MRT Station. Bugis is 8 stops away from Tanah Merah. There are digital screens and audio announcements that are designed to inform you of upcoming stations throughout Singapore's MRT network.
The station before Bugis is Lavender MRT Station. Therefore, once you hear Lavender get your bags ready and begin getting closer to an exit so that you can easily alight at Bugis MRT Station.  
---
Step 5: Transfer to the Downtown Line at Bugis to get to Little India
Get off the train at Bugis MRT Station and transfer to the Downtown Line.
Take the downtown line two stations north of Bugis to Little India MRT Station. Also, keep in mind that you could get off at Rochor Station which is between Bugis and Little India.
---
Step 6: Exit Little India Station and walk to your hotel or point of interest
Little India Station has a total of six different exits. Therefore, when you arrive at the station you can expect to be slightly confused unless you check exactly where you want to go before you go on your trip. The exits are listed as A, B, C, D, E, and F. 
If you plan on checking out Shree Lakshmi Narayan Temple or Sri Veerama Kaliamman Temple then you can take Exit E. Another popular exit is C which enables you to access Tekka Centre, Tekka Market and The Verge.
---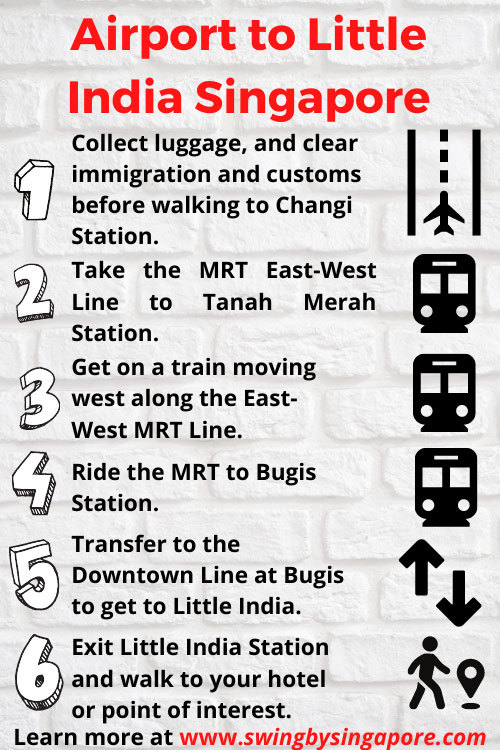 ---
 $$$

 How much does it cost to take the MRT to Little India from the Airport?
MRT trip prices in Singapore are subject to a variety of different variables such as the type of passenger (adult vs. children) and time of travel (peak vs. non-peak). It is safe to say that prices vary significantly depending on the age and status of the passenger. General adults are the most expensive, whereas seniors, children, students and disabled individuals have discounted fares.
All of the prices that we are listing below are based on the time of writing and therefore subject to change over time with inflation or promotional periods.
If you are using a stored-value card from Changi to Little India it will cost $1.84 for adults. Children and students will pay $0.63 where senior citizens and disabled travellers will pay $0.92
Remember, all of these prices listed above are 'stored-value card' prices.
You can expect to pay more if you plan on getting a single trip ticket which is called a 'standard ticket'. The airport to Little India ride via MRT will cost $2.60 from a ticketing machine for a standard ticket.
Remember, that you will have to buy and load up a stored value card at the airport before you enter Changi Station. It is much cheaper per trip once you have the card purchased and loaded with some cash, but it does require an upfront payment. Therefore, load your card up and make sure that you use the MRT throughout your trip, otherwise the money will be wasted.
---
How long does it take to travel from Changi Airport to Little India using the MRT?
You can expect this journey from Singapore Airport to Little India to take about 50 minutes. The time does consider the amount of time required to transit in order to reach the final destination. Regardless, you can expect some slight variations in this expected time if the trains are really busy or really quiet. This average time of 50 minutes does not consider delays with construction being done on the line.
---
Where should you stay in Little India in Singapore?
As mentioned before, Little India is primarily well known for Budget accommodation choices that are tailored towards backpackers or travellers that are not particularly concerned about very high service standards. Some of the hotels in this area do not receive the highest review scores in comparison to other areas like Marina Bay and Orchard Road, for instance. Therefore, if you plan on staying in Little India in Singapore you have to do a little bit of research to make sure that you're staying at a clean well-rated property.
Technically, there are a lot of hotels that are situated within 5 minutes or less walking distance from Little India MRT Station. Your priority in this area should be to stay as close as possible to the station to save unnecessary transport expenses and to save time.
Some popular hotels that are within 5 minutes of Little India Station include:
Hilton Garden Inn Singapore Serangoon (4-star, 8.1/10 rating)
Aqueen Heritage Hotel Little India (3-star, 8.0 rating)
Citadines Rochor (Condo, 8.6/10 rating)
Since some of the hotels in Little India in Singapore do not get rated very high, double-check the guest reviews prior to confirming your room. The last thing that you want to do is get a cheap affordable room and that receives extremely low ratings due to poor service standards.
---
Any more questions about your trip from the airport to Little India in Singapore?
Little India in Singapore is definitely in the area that you want to explore while you were in the city. This is particularly true if you are a 'culture lover' or somebody that wants to take street photography photos while you are in the city.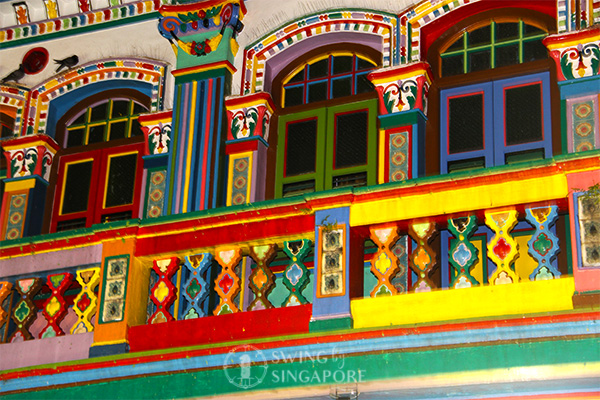 This step-by-step guide on how to get from the airport to Little India using the MRT hopefully has provided you with enough information to make this connection stress-free.  If for some reason you do have additional questions about this connection in Singapore please reach out by email or send us a comment. We would be more than happy to provide you with additional information.
If you do decide to take the MRT from the airport to Little India then keep in mind that you are also within a close distance to many other interesting areas in Singapore to explore such as
 Marina Bay
Chinatown
Clarke Quay
Boat Quay
Orchard Road
Enjoy your time sightseeing in Singapore and please don't hesitate to contact us for additional information!