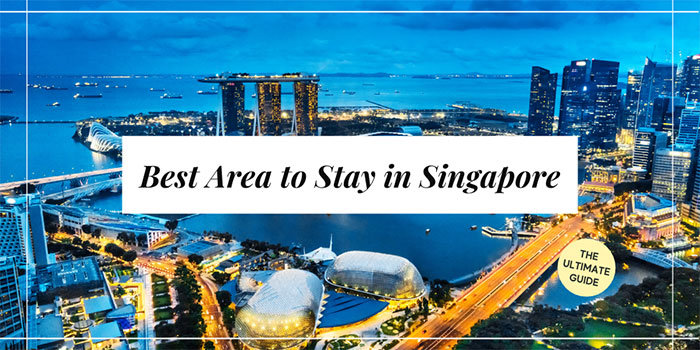 This comprehensive guide is designed to help you find the best area to stay in Singapore. Based on our extensive experience travelling throughout Singapore we are going to discuss different areas of the city and which ones could potentially suit your travel preferences. 
Obviously, different tourists have different priorities when they travel. For example, some people visit Singapore they want to book a luxury hotel because they may be celebrating a special occasion such as a honeymoon or wedding anniversary. There are also a lot of budget backpackers who visit Singapore on an annual basis.  Because one of their priorities is saving money, they are interested in finding a room that is cheap and convenient.
If you are travelling with a family to Singapore, then you probably want to be in a convenient location at a hotel with a lot of different amenities.  Swimming pools, playgrounds and outdoor areas become more of a priority.
Some visitors to Singapore just want to relax while they're in the city, whereas others want to see as many attractions as possible. Booking a room within walking distance to an MRT station is something that you also have to consider.
The big idea here is that finding the best area to stay in Singapore really depends on what you value and what kind of itinerary you have planned.  In this article, we will provide an overview of the best areas to stay in Singapore based on the common preferences of people staying in the city.  Hopefully, this will provide you with enough information to select a hotel that works best for you!
---
Best area in Singapore for 'luxury hotel-stays'
Singapore is extremely well-known for luxury, five-star hotels. If you are an affluent traveller and you are not particularly concerned about budgeting during your trip, then you have a lot to be excited about. 
Singapore's five-star hotels are not cheap by international standards, but they do receive excellent review scores from guests because of their high service standards and great amenities. You can expect extremely clean rooms, large marble bathrooms and superb city views at Singapore's luxury hotels.
There are a lot of five-star hotels scattered throughout Singapore. Most areas have luxury hotels that you can select.  However, we highly recommend staying around Marina Bay if you want to book a luxury hotel stay in Singapore.
Not only is Marina Bay world-famous for its amazing Skyline views, but this is also one of the best areas for accessing some of Singapore's most famous attractions.  For example, if you stay in Marina Bay then you can easily walk to notable attractions such as Singapore Flyer, the Merlion, Gardens by the Bay, and Sands SkyPark.
Marina Bay is also easy to access using the MRT. This makes it a convenient place to stay without worrying about unnecessary parking headaches.
Top Luxury Hotels around Marina Bay
Marina Bay is definitely one of the best areas to find luxury hotels. Some of the city's top properties are located around the bay and offer superb panoramic views. Fortunately, you have a lot of different hotels to choose from.  We've included a list below to get you started with your search:
Marina Bay Sands (5-star, 9/10 review score)
The Fullerton Bay Hotel (5-star, 9.4/10 review score)
Raffles Singapore (5-star, 9.6/10 review score)
The Fullerton Hotel Singapore (5-star, 9.2/10 review score)
The Ritz-Carlton, Millenia Singapore (5-star, 9.2/10 review score)
As you can see, all of these properties receive very high review scores from guests.  They are extremely well managed and located in ideal locations around the Bay.  Of these properties listed, you can expect Raffles Singapore to be the most expensive choice, but it is also considered to be the top hotel in the entire city.  Many world-famous people have stayed at Raffles Singapore over the years. 
---
Best area to stay in Singapore for 'family vacations'
If you are travelling with a family in Singapore then you do have some considerations to make. For example, do you plan on using a taxi or public transportation to get around the city? Furthermore, you have to think about how much you are willing to spend and what type of location you want to be in?
For a lot of families, a top priority is having a large swimming pool and some outdoor space for kids to run around.  Fortunately, many of Singapore's hotels have pool facilities and playing areas for small kids. 
Another factor that you have to consider is how close you want to be to family-oriented attractions? The last thing you want to do is spend your entire trip transiting from one attraction to the next.  This can be a headache especially if you're travelling with small children!
We think that the best area to stay in Singapore if you are travelling with children is Sentosa Island.
Sentosa Island is loaded with family attractions.  This makes it a super convenient place to stay because you do not always have to get in the vehicle or a train to get around.  Depending on where you stay you can actually walk to numerous attractions within the same day.
The southern beaches on Sentosa Island (Siloso, Palawan and Tanjong)  are extremely popular with families visiting Singapore.  And let's not forget about Resorts World Sentosa and extremely popular Universal Studios.  There are enough family attractions on Sentosa island to keep you and your family busy for at least four or five days if not more!
Top Family Hotels on Sentosa Island
Many families visiting Singapore are concerned about accommodation costs. Therefore, you might want to check the price of multiple hotels on Sentosa Island before you finalize.  The Sentosa Express monorail line is often used to get to Sentosa Island from Singapore.  
You might want to consider staying close to one of the stations on this line to make it easier for you and your family to get around.
We recommend staying close to one of Sentosa's beaches if you are travelling with children. Being within walking distance of the beaches makes it really easy to play in the sand every day without worrying about vehicles and parking.
Here are some of the closest properties to the beaches on Sentosa Island that you might want to check out:
Shangri-La's Rasa Sentosa Resort & Spa (5-star, 8.6/10 review score)
Siloso Beach Resort Sentosa (5-star, 7.5/10 review score)
Capella Singapore (5-star, 9/10 review score)
Both the Shangri-La and Siloso Beach Resort are located adjacent to Siloso Beach.  You can expect the Shangri-La to be more expensive than Siloso Beach Resort. However, it tends to receive much higher review scores from guests.
Capella Singapore is regarded as one of the best hotels on Sentosa (and all of Singapore!)  It is located directly north of Palawan Beach. You can expect Capella Singapore to be quite pricey, but this is a beautiful property with extremely high service standards. 
---
Best Area to stay in Singapore for Backpackers
Singapore is often regarded as one of the most expensive cities in the world.  This often restricts a lot of visitors in terms of where they can stay in the city.  Backpackers, for instance, want to only spend so much per day on accommodation so that they can do other things while they're in the city.  This makes it essential to find an affordable hotel in an affordable area of Singapore without breaking the bank.
The area that you choose in Singapore directly affects how much you are going to pay per night for your room.  As mentioned before, if you want to be located right on Marina Bay you have to be willing to pay the price. However, there are a few areas close to Marina Bay that are way more affordable.
One of our favourite areas for finding budget accommodation in Singapore is Chinatown. Not only is it close to Marina Bay and other popular areas such as Clarke Quay, but Chinatown also has a lot of attractions to explore.  You can literally get from Chinatown to Marina Bay in a few minutes on the MRT. 
An added benefit of staying in Chinatown is that you will be close to Chinatown Station.  This makes it possible to take the MRT from Changi Airport to Chinatown without spending money on a taxi or private car. 
Top Budget Hotels and Hostels in Chinatown 
When you are selecting a hotel in Chinatown keep in mind that there are a bunch of good options. They are scattered within 500 m of Chinatown Station.  This area is also great in terms of finding budget food choices and affordable products at street markets.
Keep in mind that you will find both boutique hotels and a wide range of hostels in Chinatown Singapore.  A lot of the hostels here have what are called 'pod or capsule rooms.' Please tend to offer more privacy than a traditional 'shared room.'
Some of the highest-rated budget-friendly hotels and hostels in Chinatown include the following:
Chic Capsule Otel (2-star, 8.5/10 review score)
The Bohemian (1-star, 8.6/10 review score)
Capsule Pod Boutique Hostel (2-star, 8.5/10 review score)
CUBE Boutique Capsule Hotel @ Chinatown (8.6/10 review score)
The properties listed above receive solid review scores from verified guests. Similarly, they are within close walking distance of Chinatown Station (5 minutes or less).
---
Best area to stay in Singapore for 'Shopping'
Singapore is loaded with excellent shopping malls. 
Actually, many tourists visit Singapore with the main intention of buying new stuff.  Even though it is expensive to visit Singapore in terms of accommodation and eating out, a lot
shopping malls have good value.  You can expect to find a broad range of international brand names at the malls throughout the city.  Many malls throughout Singapore are located within walking distance of MRT stations.  This makes it easy to buy some new stuff and then return to your hotel or another attraction.
In our opinion, the best area to stay in Singapore for shopping is along Orchard Road.
Orchard Road is very famous in Singapore because it consists of many malls located in the same area.  When you visit Orchard Road you can literally walk from one mall to the next. Most of the hotels in this area have large food courts and cafes to choose from. 
Top Hotels along Orchard Road
The shopping malls along Orchard Road can be accessed by three main MRT stations: 
Orchard Station
Somerset Station
Dhoby Ghaut Station
Staying within walking distance of one of these stations can make your trip to Singapore a lot more efficient.  The hotels along Orchard Road tend to be in the four or five-star category. Therefore, you have a better chance of finding budget choices in Chinatown in comparison to Orchard.
At the time of writing some of the highest-rated hotels along Orchard Road in Singapore include the following: 
Four Seasons Hotel Singapore (5-star, 9.2/10 review score)
JEN Singapore Orchard Gateway by Shangri-La (5-star, 9/10 review score)
Mandarin Orchard Singapore (5-star, 8.4/10 review score)
The luxury hotels along Orchard Road received fairly high review scores by guests.  However, on average the luxury hotels around Marina Bay do score higher according to verified guests.  Therefore, we still recommend staying around Marina Bay unless your priority is shopping while you are in Singapore.  If that is the case, you are better off staying along Orchard Road where you have direct access to a greater variety of malls and brands. 
---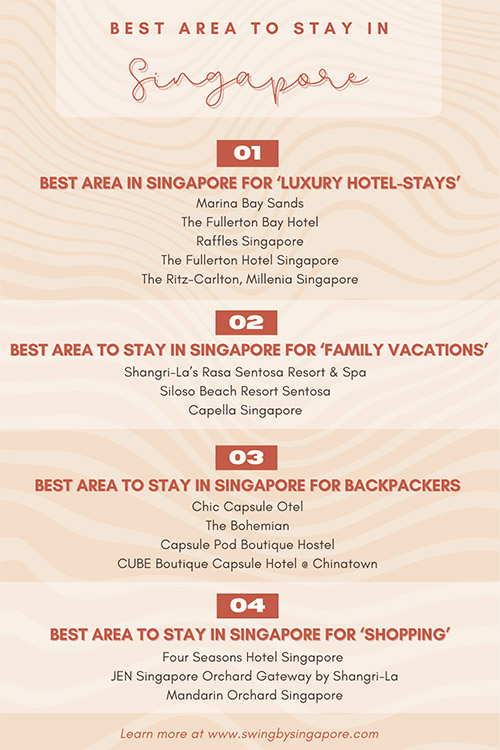 ---
Where to stay in Singapore: Summary
Hopefully, these suggestions will help you to find the best place to stay in Singapore. Really, what it comes down to is thinking about what you want to do in the city and how much money you want to spend on a hotel or apartment.
Some areas of Singapore only have four or five-star properties.  The Marina Bay area is a good example of this.  Expect to find some of the most elite brand names in terms of luxury hotels in this area of the city.  Hotels can be expensive in Marina Bay but, you will be extremely impressed with the world-class skyline views that you will capture.  This is also one of the best areas if you plan on running or walking. 
Other Considerations
If you are travelling with a family in Sentosa Island is a solid choice.  Expect lots of family attractions within a small radius of your hotel.  Marina Bay is also a good option if you have kids because you can walk around the waterfront throughout the day.
Sentosa and Marina Bay or not particularly cheap, however.  You will pay considerably more in these areas than budget-friendly zones such as Chinatown, Geylang and Little India.  Of these affordable areas, we recommend Chinatown because of the number of properties to choose from and their convenient access to the MRT, restaurants, and markets.
Shopaholics will surely enjoy staying along Orchard Road.  Expect to find a surplus of shopping malls to suit all budgets in this area.  You can simply jump from one mall to the next throughout entire stay in the city. Head to Chinatown or Bugis if you want to shop at markets supposed to malls. 
So there it is…our top suggestions on finding the best area to stay in Singapore.  If you do happen to have any more questions about finding a hotel in Singapore please feel free to send us an email at any time. We would be happy to provide you with more support. Have a great stay in Singapore and be sure to check out the amazing attractions in the city.