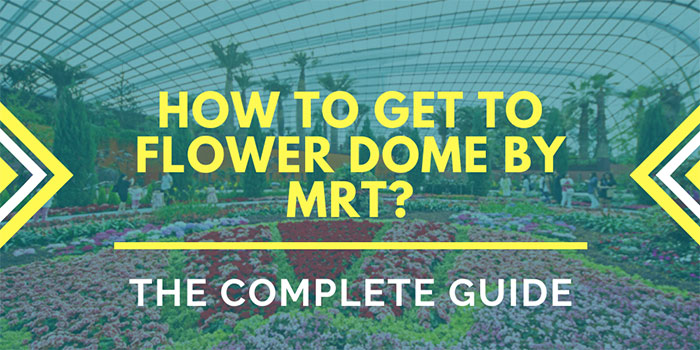 By the end of this article, we hope that you have a complete understanding of how to get to Flower Dome by MRT in Singapore. This is an extremely popular attraction that is located in the Marina Bay area of the city. Fortunately, this area can be accessed using the MRT without too much trouble. 
After you read this article you should be able to save time and money getting around the city.  Singapore is often regarded as one of the most expensive countries in the world. Staying right beside an MRT station and using public transportation such as the MRT helps to cut costs while avoiding headaches such as traffic and finding parking spots.
Taking the MRT to Flower Dome is arguably the best way to get to this attraction in Singapore. You can easily buy entrance tickets online in advance and then ride the train to it. 
Once you arrive at the nearest station all you have to do is complete a short walk and you will be at the entrance.  We will explain exactly how to do this below.
---
Why should you visit Flower Dome in Singapore?
The Flower Dome is a very popular family attraction in Singapore. It is so massive that it currently holds the world record for the largest glass greenhouse. It achieved this award in the 2015 Guinness Book of World Records. In case you are wondering how big Flower Dome is, it spans a massive 1.2 hectares (or 3.0 acres) and can accommodate up to 1,000 visitors.
Flower Dome is ideally located in the Marina Bay area of Singapore and is part of Gardens by the Bay. It replicates a cool-dry Mediterranean climate and consists of eight distinct gardens that feature flowers and plants from five different continents around the world. Although the gardens and plant-life do change, at the time of writing, according to the official website these were the eight gardens that you can explore:
BAOBABS AND BOTTLE TREES

SUCCULENT GARDEN

AUSTRALIAN GARDEN

 SOUTH AFRICAN GARDEN

 SOUTH AMERICAN GARDEN

 CALIFORNIAN GARDEN

 MEDITERRANEAN GARDEN

 OLIVE GROVE
This is a great place in Singapore to bring your family, especially if you have children. Flower Dome is massive and it features so many different plants that it is truly an exceptional learning experience.  It also doesn't hurt to hear that flower Dome is in one of the best areas and all of Singapore for sightseeing.
Flower Dome is within walking distance to many of Singapore's top attractions such as the Merlion, Singapore Flyer and Sands SkyPark to name a few. It is also minutes away from the world-famous Marina Bay Sands Hotel  (5-star, 9/10 review score).
---
Getting to Flower Dome using MRT 
Step 1: Walk to the nearest MRT station from your hotel/apartment.
You should think about where you plan on staying in Singapore well before you arrive.  Booking a hotel room or an apartment that is close to an MRT station is a practical way to make your trip more efficient and affordable.
Not only do you avoid paying unnecessary taxi fees, but you also avoid parking expenses and wasting time in traffic. Singapore's MRT network is expensive and you want to be within walking distance of a station. This will enable you to get to attractions such as flower Dome in a fast manner without wasting time.
---
Step 2: Get your ticket to Bayfront MRT Station.
Bayfront Station is by far the most practical station to go to in order to reach Flower Dome.  But before you travel to Bayfront you have to figure out what kind of ticket you plan on using.
There are different types of tickets that you can use to get to Flower Dome using Singapore's MRT network. To help you out with this decision we have written two comprehensive guides that are linked below. They will outline the pros and cons of each type of ticket that is available.  
Buying MRT Tickets in Singapore 
Buying Singapore Tourist Passes
We used a stored-value card when we were first figuring out how to get to Flower Dome by MRT. It's called an EZLink card. We recommend using a stored-value card if you are going to be in the city for more than 3 days and want to check out a lot of sights. 
Single journey tickets are a solid option if you do not want to travel a lot within the city. On the other hand, Singapore Tourist Passes are ideal if you want an action-packed trip that is 3 days or less.
INSIDER TIP: If you want to save money sightseeing in Singapore, we suggest buying a Multiple Attraction Pass. With up to 52% in discounts available, you can get multiple entrance tickets online in advance. At the time of writing, over 200,000 of these passes have been purchased with over 7,000 verified customer reviews.
---
Step 3: Ride the MRT to Bayfront Station
Having some familiarity with Singapore's MRT lines can make your trip to Flower Dome much faster.  Bayfront Station is located on two different MRT lines:
Circle Line (Orange)
Downtown Line (Blue)
You can get to Flower Dome using either one of these two lines.  While you are on the train you can expect to hear announcements being made to inform you of upcoming stations on the line. When you are close to Bayfront, it's time to move towards an exit.  
This is particularly important if you are travelling during rush hour.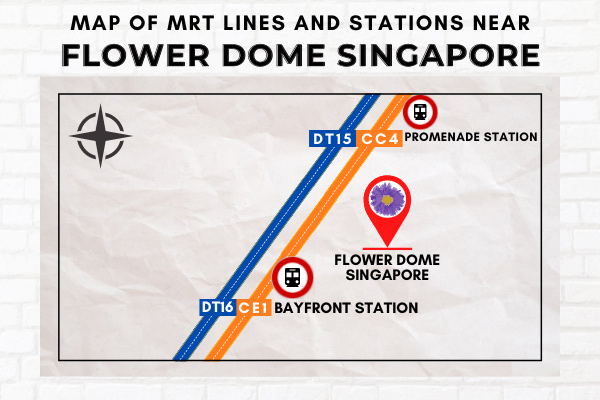 ---
Step 4: Alight at Bayfront Station
Get off the train at Bayfront Station. Bring all of your belongings with you.
If you are using a Singapore Tourist Pass or a stored-value card, it's now time to get it out and ready to 'tap' to exit the MRT system. 
---
Step 5: Walk from Bayfront Station to Flower Dome.
When you arrive at Bayfront Station there are actually different ways you can walk to reach Flower Dome.  If you really want to you can do some shopping at The Shoppes at Marina Bay Sands and then walk along the boardwalk all the way to Flower Dome. This is scenic, but not the fastest way!
However, the fastest way to walk from Bayfront to Flower Dome is to take Exit B at Bayfront Station. Then, follow the underground linkway east towards Gardens by the Bay. 
Exit the underground linkway and cross scenic Dragonfly Bridge into Gardens by the Bay. Then simply follow the signs, moving northeast until you reach the entrance to Flower Dome.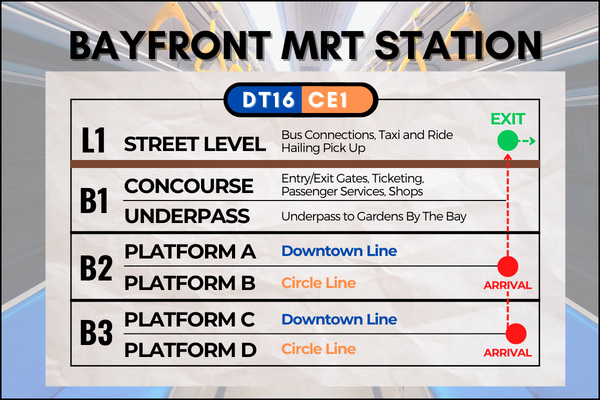 The walk from Bayfront Station to Flower Dome is about 800 m and this should take you approximately 10 minutes.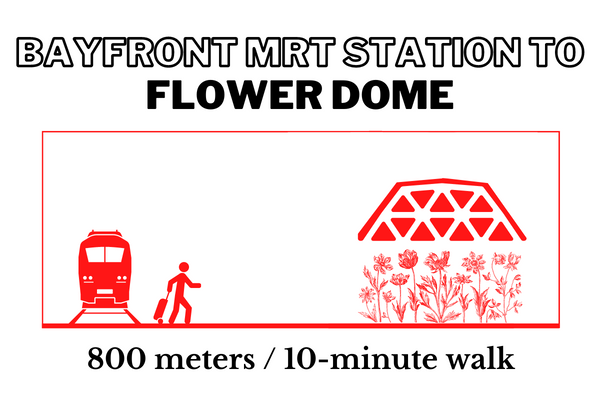 ---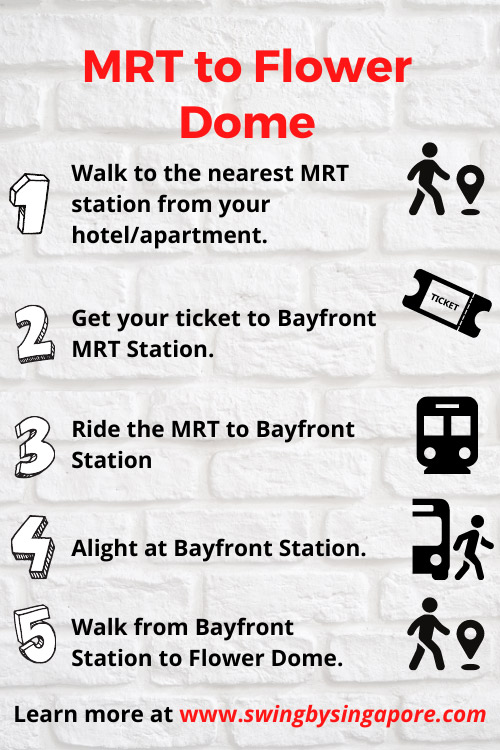 ---
Should you stay near Flower Dome while you are in Singapore?
Flower Dome is conveniently located in one of the best areas in all of Singapore for sightseeing. This is the area where you can capture stunning Skyline views of Singapore. Marina Bay is quite famous and extremely popular with visitors to the city. Therefore, you can expect to find a lot of luxury hotels within 10 to 15 minutes of Flower Dome. 
Obviously, if you are not too concerned about your travel budget, staying within walking distance of Flower Dome will be an excellent experience!  The views are superb and the service standards at the properties around Marina Bay are world-class. We have listed some of the highest-rated properties around Marina Bay below for your convenience: 
Marina Bay Sands (5-star, 9/10 review score)
The Ritz-Carlton, Millenia Singapore (5-star, 9.2/10 review score)
The Fullerton Bay Hotel Singapore (5-star, 9.4/10 review score)
The Fullerton Hotel Singapore (5-star, 9.2/10 review score)
As you can see, the high review scores obtained from leaving accommodation websites suggest that these are exceptionally managed hotels.  They are all luxury hotels and they are some of the best in Singapore. Out of these properties, the closest one to Flower Dome is Marina Bay Sands.  Also, take note that we are not a direct partner of these properties. We are solely listing them because we know they are respectable and in a convenient location relative to flower Dome.
---
Do you have more questions about getting to Flower Dome?
We hope that the step-by-step guide on how to get to Flower Dome has been detailed enough for you.  We want to make sure that you can make it to this attraction in a safe, fast and affordable manner. Please reach out to us if you need more support or have any questions!
The exciting thing about visiting this area of Singapore is that Flower Dome is only one of many world-class attractions to check out!  In other words, creating an action-packed itinerary for the Marina Bay Area is really easy.  All you have to do is take the MRT to Bayfront station and use that as your hub for accessing all the attractions here. 
A smart idea is to simply walk around Marina Bay. This will naturally expose you to world-class skyline views and other notable points of interest.  Also, remember to enter Marina Bay Sands Hotel and take the elevator up to the 57th floor to the Sands Skypark (directions via MRT).  This is regarded as one of the best experiences in all of Singapore with breathtaking views in all directions.
Since Flower Dome is part of Gardens by the Bay make sure that you check out some of the other attractions there as well. Cloud Forest is right next to Flower Dome – it is also a popular attraction for families!