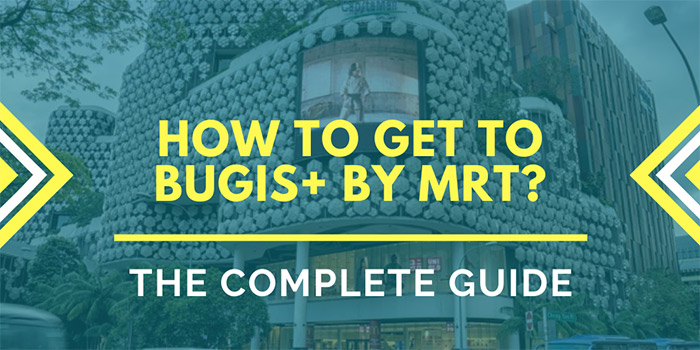 This article is designed to give you a step-by-step guide on how to get to Bugis+ by MRT.  Ideally, by the end of this article, you should be able to get to Bugis+ in a fast and affordable manner by following the steps that we will outline below. 
Fortunately, you can  conveniently access Bugis+ by MRT and all the other attractions in this area of the city. This makes the MRT the most practical way to reach Bugis+ because you can completely avoid taxis, traffic jams and expensive parking costs by opting for public transport. You can also reach this area of Singapore by taking a bus, but we will specifically outline how to make it to the mall using the train. And once you are there, you will be close to awesome restaurants and some great mid-range places to stay. 
---
Why should you visit Bugis+ in Singapore?
Bugis+ is a trendy shopping mall that is located right in the middle of what is known as Singapore's 'Civic and Cultural District'. It is known for its high-tech and 'crystal mesh' facade which has been known to catch the attention of potential visitors. 
Conveniently, Bugis+ is directly connected to Bugis Junction by an elevated pedestrian bridge. This makes it super easy to reach the MRT as well. According to the official website of Bugis+, this shopping centre can be described as a "vibrant mall with endless entertainment and an exciting F&B and stylish fashion trade mix, creating a dynamic magnet for fun-seeking trendy youths in the heart of Bugis."
The direct area around Bugis+ is quite famously known for shopping! As mentioned, Bugis Junction is right across the street. But this is not the only shopping experience nearby. Arguably Singapore's best market – Bugis Street Market (directions via MRT) is directly north and adjacent to Bugis+. Therefore, it's so easy to walk between these three shopping venues during the same day trip to the Bugis area.
The InterContinental Singapore (5-star, 9/10 review score) is right across the road from Bugis+. This is one of the best hotels in Bugis and a respectable place to stay while you are in Singapore. 
---
Getting to Bugis+ using MRT 
Step 1: Find the nearest station from your hotel/apartment.
The first step in planning a successful trip to Singapore starts with finding a convenient hotel or apartment in the city.  This makes it much easier to get to and from Bugis+ without wasting unnecessary time and money. 
Singapore has tons of hotels that are within walking distance of MRT stations. This eliminates the need to even get in a vehicle while you are in the city.
Once your room is sorted, you should find the nearest station, walk to it, and get ready to go to Bugis+.
---
Step 2: Decide on what kind of MRT ticket you are going to buy to get to Bugis Station.
To help you select the appropriate type of ticket for your trip to Bugis+ we have written two comprehensive guides (linked below)
Buying MRT Tickets in Singapore 
Buying Singapore Tourist Passes
These articles thoroughly summarize the two main MRT ticket options while you are in the city:
Stored value cards 

Singapore Tourist Passes
We decided to use a stored-value card (option #1 above) when we were first figuring out how to get to Bugis+ by MRT. We recommend using a stored-value card if you were going to be in the city for a while (more than 3 days) and plan on doing a lot of sightseeing.
There are also clear benefits to getting a Singapore Tourist Pass. These tend to be popular with very active tourists who plan on doing a lot of sightseeing over a three-day period or less.
INSIDER TIP: If you want to save money visiting Singapore's top attractions, you can purchase a Multiple Attraction Pass. With up to 52% in discounts available, these passes work extremely well with transportation cards. At this point, over 200,000 of these have been purchased online.
---
Step 3: Take the MRT to Bugis Station.
There are MRT Maps located in each of Singapore's stations. These can help you to navigate your way to Bugis+ by knowing where you have to transfer lines.
Having some familiarity with Singapore's MRT lines can speed up your trip to Bugis+.
Bugis Station is a stop on two different lines (summarized below):
Downtown Line (Blue)
East-West Line (Green)
If you are staying at a hotel in Marina Bay then you will either reach Promenade or City Hall Station before arriving at Bugis Station. When you hear the verbal announcement being made on the train for these stations you can work your way closer to an exit.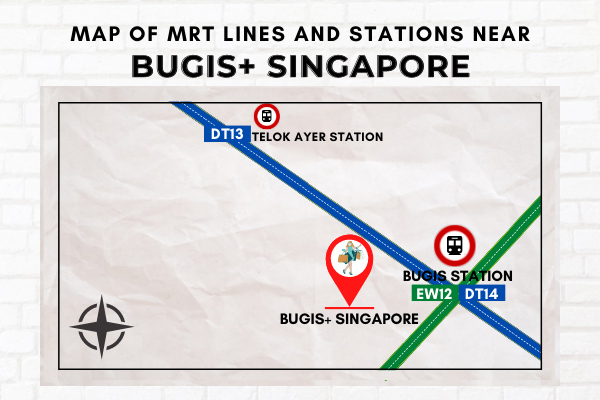 ---
Step 4: Alight Bugis Station.
Get off the train at Bugis Station. Remember to bring all your stuff. 
Your next step will be to tap your card to get out of the MRT system. If you are using a stored-value card, the cost of the trip will be automatically deducted from your card. 
---
Step 5: Walk from Bugis Station to Bugis+.
Bugis+ is very close to Bugis Station, so don't expect this to take you very long. 
Take Exit C to walk from Bugis Station to Bugis+. 
Exit C leads to a direct link to Basement 1 of Bugis Junction. You can then walk across the pedestrian-link bridge across the road right to Bugis+.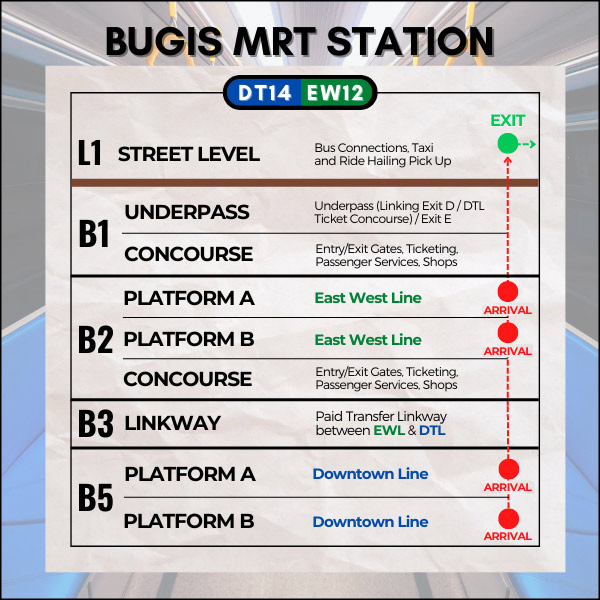 Expect the walk from Bugis Station to Bugis+ to take only 4-5 minutes.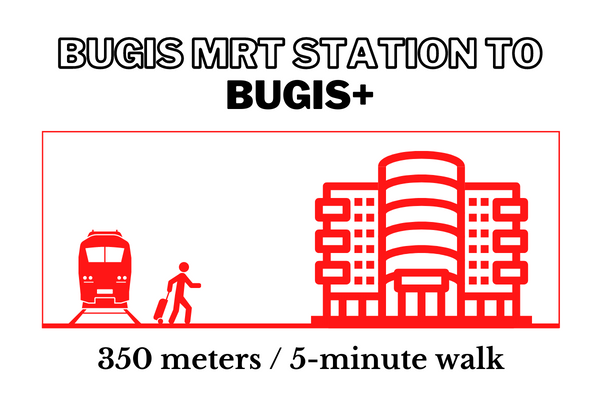 ---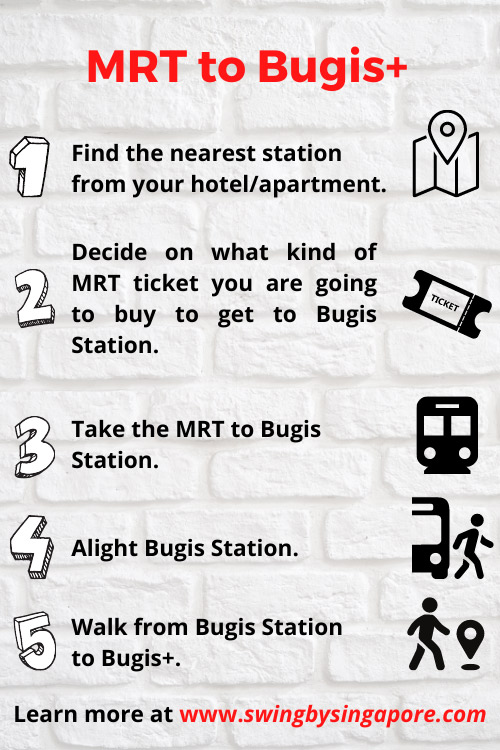 ---
Should you stay near Bugis+ while you are in Singapore?
The area around Bugis+ is quite convenient because of three main reasons:
Walking distance from Bugis Station

Lots of shopping opportunities

Walking distance to hotels
Bugis, may not be as popular as areas such as Chinatown for Marina Bay,  but it is still a good area to stay while you are in the city.  The area around Bugis+ has a healthy range of highly-rated hotels within short walking distance. Most are five minutes or less from the mall and MRT station.
According to our research, the three properties below receive the highest review scores from verified guests.  They are all within walking distance of Bugis+ and Bugis Station:
Andaz Singapore – A concept by Hyatt (9.2/10 review score) 
InterContinental Singapore (5-star, 9/10 review score)
Mercure Singapore Bugis (4-star, 8.2/10 review score)
Please take note that we are not a direct partner of any of these properties.  We are simply recommending these based on their location relative to Bugis+ and their high review scores from guests.  The review scores listed are according to leading accommodation websites at the time of writing. They will likely change over time as more reviews get submitted.
---
Do you have more questions about getting to Bugis+?
We hope that the step-by-step guide on how to get to Bugis+ has been detailed enough for you.  Ideally, these steps should save you time and money getting to the Bugis area of Singapore.
Although Bugis may not be the most famous area in Singapore for sightseeing, it is relatively easy to include it in your itinerary.  Since Singapore has such an extensive inconvenient MRT system, it literally only takes a few minutes to reach areas such as Marina Bay, Chinatown, Clarke Quay, Boat Quay, Little India and Orchard.
For example, all you have to do from Bugis Station is head one station south to Promenade.  From Promenade you can easily walk around Marina Bay and capture amazing views of Singapore's world-famous skyline. Other attractions in this area include the Merlion, Singapore Flyer, Gardens By The Bay, Sands Skypark and Marina Bay Sands.
The itinerary options in Singapore are really endless. Consider visiting Bugis+, Bugis Junction and Bugis Street Market while you are in the city!