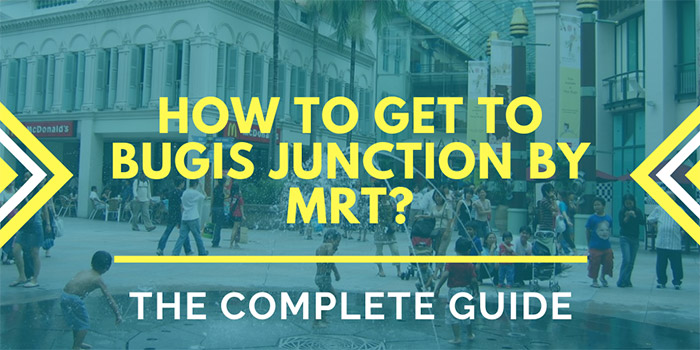 Welcome to the step-by-step guide on how to get to Bugis Junction by MRT.  By the end of this article, we hope that you have a clear understanding of how to get to this popular Mall in Singapore. Ideally, our guide should help you save time and money.
One of the main benefits of using the MRT in Singapore is that you bypass traffic.  This often means that you can save time by taking public transportation.  Similarly, using the MRT to get to Bugis Junction and other malls throughout the city, means that you will avoid unnecessary costs associated with taking a taxi. 
Unlike most cities around the world, it is quite common for locals and tourists to only use the MRT to get around.  This is possible because the MRT Network in Singapore consists of multiple lines that service most areas of the city. You can even get directly from Changi Airport to popular areas such as Marina Bay and Orchard Road by using the MRT.
Fortunately, Bugis Junction is very well serviced by Singapore's MRT. We will outline the steps below how to use this form of public transportation to reach this popular Mall.
---
Why should you visit Bugis Junction in Singapore?
Bugis Junction is a popular shopping mall in Singapore that is ideally located beside Bugis Station. It is situated in the centre of Singapore's Civic and Cultural District.  According to the official website, Bugis Junction "is positioned as a modern fashion destination mall with exciting dining choices for young adults and professionals."
There are a few clear reasons why you should consider visiting Bugis Junction. Aside from its convenient location, is has Singapore's "first and only air-conditioned sky-lit shopping street". Secondly, it is physically connected to Bugis+ via an overhead bridge. This is another popular shopping mall in Bugis. When you combine these two shopping centres there is over 600,000 sq ft of retail space that is filled with interesting products. 
One of Singapore's best markets, Bugis Street Market is directly across the road from Bugis Junction. Therefore, it's very easy to check out the market for a while, followed by some cool air-conditioned shopping and dining at Bugis Junction. 
If you want to stay near Bugis Junction, then you might want to check out InterContinental Singapore (5-star, 9/10 review score). It is only 1 minute southeast of the mall. This is considered to be one of the best hotels in this area of the city according to guest review scores on leading accommodation websites.
---
Getting to Bugis Junction using MRT 
Step 1: Access the nearest station from your hotel or apartment. 
Once your room is booked in Singapore, you should be able to make it to Bugis Junction in no time!
We highly recommend booking a hotel or apartment that is close to a station. Do your research early and it will save you valuable time and money. Avoiding taxi fees and parking fees immediately makes your time in Singapore cheaper. This goes for tourists and residents of the city. 
---
Step 2: Get an MRT Ticket to Bugis Station.
Plan on making your way to Bugis Station. This is the most practical station to access Bugis Junction. 
At the time of writing, there are three main types of tickets available for getting around Singapore.  The type of ticket that you choose really depends on your itinerary and how frequently do you want to use the MRT and bus network:
Single journey trip tickets

Stored value cards 

Singapore Tourist Passes
Fortunately, we have written to comprehensive guides that can provide you with all the information you need about selecting an appropriate type of ticket.
Buying MRT Tickets in Singapore 
Buying Singapore Tourist Passes
When we figured out how to get to Bugis Junction by MRT we used a stored value card because it allowed us to simply 'tap' to enter and exit each station. Once loaded with cash there is no need to wait in line to get tickets every time you want to go somewhere.
After reading the guide articles listed above, take your time and think about what ticket suits your travel plans best. Then, plan on going to Bugis Junction.
---
Step 3: Ride the MRT all the way to Bugis Station.
Educate yourself about the MRT lines in Singapore and what station you are likely to stop at before reaching Bugis Station. 
You can find train maps at each station in Singapore. These can help with transfer information along the way to the mall. 
Additionally, expect to hear verbal announcements while en route. These do a great job of informing you of the next station coming up on a given line. 
Bugis is located on two different MRT lines in Singapore:
Downtown Line (Blue)
East-West Line (Green)
If you are staying at one of the popular hotels around Marina Bay, you will most likely stop at Promenade Station or City Hall Station before reaching Bugis Station.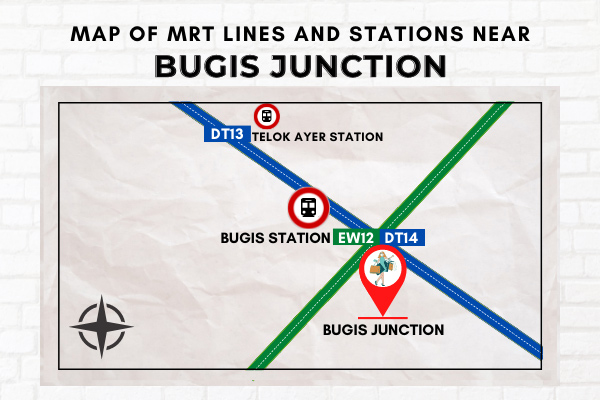 ---
Step 4: Get off at Bugis Station and travel to the exit area of the station.
Alight at Bugis Station with all of your stuff. Your next step will be to tap your card to get out of the MRT system.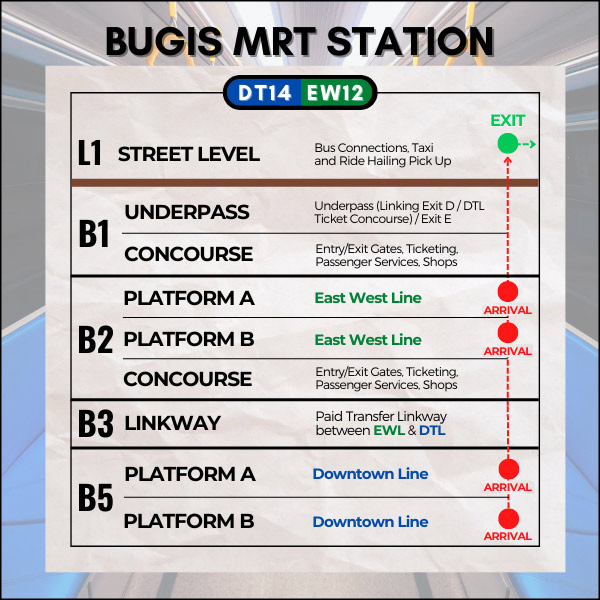 ---
Step 5: Walk from Bugis Station to Bugis Junction.
Bugis Junction is conveniently attached to Bugis Station. This makes it super easy to access via MRT. 
Take Exit C to walk from Bugis Station to Bugis Junction. Exit C leads to a direct link to Basement 1 of Bugis Junction using a pair of escalators.
Expect the walk from Bugis Station to Bugis Junction to take only 1-2 minutes. This is a very well 'connected' mall!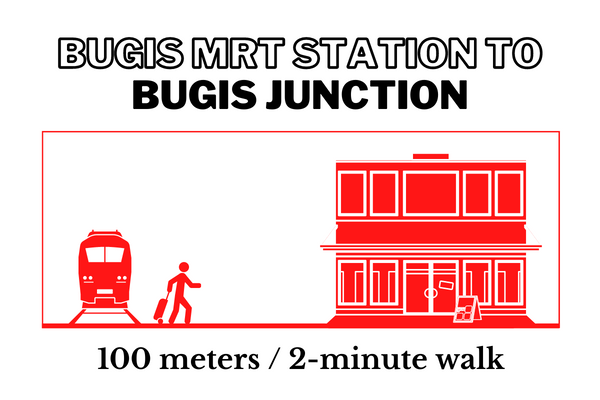 ---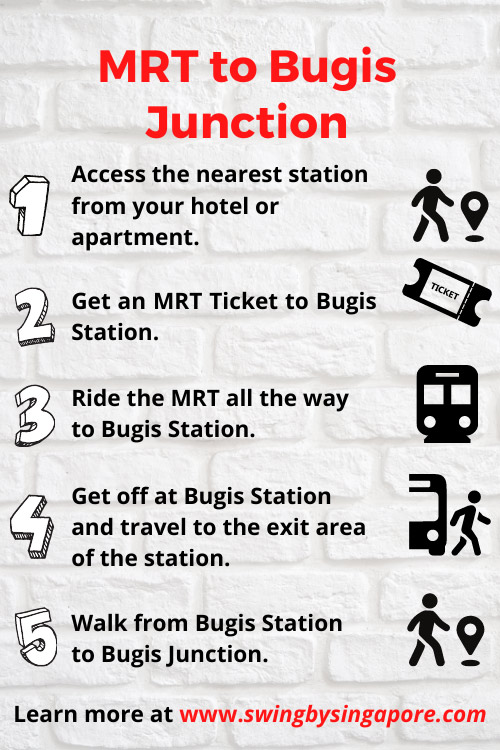 ---
Should you stay near Bugis Junction while you are in Singapore?
Bugis, in general, is a great area to stay if you plan on shopping a lot while you are in Singapore. With Bugis Junction, Bugis+ and Bugis Street Market all right around the same MRT station, expect easy access to shops and restaurants. 
Although there may not be as many hotels as some areas such as Chinatown, the area around Bugis Junction has a healthy range of excellent hotels throughout the adjacent city blocks.  Most are five minutes or less from the mall and MRT station.
Some of the most positively reviewed properties are listed below for your convenience:
InterContinental Singapore (5-star, 9/10 review score)
Mercure Singapore Bugis (4-star, 8.2/10 review score)
Andaz Singapore – A concept by Hyatt (9.2/10 review score) 
The review scores that are listed above are taken from leading accommodation websites at the time of writing. Consequently, they are subject to change over time as more guests review these hotels. We are not a direct partner of any of these specific properties, but we do recommend them for their high review scores and commitment to high service standards. 
---
Do you have more questions about getting to Bugis Junction?
 Please let us know if you have additional questions about how to get to Bugis Junction by MRT.  Ideally, by reading this article you should be able to get to this popular mall in Bugis in an efficient manner while saving some cash along the way!
If you are doing some sightseeing in Singapore, it's easy to integrate Bugis Junction into your itinerary.  It is surprisingly close to some popular areas such as Orchard and Marina Bay.  For example, you could take the MRT one station south to Promenade or two stations south to Bayfront. 
From either one of these stations, you can easily walk around Marina Bay while checking out world-famous attractions such as Singapore Flyer, Sands Skypark, the Merlion, and Gardens by the Bay.  Marina Bay Sands Hotel is best accessed from Bayfront Station.
If you travel west of Bugis Junction you will eventually reach Orchard.  This is Singapore's most famous shopping mall district.  Expect a wide selection of shopping centers that are loaded with food courts and cafes.  This is a practical area to visit during the afternoon because all of the malls are nicely air-conditioned. Singapore gets extremely hot during the peak afternoon hours so it is good to plan on being inside at that point in time.