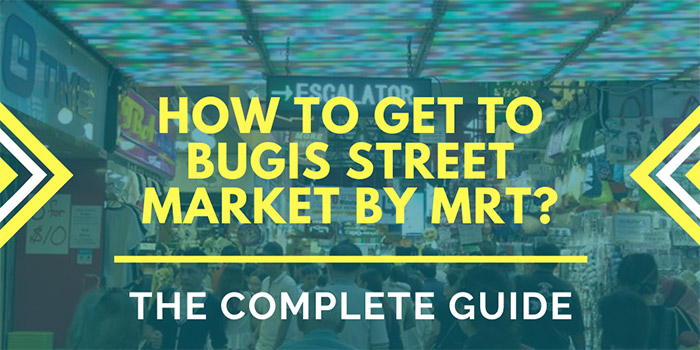 This is the complete guide on how to get to Bugis Street Market by MRT.  By the end of this article, we hope that you will be able to get to this lively Market in Singapore in a fast and affordable manner. 
One of the coolest features of travelling in Singapore is taking advantage of the extensive MRT network. Not only is it world-class, but it is also efficient and cheap making it easy to access all the top attractions. After landing at Changi Airport you can get right into the city centre using the MRT. Then, you can book a room near a station and continue to bypass traffic and unnecessary parking fees as you sightsee throughout the city. 
Fortunately, you can also conveniently access Bugis Street Market using the MRT. We will outline how in this article below! 
---
Why should you visit Bugis Street Market in Singapore?
Bugis Street Market is currently one of the most popular markets for both locals and tourists in Singapore. As its name suggests, it is located in Bugis and it is surrounded by popular shopping malls such as Bugis+ and Bugis Junction (Directions via MRT).
One of the main reasons why Bugis Street Market is so famous in Singapore is because it is regarded as one of the cheapest places in the city for buying a wide range of products. This is an awesome place to visit if you want to buy souvenirs, accessories, electronics, cosmetics and so much more! Don't expect to find luxury products here like at Shoppes at Marina Bay Sands. Instead, this is a 'no-frills' shopping venue, where prices are much more important than brand names. 
Bugis Street Market consists of over 800 shops making this one of the biggest, if not the, biggest market in all of Singapore. Expect the market to open around 11 am and it remains open until quite late – usually around 10-11 pm. 
Fortunately, you can also find a wide selection of cheap drink and food vendors around Bugis Street Market. Fresh fruit juice and hawker stalls are the norms here. With some of the best food prices in Singapore, visit with an empty stomach! 
If you want to stay near Bugis Street Market, then you might want to check out InterContinental Singapore (5-star, 9/10 review score). It is minutes from the market and is considered to be the best hotel in this area of the city according to guest review scores on leading accommodation websites.
---
Getting to Bugis Street Market using MRT 
Step 1: Walk to the nearest MRT station from your hotel/apartment. 
After you have booked your room in Singapore, you should have no problem making your way to Bugis Street Market.  
Ideally, try to book a hotel or apartment that is within walking distance to an MRT Station. This will ensure that you do not have to use taxis or private vehicles throughout your entire stay in the city. There is an extensive selection of hotels to choose from that are close to stations throughout Singapore. 
Do your research and it will save you valuable time and money before booking!
---
Step 2: Buy an MRT Ticket to Bugis Station.
Once you arrive at an MRT station, plan on making your way to Bugis Station. This is the most convenient station to access Bugis Street Market. Of all the places to visit in Singapore, this is easy to remember because Bugis is listed in both the market and station name!
There are two main types of tickets that are available to use the MRT in Singapore. 
Stored value cards 
Obviously, every tourist or resident of Singapore has different personal plans and preferences. Therefore, the type of ticket that you select really depends on how long you are staying in Singapore and how much sightseeing you plan on doing? In our case, when we were first figuring out how to get to Bugis Street Market by MRT we used a stored-value card.
To help you with ticket information we have written two comprehensive guides. They should answer any initial questions that you may have about buying MRT tickets in Singapore.
Buying Singapore Tourist Passes
We highly recommend getting a Multiple Attraction Pass to go along with these transport cards. With up to 52% off entrance fees to the top attractions, it's no surprise that over 200,000 passes have already been purchased.
Once you have bought your tickets, start planning your trip to Bugis Street Market.
---
Step 3: Take the MRT to Bugis Station.
In order to reach Bugis Station in a fast and organized manner, educate yourself about the MRT lines in Singapore and what station you are likely to stop at before Bugis.
Bugis is located on two different MRT lines in Singapore:
Downtown Line (Blue colour on train map)
East-West Line (Green colour on train map)
You can refer to the train map in the station that you start at in order to see if you need to transfer lines to get to Bugis Street Market. Also, listen for verbal announcements being made on the train. These are designed to inform you of the station before your intended stop so that you can reach the exit doors in time. 
You most likely will stop at Promenade Station or City Hall Station before Bugis if you are staying at one of the popular hotels around Marina Bay.
---
Step 4: Alight at Bugis Station.
Get off the train at Bugis Station. Don't forget your belongings. Follow the station signs and tap your card to enter the exit area.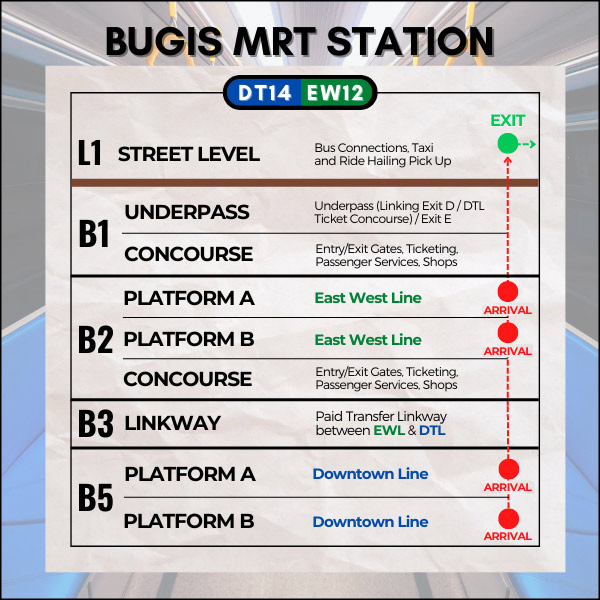 ---
Step 5: Walk from Bugis Station to Bugis Street Market.
Bugis Street Market is conveniently located to the west of Bugis Station. 
The walk from Bugis Station to Bugis Street Market is super easy, even during Singapore's peak afternoon heat. 
Take Exit C from Bugis Station to Bugis Street Market. This will bring you to Bugis Junction which is a mall across the street from the market. Simply walk across the road and you can't miss the entrance. 
Expect the walk from Bugis Station to Bugis Street Market to take 2 minutes. It is only a few hundred meters from the station.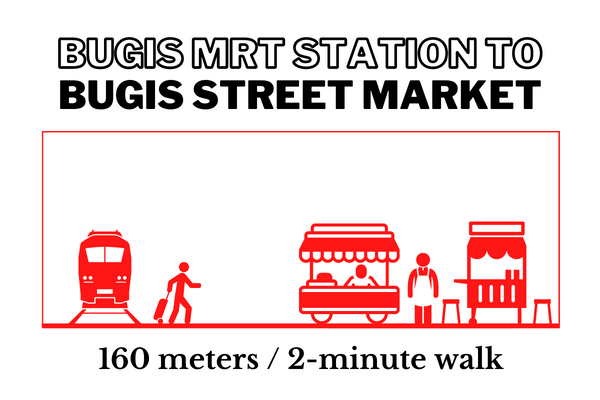 ---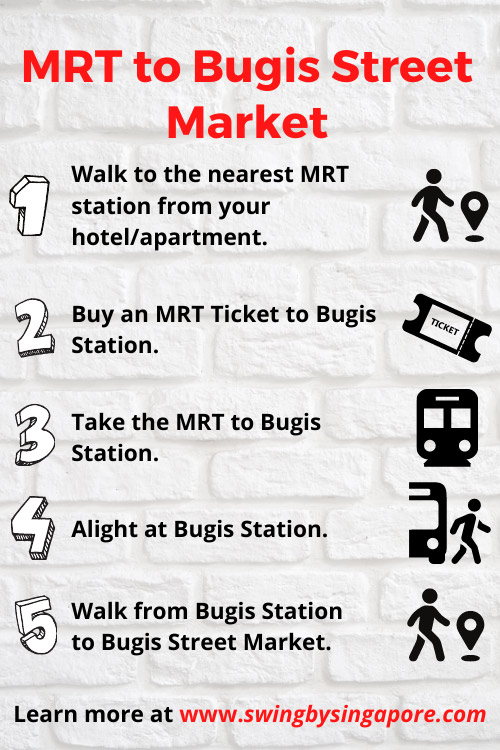 ---
Should you stay near Bugis Street Market while you are in Singapore?
Bugis is a great area to stay if you plan to shop while you are in Singapore. As mentioned before, the market is surrounded by shopping malls that are within walking distance to Bugis Station.
Bugis+ and Bugis Junction are two conveniently located malls within a short walking distance of Bugis Street Market. They are excellent places to visit if you find the market overcrowded or too hot due to Singapore's extreme heat during the afternoon hours.
There are some excellent accommodation choices scattered throughout the neighbourhoods surrounding Bugis Street Market.  We have included some of the highest-rated properties below for your convenience:
InterContinental Singapore (5-star, 9/10 review score)
Mercure Singapore Bugis (4-star, 8.2/10 review score)
Andaz Singapore – A concept by Hyatt (9.2/10 review score) 
Please take note that we are not a direct partner of these properties. We are recommending them based on their location relative to Bugis Street Market and their very high review scores from verified guests.  These review scores were based on leading accommodation websites at the time of writing. Consequently, they are subject to change over time.
---
Do you have more questions about getting to Bugis Street Market?
Ideally, we hope that you have no questions about how to get to Bugis Street Market by MRT. But, please reach out to us by email if you require any more information or support. We would be glad to assist you.
When you are drafting up an itinerary that includes Bugis Street Market, keep in mind that it is not far from some of the other popular sightseeing areas of the city.  For example, you can take the MRT one station south to Promenade where you can walk to Marina Bay and some popular attractions such as Helix Bridge (Directions via MRT) and the Singapore Flyer.
Once you are in the Marina Bay area, you can easily explore Marina Bay Sands, Sands Skypark, the Merlion and Gardens by the Bay. 
If you travel west of Bugis Street Market then you will get to Orchard Road.  This is Singapore's premier shopping mall district with tons of luxury brands, hotels and top-notch restaurants.
Although the area direct area around Bugis Street Market is not the most famous place for sightseeing, you can easily take the MRT to other areas that are worth checking out!