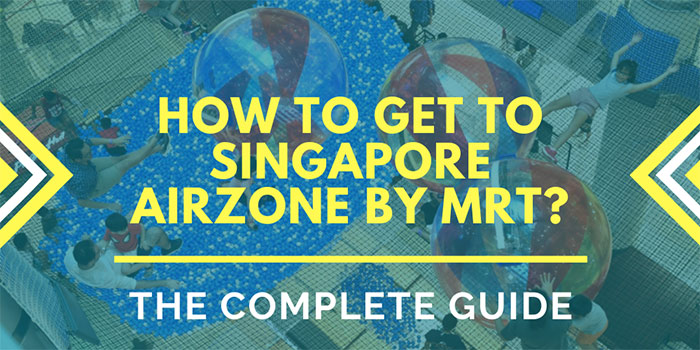 This is the complete guide on how to get to Singapore Airzone by MRT. The Airline is a popular attraction tailored towards active kids living and visiting Singapore. Fortunately, it can be accessed in a straightforward manner using Singapore's extensive MRT network. 
When you read this article you will learn all the steps required to get to Airzone in the fastest and cheapest manner using the MRT. Remember, using the MRT in Singapore effectively bypasses traffic throughout the city. Similarly, you never have to worry about paying for parking fees or even looking for parking spots. If you can walk from your hotel to an MRT stations it is an added bonus because you will avoid taxi fees and private vehicle fees that are not necessary.
Using public transportation to get to the Airzone in Singapore is also the best for the environment! 
---
Why should you visit Singapore Airzone in Singapore?
Singapore Airzone is a popular indoor suspended net playground which is located in City Square Mall. As a relatively new attraction in Singapore, Airzone has managed to attract over 100,000 visitors since January of 2018. According to the official website, Airzone strives to provide "safe, accessible and memorable fun to everyone."
With a well-trained staff and a very high commitment to safety, your children will be free to 'let loose' at Airzone. This is not only a super fun place to bring your children, but it is ideal for kids to overcome their fear of heights! 
You might be wondering whether you are an appropriate age to enter Airzone? Conveniently, they welcome guests of all ages. However, children must be able to walk and climb on the nets independently. If your child or children are under five years of age you have to accompany them into Airzone by purchasing a separate ticket. But don't be surprised if you enjoy this innovative playground more than your own kids. You will also undergo a safety briefing before entering the play zone which demonstrates the high commitment to safety at Airzone in Singapore.  
Conveniently, Singapore Airzone is well-serviced by the MRT and it is close to many hotels such as Park Hotel Farrer Park (4-stars, 8.1/10) and PARKROYAL on Kitchener Road (4-star, 7.6/10 review score).
---
Getting to Singapore Airzone using MRT 
Step 1: Walk from your hotel to the nearest MRT Station.
Once your accommodation is sorted you should have no problem making your way to Singapore Airzone.  We strongly recommend booking a room within walking distance of an MRT station. This will set the stage for an affordable and efficient time to get to different attractions throughout the city. 
---
Step 2: Purchase an MRT Ticket to Farrer Park Station.
With your hotel sorted and a station in mind, it's time to get a ticket to reach Farrer Park Station. This is the most convenient station to access Airzone in Singapore. 
At the time of writing, there are three main types of tickets that are available. The one that you choose really comes down to how much sightseeing you are doing and how long you will be in Singapore:
Single journey trip tickets

Stored value cards 

Singapore Tourist Passes
You can refer to the two comprehensive guides below that will provide you with all the details you need about these passes:
Buying MRT Tickets in Singapore 
Buying Singapore Tourist Passes
Once you have purchased your ticket, then you should be set to get on the train towards Singapore Airzone.
---
Step 3: Take the MRT to Farrer Park Station.
In order to reach Farrer Park Station in a fast and organized manner, you should know some information about the MRT lines in Singapore and what station you are likely to stop at before Farrer Park. 
There are route maps posted in each MRT station in Singapore to help you out. 
Farrer Park Station is located on the North-East Line (shown in purple colour on Singapore's train map.  
Chances are you will stop at Little India Station directly before Farrer Park if you are coming from places such as Marina Bay, Chinatown and Clarke Quay.  Therefore, when 'Little India' is announced on the train, move closer to an exit. You will alight at the next stop. This is particularly important if you're travelling during rush hour when people are going to or from work.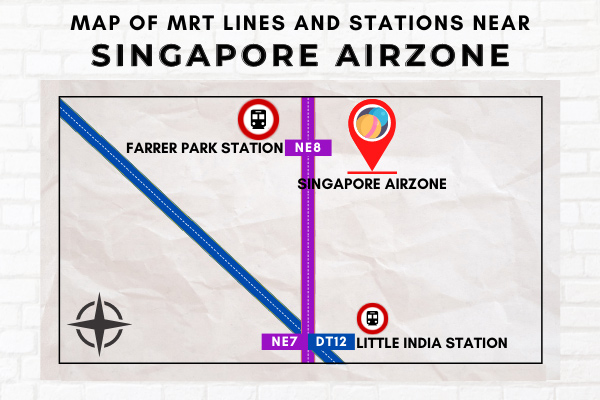 ---
Step 4: Get off the train at Farrer Park Station.
Alight at Farrer Park Station. 
Bring all of your belongings with you. Follow the station signs and tap your card to exit the MRT system.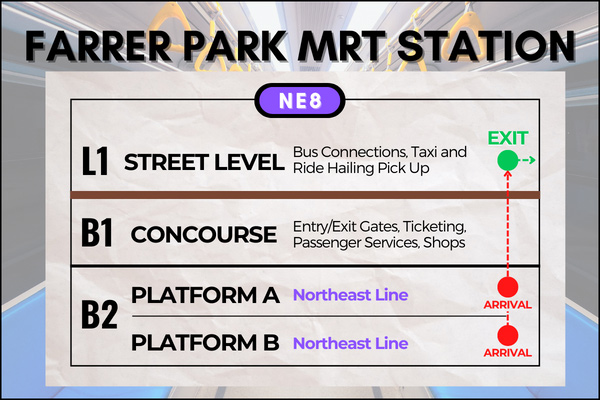 ---
Step 5: Walk from Farrer Park Station to City Square Mall.
Airzone Singapore is conveniently located on Level 2 (North Atrium) of City Square Mall.
The walk from Farrer Park Station to City Square Mall is very straightforward. The mall is just a tiny bit southeast of the station. There are a total of 9 exits at Farrer Park Station, so knowing which one to take can speed this up!
Take Exit I from Farrer Park Station to City Square Mall.  This is the basement level of the station. The walk from Farrer Park to City Square should take you only 1-2 minutes because the walk is only 100 meters.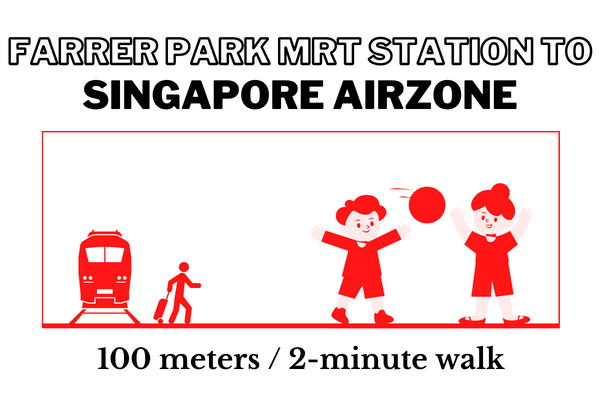 ---
Step 6: Enter City Square Mall and walk to the North Atrium to reach Airzone. 
Once you arrive at City Square Mall it's super easy to get to Airzone. 
Simply walk to Level 2 and the North Atrium of the mall. If you get lost just ask the mall staff for assistance, but this should be an easy step of the journey!
---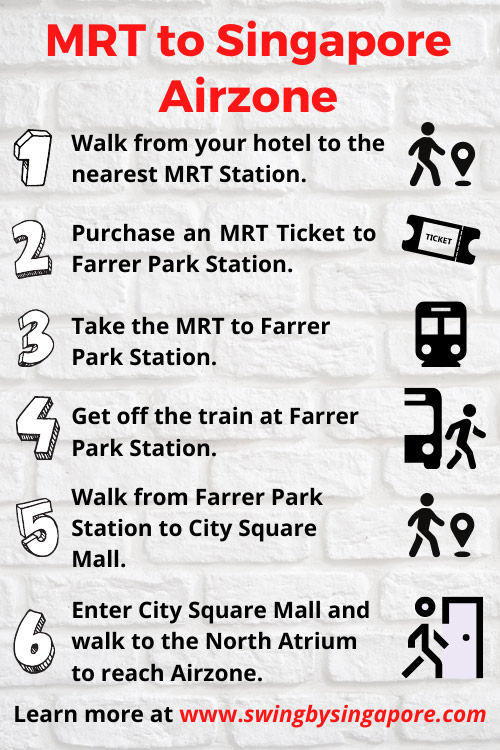 ---
Should you stay near Singapore Airzone while you are in Singapore?
Singapore Airzone and City Square Mall are just a bit outside of Singapore's main tourist zone in the city centre. To get to Marina Bay, Chinatown and the other popular areas from here it does require a short MRT ride. 
However, there are a lot of affordable accommodation options south of Singapore Airzone and the mall along Jalan Besar (4-5 minutes from the mall). A solid example is the Holiday Inn Express Singapore Serangoon (3-star, 8.6/10 review score). As you can see, it receives good reviews from guests.
Even closer to Airzone is the PARKROYAL on Kitchener (4-star, 7.6/10 review score). This is directly across from City Square Mall. 
If you want to be right beside Farrer Park Station then Park Hotel Farrer Park (4-star, 8.1/10 review score) is your best bet.
With Little India being the next station south of Farrer Park you can easily get from this area to lots of restaurants and shopping centres there. This makes it a pretty convenient place to stay, but not as busy as some areas of Singapore.
The hotels around Singapore Airzone are much cheaper than down in Marina Bay. Hotels such as Raffles Place and Marina Bay Sands are considerably more expensive. Therefore, if you are a budget-minded traveller be sure to check out properties in this area of Singapore. 
---
Do you have more questions about getting to Singapore Airzone?
Hopefully, this step-by-step guide on how to get to Singapore Airzone by MRT has been descriptive enough to make your trip fast and easy.  Ideally, we want you to get there without any questions, but if you do have some feel free to reach out. Send us an email and we would be glad to assist you!
Airzone may not attract nearly as many guests as Sentosa Island, but it's a great place to bring your kids for some exercise and genuine fun! It is innovative and unique in comparison to other play centers that you have seen!
It's also easy to access areas such as Chinatown, Marina Bay, Orchard, and Clarke Quay using the MRT from Farrer Park. This makes it easy to integrate Singapore Airzone into shopping and family-oriented activities. 
Consider getting a stored-value card or a Singapore Tourist Pass to save a bit of cash getting to/from different attractions from this area. Over the course of a few days, the savings can add up!