This article is designed to provide you with a step-by-step overview of how to get to Chinatown Street Market Singapore using MRT.  If you haven't visited Chinatown in Singapore this should be on your must-do list for your itinerary in this beautiful city. We have visited Chinatown in Singapore on multiple occasions using the MRT, therefore this article is a personal summary of our experience getting there.
Some of the clear benefits of traveling throughout Singapore using the MRT are that it is very efficient and very affordable. And, let's also not forget about it being environmentally friendly relative to other transportation options. Once you land at Changi Airport in Singapore you can literally avoid stepping foot in a vehicle during your entire visits to the city. This includes visits to interesting sights such as Chinatown Street Market and other world-class attractions distributed around the city. 
Singapore has many train lines and an organized bus network. Take advantage of these awesome forms of public transportation when possible. 
---
Why should you visit Chinatown Street Market Singapore?
No Chinatown in Southeast Asia would be complete without a street market! And, Singapore is no exception. 
Chinatown Street Market is the heart of Chinatown in Singapore. This lively market has over 200 stalls and spans across four different streets:
Pagoda Street,

Trengganu Street

Sago Street

Smith Street
Similar to other Chinatown markets in Southeast Asia, this is the ideal place to sample Hawker food while buying souvenirs are other affordable products. One of the clear benefits of visiting this area of Singapore is that the market is also within close proximity to other famous attractions such as Sri Mariamman Temple and the Buddha Tooth Relic Temple. 
As you might expect, Chinatown Street Market converts from a day Market into a night market as well. This makes it a convenient place to visit regardless of what time of the day you end up getting there. For example, if you don't get there until 6 p.m. you will still be able to eat and do some shopping before it closes.
Taking Photos
Chinatown Street Market is also a very popular place for locals and tourists to take photos and videos of the street scene. Being one of the busier market areas in Singapore with strong cultural and religious roots, Chinatown is an ideal place for street photography. Expect vibrant and interesting market pictures of this bustling area. 
Also keep in mind that the direct area around Chinatown Street Market is ideal for Budget accommodation choices. The market is very close to the MRT and therefore it is a good base to stay while you are in Singapore if you want a reasonably priced room with affordable food options nearby.
Some good examples of accommodation in this area include:
The Bohemian
Capsule Pod Boutique Hostel
You can walk to either one of these in two minutes from the station.
---
Getting to Chinatown Street Market Singapore using MRT.
Step 1: Walk from your hotel/apartment to the closest MRT Station.
 If we assume that you are not staying directly in Chinatown then you are going to have to take the MRT to get to Chinatown Street Market.
The first practical decision that you can make when you are planning your trip to Singapore is to book a room as close as possible to an MRT station. Immediately will help you to avoid unnecessary taxi fees and time in traffic.
Fortunately, for tourists visiting the city there are many hotels that are literally within 1 or 2 minutes from convenient stations. In many cases you can actually get to stations without even walking outside!  The three hotels listed below are very popular choices with tourists because aside from being Super Properties they are also within just a few minutes of convenient MRT stations. We have listed the MRT station beside each Hotel name for your convenience: 
Marina Bay Sands Resort (Bayfront Station)
Raffles Singapore (Esplanade Station)
The Fullerton Bay Hotel Singapore (Raffles Place Station)
---
Step 2: Decide on what kind of MRT ticket you want to buy to get to Chinatown Street Market
Before you can get to Chinatown Street Market you have to determine what kind of MRT ticket you plan on using for this trip and other trips while you are in Singapore.
At the time of writing there are three main types of MRT tickets that you can use in Singapore. The type of ticket that you use really depends on your personal preferences and circumstances while you are in the city:
A Singapore Tourist Pass 

A stored value card that can be used for multiple trips

A single trip ticket 
We recommend that you purchase a Singapore Tourist Pass if you are a 'very busy tourist' and you are spending only one to three days in the city. There are some clear advantages of using this type of MRT card. First of all, you will not have to wait at ticketing machines to purchase a ticket every time you want to use the MRT system. Secondly, if you plan on doing a lot of sightseeing you can save some money with these cards. When you purchase a Singapore tourist pass you are entitled to unlimited MRT and bus rides for a set period of time.  For example, you could use the card for three days and use it continuously during this duration.  
Pros and Cons
The benefits here is that if you use it a lot then you will save money. The risk however is that if you are not an active tourist you may be paying upfront for rides that you will never use on the actual card!
Single journey tickets cost more per trip but they are ideal if you are not an active tourist and plan on using the MRT only once or twice while you are in the city.   the downside of purchasing a single Journey ticket is that you may have to wait in line every time you want to go on a train. You purchase these from ticketing machines within the station and during peak times it can get busy.
Stored value cards are very popular with Singaporeans and people staying in Singapore for longer than 3 days.  You will have to pay upfront for these cards but the cost per trip afterwards is less than single journey tickets.  Since you only have to tap to enter and exit the MRT network using these cards you effectively bypass ticketing lineups every time you want to use the MRT.
If want to buy a stored-value card there are two different types in Singapore:
ez-link 

Nets FlashPay card
You can purchase these cards at TransitLink Ticket Offices.  Afterwards, proceed to these merchants for subsequent top ups:
DBS/POSB/OCBC Automatic Teller Machines

7-Eleven stores

General Ticketing Machines,

SingPost Outlets

AXS Stations

Add Value Machines

TransitLink Ticket Offices 
---
Step 3: Purchase your MRT Ticket to Chinatown Station
Once you have sorted the type of ticket you are going to use to get to Chinatown Street Market in Singapore, plan on travelling to Chinatown Station. 
Although there are other potential stations that you could technically go to, Chinatown Station is the most practical and convenient station to access Chinatown Street Market.
If you are purchasing either a Singapore Tourist Pass or a Stored value card technically you won't have to worry about buying a ticket that terminates at Chinatown because you will have a running cash balance on the card.  This is more important if you are buying single journey tickets because the cost is calculated according to where you will get off at.
---
Step 4: Take the MRT to Chinatown Station
When you enter each station you will notice that there are MRT Maps showing the entire system. Having some familiarity with the lines in Singapore can make your trip a lot faster and less stressful.
Chinatown Station is located along two different lines in Singapore:
Downtown Line (Shown in blue on the MRT Map)
North East Line (Shown in purple on the MRT Map)
Knowing the adjacent stations to Chinatown can also be useful as a general guide. Also, when you hear a verbal announcement being made on the train about any of the stations listed below, you know it's time to head towards one of the exits on the train:
Downtown Line
Fort Canning MRT Station (north)
Telok Ayer MRT Station (south)
North East Line
Outram Park MRT Station (West)
Clarke Quay MRT Station (East)
You can also see signs above the exit doors that provide additional information about where you are as you approach Chinatown Station.
Additionally, feel free to check out MRT route maps that are positioned in each station.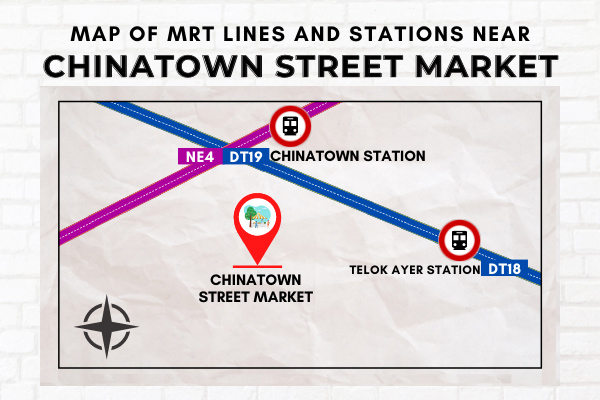 ---
Step 5: Exit Chinatown Station and walk to Chinatown Street Market
Once you arrive at Chinatown Station, it's pretty straightforward to reach Chinatown Street Market. 
Chinatown Station has a total of six exits to choose from (A, B, C, D, E, and F). 
Take Exit A to get to Chinatown Street Market. 
This exit will bring you out onto Pagoda St. which is right in the heart of the action! From there you can wander around the adjacent roads that make up Chinatown Street Market.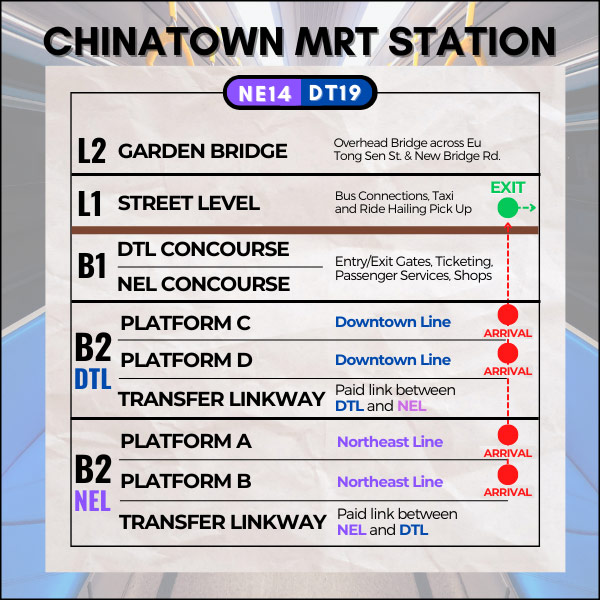 How long should it take you to walk from Chinatown MRT Station to Chinatown Street Market?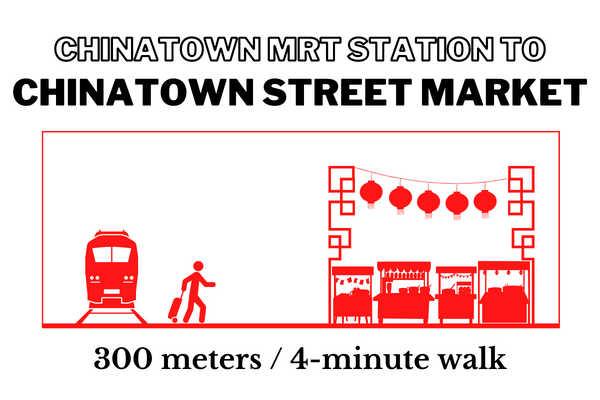 ---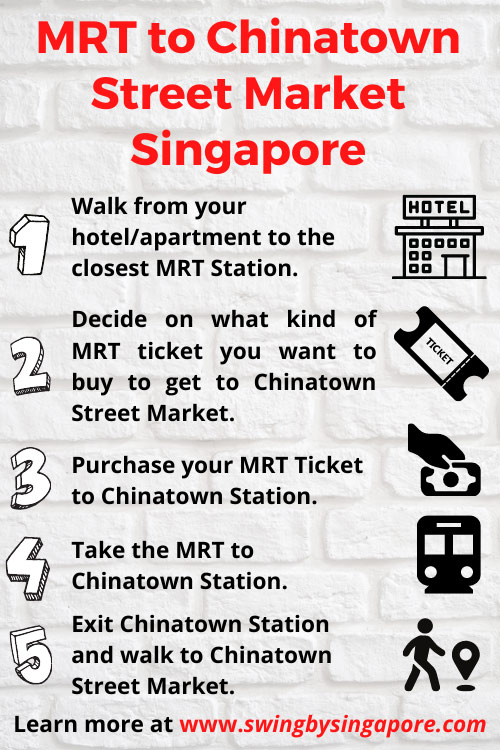 ---
Selecting the Best Hotel to in Chinatown 
Chinatown in Singapore has become a haven for budget accommodation choices over the years. Unlike other areas in Singapore such as Marina Bay and Orchard Road, Chinatown caters to budget travelers, and backpackers. 
In our opinion, this is one of the best areas to stay if you want to save some cash while staying in Singapore. Also keep in mind that there is a surplus of affordable restaurants and hawker centers that make this one of the best and dollar-friendly places to eat out. 
Most of the hotels in Chinatown are actually minutes from Chinatown Street Market. You can expect to find a lot of small boutique rooms and hostels. Many of them receive moderate review scores, but there are a few exceptions that we have found: 
Hotel 1888 Collection (8.4/10 review score)
Wink Capsule Hostel @ Chinatown Street Market (8.4/10 review score)
CUBE Boutique Capsule Hotel @ Chinatown Street Market (8.6/10 review score)
Despite the fact that Chinatown caters to budget travelers for the most part, there are still a few really good mid-range properties that receive excellent reviews from verified guests:
Capri by Fraser China Square Singapore (4-star, 8.9/10 review score)
Parkroyal Collection Pickering Singapore (5-star, 9.1/10 review score)
In general, we find that properties that have a review score of 8.5 out of 10 or above are considered to be excellent properties. As you can see above both of these properties are rated well above the standard. This suggests that they are well-managed with a wide variety of services available to guests.
Take note that the properties above are not direct partners of ours. The review scores listed are based at the time of writing from leading accommodation websites and subject to change over time. 
---
Do you have more questions about getting to Chinatown Street Market?
We strongly believe that Chinatown is a must-see while you are in Singapore. Regardless of whether you enjoy street food, temples, markets or a bustling environment this is the place for you. 
This guide on how to get to Chinatown Street Market using the MRT is hopefully detailed enough to get you right into the action. If however, you do require some more details, just send us an email or a comment. We would be happy to get back to you!
Also keep in mind that Chinatown Street Market is not the only interesting sight to explore here. The Chinatown Heritage Centre, Buddha Tooth Relic Temple and Sri Mariamman Temple also receive their fair share of visitors on a daily basis. We suggest that you consider combining a bunch of different sights and activities into a 'Chinatown' itinerary. This will help you to get the most out of your time here.
Other MRT Stations
Although Chinatown is the most popular and convenient station to access this area of the city, also keep in mind that there are neighboring MRT stations that you can walk from as well. Telok Ayer, for instance, is the next best option to access Chinatown. In the past we have actually taken the MRT to Chinatown Station, walked through Chinatown and then exited the area using Telok Ayer Station. It is just something to consider when you are exploring this area of Singapore.
We hope that this guide on how to get to Chinatown Street Market Singapore using MRT has been descriptive enough? If not please send us an email so that we can answer any additional questions that you may have!