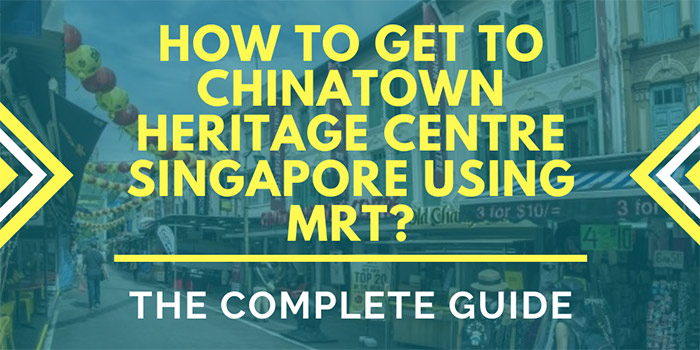 Welcome to the complete guide on how to get to Chinatown Heritage Centre Singapore using MRT.  As you have probably heard, Chinatown in Singapore is one of the best places to sightsee because there is so much to offer in terms of markets, food and cultural landmarks. While you were planning your trip to this area of the city, it is a wise decision to use the extremely organized and efficient MRT System. 
We have visited Chinatown Heritage Centre on multiple occasions using the MRT. Therefore, we have written this article to give you specific details about this journey so that you can save valuable time and money. And besides….you probably don't want to spend time in Singapore 'jammed up' in traffic when you could have just taken the train. 
Fortunately, Chinatown Heritage Centre can be easily accessed by MRT. Read on to find the specific details about this trip!
---
Why should you visit Chinatown Heritage Centre Singapore?
The Chinatown Heritage Centre is one of many interesting culturally significant places to visit in Singapore's Chinatown. A visit here to this heritage centre will provide you with a detailed overview of early pioneers and how they made the Chinatown district their home. They overcame famine, floods and unrest, and eventually made their way to Singapore in search of a brighter future. 
One of the most interesting aspects of visiting the Chinatown Heritage Centre is its unique location. Not only is it located right in the heart of Chinatown, but it is also situated in three historic shophouses. These shophouses remind us of the past and provide us with beautiful photo opportunities in the present. Inside you can explore recreated interiors that model those of the shophouse occupants from the 1950's. 
An interesting experience while at the Chinatown Heritage Centre is getting a 'Multimedia Guide' with your admission ticket. This will enable you to explore the galleries to experience the sights, sounds and stories and gain a better understanding of how Singapore's current Chinatown came to be.
Also keep in mind that there are many other noteworthy sights within direct walking distance of Chinatown Heritage Centre as well. Chinatown Street Market is really cool and worth exploring. So too are famous temples such as:
Sri Mariamman Temple
Buddha Tooth Relic Temple
Thian Hock Keng Temple
When you visit Chinatown Heritage Centre you will also be surrounded by lots of budget accommodation options. Some good examples of accommodation in this area include:
The Bohemian
Capsule Pod Boutique Hostel
You can walk to either one of these in two minutes from the station.
---
Getting to Chinatown Heritage Centre Singapore using MRT.
Step 1: Find the nearest MRT Station from where you are staying.
During the initial planning phase of your trip to Singapore make sure that you are selecting a hotel within walking distance of an MRT station. One of the best features of Singapore is its strong public transportation infrastructure. Make sure that you utilize this while you are sightseeing throughout the city.
Fortunately, Singapore hotel developers have made a variety of properties that are within direct walking distance of stations throughout the city. This convenience will help to save you considerable time and money. And let's not forget about the environment!
We have included three properties below that are very popular with guests staying in Singapore. The closest station to each one is included in brackets:
Marina Bay Sands Resort (Bayfront Station)
Raffles Singapore (Esplanade Station)
The Fullerton Bay Hotel Singapore (Raffles Place Station)
---
Step 2: Decide on the type of MRT ticket to reach Chinatown Heritage Centre. 
There are three primary forms of MRT tickets in Singapore. The one that you select really depends on your own personal circumstances and priorities:
A Singapore Tourist Pass 

A stored value card that can be used for multiple trips

A single trip ticket 
Single trip tickets, as their name suggests, is the no-frills version of a ticket on Singapore's MRT. For these tickets you simply show up at the station and purchase a single trip ticket at a ticketing machine.  You sometimes will have to wait in line during busy periods. The benefit of using standard tickets is that you are not obligated to use the MRT a lot while you are in Singapore. Keep in mind that these tickets do cost more per trip than stored-value cards.
Tourist Passes
We recommend that you should purchase a Singapore Tourist Pass if you are going to be in Singapore for less than 3 days and plan on using public transportation a lot. You purchase these cards and then you are entitled to unlimited bus and MRT rides for a number of days.  You can save a lot of money getting a Singapore tourist pass if you use the MRT extensively. However, this is not the best option if you do not want to use public transportation a lot while you were in the city. Some tourists only use the MRT once or twice and this would not help them save any money.
The most popular option for Singaporeans, permanent residents, expats, and tourists in the city for an extended period of time are 'stored value cards'. These are cards that you purchase and then top up with cash.  The clear benefits of using a stored-value card include bypassing ticketing lines every time you want to access the station and also getting a cheaper rate per trip than single journey tickets. The downside is that you do have to pay money upfront and sometimes you may have to work on getting reimbursed for the card upon departure from Singapore. When we first learned how to get to Chinatown Heritage Centre Singapore using MRT we used an ez-link card.
If want to buy a stored-value card there are two different types in Singapore:
ez-link 

Nets FlashPay card
You can purchase these cards at TransitLink Ticket Offices.  Afterwards, proceed to these merchants for subsequent top ups:
DBS/POSB/OCBC Automatic Teller Machines

7-Eleven stores

General Ticketing Machines,

SingPost Outlets

AXS Stations

Add Value Machines

TransitLink Ticket Offices 
---
Step 3: Buy a ticket to Chinatown Station.
After you have decided on the type of ticket you are going to use to use the MRT in Singapore, it's time to travel to Chinatown Station. 
Chinatown station is very close to Chinatown Heritage Centre and is the most popular way to get there.
If you are using a Singapore tourist pass or a stored-value card technically all you need to do is tap to enter the station and tap to exit. If however, you are purchasing a single journey ticket then you should note that your terminal station will be Chinatown.
---
Step 4: Ride the MRT to Chinatown Station
You should have some familiarity with the train lines that Chinatown Station is on and also the neighboring stations to Chinatown so that you know when to get off the train.
Chinatown Station part of two major MRT Lines which are summarized below for your convenience:
Downtown Line (Shown in blue on the MRT Map)
North East Line (Shown in purple on the MRT Map)
Since this station is a stop on two lines, there are four adjacent stations to it (two on each line):
Downtown Line
Fort Canning MRT Station (north)
Telok Ayer MRT Station (south)
North East Line
Outram Park MRT Station (West)
Clarke Quay MRT Station (East)
There are three primary ways of knowing where you are on Singapore's MRT network. 
Whenever you enter an MRT station in Singapore you can expect to see route maps displayed which summarize the main lines and stations. Secondly, expect to hear verbal announcements on the train which are designed to inform passengers of upcoming stations. Lastly, there are signs above the exits on the trains which illustrate where you are on the line. 
If you hear any of the aforementioned stations being named on the train it's time to move closer to the exit in anticipation of getting off at Chinatown Station.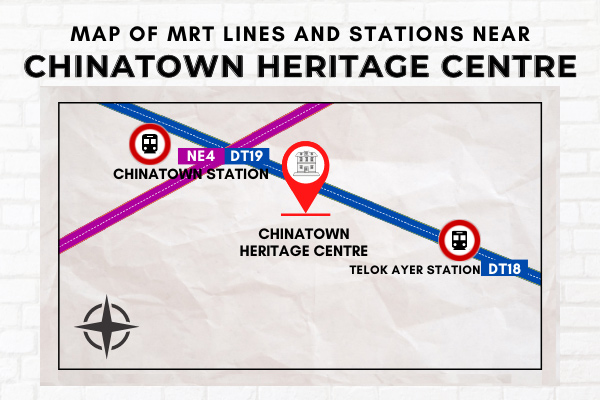 ---
Step 5: Walk from Chinatown Station to Chinatown Heritage Centre
Chinatown Station has a total of six exits to choose from (A, B, C, D, E, and F). This can get a bit overwhelming. Therefore, when you arrive take Exit A to get to Chinatown Heritage Centre. This exit will bring you directly out onto Pagoda Street. This is one of the most famous streets in all of Chinatown.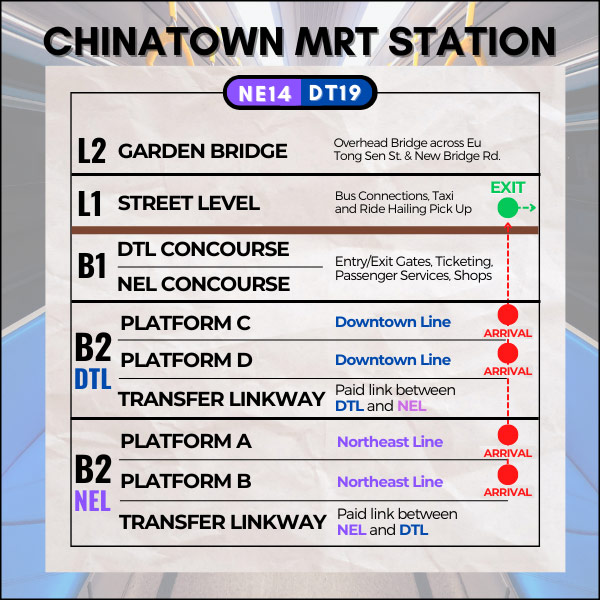 The walk from Chinatown Station to Chinatown Heritage Centre should only take you 1-2 minutes. It is literally about 100 meters from the MRT exit and straight down Pagoda Street.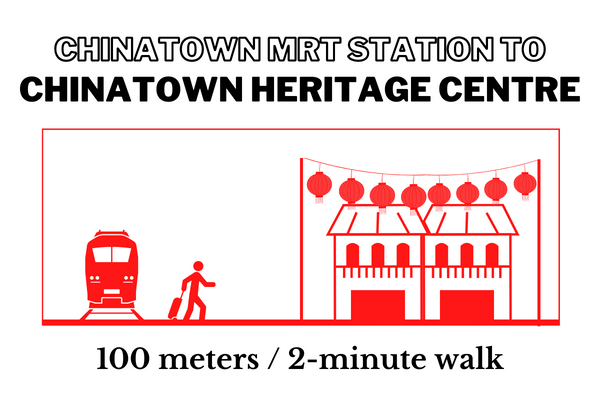 ---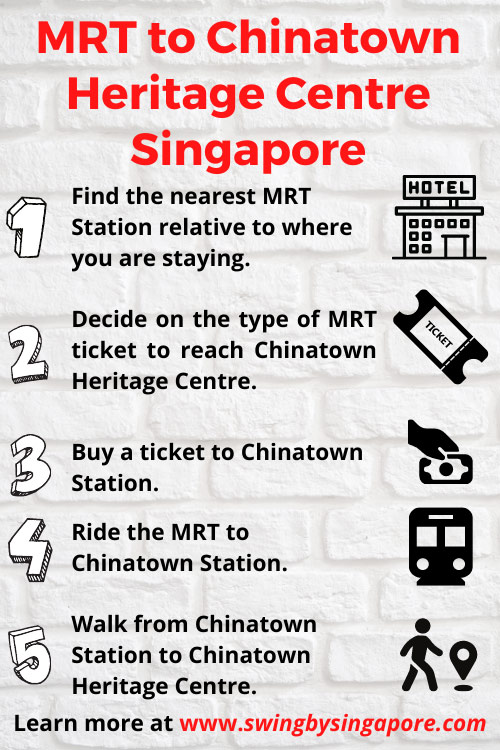 ---
Selecting the Best Hotel in Singapore's Chinatown Area
There's no denying the fact that Singapore has loaded with luxury hotels and apartments to choose from. Chinatown, in particular, is not well known for these types of properties. Instead, Chinatown is regarded as one of the best areas in the entire city for budget accommodation choices.
What you will mainly find in this area of Singapore are hostels and boutique hotels.  The prices in this area tend to be very reasonable in comparison to other more expensive areas such as Marina Bay and Orchard Road. An added benefit of staying in Chinatown is that you will be very very close to reasonably priced food options as well. Singapore is very expensive when it comes to eating out unless you really do your research beforehand. Staying near Chinatown Heritage Centre ensures that you will be within walking distance to many different street markets that have hawker centres. 
Location
Most of the hotels in Chinatown are located within 3 or 4 minutes walking distance of Chinatown Station. There are many different options here and most of them receive moderate review scores from verified guests. We have selected a few properties that you might to check out that receive higher than average review scores:
Hotel 1888 Collection (8.4/10 review score)
Wink Capsule Hostel @ Chinatown Heritage Centre (8.4/10 review score)
CUBE Boutique Capsule Hotel @ Chinatown Heritage Centre (8.6/10 review score)
These properties are all within walking distance of Chinatown Station and Chinatown Heritage Centre. 
If you want to be close to the action in Chinatown but stay at a higher-end property then there are also a few options available.  The two properties listed below are also within walking distance of Chinatown station and they receive very strong, positive review scores from verified guests:
Capri by Fraser China Square Singapore (4-star, 8.9/10 review score)
Parkroyal Collection Pickering Singapore (5-star, 9.1/10 review score)
It is important for us to note that we do not have a direct partnership with any of the properties listed in this article. The review scores have been taken from leading accommodation sites at the time of writing. Therefore, over time you can expect the scores to change as more guests complete reviews of these respective properties.
---
Happen to have more questions about getting to Chinatown Heritage Centre?
After reading this article we hope that you have found out enough information about getting to Chinatown Heritage Center using the MRT.  If for some reason you do require additional information please don't hesitate to send us an email or a comment. We would be more than happy to provide you with more information about Chinatown and Chinatown Heritage Centre.
The exciting thing about visiting Chinatown Heritage Centre is that there are also all kinds of cultural attractions in this area of Singapore. You can easily plan for either a half day or a full day sightseeing in Chinatown Singapore. Also take note that it is possible to access Chinatown by traveling to Telok Ayer Station. This station is located to the southeast of Chinatown station. Therefore, a smart itinerary idea is to plan to travel to Chinatown Station and then plan on exiting Chinatown via Telok Ayer Station. In this case you will gain a better perspective of this area by seeing more shops, restaurants, markets and temples.