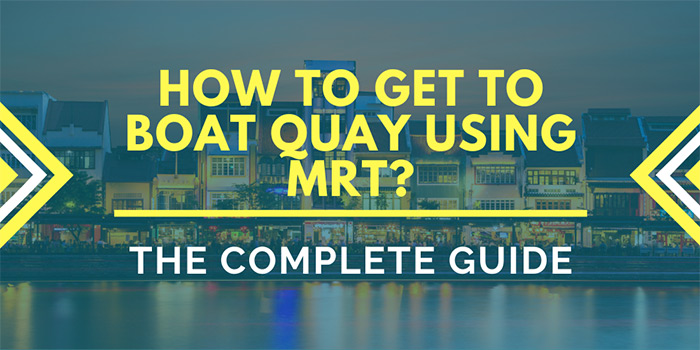 This is a step-by-step guide on how to get to Boat Quay using MRT. Singapore, unlike many other cities around the world, has an amazing public transportation network that is both affordable and efficient. Consequently, it is a practical strategy to entirely use the MRT system during your time in the city without even stepping foot in a vehicle! 
We have written this article according to our own personal travel experience in Singapore.  Fortunately, we have had the opportunity to experience Boat Quay many times. Therefore, we guarantee that this information is reliable because it is based on our journey to Boat Quay using two different MRT stations. 
---
Why should you visit Boat Quay in Singapore?
There are a few different reasons why you may want to visit Boat Quay in Singapore. 
For one, it is a very scenic area. Picture water reflections, waterside restaurants with Singapore's amazing skyline in the background. Many people that visit Boat Quay go there in order to dine at one of their popular waterside restaurants that are directly overlooking Singapore River. There are also numerous bars and eateries that are popular with both locals and tourists. 
Boat Quay has nice boardwalks that allow pedestrians, cyclists and runners to pass by famous hotels such as Fullerton Hotel Singapore and Cavenagh Bridge as they travel towards Marina Bay, and world famous Marina Bay Sands. Naturally, due to its location there is pedestrian flow here. 
Also keep in mind that Boat Quay is adjacent to Clarke Quay – another scenic area that is well known for a 'happening' social scene. It consists of many bars and restaurants seconds from the Singapore River. 
---
Here is a step-by-step guide on how to get to Boat Quay using MRT.
Step 1: Exit your Hotel and Walk to the nearest MRT Station in Singapore
A great idea when you visit Singapore is to book a hotel room that is within walking distance to an MRT station. This will definitely save you some serious cash and make your trip more efficient. Actually, when we book a room in Singapore the first thing that we look for is how close it is to the MRT. Also, don't forget that Singapore gets really, really hot outside. Being close to a station should be your priority. 
Fortunately, hotel developers in Singapore have built many world-class hotels close to stations because they know that's what people want. 
There are many hotels that are within walking distance to strategically placed MRT Stations around the city. A few obvious examples include Marina Bay Sands, one of the most famous hotels in the city (minutes from Bayfront MRT Station. Fullerton Bay Hotel Singapore is another example that is minutes from Raffles Place MRT Station. The list could go on…..
Once you have checked-in and you are ready for sightseeing, walk to the closest MRT station from your hotel. 
---
Step 2: Identify your possible Terminal MRT Station
While you are in an MRT Station you have to figure out what station you want to go to in order to access Boat Quay. There are actually two different stations that are within close walking distance of Boat Quay:
Raffles Place MRT Station
Clarke Quay MRT Station
Raffles Place is located south of Boat Quay whereas Clarke Quay is west of Boat Quay. 
Take note that both of these stations are located on different MRT Lines in Singapore. Clarke Quay Station is located on the North East Line, whereas Raffles Place is located on the North-South Line and the East-West Line.  
---
Step 3: Purchase your MRT Ticket to reach Clarke Quay or Raffles Place Station
You have three different choices when you are buying an MRT ticket to either Clarke Quay or Raffles Place:
Buy a Singapore Tourist Pass 

Buy a stored value card that can be used for multiple trips

Buy a single trip ticket
Try to avoid purchasing single trip tickets if possible. You have to stand in line and get a ticket from a machine every time you want to go somewhere. Also, you will have to pay more per trip!
If you use a stored value card you will have to purchase the card and then load it. Once loaded with a cash balance they are cheaper per trip and you also bypass the lines at each station because you simply have to tap your card to access the MRT Network.
If you don't live in Singapore then the Tourist Pass is a more economical and efficient way to travel while you are in the city. This is technically a variation of the stored value car except that tourists use it and not locals. The tourist pass offers tourists unlimited travel on Singapore's bus, MRT and LRT trains for a specific number of days.
In Singapore there are two types of stored value cards.
ez-link 

Nets FlashPay card
You can purchase these cards at TransitLink Ticket Offices, MRT stations and 7-Eleven stores. Afterwards, you can load up these cards at any of the following merchants:
DBS/POSB/OCBC Automatic Teller Machines

7-Eleven stores

General Ticketing Machines,

SingPost Outlets

AXS Stations

Add Value Machines

TransitLink Ticket Offices 
---
Step 4: Ride the MRT to Clarke Quay or Raffles Place Station
Singapore's public transportation system is truly world-class. Therefore you should have no problem navigating your way from your station of origin all the way to either Clarke Quay or Raffles Place Station. Every station within the network has clear route maps that you can view. Similarly, as you are traveling on the train you can expect verbal announcements that outline what the next station will be. This will provide you with sufficient time to make sure that you get close enough to an exit so that you can get off the train at either Clarke Quay or Raffles place.
Above each exit there are also illuminated screens that can assist you with your location while on the train.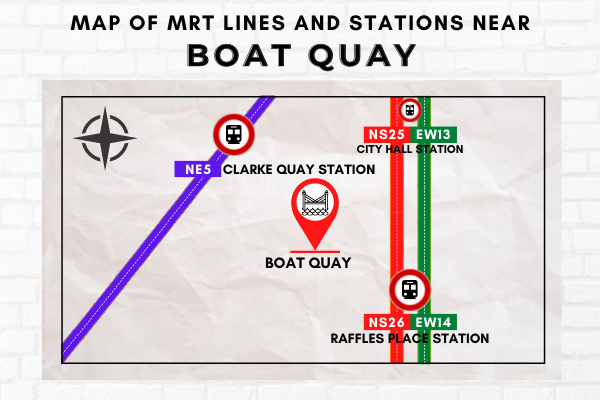 ---
Step 5: Exit from the Station and Walk to Boat Quay
After you arrive at Raffles Place or Clarke Quay you are within walking distance to Boat Quay. Take note that Boat Quay is an 'area' not a building so there is more than one way to access the waterfront space.
Exiting Clarke Quay Station…
Clarke Quay Station has six different exits to choose from: A, B, C, D, E, and F. It only takes a maximum of five minutes walking from any of these stations to get to Boat Quay. But if you want to get there faster take exit E or G. If you are getting confused, just walk to the waterfront and head south – you can't miss it!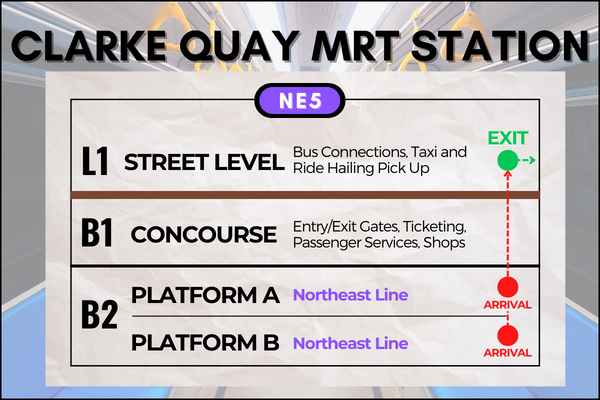 Exiting Raffles Place Station…
Raffles Place Station has 10 different exits to choose from: A, B, C, D, E, F, G, H, I, and J. It only takes a maximum of five minutes walking from any of these stations to get to Boat Quay. Take exit G if you want direct access to Boat Quay. You will be right beside the water.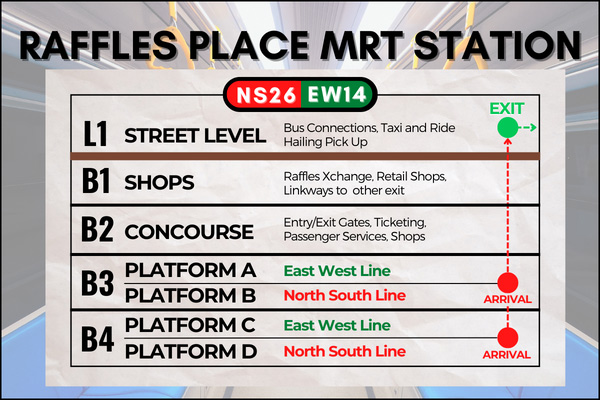 How long should it take you to walk from Clarke Quay MRT Station to Boat Quay?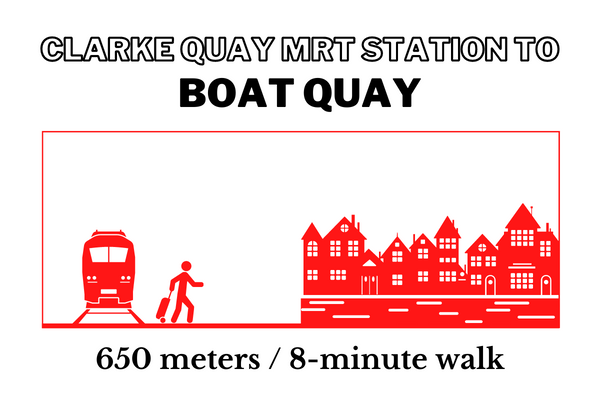 How long should it take you to walk from Raffles Place MRT Station to Boat Quay?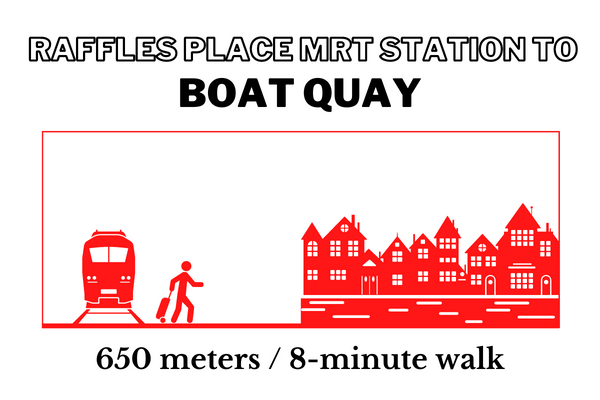 ---
---
Selecting the Best Hotel to Stay in Boat Quay
There's no denying the fact that Boat Quay is a very scenic area of Singapore. However, there are fewer hotels that overlook the waterfront area here than you would imagine.  Most of the Waterfront area here is occupied by restaurants, bars, and office towers.  
There is one exception, however. 
The Fullerton Hotel Singapore is by far the best choice if you want to stay right alongside Boat Quay. This is a colonial, 5-star property that has a review score of 9.1/10. It is adjacent to Cavenagh Bridge in a beautiful spot. We highly recommend staying here if you can afford it!
There are also some really good budget choices between Clarke Quay MRT Station and Boat Quay. We have stayed in this area about 10 times and we have been impressed with the value properties directly southeast of Clarke Quay Station.
Some of the best properties in this area include:
Hotel Bencoolen @ Hong Kong Street
Champion Hotel City
Hotel Clover the Arts 
You can also walk to Marina Bay from Boat Quay in about 10 minutes. Some of Singapore's best hotels are here. A few examples include:
Marina Bay Sands (5-star, 9/10 rating) 
Mandarin Oriental Singapore (5-star, 8.9/10 rating)
The Fullerton Bay Hotel Singapore (5-star, 9.4/10 rating)
The Ritz-Carlton Millenia Singapore (5-star, 9.2/10 rating)
Expect amazing service at these properties but they won't be cheap. If you can afford them you will get amazing views of Singapore's skyline and perfect views of Marina Bay.
Keep in mind that these review scores are based at the time of writing from leading accommodation websites. They may change over the course of time. We have no direct partnership with any of these properties. 
---
Any more Questions about getting to Boat Quay ?
We do really hope that the step-by-step guide on how to get to Boat Quay using MRT has been informative enough to make this a stress-free trip for you. There are definitely areas in Singapore that have more big time attractions than Boat Quay. This is, however, a very popular spot for having a nice romantic dinner during sunset right beside the waterfront. Many of the bars at the back of the restaurants are also very popular with tourists and locals.
In general, there are more seafood restaurants relative to other types of restaurants in Boat Quay.  If you do want a fancy seafood dinner with lobster and crabs this is an ideal spot to go. But you do have to be prepared to pay.
An enjoyable thing to do while you are in Singapore is to walk all the way from Clark Quay through Boat Quay down to Marina Bay.  You will capture sweeping views of Singapore's Skyline while capturing beautiful water reflections on Singapore River.
If you do require more information on how to get to Boat Quay in Singapore please don't hesitate to reach out to us. We would be more than happy to provide you with additional information about using the MRT to get to this area of the city!