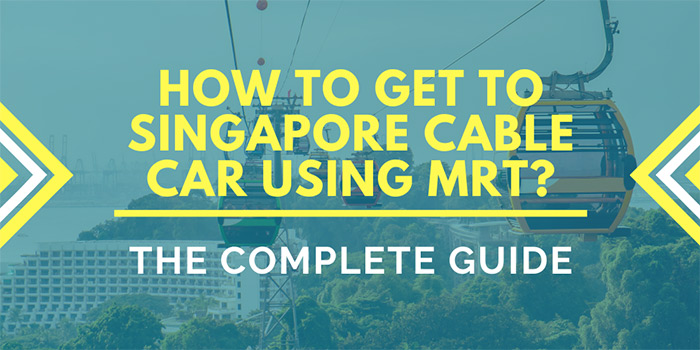 This article has been designed to provide you with a step-by-step overview of how to get to Singapore Cable Car using the MRT Network.  Fortunately, Singapore has one of the best public transportation systems in the world. This makes navigating this beautiful city very convenient and affordable despite the fact that it is regarded as one of the most expensive cities in the world. 
The information provided within this article is based on her own personal experience travelling within Singapore. Therefore, we guarantee that this information is reliable because it is based on our journey to the Cable Car to get to Sentosa Island. 
You will learn:
– How to buy Singapore Cable Car tickets (the Cable Car Sky Pass)?
– How to buy MRT tickets?
– Which hotels are close to the Cable Car station?
– How to navigate the MRT from your starting point in the city?
Singapore is an amazing city to explore, and the cable car ride to Sentosa Island offers amazing views of the city and surrounding coast line.
---
Why is it worth visiting Singapore Cable Car?
If you are all familiar with Singapore then it comes as no surprise that this city is jam-packed with world-class attractions. Actually, Singapore is one of the best cities in the world for sightseeing because it has a unique blend of cultural attractions and a lot of modern architectural gems to explore.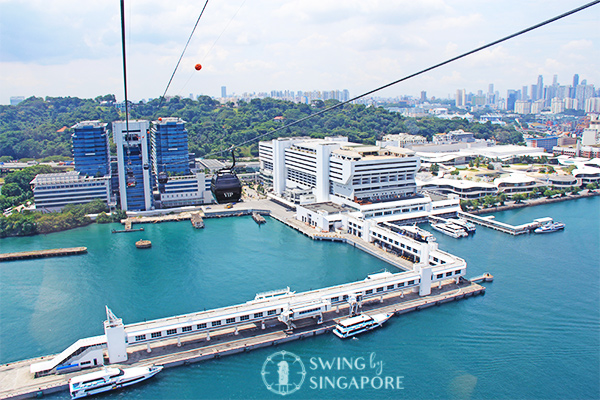 Singapore Cable Car is unique in that it serves as a public transportation option to get to Sentosa island. But the cable car is also a tourist attraction for many visitors in the city. There are definitely cheaper ways to get to Sentosa Island from Singapore than taking the cable car, but this is definitely the most scenic way. One of the benefits of taking the Cable Car across to Sentosa island is the fact that you will get amazing views of Singapore's world-class Skyline that features spectacular hotels and business towers.
Aside from Amazing photo and video opportunities you also get the chance to access the attractions and beaches on Sentosa island using the cable car.  Consequently,  Singapore Cable Car is extremely popular with families who are visiting Singapore. Actually, it's even possible to purchase bundle packages that include the Cable Car with entry to world class attractions such as Universal Studios Singapore, S.E.A. Aquarium and Madame Tussauds Singapore.
---
Getting to Singapore Cable Car using the MRT – Here is the step-by-step guide!
Step 1: Exit your Hotel and Walk to the Nearest MRT Station in Singapore
One of the most practical decisions that you can make while you are planning your trip to Singapore is to book your hotel room within walking distance of an MRT Station. Singapore, unlike many cities around the world, has an extensive public transportation system that is very economical and very efficient. 
There are all kinds of hotels that are within walking distance to strategic stations around the city. For example, Marina Bay Sands, one of the most famous hotels in the city, is only a few minutes away from Bayfront MRT Station. Another example is The Fullerton Bay Hotel that is minutes from Raffles Place MRT Station.
After you have made the decision where you are going to stay in Singapore then it is time to walk to the nearest MRT station to access the system.
---
Step 2: Identify your Terminal Station: HarbourFront MRT Station
Once you enter the station near your hotel the next step is referring to the MRT map located in the station. What you will discover is that by far the most convenient station to travel to in order to access Singapore Cable Car is HarbourFront Station.
HarbourFront Station is located on two different MRT Lines in Singapore: 
In case you are wondering, HarbourFront Station is a terminal station on both of these lines. However, once the Circle Line (6) is extended it will no longer be a terminal station on that line.   
---
Step 3: Purchase your MRT Ticket to reach HarbourFront
Paying for MRT tickets in Singapore is a really straightforward thing to do.  Ultimately, you have two main options when you are buying a ticket to HarbourFront Station:
Purchasing a Singapore Tourist Pass 

Get a stored-value card that can be used for multiple trips
As its name suggests a 'single trip ticket' is a ticket that you just pay for at one of the ticketing machines in the station. Most people in Singapore, including tourists, choose to use one of the other two options that are available.  Getting a stored-value card or a Singapore Tourist Pass is a more economical and efficient way to travel while you are in Singapore. 
Tourist Passes
The Singapore Tourist Pass is technically a stored value card except that it is marketed towards visitors coming to Singapore. These passes offer tourists unlimited travel on Singapore's bus, MRT and LRT trains for a set duration of time (# of days). 
We highly recommend buying a Multiple Attraction Pass to use along with your Tourist Pass. At this point, over 200,000 of these have been purchased because you can save up to 52% when buying several passes at the same time.
If you prefer just to buy the cable car ticket here is the where you can purchase them in advance.
The other transportation card is the Stored Value Card.
These do require you to purchase the card upfront and to actually load the card. Once the loading has been completed then it is cheaper per trip and you also bypass the lines at each station because you simply have to tap your card to access the MRT Network.
In Singapore, there are two types of stored value cards.
EZlink 

Nets FlashPay card
You can purchase these cards at TransitLink Ticket Offices, MRT stations and 7-Eleven stores. Afterwards, you can load up these cards at any of the following merchants:
DBS/POSB/OCBC Automatic Teller Machines

7-Eleven stores

General Ticketing Machines,

SingPost Outlets

AXS Stations

Add Value Machines

TransitLink Ticket Offices 
---
Step 4: Ride the MRT to HarbourFront Station
Singapore's rail network is extremely well organized. This is also true in terms of announcements while you are riding the train. Once you have stopped at a specific station then there will be a verbal announcement that reminds you of what the next station will be. Also, above the doors on the trains, you will see illuminated signs that highlight which station on the line is going to be next. This allows you to make sure that you are close to the exit doors when you are approaching HarbourFront Station.
As mentioned before, HarbourFront Station is part of two different MRT Lines.  Therefore, it is a practical idea to know what the proceeding stations are on both of these lines so that you know when to exit the train. 
The station before HarbourFront on the North-East Line is Outram Park. 
Also, the station before HarbourFront on the Circle Line is Telok Blangah. 
Once you stop at either one of these stations it is time to get close to the exit to get out at HarbourFront to access Singapore Cable Car.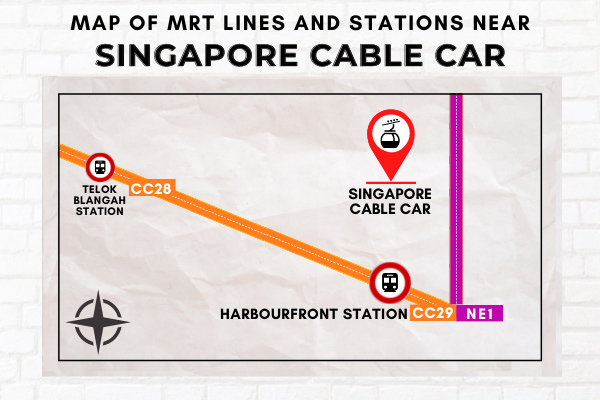 ---
Step 5: Exit from HarbourFront Station and walk to Singapore Cable Car
After you arrive at HarbourFront Station you are within walking distance to Singapore Cable Car. It is important to note that Singapore Cable Car is in HarbourFront Tower Two. Therefore, your goal here is to follow the signs to get there.
HarbourFront Station has a total of 5 different exits to choose from: A, B, C, D, E. 
Take Exit B towards HarbourFront Centre. Follow the signs and then cross the link bridge (beside KFC, level 2) to get to Singapore Cable Car at HarbourFront Tower Two. 
You can purchase Singapore Cable Car Tickets at the ticketing office which is located in HarbourFront Tower Two ground floor.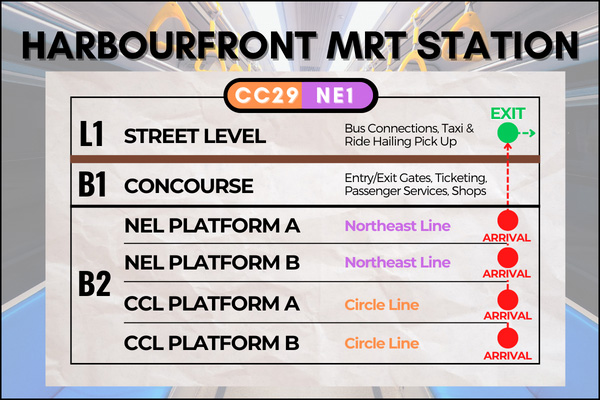 The walk from HarbourFront Station to Singapore Cable Car should take you about 14 minutes.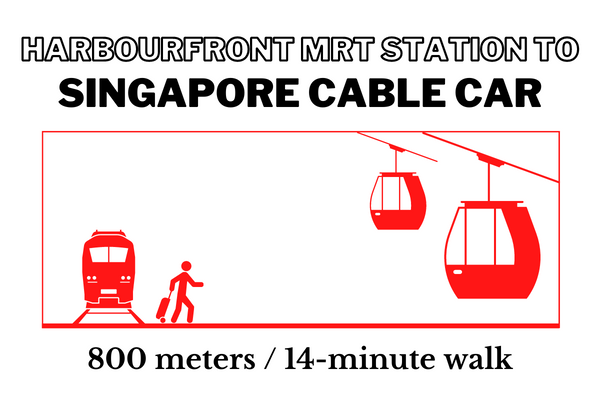 ---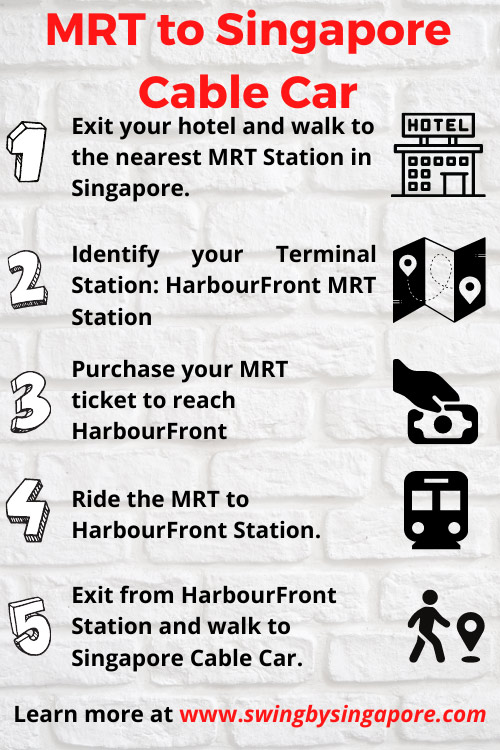 ---
Selecting the Best Hotel to Stay near Singapore Cable Car
There is no denying the fact that Singapore is loaded with world-class hotels. Service standards are very high and prices can also be extremely high if you do not do some pre-planning before your trip. 
Unlike most attractions in Singapore, there are actually not too many hotel choices in the direct vicinity of Singapore Cable Car. Travelodge Harbourfront Singapore and Ibis Budget Singapore Mount Faber are the two closest options. The Travelodge is the closest of the two (around 1 km away). 
Realistically, however, most tourists that travel on Singapore Cable Car choose to stay in a more convenient area in terms of accessing restaurants and malls. This means that they usually stay northeast of the cable car in areas such as Marina Bay, Clarke Quay, Boat Quay, Chinatown and Orchard. If they are staying in these areas they are easily accessing the cable car via MRT in 10 minutes. 
There are tons (literally hundreds) of excellent hotels that are situated in these areas of Singapore.  Therefore, your choice really comes down to your budget and how much you are willing to pay for your room.  Look to find cheaper budget rooms in Chinatown, Little India and Clarke Quay area. Expect to pay more in Marina Bay and Orchard, but the views in Marina Bay might be well worth the price!!
Choices
These are some popular suggestions that we have on based on our extensive experience being in Singapore:
The Fullerton Hotel Singapore (5-star, 9.1/10 rating)
Mandarin Oriental Singapore (5-star, 8.9/10 rating)
The Ritz-Carlton Millenia Singapore (5-star, 9.2/10 rating)
You might have noticed most of these are situated around Marina Bay. In our opinion, this is the best area to stay in Singapore if budgeting is not an issue for you. In other words, if you have the cash nothing beats capturing Singapore's amazing skyline from one of these world-class hotels. Expect world-class service standards from these properties.
A gentle reminder that these review scores are based at the time of writing from leading accommodation websites. They are subject to change over time. We have no direct partnership with any of these properties. 
---
Any more questions about getting to Singapore Cable Car using the MRT?
We have written a step by step guide on getting to Singapore Cable Car using MRT, but chances are you still may have questions about this journey. Please don't hesitate to send us an email or a comment about your inquiries. We are always glad to help and we hope that you have been provided with enough information to make this journey a stress-free one.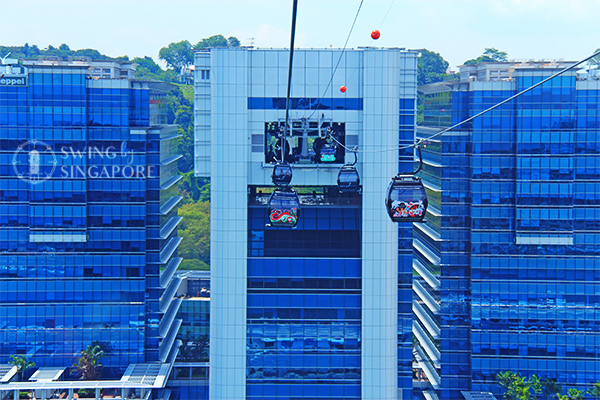 As you take the cable car across to Sentosa Island keep in mind that there are a lot of different activities to take part in there as well.  Instead of just taking the cable car over and then coming directly back to Singapore we suggest that you should spend the day on Sentosa Island with your f