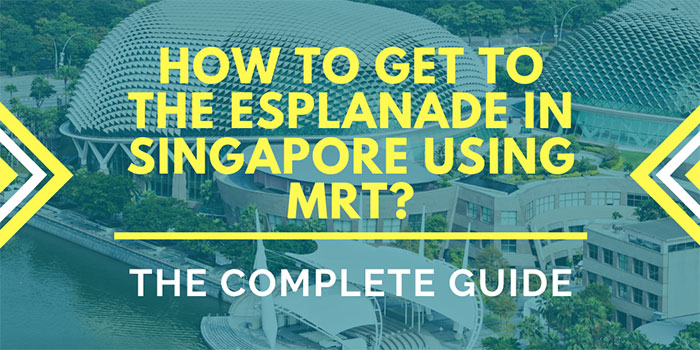 Want a step-by-step guide on how to get to the Esplanade in Singapore using the MRT? The purpose of this article is to summarize the main steps of getting to the Esplanade in Singapore according to our personal experience making this trip on multiple different occasions. The Esplanade is surrounded by some of Singapore's best attractions to visit, and some of the best luxury hotels in the entire city. We hope that this information makes your connection a stress-free one while you are in this beautiful Southeast Asian city!
---
Why is it worth visiting the Esplanade in Singapore?
Singapore has no shortage of world-class attractions to explore.  These attractions range from everything from family-oriented theme parks, world-class zoos to historic cultural sites. Although the Esplanade is technically not an attraction, it still has welcomed millions of guests. The Esplanade is one of the most famous performance arts centers in all of Asia.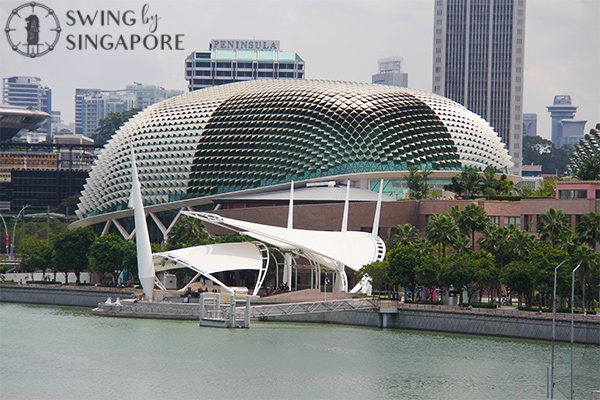 It is the venue of approximately 3,000 performances every year. This is one of the top places to check out dance, music and theatre performances, captivating visual arts exhibitions while you are in Singapore. And let's not forget about its ideal location!
The Esplanade in Singapore is situated directly beside iconic Marina Bay Sands. It faces famous monuments and hotels such as the Merlion and The Fullerton Hotel. Marina Bay Sands Hotel is only a 5-minute walk away. In other words, the Esplanade is a perfect location. You can easily check out a few nearby sights, grab a meal and then check out an amazing live show here!
---
Getting to Esplanade using the MRT – Here is a step-by-step guide!
Step 1: Depart your hotel and Get to the Nearest MRT Station in Singapore
An essential way to save some cash while you are in Singapore is making sure that you book a hotel that is within walking distance of an MRT station.  It is no secret that Singapore's public transportation network is simply amazing when compared to other capital cities in Southeast Asia. 
Additionally, a lot of hotel developers have built their properties near stations because they know that the demand is high because smart travellers want to save money and they want to save time by avoiding traffic jams. This is why you want to use the MRT as much as possible in Singapore. It's efficient and economical. 
---
Step 2: Choose Your Terminal Station: Cityhall Station or Esplanade Station
Once you have entered the closest MRT Station to your hotel in Singapore the next step is making sure that you purchase a ticket so that you can get close to the Esplanade (preferably within walking distance to avoidSingapore's heat!). 
Technically, there are two different MRT stations that you can go to in order to access the Esplanade:
City Hall MRT 
Esplanade MRT
Now, your decision on which of these stations to go to depends on which line is more convenient according to your point of origin. If your hotel is close to a specific line that will dictate which terminal station you should go to.  These stations are on different lines within Singapore's MRT Network.
City Hall Station is a stop on two different MRT Lines:
North-South MRT Line and the… 
East-West MRT Line
Esplanade Station, on the other hand, is only part of one MRT Line in Singapore:
Circle MRT Line 
---
Step 3: Purchase your MRT Ticket to reach the Esplanade
When you are paying for an MRT ticket to reach the Esplanade you have two main options:
Buying a stored-value card that can be used for multiple trips
Most tourists opt for getting a stored-value card or a Singapore Tourist Pass when they are visiting the city.
The Singapore Tourist Pass is a special 'stored' EZlink card that offers tourists unlimited travel on Singapore's bus, MRT and LRT trains for a defined number of days. This and general stored value cards are the most economical and efficient methods if you are making multiple MRT trips.
We highly recommend buying a Multiple-Attraction Pass to use along with your Tourist Pass. When you buy an entrance ticket to multiple attractions at the same time, you can save up to 52%! So far, over 200,000 of these passes have been sold!! 
If you purchase a stored-value card you can top up you can use it for multiple rides. The price per trip is less than standard single journey tickets and you avoid waiting in line every time you go to a station. 
There are two types of stored value cards.
EZlink 

Nets FlashPay card
You can purchase these cards at TransitLink Ticket Offices, MRT stations and 7-Eleven stores. After the card is purchased you can top them up at any one of the following places:
DBS/POSB/OCBC Automatic Teller Machines

7-Eleven stores

General Ticketing Machines,

SingPost Outlets

AXS Stations

Add Value Machines

TransitLink Ticket Offices 
---
Step 4: Exit either City Hall Station or Esplanade Station.
As you approach either City Hall or Esplanade Station on the MRT you should be listening and looking for announcements about what is the next station you are approaching. All MRT trains in Singapore make station announcements. There is usually a screen above the doors that show the next station and there is a verbal announcement to remind you as the train approaches.
Grab all your belonging and alight.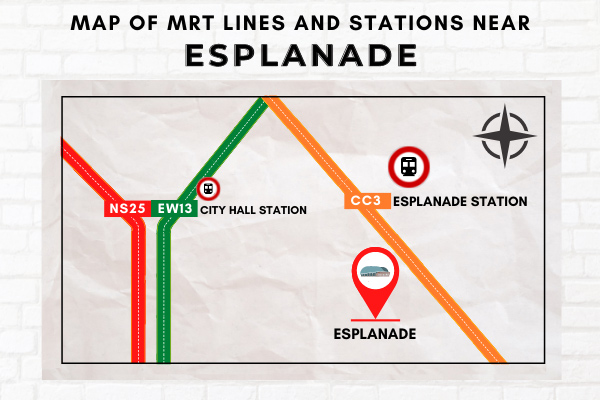 ---
Step 5: Exit from City Hall or Esplanade Station and Walk to the Esplanade
After you arrive at City Hall or Esplanade Station it is super easy to reach the Esplanade because both are within walking distance. We have summarized the walking distances from each of these stations for your convenience:
Walking from City Hall Station to Esplanade: 650 meters/8-minutes
Walking from Esplanade Station to Esplanade: 400 meters/5-minutes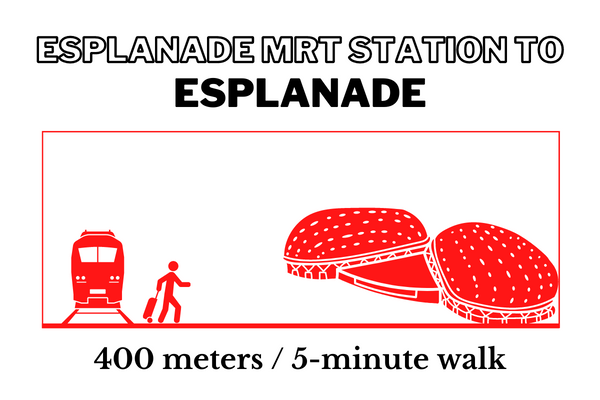 Which exit should you use to reach the Esplanade?
Esplanade Station has a total of 7 different exits (A, B, C, D, E, F and G). You can take

exit D

to reach the Esplanade.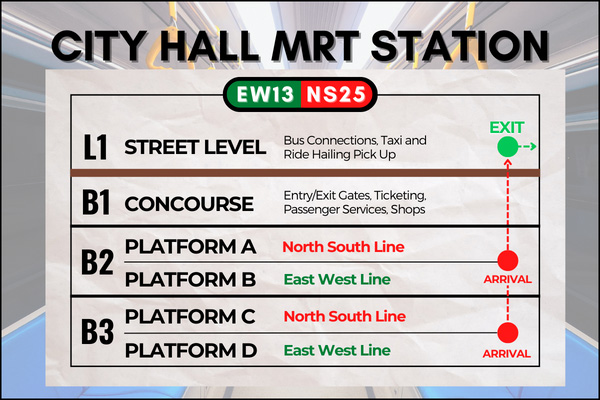 City Hall Station has a total of 4 exits (A, B, C and D). You can take

exit C

to reach the Esplanade.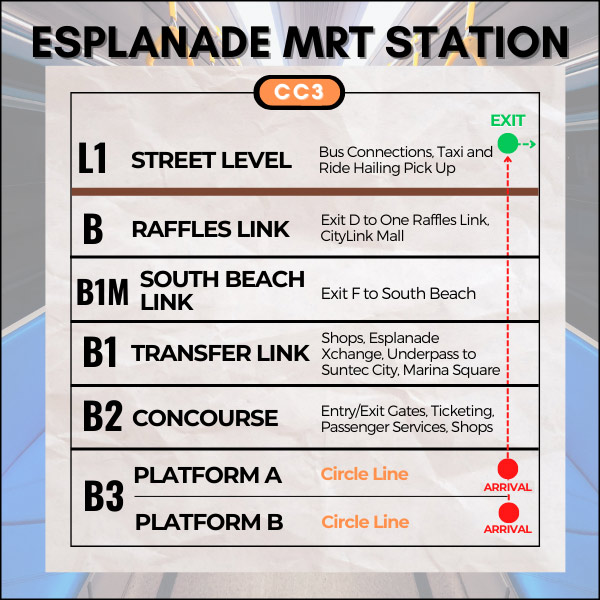 ---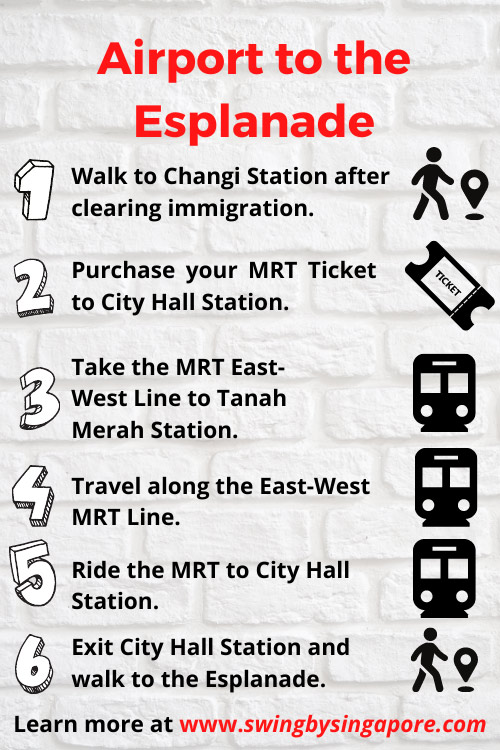 ---
Selecting the Best Hotel to Stay at Near the Esplanade
Once you have figured out how to get to the Esplanade in Singapore using MRT, next up is thinking about accommodation. If you have the budget it is an extremely wise decision to stay as close as possible to the Esplanade while you are in Singapore. Since the Esplanade is physically located beside Marina Bay it is actually situated in one of the nicest areas in the entire city.  This area of Singapore is very well-known for major attractions such as the Singapore Flyer (MRT directions), Gardens by the Bay, Merlion and world-famous Marina Bay Sands.
Although you do have convenient access to the MRT in this area, it is actually possible to walk to most attractions around the Esplanade.  But you should be warned that accommodation options in this area of Singapore are not particularly cheap because of the amazing views of Singapore's Skyline that you can capture.  Most hotels in this area are either in the four or five-star range. In other words, you are going to have to go to Boat Quay or Clarke Quay if you want to find more two and 3-star star options in Singapore.
Some of the most popular and best hotels within walking distance of the Esplanade include:
Mandarin Oriental Singapore (5-star, 8.9/10 rating)
The Fullerton Bay Hotel Singapore (5-star, 9.4/10 rating)
The Ritz-Carlton Millenia Singapore (5-star, 9.2/10 rating)
All of these are within 5 minutes of the Esplanade, and 10 minutes from the aforementioned stations.
You can pretty much guarantee world-class views and service standards from all the properties listed above. Take note that these review scores were at the time of writing from leading accommodation websites. We have no direct partnership with any of these properties. 
---
Any more Questions about Getting to the Esplanade using the MRT?
We have written a step by step guide on how to get to the Esplanade in Singapore using MRT, but that doesn't mean that you don't have additional questions. We always encourage our readers to send us an email or comment for further clarification. Also, if you have some helpful 'insider' information that you would like to share by all means do so.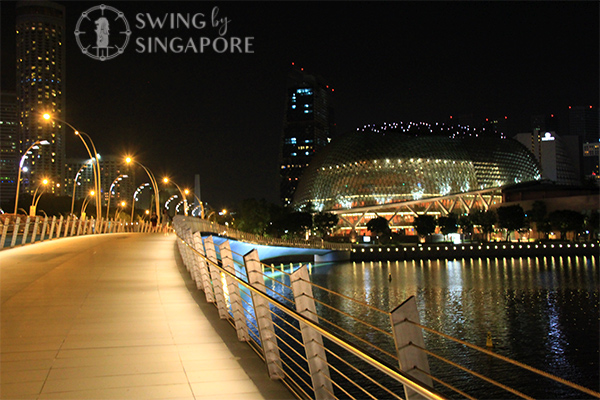 The Esplanade is an awesome arts centre. We strongly suggest that you have a nice meal somewhere followed by a live show. After the show, you can walk around Marina Bay and capture breathtaking photos of Singapore's skyline.