Bringing your family to Singapore? This is the ultimate guide on where to bring your kids for an action-packed trip!
If you are wondering where to bring kids to Singapore, you have found the right article. We want to provide you with a detailed guide on the best places to bring kids to Singapore so that you can enjoy the best trip possible. Fortunately, there are no shortage of attractions and activities to visit. After visiting all of the countries in Southeast Asia, we think it's safe to say that Singapore is the premier family destination. 
Singapore is loaded with family-friendly hotels that are ideal for international guests and local staycations. The MRT network is extensive and it services most corners of the city. Consequently, you can book a room in a convenient location while saving time by avoiding traffic when getting from point A to point B. 
Family attractions in Singapore are scattered throughout the city. You can stay in many different areas of the city and still be within close proximity to some worthwhile activities and attractions. 
---
Selecting the Right Area to Stay with Children
Planning your family trip in Singapore begins with flight and accommodation booking, followed by itinerary planning. Budget decisions are important, especially in terms of where you decide to stay. 
Both Marina Bay and Sentosa Island are very popular areas for families. But these areas can be pricey for groups. The main benefit of staying in these areas is that you will be within walking distance to many family attractions. Avoiding unnecessary trips in vehicles or public transport will save you valuable time and money. 
Sentosa and Marina Bay are also serviced by public transport. For example, you can travel right from Changi Airport to Marina Bay, and access the area using multiple different MRT stations. Bayfront Station, for example, is the popular access point for Marina Bay Sands Hotel, Shoppes at Marina Bay Sands and Gardens by the Bay.
Arguably the best place to stay for families in Singapore is Sentosa Island. Since there are numerous family attractions, beaches, and family-friendly resorts, it is convenient and practical. It is serviced by bus services and the Sentosa Express rail line which can be accessed within 2 minutes of the nearest MRT Station (HarbourFront Station). 
---
Cheaper Accommodation Options
If Marina Bay and Sentosa are simply too expensive for your family budget, then consider staying in Chinatown, Little India, Clarke Quay or Kampong Glam.
These areas are also conveniently serviced by Singapore's MRT. Expect smaller rooms and fewer facilities for your kids to use, but for a lot of families, these are not major concerns. Active, 'sightseeing' families usually are so busy that they often spend most of their day outside. 
Also, keep in mind these areas are also cheaper for dining out. When you are deciding where to bring your kids in Singapore, these are affordable places to grab a quick meal. Small streetside hawker stalls are popular, but always consider what is safe for your children to eat, especially if you haven't travelled much throughout Southeast Asia. 
Read More: Singapore Accommodation Guide – Find the Best Area to Stay
---
Sentosa Island – Family Paradise in Singapore
Sentosa is one of the best places to bring kids in Singapore. Period. The main reason for this is that Sentosa Island is loaded with family attractions that suit the interests of a lot of different travellers. For example, if your children like swimming and playing on the beach, Sentosa island has three very popular beaches along its southern shoreline:
Palawan Beach

Siloso Beach 

Tanjong Beach 
You can enjoy some beach volleyball, bring along a frisbee or swim. Fortunately, there are also beachside restaurants and cafes to keep you and your children well-nourished and hydrated. 
Some of the big-ticket attractions on Sentosa Island include Resorts World, Universal Studios, iFly Singapore, Skyline Luge and Adventure Cove Waterpark. But, there are tons of other attractions to experience.
Due to the high demand for families to stay on Sentosa Island, there are some excellent resorts here that are ranked among the best in the city. Capella Singapore, for example, receives exceptional reviews from verified guests. Some of the most family-friendly places to stay on Sentosa include:
Shangri-La's Rasa Sentosa Resort & Spa, Singapore
Siloso Beach Resort
Equarius Hotel 
---
Getting Around Sentosa 
As mentioned before, you can access Sentosa Island by using the Sentosa Express train line or some of the public buses. There are also beach shuttles along the southern shoreline that are free of charge to use. 
You can take the Sentosa Express onto the island to the nearest station to the attraction you are visiting. Once you arrive, then walk, or take the shuttle to your point of interest. Sentosa is organized very well, with clear signs to point you and your family in the right direction. 
---
Selecting the Right Attractions on Sentosa
One of the most challenging decisions that you will make while visiting Sentosa island is where to bring your kids? Sentosa is unique in that unless you stay there for a week, you will have a hard time seeing everything. There is simply too much to do over a 3 day period. 
It makes sense for a lot of families visiting Singapore to get tickets to Universal Studios. But, this will take a full day for most people. The beaches are free to use and a great way to save cash while in Singapore. Attractions such as Skyline Luge and AJ Hackett Sentosa and iFly are adrenaline pumping, but possibly pricey for many families on a budget. 
The main considerations to make are:
Where should you stay and why?
What is your family travel budget for Singapore, and how much is too much for accommodation?
What attractions will you and your kids enjoy the most?
How far should you be from public transportation?
Once you answer all of these questions, then draft up an itinerary that corresponds to your time in Singapore. Then, you will know where to bring kids in Singapore without too many complications.  
---
Marina Bay – Epic Skyline Views and Family Fun
If you are still wondering where to bring kids in Singapore, look no further than Marina Bay. No trip is complete to Singapore without a visit to Marina Bay. Period. 
The benefit of bringing children to Marina Bay is that there are attractions that cater to all age categories. Both young kids and teenagers will have no shortage of things to check out here. 
Getting to Marina Bay with your Family
Accessing the Marina Bay area with your kids is super easy. A lot of families get to Marina Bay using MRT, or a taxi. Taking a taxi is straightforward. Simply ask the driver where you want to get dropped off and you should be there in no time. If you have 3 or 4 people travelling around Singapore, it can make sense to get a taxi from both a cost and efficiency perspective. It can be challenging getting on the MRT if you are with small children (just think about bags, strollers, etc.). 
Nonetheless, it's still possible to access Marina Bay using multiple MRT stations as well. Here is a list of some of the most popular MRT Stations for getting to Marina Bay with children:
Bayfront Station

Raffles Place Station

Downtown Station

Promenade Station
You can get to any one of these stations from Changi Airport. Singapore has multiple MRT lines so getting to Marina Bay is actually really easy. You might have to research what the best station is according to your itinerary, but it should be really easy!
Once you are in Marina Bay, it's common to see tourists walking from one attraction to the next. It is common to see baby strollers here, but it is best to avoid the peak afternoon hours if possible. Bring along an umbrella, water and a stroller with a cover if you are travelling with small children around Marina Bay. 
Selecting the Best Attractions for Kids at Marina Bay
Where should you bring your kids while in Marina Bay? Well, it really depends on your budget and how old they are. 
If your kids are above 10 years old they probably wouldn't mind checking out some spectacular skyline views. In this case, head to Singapore Flyer and Sands SkyPark!
Singapore Flyer is best described as one of the world's largest observation wheels. It first opened in 2008 and ever since it has been providing visitors with breathtaking views of Marina Bay and the surrounding skyline. If you are travelling with kids, ask them whether they would like to get 'day time' or 'night time' views of the city, or both! You can easily walk to Singapore Flyer from Bayfront Station or Promenade Station. 
Sands Skypark has become world-famous for the best photo opportunities of Singapore's skyline. It is perched at the top of Marina Bay Sands Hotel which is prominently located directly southeast of the business district. Go to the main lobby and take the elevator up to capture these awesome views. The best MRT station to go to is Bayfront if you are visiting the SkyPark with your kids. 
Also, take note that if you are staying at Marina Bay Sands hotel you can get amazing skyline views for free at the pool area. Therefore, when you are picking where to bring your kids in Singapore, staying here reduces the costs associated with this attraction. 
---
Gardens by the Bay – Truly worth a visit!
Your kids will also enjoy visiting Gardens by the Bay and all the attractions in this area of Singapore. A few of the major attractions here include:
Cloud Forest
Flower Dome
Supertree Grove
OCBC Skyway
All of these are children-friendly places, but again, it depends on the age of your kids. Cloud forest and Flower Dome are both enclosed inside so you might find them better places to visit during the hottest hours of the day. 
Supertree Grove is an amazing place to explore and it features impressive, colourful lighting during the evening hours. 
If you walk farther southeast, you will reach Marina Barrage. This is an interesting recreational area that is an ideal place to bring your kids in Singapore. You can kayak here and visit the water playground, and the impressive green roof. Travel even further east to explore Marina East Park with your kids. Bring along your stroller, some sunscreen and be prepared for a great day in the Marina Bay area!
---
Travel North to Some Excellent Family Attractions 
If Sentosa and Marina Bay don't have you satisfied, then bring your kids further north to experience some of Singapore's best family attractions. Singapore Zoo is one of the best places to visit. It has received countless awards over the years. Again, expect a very family-friendly environment and fun for all age groups. 
Also, consider visiting at night to experience the Singapore Night Safari. The Safari is immensely popular with families in the city and for good reason! Singapore River Cruise is also located in this area of Singapore. 
If you are planning on going to any of these attractions you have to make sure that you have your transportation sorted. It is possible to take MRT to the Zoo area, but there are also a lot of bus options available as well. 
Treetop Walk and Singapore Botanic Gardens are other places you can bring your kids. Older kids may like checking out the plants, whereas younger kids may enjoy the fresh air while they nap!
---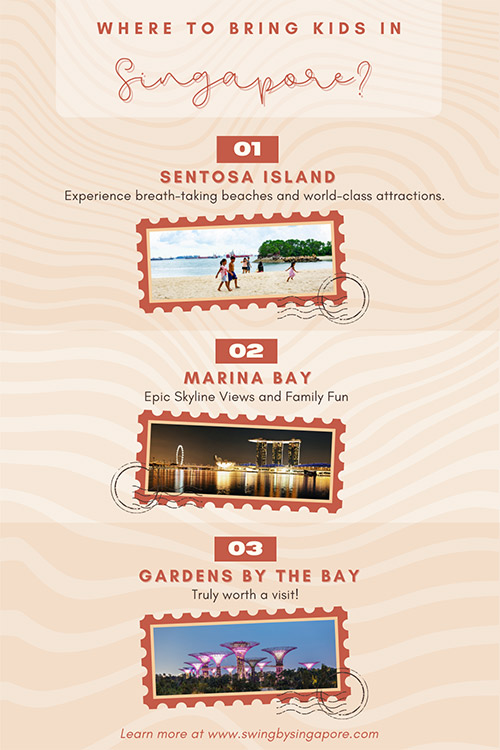 ---
Plan Early
If you are travelling to Singapore with kids, the number one rule is to plan early! Planning transportation, accommodation, budget and your itinerary will make it much easier to have a stress-free family trip here. 
'Where to bring kids in Singapore' is a daunting question because there are simply so many things to see and do. We have really only listed a small number of things to see and do. In reality, there are tons more! Also, consider exploring museums and even catching live shows in the city. Sentosa, for example, often has nightly shows for families. 
Making the simple decision of having a buffet breakfast every morning can literally save you hundreds of dollars over the course of a few days. Meals out are pricey and so too are entrance tickets. Consider making a detailed itinerary and budget before you arrive so that you can spend time at places that are within your budget that your kids will love.