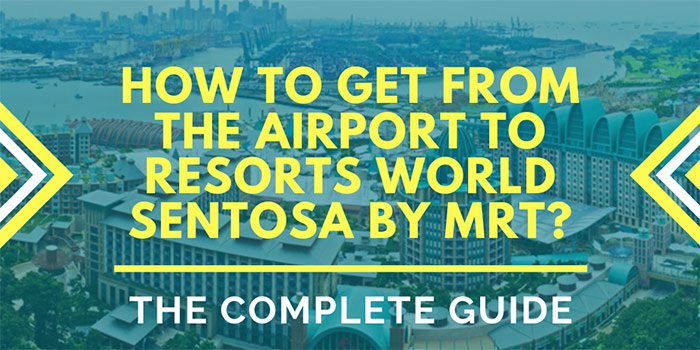 Want to get from the airport to Resorts World Sentosa by MRT? Welcome to the complete guide on how to use Singapore's MRT system to make it all the way from Changi to Sentosa Island, and eventually to Resorts World. The information presented in this article is based on our own personal travel experience in Singapore. Therefore, we hope that it is useful and makes your trip to this beautiful city more convenient and affordable. 
When you first land in Singapore you will be relieved to hear that the MRT is physically connected to the airport. This allows you to utilize the MRT right after you land and eliminates the need for you to purchase an expensive taxi ride all the way to Sentosa Island and Resorts World. Because of Singapore's extensive MRT network you can actually avoid stepping foot in a single vehicle the entire time you are in the city.
---
Why is Resorts World Sentosa a popular venue in Singapore?
If you are not too familiar with Sentosa island and Resorts World Sentosa then you will be delighted to hear that this is a big-time attraction in Singapore. One of the main reasons why it is so popular is that it caters to a wide range of visitors. As its name suggests, Resorts World Sentosa is a large complex that consists of various attractions. And, by attractions, we mean 'big time' attractions. 
Resorts World Sentosa is home to Universal Studios Singapore, S.E.A. Aquarium, Adventure Cove Waterpark and Dolphin Island, and casino. These are just some of the major things to see and do here. As you can see there are a lot of options for families, consequently, this is one of Singapore's most famous places for kids visiting the city.
You will be happy to hear that Resorts World has tons of accommodation choices as well. At the time of writing there were 8 different properties to choose from:
Beach villas
Crockfords Tower
Aquarius hotel
Festive Hotel
Hard Rock Hotel Singapore
Hotel Michael
Ocean Suites 
TreeTop Lofts
Obviously, when you have this many different hotels and accommodation options you also have a lot of different restaurants to choose from as well.  
Resorts World Sentosa is one of the best family attractions in the entire city. Also keep in mind that there are multiple different packages that you can purchase as well through their website that consists of daily passes to some of the previously mentioned theme parks with hotel stays and breakfast included.
Since Resorts World Sentosa is actually physically located on Sentosa island you are also in close proximity to multiple beaches, golf courses and other family attractions on the island as well. One of the added benefits of visiting this island near Singapore is downtown is that it is extremely accessible using public transportation options.
---
Getting to Resorts World Sentosa from the Airport
Step 1: Go to Changi Station at the airport 
Landing at Changi International Airport in Singapore is very similar to any other airport around the world. You will first have to pass through immigration, collect your luggage and then clear customs.
When you are ready to access the MRT system from the airport all you need to do is follow the airport signs or ask airport personnel where Changi Station is. 
Changi station will be your first entry point into the MRT Network in Singapore.
Before you can take the MRT to Resorts World Sentosa you are going to have to figure out what kind of ticket you want to use for this trip. There are three main ticket options for the MRT in Singapore:
Buy a single journey trip ticket using a ticketing machine, or…

Buy and load up a stored value card 

Purchase a Singapore Tourist Pass
The type of card that you used for this trip really depends on your personal circumstances while you were in the city. For example, if you choose to use a single Journey trip ticket this is your conventional type of ticket for riding train. You will have to wait in line potentially at the ticketing machine and select your Terminal Station.  The benefit of using this type of ticket is that you are not obligated to use the MRT throat your entire trip. However, the cost per trip is more than the other two options.
Staying for a few days?
If you are visiting Singapore only for a few days as a tourist then you might want to consider getting a Singapore Tourist Pass.  This is a card that allows you to use the MRT and bus networks throughout the city for an unlimited number of trips for a set period of days.  If you are a busy traveler that plans on moving around the city a lot this is by far going to be the best option for you.
Staying for a while?
The third option is getting a stored-value card. This is technically a Top-Up card that you buy up front and then use throughout your time in the city. In this case you are not pressured to use it for multiple trips per day  and each trip is also cheaper with this card then single journey tickets.  These cards are very popular with tourists and also Singaporeans and expats living in the city. Keep in mind that you will not have to stand in line every time you want to purchase tickets because you have a cash balance running on these cards. When we first figured out how to get from the airport to Resorts World Sentosa by MRT we used an ez-link card. This is one form of a stored value card that is available at ticketing offices.
---
Step 2: Purchase your MRT Ticket to HarbourFront Station
After you have decided what kind of tickets you are going to use, you will have to purchase a ticket to HarbourFront Station.
This is the station that you will eventually reach on the way to Resorts World Sentosa.
---
Step 3: Take the MRT East-West Line to Tanah Merah Station
Take the train from Changi two stations west to Tanah Merah MRT Station. 
Tanah Merah is the second station on the East-West Line. The first station is Expo Station. 
Alight at Tanah Merah. 
---
Step 4: Ride the MRT along East-West Line to Outram Park and transfer lines.
Stay on the westbound train for 12 stops until you reach Outram Park Station. In case you are wondering, the preceding station to Outram Park is Tanjong Pagar.
Fortunately, when you are riding the MRT in Singapore you can expect to hear verbal announcements that remind you of upcoming stations on the line. After you pass Tanjong Pagar make sure that you work your way closer to one of the exits on the train with your luggage. 
When the train stops at Outram Park, get off and start transferring. 
---
Step 5: Transfer at Outram Park from the East West Line to the North East Line.
HarbourFront Station is located on the North East Line (represented in purple colour on the train map) and not the East West Line (represented in green colour on the train map). Consequently, while at Outram Park Station you will have to transfer lines. 
Just follow the signs in the station and this should only take you a few minutes. 
---
Step 6: Ride MRT to HarbourFront, exit and walk to Sentosa Express Monorail Station.
Take the North East line one station southwest to HarbourFront. HarbourFront Station is where you will exit Singapore's MRT system.
Use Exit E to get out of HarbourFront Station. Enter VivoCity shopping mall and follow the signs to the third floor. This is where you will find Sentosa Express Monorail Station. 
*** Note: You could, alternatively, take a shuttle bus or walk to Resorts World Sentosa from HarbourFront Station. The choice is really up to you. But since you are coming from the airport, you might not want to walk with all your luggage.
---
Step 7: Buy a ticket for Sentosa Express train to Resorts World Station
The last step in getting to Resorts World Sentosa from the airport is paying for your Sentosa Express train ticket to Resorts World Station. Prior to April 1st, 2019 this station was called 'Waterfront Station'. You can do this in the ticketing office in VivoCity Mall. 
---
Step 8: Get off the train and walk to Resorts World Sentosa
Get on the train and enjoy the short ride! Once you arrive at the station follow the clear signs and walk to Resorts World Sentosa.
---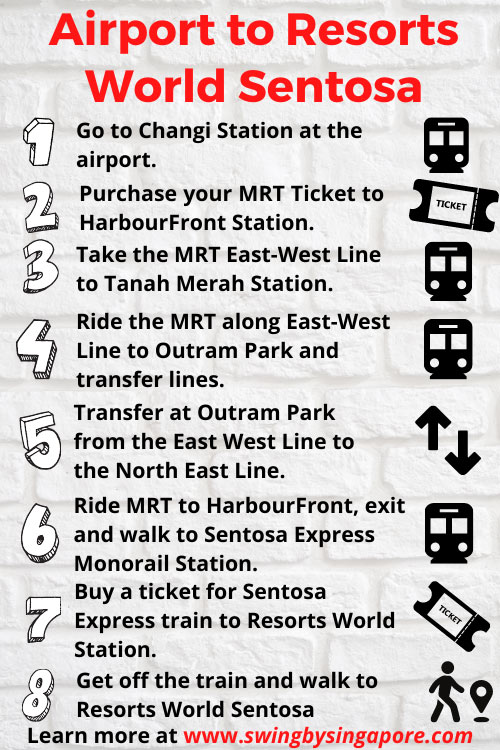 ---
$$$ How much does it cost to get from Changi Airport to Resorts World Sentosa by train?
Section 1
Changi Station to HarbourFront Station
The price to reach Resorts World Sentosa from Changi Airport will vary depending on your age and status. Needless to say, not all people will pay the exact same amount for this trip.
A stored value card trip from Changi to HarbourFront will cost $1.98 for adults. 
Children and students have to pay $0.63. Senior citizens and disabled travellers will pay $0.92. You can expect these prices to change over time because they are quoted at the time of writing. 
You will pay much more for a single journey ticket for this trip. The price is $2.80 from a ticketing machine for a standard ticket to reach HarbourFront from the airport.
Section 2
Sentosa Express Monorail Station to Resorts World Station
Once you enter Sentosa Express Monorail Station the prices become much higher than the standard MRT fares based on the short distance that you will be travelling. Relevant prices are listed below:
Adults: S$4
Selected TransitLink concession card holders (Senior citizens, persons with disabilities, workfare transport concession card holders and for primary, secondary, junior college and ITE student concession card holders): S$2
Children under 3 years old: Free Admission
***Take note that once you pay the entry price then all other trips using the Sentosa Express train are free of charge for the day.
---
How long should it take to travel from Changi Airport to Resorts World Sentosa?
If you are planning on taking the MRT and then the Sentosa Express all the way to Resorts World Sentosa then we need to add up both sections of this trip to get the total approximate time.
First of all, the MRT ride from Changi Airport to HarbourFront should take you about 58 minutes. Afterwards, the short trip from Sentosa Express Monorail Station to Resorts World Station should take around 20 minutes (this includes walking from the MRT, buying a ticket and then riding the train). 
You can expect the ride from the airport to Resorts World Sentosa to take about 1 hour and 20 minutes. Keep in mind that this is just an approximation and this could change if trains are busy and lots of people are heading to Sentosa. 
---
Where should you stay at Resorts World Sentosa?
As mentioned before there is no shortage of accommodation options within the actual Resorts World complex on Sentosa Island.  However, there is no pressure to actually stay at the resort if you only want to visit some of the theme parks that are there.  There are also a variety of hotels that are actually outside Resorts World that are on Sentosa Island and many of them receive very high review scores from guests. 
In most cases, where you plan on staying depends a lot on your budget and whether or not you were traveling with children during this trip to Singapore.  As you might already know accommodation options in Singapore are very expensive relative to other countries in Southeast Asia. Therefore, you might be better off staying away from Sentosa island if you want to save some cash. However, if you are traveling with children then it might be way more convenient to actually stay right at Resorts World where you can access daily theme parks without navigating the MRT and taking buses every day.
Best options if you are travelling with children
If you are traveling with children the two hotels listed below offer some of the best value on Sentosa Island: 
Resorts World Sentosa Festive Hotel

(5-star, rated 7.5/10)

Siloso Beach Resort Sentosa

(4-star, rated 7.5/10)
The first choice listed above is physically located right within Resorts World which is very convenient. 
Best luxury options
If you do have the cash and budget for better, more luxurious options on Sentosa Island then you might want to try one of the properties listed below:
Capella Singapore

(5-star, rated 9/10)

Capella The Club Residences Singapore

(5-star, rated 8.8/10)

The Outpost Hotel Sentosa by Far East Hospitality

(5-star, rated 8.9/10)

W Singapore – Sentosa Cove

(5-star, rated 8.7/10)
The ratings that are listed above are based on guest reviews from leading online websites at the time of writing. Notice how all of their scores are rated above 8.7 out of 10. This suggests that these properties are well managed and positively reviewed by most guests.
***Also take note that we don't have a direct partnership with any of the properties listed above. Ratings are based on leading accommodation websites at the time of writing and therefore subject to change over time. 
---
Any more questions about your trip from the airport to Resorts World Sentosa?
We have tried our best to outline the steps on how to get from the airport to Resorts World Sentosa by MRT. If we have missed some information that you would like please send us an email or a comment. 
After you've explored Resorts World Sentosa keep in mind that there are a lot of other attractions to explore on Sentosa Island. The beaches along the southern shoreline are particularly nice to spend an afternoon or two.   Sentosa island is one of the most developed islands in all of Asia in terms of tourism and things to do.  Whether you enjoy playing golf, beach volleyball, or swimming it really doesn't matter.  There is a surplus of activities to choose from which can be the challenging thing when you're visiting an island like this. 
Our suggestion is to book your hotel and plan well in advance. Create a Sentosa itinerary so that you visit things that you are interested in without getting overwhelmed by all the choices you have!