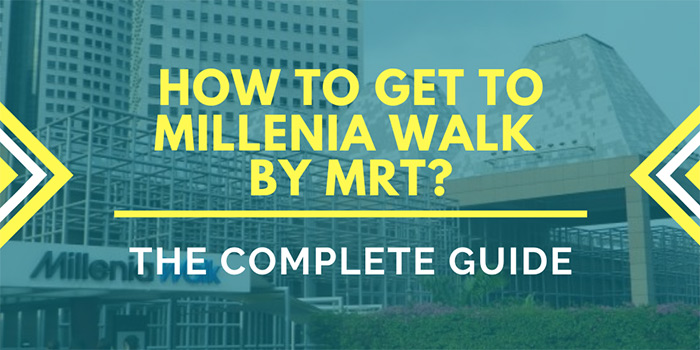 Welcome to the complete step-by-step guide on how to get to Millenia walk by MRT. We've written this article in order to make your trip to this popular shopping center in Singapore faster, smarter, and easier. 
Regardless of whether you are a Singaporean or visitor to the same city try to maximize the use of the MRT network to get around.  Millenia Walk is very well connected to the MRT and is surrounded by several of the best hotels in all of Singapore.
The Marina Bay Area is a must see for all visitors.
Once you are in this area, you can visit several of Singapore's top attractions with a multi-attraction pass (saving time and lots of money).
We hope to clearly outline the steps on getting to Millenia walk without stepping foot in a vehicle the entire time.
---
Why should you visit Millenia Walk in Singapore?
Millenia Walk is a popular shopping mall that is located in the picturesque Marina Bay area of Singapore. It is quite famous in the city for having the flagship Harvey Norman store which specializes in electrical and electronics, IT and furniture.
You can also find a wide selection of designer boutique shops that sell unique products. If you like "popular home-grown labels", then this is the perfect place to select some well-crafted items that won't be found at major brand stores. 
Also, try to enjoy the 280-metre-long private street. This is an innovative spot and Singapore's only "Park and Dine" concept. The dining options here include impressive international and local choices.
Millenia Walk is part of a development that consists of office towers and luxury hotels. 
The Ritz-Carlton, Millenia Singapore and the Conrad Centennial Singapore are the two hotels, whereas the towers are Millenia Tower and Centennial Tower. 
Since Millenia walk is only a few minutes from Marina Bay you will have direct access to very popular attractions such as:
Merlion
Singapore Flyer (Buy Tickets)
Gardens by the Bay
Sands SkyPark (Buy Tickets)
All of these attractions are directly accessible by MRT similar to Millenia Walk.
We will now provide you with a complete overview of getting to Millenia walk using the MRT. 
---
Getting to Millenia Walk using the MRT
Step 1: Stay close to an MRT station.
The first step in getting to Millenia walk is booking a room close to an MRT station.  This sets the stage for saving money throughout your trip and also saving serious time.
Unlike many other cities in Southeast Asia, Singapore has an extensive MRT Network that can get you to almost every corner of the city. This includes getting directly to Millenia Walk.
Fortunately, hotel developers have built many hotels within 1 or 2 minutes of stations throughout the city.  This makes it easy for you to select the property that is convenient yet affordable. 
---
Step 2: Plan on going to Promenade Station.
Millenia walk can be accessed by three different MRT stations, however, the most convenient one is Promenade Station. 
Promenade Station is located on the Downtown Line (Blue) and the Circle Line (Orange). Take a look at the train map of Singapore if you want to see where you are staying relative to Millenia Walk. 
---
Step 3: Buy your MRT ticket for Millenia Walk
Currently, there are two main ways to travel on Singapore's MRT. We have summarized them below for your convenience: 
Buying a stored-value card that can be used for multiple trips

Buy a Singapore Tourist Pass 
You can read this comprehensive guide on how to buy MRT tickets in Singapore for additional information about each choice.
If you are staying over 3 days then you might want to consider a Singapore Tourist Pass. These allow you to use the MRT and bus network an unlimited number of times in a given time period. 
You can learn more about buying the Singapore Tourist Passes by reading this comprehensive article.  It highlights the pros and cons of each type of Tourist Pass and whether or not they suit your own personal preferences.
We highly recommend buying an Attraction Pass for Singapore to go along with the Tourist Pass (already over 200,000 purchased). The idea is simple. Buying multiple passes in bulk will save you lots of money and time. Since most attractions are beside stations, you can access them via MRT without the need to get a private vehicle.
Stored value cards are probably the best option if you are staying in Singapore for an extended period of time.  Most Singaporeans and long-term guests use these cards.
Regardless of what kind of ticket you plan on using, your next step is to make sure that you are going to Promenade Station.
***Take note that you can also get to Millenia Walk by going to Esplanade Station, or City Hall Station, but the walk is farther. The most convenient station is Promenade.
---
Step 4: Ride the train to Promenade Station.
After you have entered the MRT Network get on the train and make sure you navigate your way to Promenade Station.
While on the train you can expect to hear verbal announcements. These are designed to make sure that you know what the next station is coming up. This can help you to avoid forgetting to get off at Promenade. Similarly, there are signs above the exit doors on the trains that highlight where you are.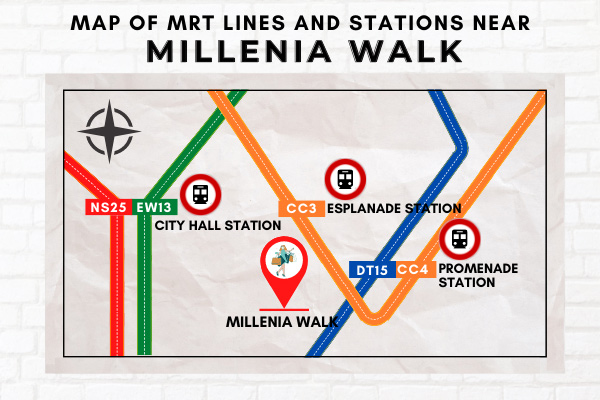 ---
Step 5: Get off Promenade and walk to Millenia Walk
Alight at Promenade. Then exit Promenade Station by taking Exit A. 
Just follow the signs and you should be in Millenia Walk in no time.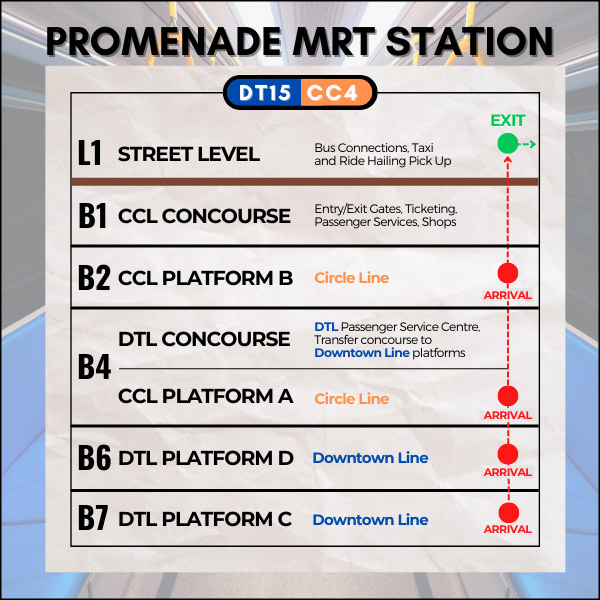 You can expect the walk from Promenade Station to Millenia Walk to take only 1 minute.
Remember, it is technically possible to get off at City Hall station or at Esplanade station to reach Millenia walk. But, expect to walk farther!
The walk from City Hall Station to Millenia walk is 900 minutes which will take you about 12 minutes. 
Esplanade Station is closer. Expect the walk from Esplanade Station to Millenia walk to take about 6 minutes (450 meters).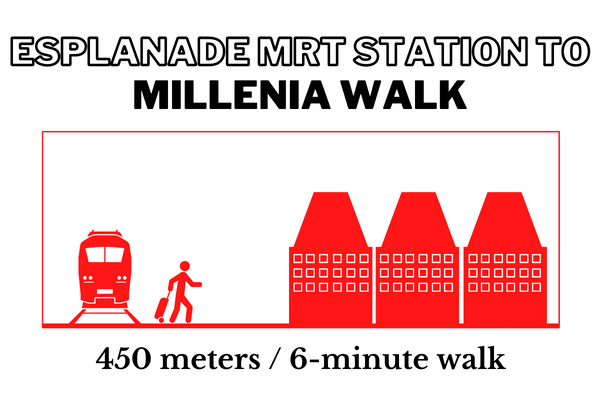 ---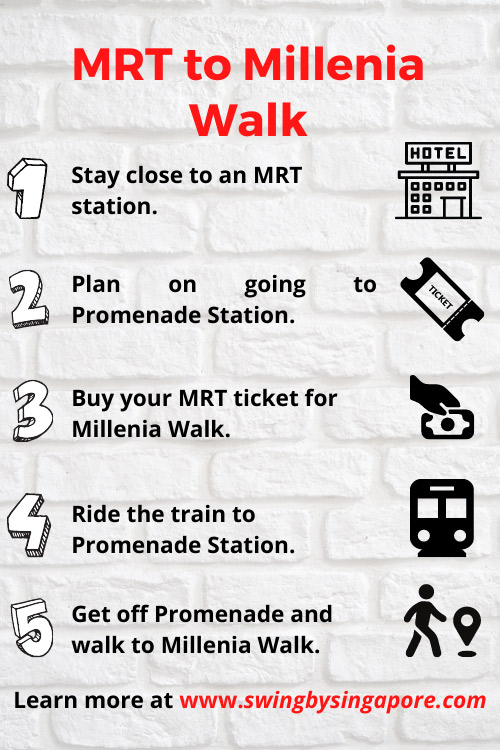 ---
Should you stay near Millenia Walk?
It comes as no surprise that Millennial Walk is in a prime area of Singapore. This means that it is only a few minutes away from Marina Bay. This is one of the most popular areas for sightseeing because of the major attractions and Singapore's amazing skyline.
Fortunately, there are a lot of high-end properties in this area that you can choose from. Actually, some of Singapore's best hotels are within a five-minute walk or less of Millenia walk.  This makes it an excellent area for staying if you do have the budget.
The catch, of course, is that the properties around Millenia Walk are rather expensive. They are, however, extremely well-managed and receive excellent reviews from guests.
We strongly recommend staying in this area of Singapore if you can afford it. You will have an unforgettable experience walking around Marina Bay.  This is one of the best areas in all of Singapore for taking photos.
Best choices near Millenia Walk in Singapore
We have compiled a list of some of the top-rated properties near Millenia Walk.  As you can see below we have included the hotel name, the star rating and the review score from leading websites.  The review score values are based on leading accommodation websites at the time of writing.
The Fullerton Hotel Singapore (5-star, 9.1/10 rating)
Marina Bay Sands (5-star, 9/10 rating) 
Mandarin Oriental Singapore (5-star, 8.9/10 rating)
Pan Pacific Singapore (5-star, 9/10 rating)
Conrad Centennial Singapore (5-star, 9/10 rating)
The Ritz-Carlton Millenia Singapore (5-star, 9.2/10 rating)
All of these properties receive review scores around 9/10. This suggests that most guests are extremely satisfied with the service standards at these properties. Please take note that we are only providing these hotels to assist you with your stay in Singapore. We are not a direct partner of these properties and therefore we are only providing general information about them.
Cheaper hotel options?
Many tourists simply cannot afford to stay in Marina Bay.  Most of the properties here are in the five-star category and are considered luxury hotels. If you are on a strict budget while you are in Singapore, we suggest that you should stay in a different area.
Then, you can save hundreds of dollars per night on accommodation and simply use the steps outlined in this article to get to Millenia Walk. We have stayed all over Singapore. Some areas that we would recommend include Chinatown and Clarke Quay.
Both of these areas have a wide selection of boutique hotels and hostels. Consequently, they are very popular with backpackers and budget tourists checking out attractions in Singapore.
---
More questions about getting to Millenia Walk?
Millenia Walk is an interesting mall in Singapore. During our first few times in Marina Bay we actually never realize that there are other shopping centers within walking distance of it.
You can shop at Millenia Walk and then easily go to Suntec City, Marina Square, and One Raffles Place. Naturally, this opens up all kinds of itinerary ideas. 
And let's not forget about the amazing attractions around Marina Bay as well.  Needless to say, you can occupy a complete full day around this area of Singapore. We suggest that you bring along a camera to make sure that you can capture amazing photos of Singapore's skyline. 
A popular place to do this is at the top of the Marina Bay Sands Hotel.
The Sands Skypark (Directions) is one of the most famous places in the entire city for capturing breathtaking photos. Simply head to the hotel lobby and take the elevator up! 
You might want to do some shopping at malls such as Millenia Walk, followed by some sightseeing. Then finish your day off with a romantic dinner and then a show at the Esplanade or Sands Theatre. 
We truly hope that this step-by-step guide on how to get to Millennium Park by MRT has been descriptive enough for you.  If for some reason you require additional information please feel free to send us an email anytime.  Be sure to have a great time shopping at this mall in Singapore and don't forget to write to us about your experience!