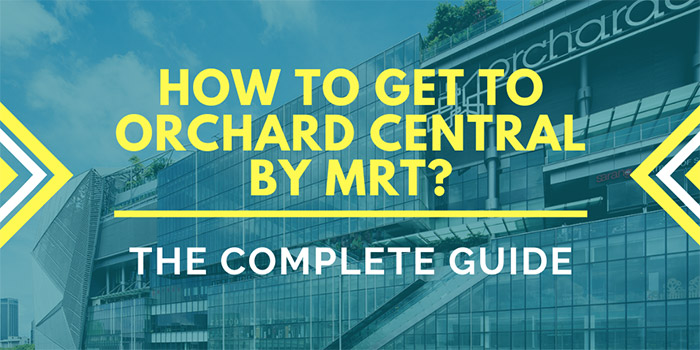 Welcome to the complete guide on how to get to Orchard Central by MRT. Located right in the heart of the Orchard shopping district, this is a popular mall with both tourists and locals.  We have visited the malls along Orchard Road on multiple occasions using the MRT.
In this article, we will outline the specific steps required to get to Orchard Central. Our goal here is to save you time and money.  You can save money by booking a room near a station and then using the MRT to avoid unnecessary taxi fees and private vehicle expenses. Also, by taking the MRT to this mall you can avoid paying for parking and looking for parking spots.  Furthermore, taking the MRT to Orchard Road allows you to bypass traffic jams especially during peak hours in Singapore.
We will also explain how to buy transport cards and attraction passes to ensure that you save as much as possible!
---
Why should you visit Orchard Central in Singapore?
As its name suggests, Orchard Central is located along Orchard Road – Singapore's premier shopping district. According to its official website, Orchard Central is designed to "bring about a fresh and distinctive new retail experience for sophisticated urban shoppers". 
Orchard Central was designed to be Singapore's first vertical mall.  In total it has 12 floors above ground in addition to two basement floors. It has a total of 52 escalators and 400 stores including the flagship store of Uniqlo in Singapore.
It is safe to say that this is a cutting edge shopping center that is open to trying out new ideas and concepts. For example, it has a "unique cluster concept" which means that complementary stores and services are located in the same area to maximize convenience for shoppers. 
When you visit Orchard Central be sure to check out the largest collection of public art installations by acclaimed international artists. It also features a Roof Garden and Discovery Walk that is open 24 hours a day, 7 days a week. 
Also, keep in mind that do to Orchard Central ideal location along Orchard Road you can easily visit other shopping malls during the exact same day. It is also located directly beside one of the best hotels in all of Orchard – Hotel Jen Orchardgateway Singapore by Shangri-La (5-star, 9/10 review score).
---
Getting to Orchard Central using the MRT
Step 1: Find a room beside an MRT Station.
If you are not staying along Orchard Road and it is essential that you find a convenient hotel near and MRT station. As mentioned before, the MRT Network in Singapore makes it really easy to get around. But it doesn't make sense to stay far away from the station because then you were going to have to get a taxi or private vehicle every time you want to get somewhere.
We suggest that you book a room that is only within 1 to 2 minutes from an MRT station.  This will allow you to access the station very easily even if it is super hot outside. In the afternoon, Singapore can get really, really hot. Therefore, you do not want to be walking all over the place in direct sunlight.
A few popular hotels beside stations include Marina Bay Sands (BayFront Station) and Fairmont Singapore (Esplanade Station). But these are just a few examples. There are actually tons of convenient hotels scattered throughout the city. 
---
Step 2: Plan on going to Somerset Station on the MRT.
To get to Orchard Central by MRT plan on making Somerset Station your terminal stop.  This is the most convenient station by far to access Orchard Central.
Somerset Station is located on the North-South Line. This is shown in red colour on the official train map of Singapore. 
---
Step 3: Get an MRT ticket/pass to reach Orchard Central
Once you have looked at the map of Singapore's MRT Network it is time to get your ticket sorted to reach Orchard Central. There are two main MRT ticket options in Singapore that you can choose from.
In general, Singapore Tourist Passes are the best option if you plan on seeing a lot of different things during a few days in the city. Stored value cards are the most popular option for long-term guests and Singaporeans. Single trip tickets are the best option if you just want to use the MRT once or twice while you are in the city.
When we were just figuring out how to get to Orchard Central by MRT we used an EZlink card. This is a form of stored-value card that you can top up with cash and then use for multiple rides on the MRT.
We highly recommend buying a Multiple Attraction Pass for Singapore. Once purchased, you can use it along with your Tourist Pass or stored-value card to save up to 52% off entrance fees to Singapore's best attractions. At the time of writing, over 200,000 passes have been already sold online.
---
Step 4: Take the MRT to Somerset Station.

 
If you purchased a stored-value card or a Singapore tourist pass all you need to do is just simply tap to enter the MRT network. Get on the train and navigate your way to Somerset Station. 
Keep in mind there are a few things that can help you along the way. For example, each station in Singapore will have Maps posted that show the different MRT lines available. This can get you on track in terms of finding the North-South Line and eventually Somerset station.
Once you were on the train you will also hear verbal announcement being made to inform you of the next station on the line.  If you are like most tourists you will be travelling from the south towards Orchard Central and Somerset Station. In this case, Dhoby Ghaut will be the preceding station to Somerset.
When you hear Dhoby Ghaut being announced, get closer to an exit because you will be getting off at the next station (Somerset).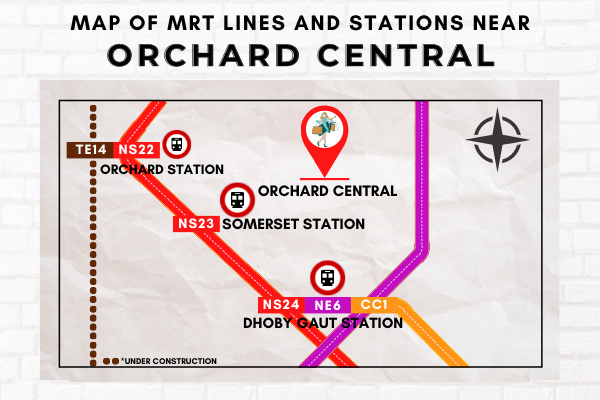 ---
Step 5: Get off at Somerset and walk to Orchard Central.
Get off the train at Somerset and simply tap to exit the MRT network. You can expect clear signs within Somerset Station. 
Next, it's time to select the right exit to reach Orchard Central. 
Take either Exit B or Exit D to reach Orchard Central from Somerset Station.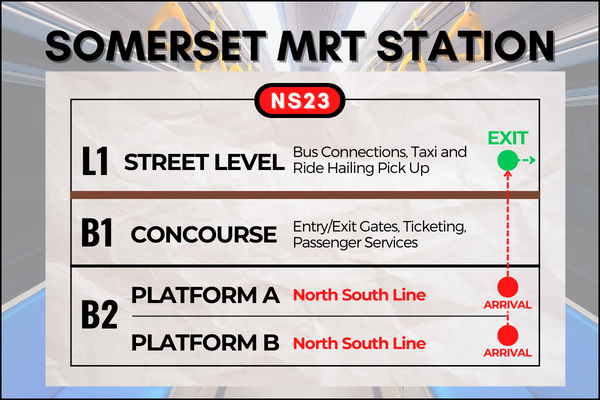 The walk is only 250 meters and this should take you only about 3-4 minutes.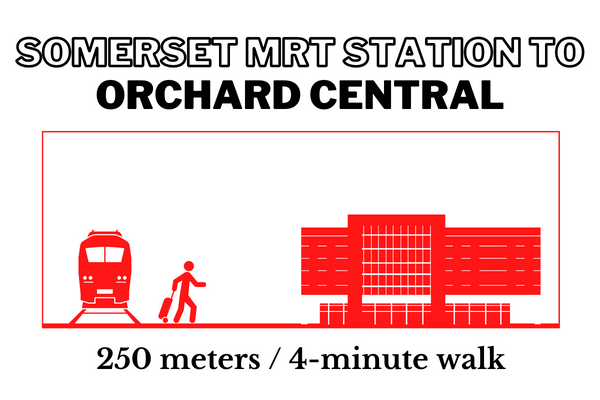 ---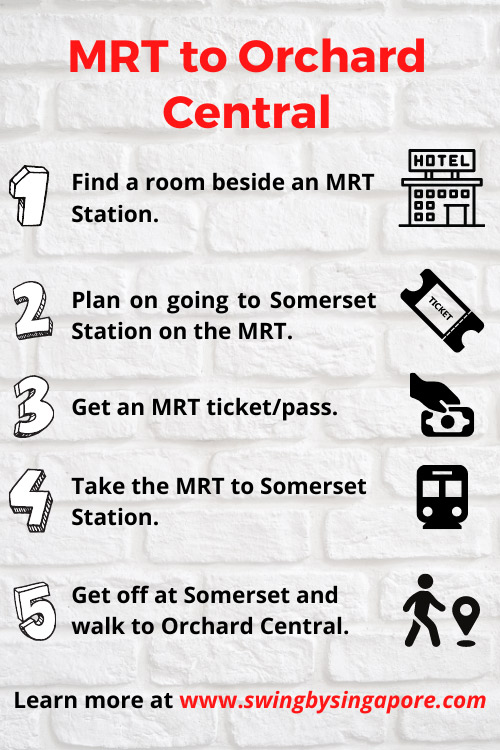 ---
Should you stay near Orchard Central?
If you are looking for accommodation then there are lots of excellent properties located along Orchard Road. Orchard Central is right in the middle of the main shopping district so it is a very convenient place to stay.
The best and most convenient place to stay within walking distance of Orchard Central is Hotel Jen Orchardgateway Singapore by Shangri-La (5-star, 9/10 review score).  
This is a very well-managed property and as you can see it receives very high review scores from verified guests.
In general, the hotels and condos around Orchard Road tend to be fairly expensive.  You do have to pay for convenience, unfortunately.  The benefit of staying in this area is obviously you have lots of shopping malls to choose from, but also lots of restaurants as well. It also doesn't hurt that staying near orchard Central means that you have direct access to the MRT throughout your entire trip to the city.
---
More questions about getting to Orchard Central Singapore?
We hope that this step-by-step guide on how to get to Orchard Central by MRT will save you time and money while you are in Singapore.  Please don't hesitate to send us an email if you do require additional information about this trip. We would be delighted to help you.
It is safe to say that Orchard Road is not Singapore's most famous sightseeing district. However, it is extremely famous for an extensive selection of shopping malls. You should plan on spending a day in this area if you want to buy a lot of stuff. Since there are so many malls to choose from, you can find everything from budget to luxury. 
Also, expect an extensive selection of dining options as well. Both international and local restaurants are all over the place throughout Orchard. Make the most of your time in this area of Singapore, and remember you are only a short MRT ride away from other attractions in Chinatown, Marina Bay and Little India.