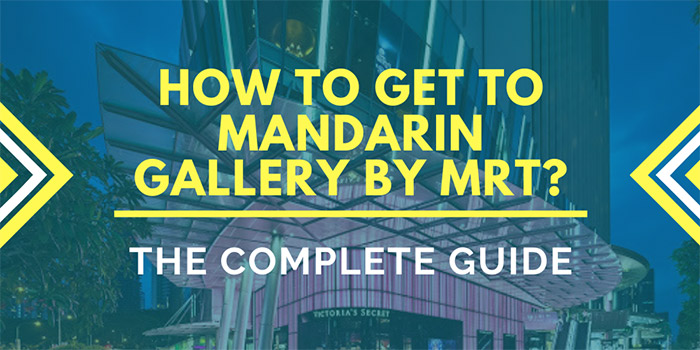 This is the complete guide on how to get to Mandarin Gallery by MRT.  Located right in the heart of Orchard Road, Mandarin Gallery is directly accessible by MRT. In this article, we will outline the step-by-step process of getting to this popular shopping centre using public transportation. 
Regardless of whether you are living in Singapore or planning a trip to the city, this information will save you time and money. Not only is Singapore's MRT Network efficient but it is also very affordable. Taking the MRT to Mandarin Gallery can save you money because you do not have to worry about getting a taxi or dealing with parking expenses. Parking at shopping malls takes a lot of time, costs money and is overall not a smart travel decision.
By following the steps outlined in this article you will be able to bypass traffic in Singapore as well.  Similar to other cities around the world, Singapore can get busy during peak times such as rush hour when people are going to and from work.  Avoid unnecessary stress and take the MRT!
---
Why should you visit Mandarin Gallery in Singapore?
Mandarin Gallery is located along Orchard Road which is regarded as the shopping mall district of the city. Orchard Road is immensely popular with shoppers, and Mandarin Gallery is one of many shopping centers in this area. 
When you visit Mandarin Gallery you will quickly notice that it specializes in high-quality boutique shops. Many affluent shoppers in the city like the selection of unique products here. Another impressive thing about Mandarin Gallery is that it has a healthy selection of delicious restaurants and cafes to choose from as well. Again, most of the choices are high-end, but the quality of food is excellent. 
Mandarin Gallery is located between Ngee Ann City and 313@Somerset – two popular shopping centers along Orchard Road. Directly behind Mandarin Gallery, you will find Mandarin Orchard Singapore (5-star, 8.4/10 review score). This is regarded as one of the best hotels along Orchard Road. 
---
Getting to Mandarin Gallery using the MRT
Step 1: Book a room beside an MRT Station.
The first step in developing a smart and cost-efficient itinerary for Singapore is carefully selecting your room location.  This begins by selecting a property that is very close to an MRT station.  This sets the stage for saving money throughout your entire trip while avoiding Singapore's traffic jams.
Although some people may be hesitant to rely on public transportation, Singapore has one of the best transportation networks in the world. It is clean, safe, affordable, and fast.
Book a room within 1 or 2 minutes of an MRT station.  That is our clear suggestion for visitors to the city. There are tons of hotels within walking distance of stations throughout Singapore. Once your room is booked you can get to the Mandarin Gallery and other points of interest in no time. 
A few popular hotels within walking distance of MRT Stations include:
Marina Bay Sands (5-star) (Bayfront Station)
Fairmont Singapore (5-star)(Esplanade Station)
---
Step 2: Plan your trip to Somerset Station.
The closest and most practical station to access Mandarin Gallery is Somerset Station. This should be your terminal stop. 
If you are not familiar with Singapore's MRT network, Somerset Station is located on the North-South Line. The official train map of Singapore shows the North-South Line with red colour. 
---
Step 3: Buy an MRT ticket to get to Mandarin Gallery
You will have the choice of three different types of tickets to get to Mandarin Gallery in Singapore:
Single trip tickets

Stored-value cards

Singapore Tourist Passes
Based on our experience travelling throughout Singapore, we would only recommend single trip tickets if you do not plan on using the MRT a lot.  Stored value cards, on the other hand, are the most popular option for people staying in the city for a long time.  When we first learnt how to get to Mandarin Gallery by MRT we used an EZlink card. It was quick getting into and out of each station.
If you are a busy traveller and you plan on seeing a lot of sites while you are in the city, then opt for a Singapore Tourist Pass.
We have written two comprehensive articles that outline how to 1) buy MRT tickets and 2) buy Singapore Tourist Passes. You can get all the details you want by reading them. 
---
Step 4: Travel on the MRT to Somerset Station.

 
Refer to the MRT maps that are posted in each station. This will help to guide you and inform you of any transfers you may have to make along the way to Mandarin Gallery. 
Most people travel from the south to reach Somerset Station.  This means that you will stop at Dhoby Ghaut Station right before Somerset. Listen for verbal announcements on the train. Once you hear Dhoby Ghaut being announced, move to an exit because within a minute or two you will be getting off of the train at Somerset. 
On your way to Mandarin Gallery, you can also refer to the exit signs above the doors on the trains.  The combination of the verbal announcements and exit signs should make it almost impossible to miss your stop.  But if you do, keep in mind that you can also get off at Orchard Station. The walk is just three or four minutes longer than getting off at Somerset.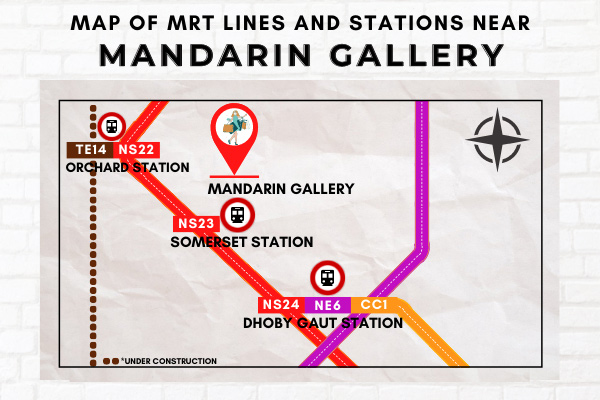 ---
Step 5: Alight at Somerset and walk over to Mandarin Gallery.
Tap your card to exit the MRT system at Somerset and bring along your belongings. Follow the signs in the station to the exits. Mandarin Gallery is located in the northwest direction of the station.
Take Exit B to reach Mandarin Gallery from Somerset Station.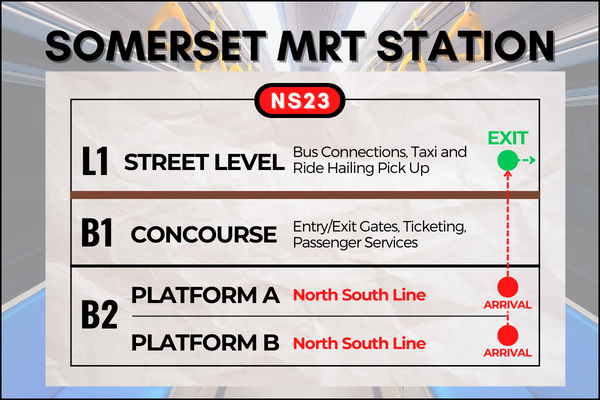 The walk is only 500 meters and this should take you only about 5 minutes.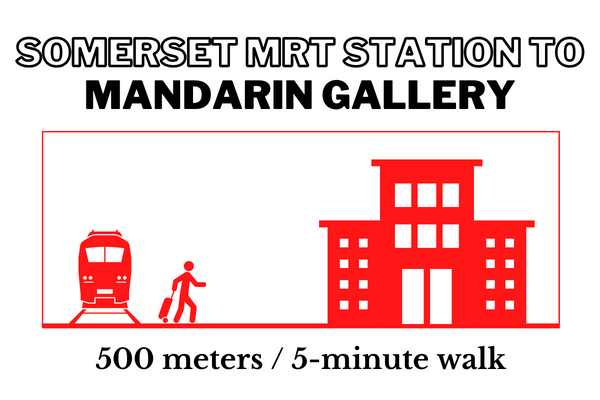 ---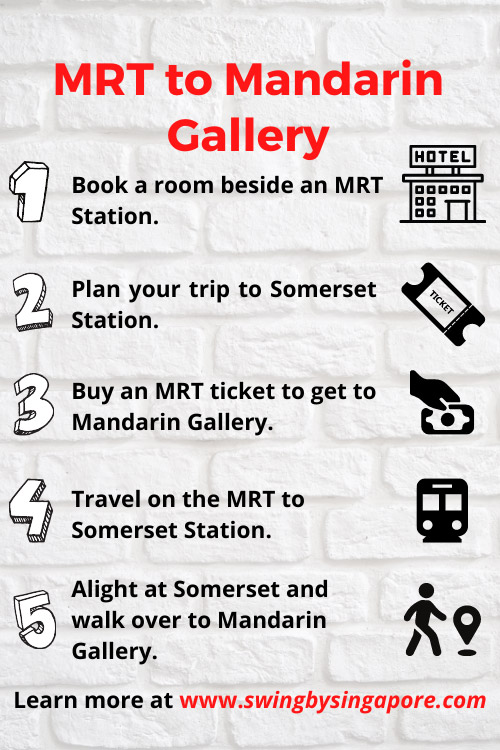 ---
Should you stay near Mandarin Gallery?
Mandarin Gallery, like the other malls along Orchard Road, is ideally located in Singapore's premier shopping district. This makes the direct vicinity around this mall an ideal place to stay if you are interested in shopping and eating out a lot.  You can simply walk from one mall to the next and sample a whole surplus of different restaurant options. 
Most of the properties along Orchard Road near the Mandarin Gallery are in the four or five-star category.  This makes it a very popular place to stay for affluent visitors to the city.  The boutique shops along Orchard Road also cater to an upper-class crowd.
Popular Options
By far the most convenient place to stay relative to the Mandarin gallery is Mandarin Orchard Singapore. This property receives positive reviews from guests (8.4/10) and is classified as a 5-star property. It is directly behind the mall. You can also find a few other properties directly across from the Mandarin Gallery on the other side of Orchard Road. These properties include:
Holiday Inn Express Singapore Orchard Road (3-star, 8.6/10 review score)
Grand Park Orchard (5-star, 8.3/10 review score)
Please take note that we are not direct partners of any of these properties listed above. We are providing them for your convenience. The review score is listed are based at the time of writing according to leading online accommodation websites. They are subject to change over time.
---
More questions about getting to Mandarin Gallery Singapore?
This step-by-step guide on how to get to Mandarin Gallery by MRT is designed to make your trip faster and less stressful. If you require additional information about this trip or any other thing about Singapore please feel free to email us. We would be delighted to help you!
Keep in mind that when you visit Mandarin Gallery in Singapore you can easily access all of the neighbouring malls as well. This is truly the premier shopping district of Singapore. And don't be fooled. There are also options available for budget shoppers as well.  Don't assume that all of the malls along Orchard Road are only catering to high-end visitors.
An added benefit of shopping along Orchard Road is that you do have direct access to MRT stations. Obviously, Somerset Station was described in this article, but you can also access this area using Orchard Station which is one station north of Somerset.
You might even want to consider developing an itinerary that consists of shopping on Orchard Road and then sightseeing south of Orchard in areas such as Chinatown, Boat Quay, and Marina Bay.  With the MRT you can access these areas in 10 minutes from Orchard without spending a fortune. Singapore's public transportation system is amazing – take advantage of it during your stay in the city and you will save serious time and money.