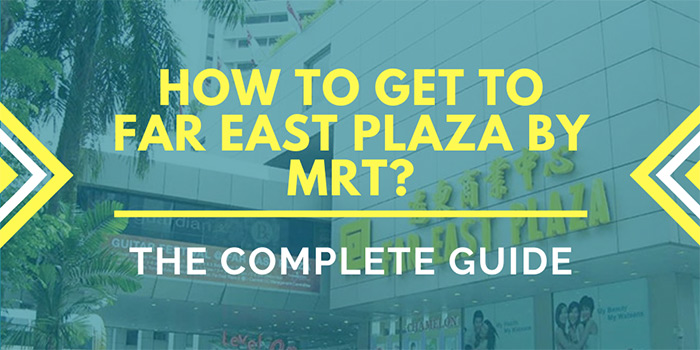 This is the complete guide on how to get to Far East Plaza by MRT.  Regardless of whether this is your first time in Singapore or not, we hope that this guide will provide you with enough detail to get to this popular shopping mall along Orchard Road.
Far East Plaza is a well-known shopping mall that is located on Orchard Road. This is Singapore's premier shopping district with tons of awesome hotels and malls lining both sides of the road.  The cool thing about visiting Orchard Road and Far East Plaza is that the area is directly accessible by MRT.  This means that you can conveniently bypass traffic jams in Singapore and also save money on the way to this area.
Another benefit of taking the MRT to Far East Plaza is that you do not have to worry about finding a parking spot or paying for one when you arrive. The MRT is a proven way to access Singapore's top attractions, malls and hawker centers.
---
Why should you visit Far East Plaza in Singapore?
Far East Plaza is a popular shopping mall that first opened way back in 1982. Currently, it has more than 600 retail shops and food and beverage outlets. The mall consists of 5 main levels and offers both tourists and locals a wide range of brands and services. 
According to Far East Plaza's official website, it is a "fashion incubator" and offers various "up-to-date lifestyle and concept stores from Beauty and Tatoo Parlors to Clothing and Customized Business Suits which are both inexpensive". It is quite popular with the youth living in Singapore.
When you visit Far East Plaza you can also enjoy a wide selection of restaurants and cafes. Both local and international dishes are available here. 
Far East Plaza also has 139 apartments on-site that can be rented in the prime Orchard area. 
The convenient thing about shopping at Far East Plaza is that it is right beside hotels and other shopping malls in the area. For instance, Royal Plaza on Scotts and Grand Hyatt Singapore are two hotels that are physically beside the shopping mall. It's easy to walk right over to them. 
You can easily put together a shopping itinerary that consists of Far East Plaza and other malls in the area during the same day.
---
Getting to Far East Plaza using the MRT
Step 1: Book a room beside an MRT Station.
If you are not staying near Orchard Road then it is really important that you book a hotel that is close to an MRT Station. This will make it easy for you to access Far East Plaza and other shopping malls in the orchard area.
Throughout our travels in Singapore, we've relied heavily on the MRT network. Singapore's public transportation system is world-class and it can make your trip a lot more convenient and much cheaper.
We recommend that you book a room within 1 or 2 minutes of an MRT station.  This sets the stage for getting to and from the station really fast and also allows you to avoid Singapore's extreme afternoon Heat.
Fortunately, there are all kinds of hotels in Singapore that are located right beside MRT stations.  We often stay beside Clark key MRT Station because it is close to Marina Bay but also close to areas such as Orchard and Chinatown.
Two very popular hotels are listed below for your convenience. They are both super close to the stations shown in brackets:
Marina Bay Sands (5-star) (Bayfront Station)
Fairmont Singapore (5-star)(Esplanade Station)
If you are looking for cheaper options than you might want to consider Chinatown or Little India. They tend to have more boutique hotels and hostels available for backpackers.
---
Step 2: Select an appropriate type of MRT ticket.
There are two main types of MRT tickets that you can purchase to get to Far East Plaza in Singapore:
Stored-value cards

Singapore Tourist Passes
You can find out all the information you need about buying MRT tickets and Singapore Tourist Passes by reading these two comprehensive guide articles:
1) How to buy MRT tickets in Singapore?
2) How to buy Singapore Tourist Passes?
If you do not have time to read the guides linked above then in general we recommend for you to get a Singapore Tourist Pass only if you are a very busy tourist.  And by 'busy' we mean that you want to check out a lot of different sights and activities over a short period of time. 
We highly recommend buying a Multiple Attraction Pass to use alongside your Tourist Pass. With up to 52% in discounts available, it's no surprise that over 200,000 passes have already been sold online!
Stored value cards, on the other hand, are the best option if you plan on staying in Singapore for more than 3 days. These cards are popular with ex-pats living in the city, long-term guests and, of course, Singaporeans.
---
Step 3: Plan your MRT trip to Orchard Station.
The best station to access Far East Plaza is Orchard Station. This should be your terminal stop in order to access this shopping mall. 
Orchard Station is located on the North-South Line. This is represented in red colour on the official train map of Singapore.
---
Step 4: Take the MRT to Orchard Station.
You can make your trip to Far East Plaza a lot easier if you refer to the MRT map that is located in your station. All you need to do is if you have a card is simply tap to enter the MRT Network. Then, get on the train and navigate your way eventually to the North-South Line and Orchard Station.
The station directly south of Orchard is Somerset.  When you hear "Somerset" being announced on the train, it is time to walk closer to an exit because you will be getting off at the next stop. Additionally, you can refer to the signs above the exit doors on each train to see where you are on a given line.
---
Step 5: Exit the MRT at Orchard Station and walk to Far East Plaza. 
Grab your belongings from the train and simply tap your card to exit the MRT system at Orchard.  It is now really easy to get to Far East Plaza from the station. The mall is situated in the northeast direction of the station.
Take Exit A to reach Far East Plaza from Orchard Station.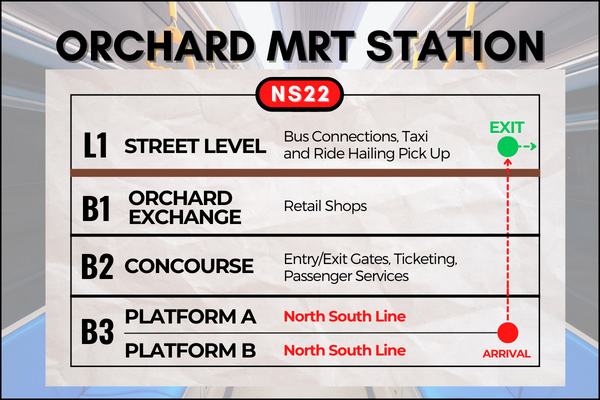 The walk from Orchard Station to Far East Plaza is 550 meters and this should take you 6-7 minutes. You will pass by the Grand Hyatt Singapore directly before you reach the mall.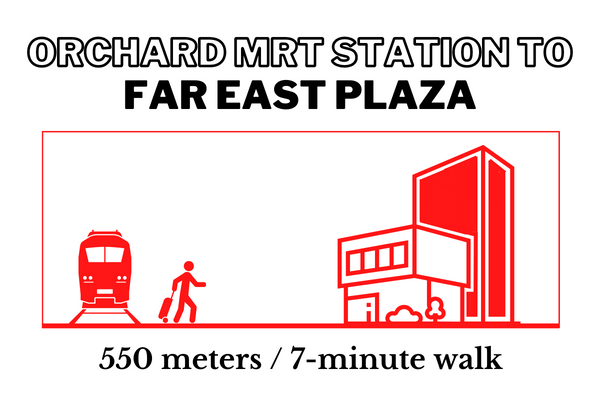 ---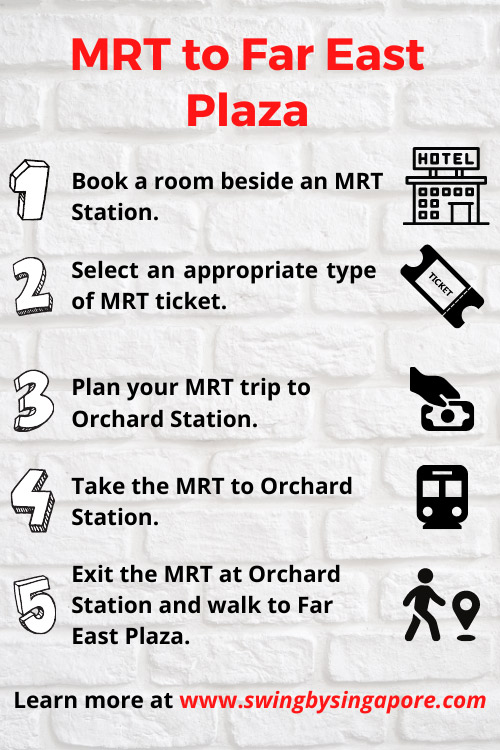 ---
Is it a smart idea to stay near Far East Plaza while you are in Singapore?
One of the biggest decisions that you have to make when you visit Singapore is making sure that you book a hotel in a convenient location. In terms of convenience, the Orchard area is definitely one of the better places to stay.  There are tons of other shopping malls within walking distance of Far East Plaza. Furthermore, these malls tend to have a lot of different restaurant choices. This makes it really easy to find the type of food that you want to eat without spending an hour walking or getting a taxi.
Another benefit of staying near Far East Plaza is that this area is directly served by the MRT.   This means that you can spend some time in the Orchard area and then quickly navigate the MRT down to Marina Bay and other areas to the South. 
Far East Plaza, for example,  has a bunch of different hotels within a few hundred of the property. Some examples include:
Royal Plaza on Scotts (5-star, 8.6/10 review score)
Grand Hyatt Singapore (5-star, 8.6/10 review score)
Goodwood Park Hotel (5-star, 8.7/10 review score)
As you can see by the review scores listed above, these properties do get pretty solid review scores from guests.  But keep in mind that properties along Orchard are not cheap by international standards.  You will have to pay for the convenience of staying in this area. Only you know whether you want to pay for this or not.
If you do want to stay in a cheaper area than Orchard then you might want to stay in Chinatown. There are tons of boutique hotels and hostels in Chinatown that are within minutes of Chinatown MRT Station.
---
More questions about getting to Far East Plaza Singapore?
After reading this step-by-step guide on how to get to Far East Plaza by MRT we hope that this journey is straightforward for you. Our goal is to make sure that you save time and money by following the steps that we have outlined in articles such as this one. Of course, if you do have additional questions about the trip please feel free to send us an email. We would be delighted to help you out more!
The exciting thing about shopping at Far East Plaza is the direct access to other malls in the area.  You can easily shop here and then walk south along Scotts Rd. to Orchard. Once on Orchard, you will be right in the middle of Singapore's most extensive shopping district. Even consider walking the whole way down Orchard to Dhoby Ghaut Station. 
This will make sure that you see more of the malls along Orchard!