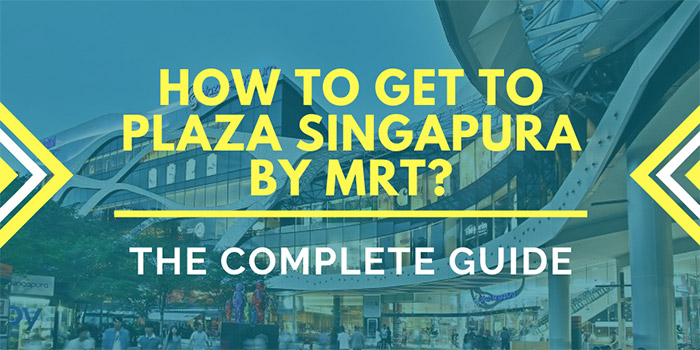 This article has been written to provide you with a step-by-step guide on how to get to Plaza Singapura by MRT. Plaza Singapura is located right in the heart of Orchard – Singapore's premier shopping district. By the time you finish reading this article, you should be able to get to this mall stress-free while saving time and money. 
Singapore is an excellent city for getting around using the MRT. Even when you land at Changi Airport you can take the MRT right into the city without stepping foot in a vehicle. You can access the city's top attractions in no time.The same can be said for getting to Plaza Singapura. This area is well serviced by several of Singapore's most popular hotels and public transportation network. This includes MRT and many buses. Later in this article, we will highlight the specific steps about which station to go to and what MRT lines to use. 
---
Why should you visit Plaza Singapura in Singapore?
Plaza Singapura is located along Orchard Road which is considered to be the best shopping area in the city due to the dense concentration of malls.  It was first opened way back in 1974. At the time, it was considered to be one of the largest malls in Singapore. 
When you visit Plaza Singapura you can enjoy seven floors and two basement levels. It also has a 7-storey carpark which has 752 spaces for vehicles. Although one of the oldest malls along Orchard Road, Plaza Singapura underwent a large renovation in 2012. This increased the shopping area by roughly 25% and added 80 retail and food and beverage outlets to the mall. 
A convenient benefit of shopping at Plaza Singapura is that it is very close to other malls along Orchard Road. This means that you can either walk or take a very short MRT ride to adjacent shopping centers. 
The same can be said for hotels. 
Plaza Singapura is minutes away from popular hotels such as Concorde Hotel Singapore and Rendezvous Hotel Singapore by Far East Hospitality. This makes it a practical area to stay in while you are in the city.
---
Getting to Plaza Singapura using the MRT
Step 1: Leave your hotel and go to the nearest MRT station.
If you are not staying along Orchard Road, then it is essential that you book a room close to an MRT station. Then, when you go to malls such as Plaza Singapura you can easily access the MRT system without the need of getting a taxi or another vehicle. 
Singapore gets extremely hot during the afternoon hours, so you will appreciate being close to a station when you want to go sightseeing. 
Fortunately, Singapore has a lot of variety in terms of finding a suitable hotel close to a station. We have included a few examples below with their stations for your convenience.
Marina Bay Sands (5-star) (Bayfront Station)
Fairmont Singapore (5-star)(Esplanade Station)
Another convenient area for accessing the MRT is Chinatown with a whole surplus of affordable rooms close to Chinatown Station. 
---
Step 2: Get an MRT ticket that suits your travel preferences.
With your room sorted, it's time to figure out what kind of MRT ticket suits your preferences while in Singapore. At the time of writing, there are two main types of tickets available:
Stored-value cards

Singapore Tourist Passes
The two guide articles below summarize the types of tickets and the benefits of using each one. If you are not familiar with Singapore's public transportation system, then you should read them: 
1) How to buy MRT tickets in Singapore?
2) How to buy Singapore Tourist Passes?
In general, Singapore tourist passes are ideal if you are staying in the city for a short period of time, but plan on seeing a lot of attractions.  
We used a stored-value card when we were just figuring out how to get to Plaza Singapura by MRT. The EZlink card we used made the trip fast and cost-effective. All you have to do is just simply tap to enter and exit each station.
COST SAVING TIP: We strongly suggest getting a multiple attraction pass for accessing the top attractions in Singapore. You can save up to 52% on entrance fees when you buy several passes online in advance. At the time of writing, over 200,000 of these have been purchased due to the savings available.
---
Step 3: Plan your MRT trip to Dhoby Ghaut Station.
The most practical station to go to in order to access Plaza Singapura is Dhoby Ghaut.  Plan for this to be your terminal station as you make your way to this popular shopping mall.
Dhoby Ghaut Station tends to be very busy with commuters because you can transfer there between the any of the three following MRT lines:
North-South Line (shown in red colour on the official train map of Singapore)
North-East Line (shown in purple colour)
Circle Line (shown in orange colour)
You can travel along any one of these three lines as you head to Plaza Singapura. This makes it very convenient to access this shopping center because you can choose from three different lines.
---
Step 4: Ride the MRT to Dhoby Ghaut Station.
If you are traveling with a card all you need to do is to tap to enter and exit each station. A lot of travelers that are staying further south in Marina Bay will take the North-South Line up to Dhoby Ghaut Station. This means that the preceding station before Dhoby Ghaut will be City Hall.  
When you hear 'City Hall' being announced on the train make sure that you walk towards the exit in preparation for getting off at the next stop.  You can also refer to the signs about the exit doors on the train to see where you are on a specific line.
Also, take note that the MRT stations in Singapore have signs posted that you can examine before you take any trips. This makes it easier to navigate your way to Plaza Singapura and other places throughout the city.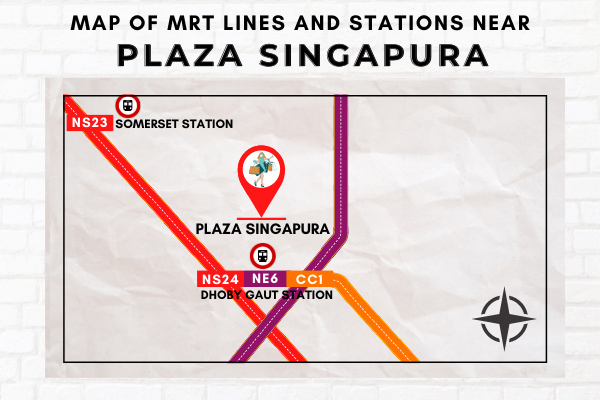 ---
Step 5: Exit at Dhoby Ghaut and walk to Plaza Singapura. 
Don't forget to collect your belongings before you get off the train.  If you are using a car just simply tap to exit the station. Next, you will have to follow the signs to the appropriate exit in order to walk to Plaza Singapura.
Conveniently, there are multiple exits at Dhoby Ghaut Station that you can take to reach Plaza Singapura. In order to get from Dhoby Ghaut station to Plaza Singapura, you can take either Exit B, C, or D. 
Exit B is at ground level whereas Exit C and Exit D are underground basement entrances to the mall.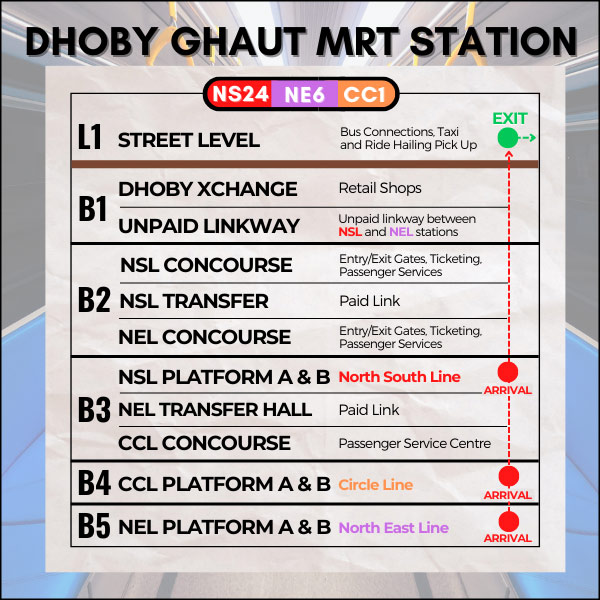 You can expect the walk from Dhoby Ghaut Station to Plaza Singapura to take only 1 minute. The mall is directly north of the station through the Atrium.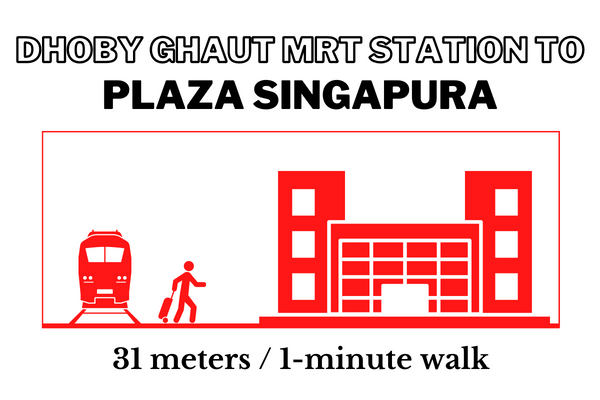 ---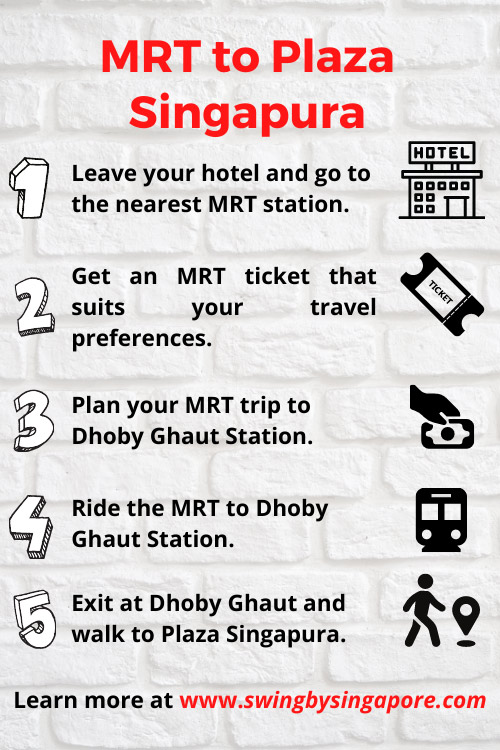 ---
Is it a smart idea to stay near Plaza Singapura while you are in Singapore?
Plaza Singapura is located in Singapore's most popular shopping district. Orchard is very popular with both Singaporeans and visitors to the city because there are tons of malls in this area. You can literally walk down Orchard Road and get overwhelmed by the shopping options! 
That being said, this is also one of the most convenient areas to stay. You can easily find all kinds of dining options here because of the restaurants located in the malls. Both international and local choices are available at all price levels. 
Another reason why you should consider staying near Plaza Singapura is that you will have direct access to the MRT Network. Although Dhoby Ghaut Station is the best one for Plaza Singapura, Orchard is also serviced by Orchard Station and Somerset Station.  This makes it possible to get off at one of the stations and then walk along Orchard Road while using another station to exit the area. 
There are a lot of great properties along Orchard Road. In terms of Plaza Singapura, there are a few budget-friendly options that are quite close by that you might want to consider:
Concorde Hotel Singapore (4-star, 8/10 review score)
Ji Hotel Orchard Singapore (4-star, 8.6/10 review score)
YMCA Fort Canning (4-star, 7.6/10 review score)
Please take note that we do not have a direct partnership with any of these properties. We are just conveying this information to assist you in finding a place to stay. The review scores above are taken at the time of writing from leading accommodation websites. Therefore, they are subject to change over time.
---
More questions about getting to Plaza Singapura Singapore?
Ideally, this step-by-step guide on how to get to Plaza Singapura by MRT has provided you with all the information that you require. The cool think about visiting Plaza Singapura is that you can also access all the other shopping malls along Orchard Road as well.
The shopping possibilities are almost endless in this area. You can easily find luxury branded products.   But, if you are a budget shopper there are also choices available for you.  Often, it is a wise idea to do your sightseeing in the morning in Singapore and then go shopping in the afternoon where the air conditioning is ice cold.  Singapore's afternoon hours can get really hot outside, so keep that in mind when you are sightseeing.
Furthermore, Plaza Singapura is easily connected to the MRT. Therefore, it is really easy to head further south down to popular areas such as Chinatown and Marina Bay  where some of the city's most popular attractions are located.  We recommend that you use the MRT as much as possible during your time in Singapore to save money and also save the environment.