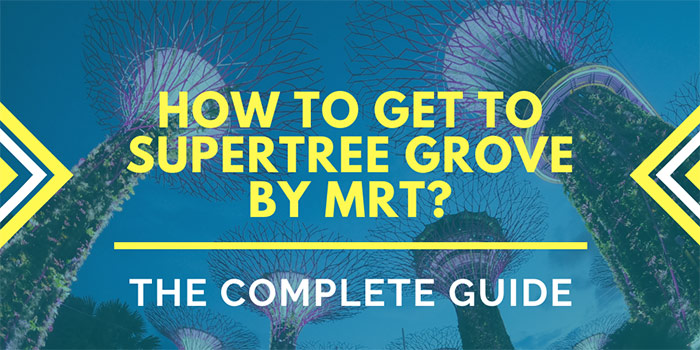 This is the complete step-by-step guide on how to get to Supertree Grove  Singapore by MRT.  By the end of this article, you should be able to make it to Supertree Grove using public transportation without spending additional money on taxi or parking fees. And let's not forget about avoiding traffic as well by booking a room beside an MRT station!
Fortunately, getting around Singapore has become super easy because of the strong transportation infrastructure in place. It is quite possible to make it to Supertree Grove and other attractions around Marina Bay without the use of a vehicle. You can even land at Changi Airport and avoid vehicles throughout your entire stay. 
Not only will we outline how to specifically get to Supertree Grove, but we will also describe how to save time and money along the way. 
---
Why should you visit Supertree Grove in Singapore?
Supertree Grove is an extremely popular attraction that is located within Gardens by the Bay in Singapore. This refers to a cluster of what are called 'Supertrees' that measure between 25 and 50 meters tall. Not only do the supertrees have innovative, photogenic designs, but they also provide much-needed shade during the peak afternoon hours. Then, at night Supertree Grove impressively lights up underneath the stars.
In case you are wondering, Supertree Grove is free of charge for you and your family. However, you do have to pay an entrance fee to enter OCBC Skyway and the Supertree Observatory.
Supertree Grove consists of 12 Supertrees, meaning that there are 6 more scattered around Gardens by the Bay making a total of 18. You should highly consider paying to walk along the OCBS Skyway and/or the Supertree Observatory. This is an awesome way to get aerial views of Gardens by the Bay, Marina Bay, and Singapore's amazing skyline. To put things in perspective, according to the official website for Supertree Grove, the tallest Supertree is 16 storeys in height. 
Impressively, there are over 158,000 different plants and greater than 700 species planted on the 18 Supertrees here. Therefore, these trees are not just large concrete structures, but living trees that are helping to purify Singapore's air. 
Since Supertree Grove is situated within Gardens by the Bay, it is super easy to add this to your itinerary. Aside from nearby attractions such as Cloud Forest, Flower Dome and Marina Barrage, you are also close to many of Singapore's best hotels.
Marina Bay Sands Hotel (5-star, 9/10 review score) for example, is ideally located within minutes of Supertree Grove. This makes it the ideal place to stay to access Supertree Grove and Gardens by the Bay. 
---
Getting to Supertree Grove using MRT 
Step 1: Find a hotel/apartment close to a station.
Making your way to supertree Grove using the MRT should be very straightforward. However, it becomes a lot more complicated if you are not staying close to an MRT station. This would require you to take an unnecessary taxi or private vehicle just to get to the station every time you want to go somewhere.
In Singapore, these transportation costs add up really fast.
Instead, when you are planning your trip to Supertree Grove make sure that you are staying at a hotel or apartment that is within walking distance of an MRT station. This will save you serious time and money.
We have provided a few examples (below) to get you started with your accommodation search.  Ideally, try to get a property that is only one or two minutes away from the station. This will make sure that you have no problem going places during Singapore's ' 'hottest' afternoon hours.
Luxury
The Capitol Kempinski Hotel Singapore (5-star, 9.3/10 review score)
Budget
Chic Capsule Otel (2-star, 8.6/10 review score)
The Kempinski is ideally located right beside City Hall MRT Station. The budget-friendly, Chic Capsule Otel, is only 1 minute from Chinatown Station. 
After you have your room sorted, focus on getting to Supertree Grove via MRT.
---
Step 2: Buy a ticket/pass to Bayfront Station 
The most convenient station to access Supertree Grove is Bayfront Station. It is the closest and most practical option, by far.
Before travelling to Bayfront you have to sort out what kind of ticket you plan on using. Fortunately, there are multiple forms of tickets and passes to choose from in Singapore.  Really what it comes down to is how long you are going to be in Singapore for, and how frequently you plan on using public transport services such as the MRT and bus network.
We have written the two comprehensive guide articles to help you to select and purchase an MRT ticket in Singapore:
Purchasing MRT Tickets in Singapore: Which ticket should I buy?? 
Purchasing Singapore Tourist Passes: Pros and Cons
Stored-value cards are great if you are in Singapore for more than 3-days and what to check out a lot of attractions. We used an EZlink Card (a type of stored-value card) when we were first discovering out how to get to Supertree Grove by MRT.
Singapore Tourist Passes are the best option if you are spending 3 days or less and plan on doing a lot of sightseeing. They allow for unlimited trips on the bus and MRT for a specific number of days. 
Strongly consider buying a Multiple-Attraction Pass to use alongside these transportation cards in Singapore. You will be able to enter attractions such as Gardens by the Bay with up to a 52% discount when you by several passes at the same time. Over 200,000 of these passes have already been sold online.
---
Step 3: Ride the MRT to Bayfront Station 
Bayfront Station is the best and closest station to Supertree Grove. So you have to be ready to get there efficiently. Having some familiarity with the MRT lines and which ones to use can help.
There are two lines that service trains to Bayfront Station:
Circle Line (Orange)
Downtown Line (Green)
You can take either one of these lines to Bayfront on your way to Supertree Grove. Also, listen closely to announcements being made on the train. These will inform you of upcoming stations on the line so that you don't miss Bayfront.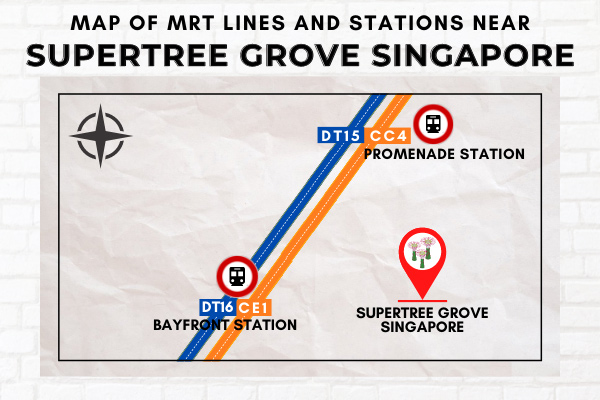 ---
Step 4: Get off at Bayfront Station
Alight at Bayfront Station.  Bring all of your stuff and simply 'tap' to exit the MRT system if you are using a stored-value card or a Singapore Tourist Pass.  
---
Step 5: Walk from Bayfront Station to Supertree Grove
Getting to Supertree Grove via MRT does require you to walk! Therefore, you need to know which exit to take and where to walk to reach the Grove from Bayfront.
Technically, there are different walking routes that you can take from Bayfront Station to Supertree Grove.  One way is to first walk through the Shoppes at Marina Bay Sands and then along the waterfront. Although scenic, this is not the fastest way to reach Supertree Grove. 
The fastest way from Bayfront Station to Supertree Grove is to use the underpass from the station.  
If you want the fastest walking route then take Exit B at Bayfront Station. Then, walk through the underground linkway east towards Gardens by the Bay. Exit the linkway. 
Follow the signs and cross Dragonfly Bridge into Gardens by the Bay. Continue walking along the path for a few minutes and you will notice Supertree Grove right in the middle of Gardens by the Bay. Just look for the very tall 'Supertrees'.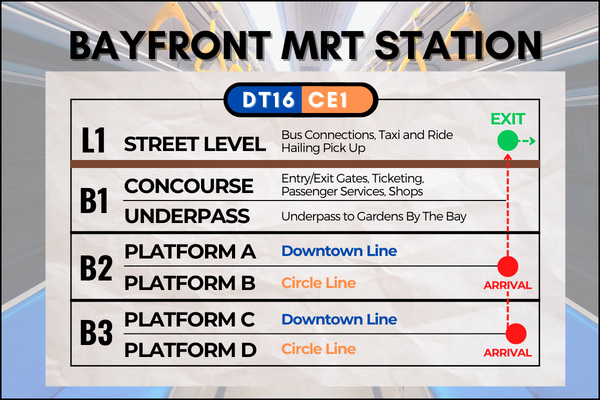 The walk from Bayfront Station to Supertree Grove is about 700 m and this should take you approximately 6-7 minutes.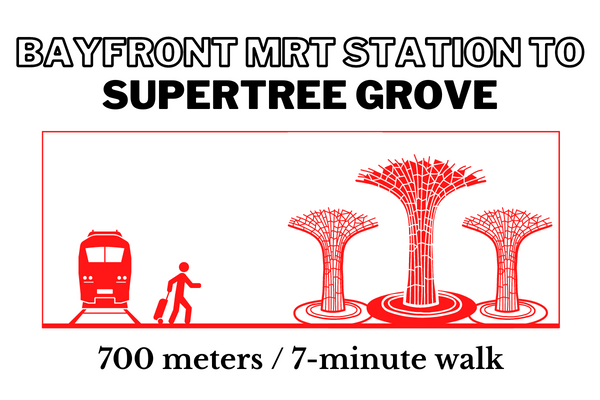 ---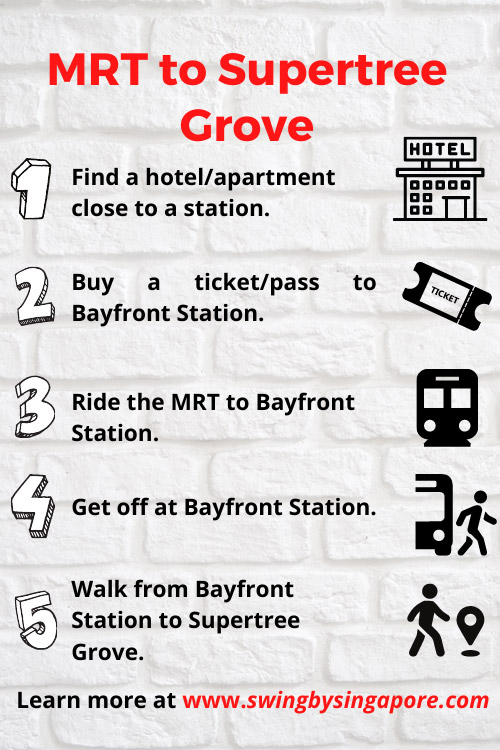 ---
Should you stay near Supertree Grove while you are in Singapore?
Supertree Grove is located in one of the most scenic areas of all of Singapore. Slightly south of Marina Bay and right in the middle of Gardens by the Bay is hard to beat in terms of sightseeing! 
Since this is technically part of a garden there are not too many hotels with indirect walking distance of Supertree Grove.  The big exception to this is Marina Bay Sands (5-star, 9/10 review score). This is one of the most famous hotels in Singapore and it offers superb skyline views of the downtown area. 
There are many other hotels that surround Marina Bay that are either a short ride or a 15 to 20-minute walk away from Supertree Grove.  Similar to Marina Bay Sands, these properties receive exceptional review scores from guests. To be honest, many of them are some of the best properties in Singapore. They are not tailored towards budget travellers, however.
We highly recommend checking out some of the properties below if you do have the budget.  Expect world-class views and high-end service standards at these properties.
The Fullerton Bay Hotel Singapore (5-star, 9.4/10 review score)
The Fullerton Hotel Singapore (5-star, 9.2/10 review score)
The Ritz-Carlton, Millenia Singapore (5-star, 9.2/10 review score)
Please take note that we are not a direct partner of any of these properties. We are simply listing them according to their location relative to Supertree Grove and the positive review scores they receive from guests. All review scores are based on leading accommodation websites at the time of writing.
---
Do you have more questions about getting to Supertree Grove?
We hope that this guide on how to get to Supertree Grove by MRT has been detailed enough for you!  Ideally, it will save you time and money getting down to this popular attraction in the Marina Bay area of the city.  If you require any more information please send us an email at any time and we will try our best to help!
The exciting thing about visiting Supertree Grove in Singapore is that it is completely surrounded by major attractions.  For example, Gardens by the Bay has multiple attractions that are worth checking out.  Consider checking out Cloud Forest and Flower Dome which are only minutes away from Supertree Grove.  Then, as you plan your itinerary for Marina Bay you can also explore major attractions such as Singapore Flyer, the Merlion, and Sands Skypark.  You can easily allocate 2 days of your itinerary to the Marina Bay area of the city. 
Also, keep in mind that this area is well connected by the MRT Network which makes it convenient to access surrounding areas such as Chinatown and Clarke Quay.  While you are visiting Supertree Grove make sure that you try out OCBC Skyway and the Supertree Observatory.