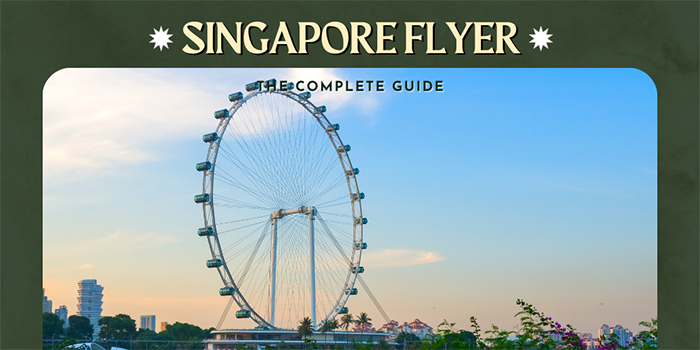 "Everything you need to know about visiting the Singapore Flyer in Singapore."
Why should you visit the Singapore Flyer?
The Singapore Flyer is Asia's largest giant observation wheel and one of the biggest attractions in the city. It is ideally located in the picturesque Marina Bay area of the city and it officially opened in 2008. With a max height of 165m from the ground, the Flyer offers visitors some of the best breathtaking, panoramic views of Marina Bay and Singapore's world-class skyline. 
You may find it interesting to know that the Singapore Flyer consists of 28 air-conditioned capsules that are mounted on the outer portion of a massive wheel structure. This ensures that you capture unobstructed views regardless of which area of the Flyer you are on. Each rotation of the wheel takes approximately 32 minutes which is a perfect amount of time to take photos and videos during the ride! Each capsule has a floor area of 26 m2 and in practical terms, this allows for a maximum capacity of 28 passengers. 
The Singapore Flyer was actually the world's tallest Ferris wheel for a long period of time until it was surpassed by the 'High Roller' in Las Vegas on March 31st, 2014.
When you visit the Singapore Flyer, you will be able to see some of the city's most famous points of interest such as the Merlion, Gardens by the Bay and Sands SkyPark. It is also only a few minutes away from one of the best hotels in all of Singapore  – the Ritz-Carlton Millenia (5-star, 9.2/10 review score).
---
How to get to the Singapore Flyer by MRT?
The Singapore Flyer can be accessed by MRT, and there is more than one station to get there.  However, the most convenient station to use to get to the Singapore Flyer is Promenade Station. 
The Flyer is about 700 meters southeast of Promenade Station which should take you approximately 9 minutes. Along the way, you will pass by The Ritz-Carlton Millenia (5-star, 9.2/10 review score) and Helix Bridge.
---
Things to see and do at the Singapore Flyer: Best Itinerary Ideas 
Let's be honest, Singapore Flyer is famous because of the breathtaking views you can capture! Marina Bay is simply beautiful and Singapore's skyline in the background just makes this photo from the top of the Flyer worth every penny. 
You can also enjoy the Flyer for other reasons as well. 
One of the most popular things to do at the Singapore Flyer is to enjoy a drink or meal when you are travelling up to 165 m above sea level! It's possible to excite your taste buds by experiencing 'Sky Dining' which includes a 4-course meal and an in-flight host. You can also enjoy a chilled 'Singapore Sling' or a bottle of premium champagne during your ride. 
Although the massive Ferris wheel is the main drawing card here, you can also experience other exciting activities at the Flyer as well. For example, 'Flight Experience' is a flight simulator that has been approved by the New Zealand Civil Aviation Authority for pilot training. You can select one of 24,000 different airports to fly in and out of. 
But there is still more to do at this complex. 
XD Theatre is Singapore's only 6-D theatre. This multi-sensory experience is thrilling and features a 10-seater motion simulator. 
After you have experienced everything the Singapore Flyer has to offer, reward yourself with a nice meal at Flyer Lounge or Sky View Pavilion. 
Itinerary ideas close to the Flyer
The Singapore Flyer is only one of the many attractions surrounding Marina Bay.  This makes it a very convenient point of interest to add to your itinerary. Directly across the Marina Reservoir, you will find Gardens by the Bay. This is one of Singapore's most popular attractions that contains interesting places like Cloud Forest, Flower Dome and Supertree Grove.
If you enjoy shopping you can also visit various malls within walking distance of the Flyer. For example, the Shoppes at Marina Bay Sands is close to the Flyer. This is connected to Marina Bay Sands Hotel and Bayfront MRT Station.
Other malls in this area of Singapore include:
Marina Square
Suntec City 
Millenia Walk
Before leaving this area of Singapore, make sure that you check out other points of interest such as the Merlion, Esplanade and Marina Barrage.
---
Where can you buy tickets for the Singapore Flyer?
It is very easy to buy tickets for the Singapore Flyer. You can buy tickets in-person right at Level 1 of the Singapore Flyer or go to the official website. If you book in advance online you have to use a VISA or Mastercard. Online bookings are non-refundable, but you can request for a change of dates if it's 7 days or more before the scheduled ride.
If you are concerned about the Flyer being extremely busy during their visit, then it is a wise decision to book your tickets in advance using their website. This will ensure that you can select an appropriate date and time to suit your travel itinerary in Singapore.  
---
Is it a smart idea to stay at a hotel near the Singapore Flyer?
The Singapore Flyer in Singapore is ideally located right near Marina Bay. This is arguably the best area to stay in the entire city. If you stay here you not only will have direct access to some of Singapore's best attractions but also direct access to some of the city's best hotels.
Marina Bay is also serviced by multiple MRT stations which make it an extremely convenient area to station as your home base while in the city.
The most convenient Hotel relative to Singapore Flyer is the Ritz-Carlton Millenia.  This is a superb property that receives extremely high review scores from guests.  It is also directly beside Millenia Walk and Suntec City –  two popular malls in the Marina Bay area.
The Ritz is not the only great property that you can choose from that is close to the Singapore Flyer and other points of interest here. We have included a few suggestions below for your convenience:
The Fullerton Hotel Singapore (5-star, 9.2/10 review score)
The Fullerton Bay Hotel Singapore (5-star, 9.4/10 review score)
Marina Bay Sands (5-star, 9/10 review score)
---
Additional Points about visiting the Flyer
We highly recommend that you visit the Singapore Flyer before you leave Singapore. 
One question that you might still have about the Singapore Flyer is how much time should you spend here?
Since there are a few different activities within the Flyer complex, you are best to allocate at least 1 hour here. One loop on the Flyer takes over 30 minutes. Therefore, when you consider buying some snacks or having a meal, it easily should take an hour of your time. This is not even considering the 6D cinema or the flight simulator. 
If you have any additional questions about visiting the Singapore Flyer or other attractions in this area please reach out to us. Either send us an email or comment below to share your thoughts. We are more than happy to provide you with some additional information to help you out!
We truly hope that you enjoy your experience visiting this attraction. Be sure to have your camera and handphone well charged before visiting this fascinating attraction in Singapore!