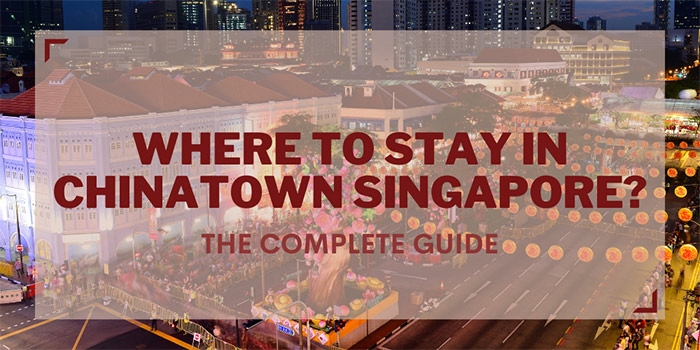 Welcome to the ultimate guide on where to stay in Chinatown Singapore! This article will outline the best hotels in Chinatown according to verified review scores from leading accommodation websites. There is no denying the fact that Chinatown in Singapore is one of the best places to stay in the entire city. Not only is this area conveniently serviced by Singapore's world-class MRT system, but you can also enjoy culture, shopping, and delicious food in Chinatown. 
Chinatown is known for its shopping and bustling street markets. But it has also become one of the best budget-friendly areas to stay. It has a wide selection of affordable properties that cater to backpackers, business travellers and young families trying to save some cash. Not all of the properties in Chinatown are for shoe-string travellers, however. 
---
Types of Properties in Chinatown Singapore
Most places to stay in Chinatown are in the 2-3 star range. Consequently, you will find many boutique hotels and hostels in this area. These tend to be very affordable in relation to 4 and 5-star luxury hotels in Marina Bay and Sentosa Island. 
There are 4 and 5-star properties in Chinatown, but they are the exception rather than the norm. Instead, you are more likely to find 'capsules' or 'pod' boutique hotels. In general, these are a hybrid between traditional hotel rooms and hostels. You have a tiny personal space at these properties with more privacy than a dorm room. Some capsules have a personal television screen to help pass the time. 
---
Chinatown is a Convenient Location
Affordable prices obviously attract many visitors to Chinatown in Singapore. But it is also in a very convenient location for accessing public transportation and major attractions. It is situated just a few minutes west of world-famous Marina Bay and south of Clarke Quay – one of the city's best nightlife areas. Although it is possible to walk from these areas to Chinatown, most tourists choose to take the short MRT ride instead.
You can easily travel to Chinatown using public transportation such as MRT. Whether you are travelling to Chinatown from downtown or from the airport, it is safe, affordable and convenient. Once you arrive at Chinatown MRT Station, you can walk south, and within only 100 meters, you will see various places to stay. 
---
What are the best places to stay in Chinatown?
To find the best places to stay in Chinatown, we completed a search using some of the best accommodation websites in the world and our own experience staying in this area. Eventually, we decided to refer to Agoda for numerical review scores from verified guests.  Agoda, conveniently, has hundreds (if not thousands) of reviews for most properties in Singapore. Therefore, when we were analyzing the hotels in Chinatown it was possible to get a real idea of the best places to stay, and why!
---
The Best Places to Stay in Chinatown
1. Chic Capsules
Star Rating – 2 star
Average Verified Review Score – 8.8/10 (1979+ reviews)
Closest MRT Station – Chinatown (130 m)
With a solid 8.8 out of 10 review score from almost 2000 verified guests, Chic Capsules is undoubtedly one of the best places to stay in Chinatown. It is only 130 meters from Chinatown Station. You can literally walk there in 2 minutes once you get off the train. 
According to reviews, it features a fantastic breakfast for the price and is recommended by 90% of guests. Prices here tend to be very reasonable considering its strategic location right in the heart of Chinatown. Also, expect to receive express check-in and check-out and helpful luggage services. 
Since this is a capsule hostel, you can expect small, but private 'capsule rooms' that come with a personal screen and headset. 
---
2. Cube Boutique Capsule Hotel @ Chinatown 
Star Rating – 2 star
Average Verified Review Score – 8.8/10 (1979+ reviews)
Closest MRT Station – Chinatown (140 m)
A direct competitor to Chic, Cube Boutique Capsule Hotel @ Chinatown receives an excellent score of 8.8/10 with well over 2300 reviews. Whenever you see a property close to 9/10 with over 2000 reviews, you know it's a solid place to stay. 
It receives a super high 9.4/10 'location score'. No surprise, however. Cube is only 140 m from Chinatown Station!
Cube had an 8.8/10 service rating at the time of writing and 8.7 out of 10 cleanliness rating. Some of the reviewers on Agoda have stayed at this property on seven different occasions, and they still recommend it to other guests. It is known for a great shared kitchen with a well-prepared breakfast. 
Be sure to book early at this property because it is one of the most popular places to stay in Chinatown. 
---
3. Hotel Soloha @ Chinatown (SG Clean)
Star Rating – 4 star
Average Verified Review Score – 8.8/10 (306+ reviews)
Closest MRT Station – Outram Park (400 m)
Hotel Soloha @ Chinatown is one of the newest and trendiest hotels in Chinatown Singapore. It has excellent service and spotless rooms. One reviewer called it "sparkling clean and new'" whereas another said they have the "friendliest staff to accommodate your needs." 
Unlike Chic and Cube, Hotel Soloha is not a capsule hotel. It features larger rooms than capsule hotels. Therefore, it feels more like a boutique hotel as opposed to a hostel when you walk into your room. 
Within a few minutes of Outram Park Station, it is possible to take public transport to this area. Hotel Soloha @ Chinatown currently has a service score of 9.4/10, which is better than 98% of Singapore properties. 
We recommend this property if you want a bit more privacy than a hostel while still paying a reasonable price. It's a super modern boutique hotel that will be very clean and well serviced for the price. 
---
4. ST Signature Chinatown
Star Rating – 3 star
Average Verified Review Score – 8.8/10 (518+ reviews)
Closest MRT Station – Chinatown Station (400 m)
Still wondering where to stay in Chinatown Singapore?….
If you want an affordable boutique hotel in Chinatown, this is a reliable option. ST Signature Chinatown is considered to be a 'co-living hotel'. Therefore, most of the spaces are shared and ideal for talking to other guests staying at the property. 
According to reviewers, it scores 9/10 in terms of affordability and is good value for the money. We suggest that you take a look at both Hotel Soloha @ Chinatown and ST Signature Chinatown to see which one suits your budget and personal preferences. 
---
5. Capsule Pod Boutique Hostel 
Star Rating – 2 star
Average Verified Review Score – 8.5/10 (1675+ reviews)
Closest MRT Station – Chinatown Station (56 m)
It's hard to find a more convenient place to stay in Chinatown Singapore than Capsule Pod Boutique Hostel. It is only 56 meters away from Chinatown MRT Station. If you want convenience, this is the palace to stay. 
Although it receives a slightly lower review score than the aforementioned properties, 8.5/10 is still very solid in Singapore. According to guests, the beds are very clean and comfortable. The staff are friendly and welcoming, and the price is very reasonable. You can select from a wide range of capsules, including rooms for four people. There is a cool outdoor area that guests love. Catch some fresh air while chatting with your mates. 
---
Any more questions about staying in Chinatown Singapore?
So there you have it, an overview of the top-rated properties in Chinatown Singapore. All of these properties score above 8.5 out of 10, according to verified guest reviews.  Reviewers consistently focus on the level of cleanliness at these properties and the hospitality of the staff. You have to keep in mind that these are budget-oriented places to stay.  Consequently, don't expect elaborate swimming pools and large fitness centers.
Most of the properties in Chinatown will be clean, affordable, but not focused on amenities. If you are a busy traveller that will be sightseeing for most of the day, this is an ideal place because it's easy to access the MRT from Chinatown Station. Even if you arrive late at night, chances are you will find restaurants open ready to serve you a fresh meal. It is a bustling, vibrant area that is extremely popular with both Singaporeans and foreign visitors.
Shop Around
Be sure to shop around before you book your hotel in Chinatown, Singapore.  Hostels in capsules will be cheaper than most hotels, but you will have less privacy at these establishments. Therefore, you have to make a decision about whether you value your privacy or maintaining a strict budget. 
If you happen to have additional questions where to stay in Chinatown Singapore, please don't hesitate to send us an email or comment on one of our social media platforms. We would be more than happy to assist you in finding the ideal place to stay.