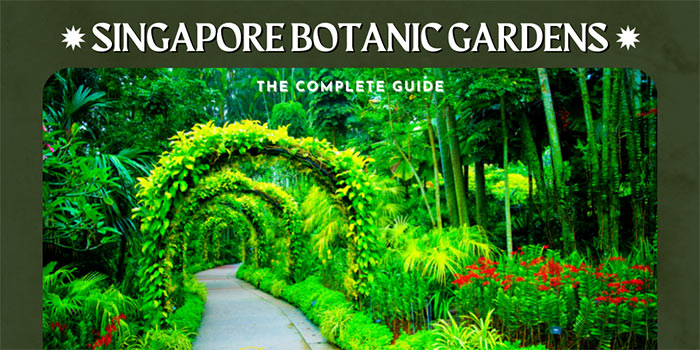 "Everything you need to know about visiting Singapore Botanic Gardens."
Why should you visit Singapore Botanic Gardens?
Singapore Botanic Gardens averages approximately 4.5 million visitors per year due to Singaporeans, ex-pats and foreign tourists and their love for this outdoor set of green lungs. This 82-hectare garden was founded in 1959 and has received worldwide awards. It's also the only tropical botanical garden that has managed to make UNESCO's world-famous Heritage List. 
While you are visiting Singapore, be sure to add Singapore Botanic Gardens to your itinerary. There are multiple free walking tours to check out every week and an extensive selection of species to examine. 
Due to its size, Singapore Botanic Gardens also serves as a popular location for recreational facilities. It consists of numerous walking and hiking trails if you want to explore the gardens. The vast variety of plant life here is sure to impress even the most seasoned of travellers. 
You will be delighted to hear that there are also several places to eat and drink within the green space as well. Consequently, it's common to see visitors relaxing in the fresh air after some exercise in Singapore's balmy weather. 
Interesting features of the Gardens
According to Singapore Botanic Gardens, there are at least 24 historical landmarks distributed throughout the 82-hectare layout. Furthermore, on the official map of the gardens, there are 14 natural orchid landmarks to visit. 
There is a wide selection of flora spread throughout the green space (approximately 10,000 different species). In terms of size, the longest distance between any two points within the Botanic Gardens is 2.5 km or 1.6 miles. Needless to say, there is a lot to see during a visit here. 
You can expect to find both natural trails and boardwalks throughout the Botanic Gardens. Navigation is very organized. Actually, there are over 10 maps on the official website to point you in the right direction. 
---
How to get to Singapore Botanic Gardens by MRT?
It's actually really easy to get to Botanic Garden Station using Singapore's extensive MRT Network. 
To get there you have the choice of using two different MRT Lines in Singapore:
Downtown Line (shown in Blue on the Singapore MRT Map)
Circle Line (shown in Yellow on the Singapore MRT Map)
If you are staying at a hotel that is south of Botanic Gardens (like so many tourists do) then it is good to know what the last station is before you arrive at the Gardens. If you are staying near Marina Bay, Chinatown, Boat Quay, Orchard or Clarke Quay, chances are that you will take the Downtown Line. In this case, be on the lookout for Stevens Station (this precedes) Singapore Botanical Gardens. 
Alternatively, if you are taking the Circle Line be on the lookout for Farrer Station.  
Once you arrive at Botanic Gardens Station it is straightforward to access the gardens. The MRT Station is located at the northwest entrance (Melati Gate) of the Gardens. Therefore, if you are taking the MRT plan on entering and exiting from the Melati gate. 
Exiting Botanic Gardens should be straightforward because there are only two exits: 
Exit A is from the Circular Line Station 

Exit B is from the Downtown Line station. 
Fortunately, both exits have stairs, escalators, and elevators making them fully accessible for the disabled.
Read More: The comprehensive guide on how to get to Singapore Botanic Gardens using MRT.
---
Things to see and do at the Botanic Gardens
Singapore Botanic Gardens are very popular because the large green space caters to visitors of all ages. A few of the most popular things to do include simply relaxing outdoors and walking throughout the numerous trails and paths.
Most of the Gardens are free to access for guests. However, the National Orchid Garden is the only paid attraction in the park. It requires a very small fee for guests and you can view it more as a donation than anything else. It's definitely worth paying by the way! The Orchid Garden is gated so you can have a bit more space from the crowds throughout the rest of the park. Expect to see 1,000 species and 2,000 hybrids of orchids in the largest display in the world here. 
One of the most famous spots at Singapore Botanic Gardens is Symphony Lake. This is the venue for many free, outdoor concerts throughout the year. Around the small body of water, there is a stage and a well-manicured grass area for sitting during live shows. 
As you might expect, Singapore Botanic Gardens is extremely popular with families with lots of things to see and do. For example, you can visit Jacob Ballas Children's Garden. This is a large play area for children and an ideal spot for them to burn some energy in an outdoor environment.  There is a safe tree house, slides and a kid-friendly flying fox available here to pass some time. 
Dining Options
One of the coolest things to do while at the Botanic Gardens is to enjoy a snack or a full meal at one of the many restos or cafes here. A lot of people don't realize how many food and beverage options are available. The Halia, for example, is a Balinese-influenced restaurant to check out near the Tyersall Gallop Entrance.
According to the Singapore Botanic Gardens website, at the time of writing there are about 11 different places to get food or beverages:
Bee's Knees at The Garage

Bee's Knees Petite

Botanico at The Garage

Casa Verde

Corner House

Food For Tots

Forest Pavilion

Fusion Spoon

Halia Restaurant and The Villa

JUJU

The Provisions
The range of options is really amazing. Some of these are tailored towards simple takeaway dining whereas others are full-blown restaurants with extensive menus. Some healthy options are available such as JUJU.  It is a smoothie and bowl bar that serves frozen treats. You can find it beside Bukit Timah Gate and you can expect their food to be free of any refined sugars and include only natural whole food ingredients. 
It is not uncommon to see visitors to Singapore Botanic Gardens enjoying some food and refreshments after exercising here. 
---
Shopping at The Gardens
A visit to Singapore Botanic Gardens would not be complete without grabbing a few souvenirs and presents before you leave. At the time of writing there are three main 'Garden Shops' to check out:
Gardens Shop @ Nassim 
This is located in the Visitor Centre. Gardens Shop @ Nassim is an ideal place to buy some souvenirs and presents after doing some activities. You can expect to find  merchandise here including:
Floral designs
Prints of botanical paintings taken from the Garden's archive
Fashion accessories
Singapore Souvenirs
Gardens Shop @ Tanglin Gate
Located on Level 1 of the Botany Centre, the Gardens Shop @ Tanglin Gate is the ideal place for book lovers. You can find all kinds of books and educational kits that focus on nature and gardening. It also offers a nice selection of unique locally-designed merchandise, gifts and souvenirs. 
Gardens Shop @ National Orchid Garden 
At the time of writing, this was listed as the third shop at National Botanic Gardens. However, it was listed as closed on the official website (potentially COVID-related). 
---
Itinerary Ideas 
Singapore Botanic Gardens is not directly located in the main tourist havens of Marina Bay and Sentosa Island. But, it isn't far from some other main attractions to explore. 
Only a few minutes southeast of The Gardens is Orchard Road. The 'Orchard' area is quite famously known for its extensive selection of shopping malls. Actually, it is the epicentre of Singapore's shopping experience. It is loaded with shopping malls and excellent hotels to accommodate all the shoppers. 
Orchard is one of the most popular areas in Singapore for international visitors. The convenient urban design here makes it possible to walk from mall to mall while looking for everything from designer goods to massive promotions. Popular hotels such as Shangri-La and Reagent Singapore are only minutes away from the Botanic Gardens. 
You can also get to popular areas such as Little India, Marina Bay, Clarke Quay using MRT. All of these areas are south of the Botanic Gardens and require at least 10-15 minutes of travel time. 
There are also a bunch of popular attractions north of the Botanic Gardens, but they are quite far away requiring additional ground transportation. Singapore Zoo, Singapore Night Safari, Singapore River Safari and Macritchie Treetop Walk Trailhead are a few examples to get you started. 
Due to Singapore's intense heat, you should plan on visiting Singapore Botanic Gardens and then heading back to your hotel to shower and relax for a while. Then, once energized move on to some of the other amazing attractions throughout the city.
---
Where can you buy tickets for Singapore Botanic Gardens?
As mentioned before, it is free to enter Singapore Botanic Gardens. The 'chargeable area' is The Orchid Garden. It is fenced off from the general area that is free for the public to use.  
You can purchase tickets onsite at the ticketing counter. During peak periods you may experience a short wait to enter. 
Furthermore, you can book venues within the Botanic Gardens on either an hourly or daily basis. Call 6471 0318 or email nparks_sbg@eventbutler.sg. There are multiple halls available for rent. 
---
Is it a smart idea to stay at a hotel close to the Gardens?
For most people visiting Singapore, they prefer to stay along Orchard Road, rather than directly beside the Botanic Gardens. This decision is being made for a few different reasons. 
First of all, Orchard is a very convenient area to stay in and it provides direct access to a wide range of 3, 4 and 5-star hotels. Staying along Orchard Road will ensure you easy access to restaurants, public transport and, of course, shopping malls. 
Secondly, the Orchard Road area is also closer to the other sightseeing districts in Singapore such as Marina Bay, Chinatown, Little India and Kampong Glam. Making an efficient and affordable itinerary for Singapore is important and by staying here you will do exactly that. 
Some of the most popular (and highly recommended) properties in Singapore include:
Four Seasons Hotel Singapore (5-star, 9.2/10 review score based on 908+ reviews)
The St. Regis Singapore (5-star, 9.0/10 review score based on 625+ reviews)
Shangri-La Hotel Singapore (5-star, 9.1/10 review score based on 2634+ reviews)
It is important to note that Orchard is not the cheapest area in Singapore. Chinatown, Little India and Kampong Glam have more affordable options available. Therefore, consider staying in one of these areas and taking the MRT northwest to Singapore Botanic Gardens. 
---
Additional Points about Visiting 
A common question that we receive about Singapore Botanic Gardens is 'how long should you stay there? The quickest answer to this question is that it depends!
If you are travelling with small children, chances are 30 minutes to 2 hours would be an average visit. However, if you are going to read a book and lounge around with some friends then half a day makes sense. Exercising here is very popular. Most workouts take about an hour (or slightly less). If you have a drink or two after along with some snacks expect it to take 2-3 hours. 
Always remember to bring a lot of water along for your trip.  It gets extremely hot here during peak afternoon hours. Consider having a meal or browsing around one of the shops for some gifts if you have extra time.