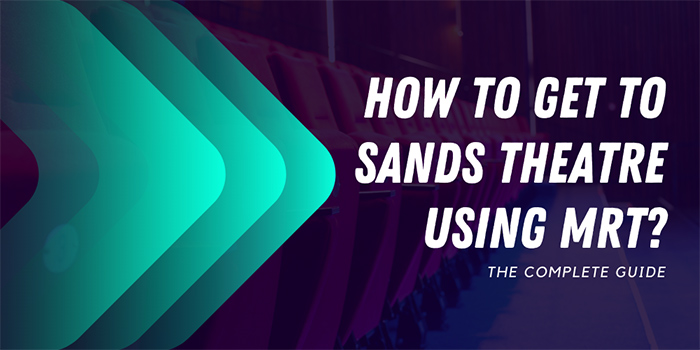 "The complete guide on getting to Sands Theatre – one of the best venues in Singapore for live performances!"
If you are wondering how to get to Sands Theatre using MRT, then welcome to the complete overview. 
In this article, you will learn how to get to Sands Theatre using Singapore's extensive MRT network. We will share information about buying transport cards and multiple attraction passes throughout the city.
Using Singapore's extensive MRT network is an effective way to bypass traffic and avoid taxi fees. The first step is booking a room near an MRT station, and then walking to the metro.
Enjoy worry-free connectivity, save money and use a greener transportation option than riding in a private vehicle. 
---
Sands Theatre – What you need to know
Whether you are from Singapore or visiting for a few days, try to make your way to Sands Theatre for a memorable live performance. Sands Theatre is located within the very popular Marina Bay Sands integrated complex. 
Marina Bay Sands is one of the most photographed hotels in the world, so people often assume it's just a hotel. But actually, it is a large complex that consists of the following points of interest:
Sands Theatre
Marina Bay Sands Hotel (highly recommended!!)
Sands SkyPark (observation deck)
ArtScience Museum (MRT directions)
Sands Expo and Convention Centre
Event Plaza
Due to its popularity as a tourist destination and local hub for shopping and services, Sands Theatre is a vibrant location for live performances. It is one of Singapore's best venues for Broadway-level theatrical performances and international concerts. 
A lot of guests at Marina Bay Sands hotel purchase packages that include live evening shows at the concert. 
If you are staying in Singapore, highly consider spending at least one night checking out. Chances are that you won't be disappointed with the high level of entertainment. 
---
Here is a step-by-step guide on how to get to Marina Bay Sands using MRT:
Step 1: Access the closest MRT station to your hotel.
When you are booking a hotel in Singapore make it a priority to stay close to an MRT station. An ideally located station will save you money, time and headaches because you can simply walk to and from the station.
Getting to Sands Theatre is no exception. 
The most convenient hotel for accessing Sands Theatre is definitely Marina Bay Sands, but this article assumes that you are staying away from the Theatre. Therefore, carefully select an area and hotel in Singapore. 
Try to find a property within 500 meters or less of a station. 
Read More: Singapore Accommodation Guide – Everything you need to know about selecting the right place to stay in the city. 
---
Step 2: Plan your trip using Singapore MRT to reach Sands Theatre
Identify the Terminal Station
After you have exited your hotel, refer to Singapore's MRT map to identify where Bayfront Station is located relative to your starting point. 
Bayfront Station is by far the most convenient station to access Sands Theatre. There are other stations that service the general area of Marina Bay. But, none of these are even close as good as Bayfront Station. 
Identify the right MRT Line(s) to Access Sands Theatre
Bayfront MRT station is physically connected to the Marina Bay Sands integrated complex. So, once you reach the station, it's super easy to walk to Sands Theatre.
There are two MRT Lines in Singapore that service trains to Bayfront Station and Sands Theatre that you should be familiar with:
Circle Line 
Downtown Line
Both of these stop at Bayfront Station. 
Technically, there are three other MRT Stations within walking distance of Sands Theatre:
Marina Bay MRT Station
Downtown MRT Station
Promenade MRT Station
You could walk to Sands Theatre from these, but it doesn't make sense (especially if you are dressed up for a show).  Be practical and use Bayfront Station instead. 
---
Step 3: Buy your MRT Ticket to Sands Theatre
With your route planned to Sands Theatre, it's time to purchase your MRT ticket. 
Singapore has an exceptional transportation network. Therefore, it's very easy to buy MRT tickets with a whole range of ticketing options such as:
Stored value cards

Debit card/Credit Card

Singapore Tourist Cards
If you are in Singapore for a while, you might want to get a stored-value card. This is the most efficient method because you can top it up and then use the card for multiple rides. 
There are two main acceptable stored value cards for Singapore MRT:
EZ-link 
Nets FlashPay card
You can purchase these at any TransitLink Ticket Office, MRT station and 7-Eleven stores. Once you have purchased your card you can top them up at the following venues:
General Ticketing Machines,

Add Value Machines

TransitLink Ticket Offices 

SingPost Outlets

AXS Stations

DBS/POSB/OCBC Automatic Teller Machines

7-Eleven stores
If you're a tourist, consider getting a Singapore Tourist Pass for your transport within the city. It allows for unlimited transportation trips within a defined period of time. Your trip to Sands Theatre could be just one of many trips on the card. 
We strongly recommend getting a Multiple-Attraction Pass to use with your transport card in Singapore. Both Singaporeans and visitors can save up to 52% by buying a pass to several attractions online. At the time of writing, over 200,000 tickets have already been sold!!!
Read More: How to buy a Singapore Tourist Pass? (highly recommended)
---
Step 4: Ride the MRT to Bayfront Station (Sands Theatre)
After your MRT ticket to Bayfront Station is taken care of, it's time to get on the train and enjoy the ride.
Just a few reminders while you are riding the MRT to Sands Theater. First of all, Singapore has very strict laws in terms of drinking and eating on the MRT. Avoid these at all times.
Second, listen carefully to audio announcements while on the train. You don't want to get off at the wrong station.  
---
Step 5: Get off the train and exit Bayfront Station
Once you arrive at Bayfront MRT Station, get off the train.  Don't get distracted by the number of exits to choose from. 
Take either exit C or D to reach Sands Theatre. 
Refer to the summary below for additional information about which station you should take when you arrive at Bayfront Station
Exit A – To Bayfront Avenue street level. 
Exit A – To Gardens by the Bay.
Exits C & D – To….
Sands Theatre (5-10-minute walk)
The Shoppes at Marina Bay Sands (1-minute walk)
Sands Expo & Convention Centre (3-minute walk), 
Marina Bay Sands Hotel (5-minute walk)
Sands SkyPark (10-minute walk)
ArtScience Museum (10-minute walk)
Exit E – To Sands Expo & Convention Centre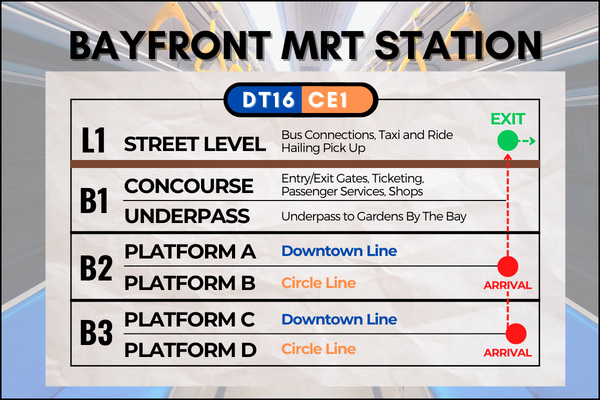 ---
Step 6: Walk to the entrance of Sands Theatre through the Mall
After taking Exit C or D from Bayfront Station, follow signs into the adjacent mall – The Shoppes at Marina Bay Sands.
Sands Theatre is located at Galleria Level B1 within The Shoppes at Marina Bay Sands. Therefore, you can follow the signs within the mall to get to the entrance. 
If you get lost while walking in the mall, just simply ask one of the mall attendees to point you in the right direction.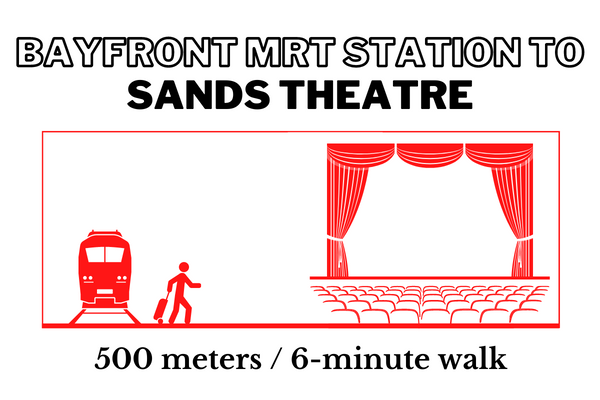 ---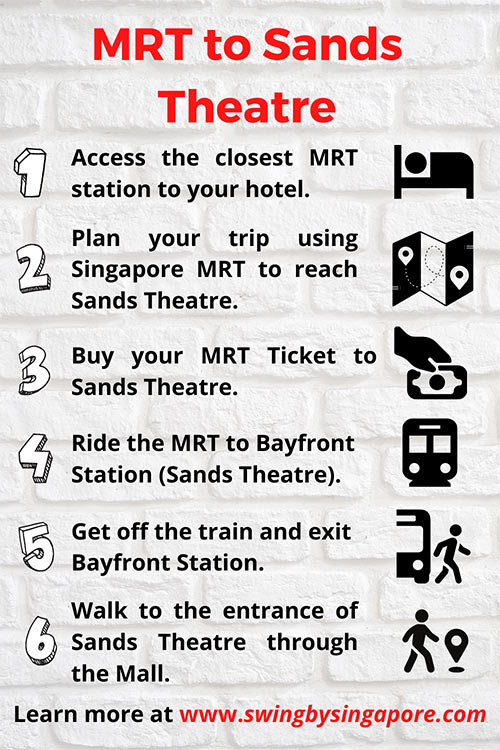 ---
Frequently Asked Questions about Getting to Sands Theatre
Read the section below to learn additional information about getting to your destination.
---
How long does it take to travel to Sands Theatre using the MRT?
If you are staying in popular tourist areas such as Chinatown, Little India and Kampong Glam expect it to take about 20 minutes to get to Sands Theatre. Expect about 10 minutes on the train (and possibly connecting between lines), followed by a 5-10 minute walk from Bayfront Station to the entrance gate. 
---
How much does it cost to take the MRT to Marina Bay Sands in Singapore?
The transportation cost to Sands Theatre varies according to your origin within the MRT network. The farther you are, the more it will cost you.
Also, take note that during certain times throughout the day fares may be discounted to encourage more people to travel during off-peak times. For example, MRT rides may be heavily discounted really early in the morning. 
MRT prices are also organized according to status. For instance, prices are cheaper for senior citizens, students and children in comparison to working adults. 
---
Which hotel did we stay at during this trip to Singapore?
Although Marina Bay is probably the best area to stay in all of Singapore we chose to save some cash during this particular trip to the city.
Instead, we stayed at Hotel Bencoolen Hong Kong Street. 
This is a nice, small boutique hotel that is located only about 3 minutes away from Clarke Quay MRT station.  During our stay, we were quite impressed with the cleanliness of the rooms and service standards at the hotel. It had a nice family feel and the breakfast was surprisingly good for the amount of money that we paid. 
If you walk briskly you can access Marina Bay Sands in about 15 minutes from this hotel. You will pass by The Fullerton Hotel and Anderson Bridge.
Keep in mind that this property has not paid us anything to share this information.
---
What hotel should you stay at for direct access to Sands Theatre?
If you are dressing up for a show and you want to avoid spending time getting to Sands Theater, then you want to stay right at Marina Bay Sands Hotel.
Marina Bay Sands Hotel is a very well-managed, reputable property that offers breathtaking views of Marina Bay and Singapore's amazing Skyline.  
But world-class views don't always come cheap! Although it's pricey in comparison to boutique hotels throughout Singapore, Marina Bay Sands is a very popular option amongst tourists visiting the city. 
If you stay at  Marina Bay Sands Hotel then you naturally will be able to access Sands Theatre and you will be within walking distance of many of Singapore's top attractions.
If you want to have convenient access to Marina Bay Sands and this beautiful area of Singapore, you can also get more affordable rooms by staying near Boat Quay or Clarke Quay. That's why we chose to stay near Clarke Quay MRT Station.
From there you can either take the MRT or walk along the water up to the hotel area. 
---
Any more questions about your trip?
This step-by-step guide on how to get to Sands Theatre using MRT hopefully has provided you with enough information to make this a smooth journey. Remember, take advantage of Singapore's superb transportation infrastructure. It is cheap, efficient and environmentally friendly.  
Also, be sure to explore the many popular attractions within walking distance of Sands Theatre.  A lot of travellers who visit this area of Singapore also visit the following points of interest:
Merlion Park
Boat Quay
Clarke Quay
Sands SkyPark
Singapore Flyer 
Esplanade (MRT directions)
Gardens by the Bay
Marina Barrage
There is so much to see around Marina Bay, so consider making this a full day of sightseeing. You can also arrange Singapore River Cruises to capture beautiful photos of Singapore Skyline and Marina Bay Sands from the water.
If you require additional information or have any questions please do not hesitate to send us an email or comment below. We are more than happy to help in any way that we can to make your trip to Singapore a phenomenal one.