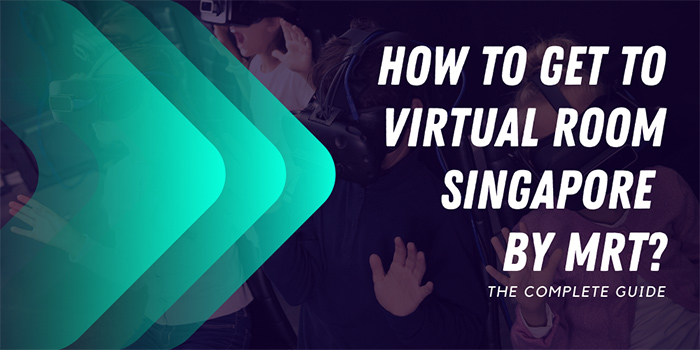 "The complete guide on getting to Virtual Room Singapore – one of the best high-tech experiences in the city!"
Welcome to the complete, step-by-step guide on how to get to Virtual Room Singapore by MRT!
By the end of this article, you should be able to confidently make your way to Virtual Room Singapore without any headaches. You should also save time, money and promote environmental sustainability by taking a greener form of public transportation. 
While you are travelling in Singapore it won't take you long to discover that it has superb public transportation. Any by public transportation, we are referring to mainly MRT and bus services. 
We have had the personal opportunity of travelling to Virtual Room Singapore in Chinatown using MRT. Therefore, the article below will highlight specific tips and information to make this a stress-free journey for you.
Although it's possible to access the MRT directly at Changi Airport, we will assume that you are already staying in Singapore at a hotel or hostel before making this journey to the Virtual Room. 
---
Why should you visit Virtual Room Singapore?
Singapore is loaded with world-class attractions. Some attract thrills seekers and others families with children. Virtual Room Singapore is a must-try experience that makes full use of virtual reality technology. Participants here enjoy a full 3D cinematic experience designed to excite, challenge and collaborate. 
When you visit Virtual Room Singapore, You can expect to get your own dedicated room that you can still interact and talk with the other members of your team. You will have the fun challenge of overcoming unique puzzles and challenges by problem-solving and navigating the virtual world. 
Conveniently, Virtual Room Singapore is located right in the heart of Chinatown. So a visit here can easily be integrated into your Chinatown itinerary. It's also pretty straightforward getting to Virtual Room using MRT and that's exactly what we are going to explain in detail below!
Read More: The Best 3-Day Itinerary of Singapore (very useful)
---
Getting to Virtual Room Singapore using MRT:
Step 1: Walk from your hotel to the closest MRT Station.
If we assume that you are already in Singapore, then the first step in getting to Virtual Room Singapore is leaving your room and finding the nearest station. 
In this particular article, we are making the assumption that you are not staying in Chinatown. Singapore has many great areas to stay in like Marina Bay, Kampong Glam, Sentosa and Geylang. You can get to Virtual Room from any of these areas via MRT. 
In order to save money and time, it's a practical decision to book a hotel room that is 500 meters or less from an MRT station. This sets the stage for an efficient, and budget-friendly experience in Singapore. Remember, avoid parking fees and time stuck in traffic by taking the train to get around. 
Conveniently, hotel developers in Singapore have strategically built many properties within close proximity to popular MRT stations. 
You can easily find properties within 1-2 minutes of stations.
To make it easier for you, here are some hotels near MRT stations that have received positive verified guest review scores 
The Fullerton Bay Hotel Singapore (Raffles Place Station)
Marina Bay Sands Resort (Bayfront Station)
Raffles Singapore (Esplanade Station)
---
Step 2: Choose the type of MRT Ticket you would like to use.
Before you can access the MRT to reach Virtual Room Singapore, you have to decide on the type of ticket. 
Based on our experience, the type of MRT tickets that use depend on two main factors:
How long are you in the city? and….

How many different places do you plan on checking out?
If you are only in Singapore for a few days then you may get a completely different type of ticket than someone who is only in Singapore for a few hours. 
 Currently, there are three primary forms of MRT tickets that you can use in Singapore: 
A single trip ticket 

A Singapore Tourist Pass 

A stored-value card that can be used for multiple trips
Singapore Tourist Passes are popular options for tourists spending 1-3 days in the city. 
When you purchase one of these passes you are entitled to unlimited rides on buses and MRT trains throughout the city for a set duration of time. In this case, Virtual Room Singapore would be just one of many places you could visit using a Singapore Tourist Pass. 
Read More: How to buy Singapore Tourist Passes – The Complete Guide
Single trip tickets are standard tickets that you purchase at a ticketing machine within each station. Nothing really new year, but you are not pressured to do a lot of sightseeing because you haven't paid upfront for multiple trips. Expect each trip to be more than when using a stored-value card. 
Stored value cards are very popular amongst locals, ex-pats, and visitors spending more than three days in the city. 
You purchase these cards and then you can top them up with cash.  MRT rides cost less per trip with stored value cards in comparison to single journey tickets. You also get the added benefit of bypassing ticketing lines because you just simply have to tap to enter and exit the MRT Network. 
If want to buy a stored-value card there are two different types in Singapore:
EZ-link 

Nets FlashPay card
You can purchase these cards at TransitLink Ticket Offices.  Afterwards, proceed to these merchants for subsequent top-ups:
DBS/POSB/OCBC Automatic Teller Machines

7-Eleven stores

General Ticketing Machines,

SingPost Outlets

AXS Stations

Add Value Machines

TransitLink Ticket Offices 
---
Step 3: Get your MRT Ticket to Chinatown Station
When you are ready to go visit Virtual Room Singapore, buy your ticket to Chinatown Station. 
Technically, there are a few stations you could walk from to reach Virtual Room, but Chinatown Station is by far the most convenient!!
If you are buying a single journey ticket you will have to get it at one of the ticketing machines in the station.  
You will not have to do anything but just simply 'tap to enter' the MRT Station if you are using a Singapore Tourist Pass or stored-value card.
---
Step 4: Ride the MRT to Chinatown Station to access Virtual Room
Getting to Virtual Room is a lot easier if you know which MRT lines service trains to Chinatown Station. 
At the time of writing, there are two lines:
Downtown Line

(Shown in blue on the MRT Map)

North-East Line

(Shown in purple on the MRT Map)
You should also be familiar with the adjacent stations to Chinatown. 
This will allow you to move towards the exit on the train well before you arrive at the station. Keep in mind that Singapore's MRT trains can get quite busy during peak time so it's better to be proactive about getting close to the exit when you approach each station.
Downtown Line
Fort Canning MRT Station (North)
Telok Ayer MRT Station (South)
North-East Line
Outram Park MRT Station (West)
Clarke Quay MRT Station (East)
While on the way to Virtual Room, listen carefully for verbal announcements on the train. They will alert you of the next station coming up on the line. They also have signs above each exit that highlight where you are on the line so that you can foresee what stations are coming up next. 
You can also find MRT route maps in each station.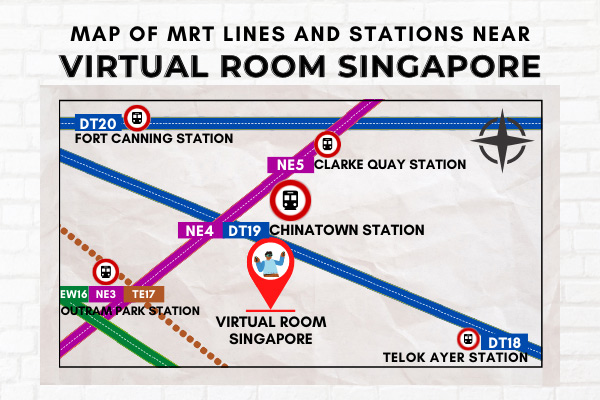 ---
Step 5: Exit Chinatown Station and walk to Lucky Chinatown.
Most MRT stations in Singapore have multiple exits that you can choose from after you get off the train. In this case, to access Virtual Room Singapore, take exit A.
Once you exit the station, walk 1 minute to Lucky Chinatown. 
Lucky Chinatown is a shopping centre that has restaurants, shops and of course, Virtual Rooms Singapore.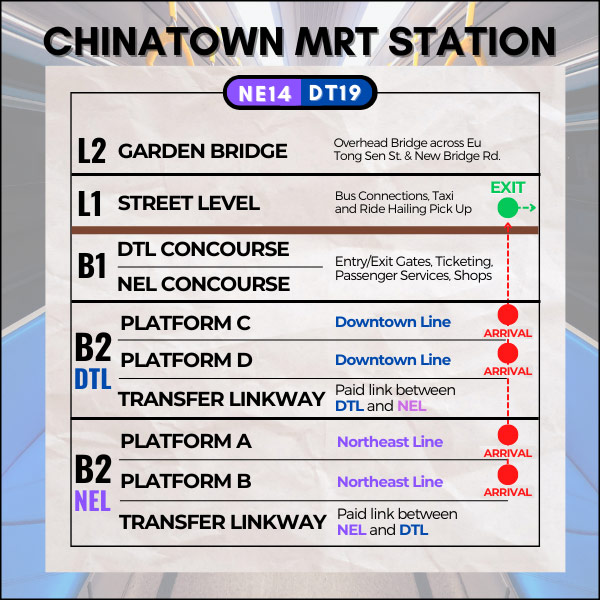 ---
Step 6: Access Virtual Room Singapore in Lucky Chinatown.
Virtual Room Singapore is located in Basement 3 of Lucky Chinatown. Once you enter the building simply walk down the stairs or take the lift down to B3 and you should be at Virtual Room!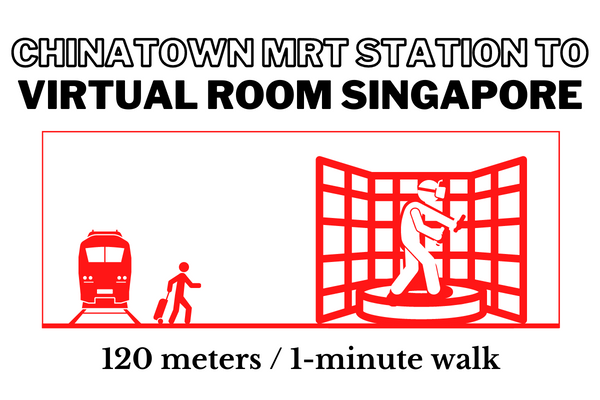 ---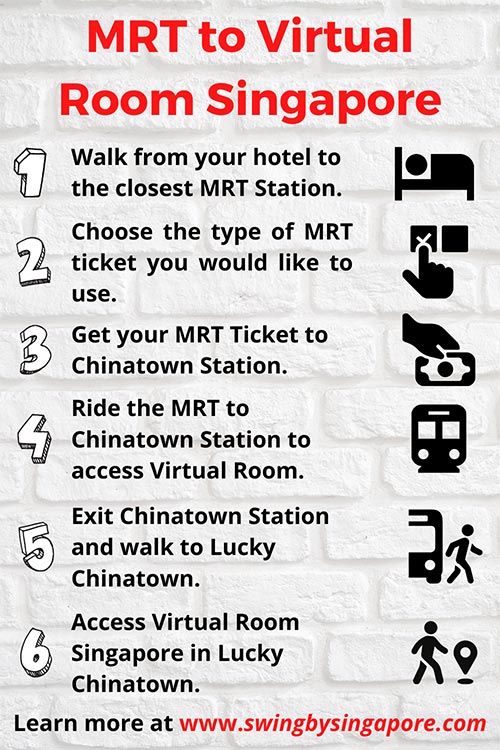 ---
Frequently Asked Questions
Read the questions and answers below in order to plan your trip to Virtual Room with more ease.
---
How long does it take to travel to Virtual Room Singapore using the MRT?
Singapore's MRT is efficient because you don't have to wait too long before the next train arrives. Once on, trains are fast Obviously, it depends on where your starting point is, but the most popular areas in Singapore are close to Chinatown.
Expect 10-20 minutes of riding time, and then only 2-3 minutes of walking time to reach Virtual Room from Chinatown Station. 
---
How much does it cost to take the MRT to Virtual Room Singapore?
The transportation cost to Virtual Room Singapore varies according to two main factors:
Your origin along with the MRT network

– the farther you are, the more it will cost. Unless you are using a Singapore Tourist Pass which is set per day for an unlimited number of trips. 

Your status in Singapore

– prices are cheaper for senior citizens, students and children in comparison to working adults.
---
Which hotel did we stay at during this trip?
For this particular trip, we stayed at Hotel Bencoolen Hong Kong Street. 
It is a small, very clean boutique hotel that is 2-3 minutes away from Clarke Quay MRT Station.  
This property was a solid choice for us because it was affordable, conveniently located and served up a great breakfast. 
If you walk briskly you can access Marina Bay in about 15 minutes from this hotel. You will pass by the Fullerton Hotel and Anderson Bridge along the way.
Keep in mind that this property has not paid us anything to share this information.
---
Selecting the Best Hotel for your Visit
Getting to Virtual Room requires easy access to the MRT. You can either stay right in Chinatown or in another area of the city. 
Some of the highest-rated 'budget' properties near Chinatown station include the following:
Hotel 1888 Collection (8.4/10 review score)
Wink Capsule Hostel @ Sri Mariamman Temple (8.4/10 review score)
CUBE Boutique Capsule Hotel @ Sri Mariamman Temple (8.6/10 review score)
There are also a few higher-end properties in Chinatown that you may want to consider as well if you're travelling with a family or celebrating a special event: 
Capri by Fraser China Square Singapore (4-star, 8.9/10 review score)
Parkroyal Collection Pickering Singapore (5-star, 9.1/10 review score)
Capri and Parkroyal are both well-respected properties that consistently receive positive review scores from guests. You can walk 
Take note that we do not have a direct partnership with any of the properties listed above. These are strong recommendations according to verified guest review scores on leading accommodation websites. 
Any suggestions and review scores are based at the time of writing and therefore are subject to change over time.
---
Any more questions about getting to Virtual Room?
We have tried our best to provide you with a step-by-step guide on how to get to Virtual Room Singapore by MRT.
 But, we do understand that you may have different questions or concerns about this connection.  If this is the case, kindly comment below or send us a private email and we will do our best to assist you.
Also, keep in mind that there are a lot of other attractions to see while you are in the Chinatown area.  Chinatown is without question one of the best areas to stay in Singapore and also one of the best for sightseeing. Street markets, temples and some of the best hawker stalls are at your fingertips here. 
Tourists in Chinatown often visit Pagoda Street, Buddha Tooth Relic Temple, Sri Mariamman Temple and Thian Hock Keng Temple. The narrow streets and alleys around these temples are fun to explore!