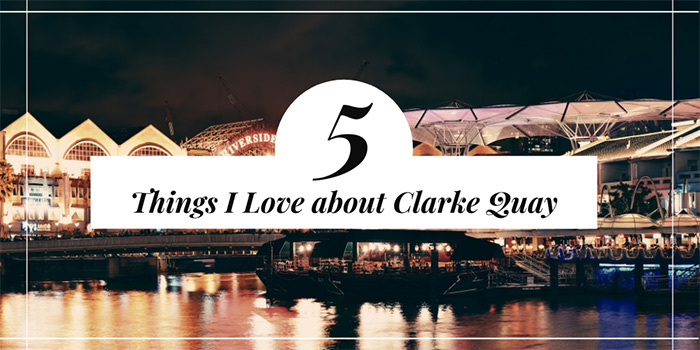 Welcome to my detailed list of the 5 things I love about Clarke Quay in Singapore!!!
Welcome to my list of the 5 things I love about Clarke Quay. This is where I share my experiences staying in and visiting this beautiful area of Singapore. 
There are many numerous sightseeing areas in Singapore, such as Marina Bay and Sentosa Island, but Clarke Quay still ranks very high on my favourite places to visit. I visited Clarke Quay on more than 10 occasions over the years. Some of these visits were early in the day, whereas others were at night and led into the wee hours of the morning. And now, I want to share my experiences….
Clarke Quay is located between two of Singapore's most scenic areas along the Singapore River – Robertson Quay and Boat Quay. 
Over the years, Clarke Quay has established itself as one of Singapore's most popular places for dining, drinking, dancing and rocking out to live bands. Consequently, it deserves a place on most people's itinerary for Singapore. 
In this article, you will read about the 5 things I love about Clarke Quay. While doing so, you will learn what makes this area a cool spot to visit regardless of the amount of time you have in Singapore.
 I hope you enjoy my suggestions! 
---
1. Entertaining Nightlife with Live Music
It didn't take me long to realize that Quay Clarke is one of Singapore's best partying venues. 
The first time I visited Clarke Quay in Singapore it was night time and the bars and clubs were busy with guests. I walked across Read Bridge and felt like I was entering a party heaven. 
On the western side of the Singapore River, there are nice laid-back riverside bars like Brewerkz, but there are a lot more places to visit on the eastern side of the river. Personally, I love the wide selection of restaurants, pubs and clubs in Clarke Quay. 
There are so many different places that there is something for everyone. If you like live acoustic music, for example, chances are you will find a bar with exactly that. Developers here were also smart by creating class covers to protect people in Clarke Quay from rain showers and thunderstorms along Read St. and Clarke St. 
There are also numerous places that have more of a club vibe, with loud music, neon lights and an energetic vibe. Although I am not much of a 'clubber' options are available if you enjoy partying into the morning hours in Clarke Quay. 
I also love walking across Read Bridge and watching all the people pre-drinking before they hit up the bars and clubs on the other side of the River. Bars in Singapore are not particularly cheap, so having a few 'pre-drinks' before you arrive isn't a bad idea! 
Some of the clubs in Clarke Quay may not have cover charges for entrance but they may have 'minimum spend' policies in place for certain seats and tables. Just ask if you are ever in doubt.  
---
2. Direct MRT Access to Clarke Quay
Singapore is one of the best-connected cities in the world in terms of public transportation infrastructure. If you want to get somewhere in Singapore, chances are, you can get there by bus or MRT, or both!
The second of the 5 things I love about Clarke is definitely how you can take the MRT to Clarke Quay Station and literally be right in the heart of the action in 1-2 minutes. 
When I am accessing the shops and restaurants in Clarke Quay, I usually exit the MRT in Clarke Quay Central. This is a small shopping centre that is adjacent to the Singapore River. It has its fair share of nice shops and eateries, too. 
The food court at Clarke Quay Central is very affordable and features a lot of small vendors serving up delicious local dishes. I have eaten here on multiple occasions and think this is a great place to have a quick cheap meal before doing some sightseeing. 
Once you are out of Clarke Quay Central, it is a very short 1-minute walk to Read Bridge. This is a good landmark to organize your Clarke Quay itinerary around because it's close to everything in the area. 
Conveniently, you can also get to Clarke Quay from Changi Airport using the MRT (I have made this journey on multiple occasions, and it's easy!)
Read More: How to get from Changi Airport to Clarke Quay (Fast, cheap and easy).
Normally, Singapore's MRT network opens really early and closes super late, so this should accommodate most Clarke Quay itineraries. 
---
3. Great Selection of Affordable Hotels near Clarke Quay
I have had the privilege of staying near Clarke Quay on multiple different trips to Singapore.  This is without question one of the best areas to stay if you are looking to have convenient access to the MRT while saving a considerable amount of money on your hotel or hostel stay.
Since Clarke Quay is conveniently serviced by MRT (Clarke Quay Station) it is possible to access the airport and other sightseeing areas from here. Also, it is within walking distance of Robertson Quay, Boat Quay and Marina Bay. 
I usually try to stay behind Clarke Quay Central, between New Bridge Road and South Bridge Road. This area is loaded with boutique hotels and hostels on tiny quiet roads. Many of them receive solid guest reviews and they are really affordable based on Singapore's accommodation standards. 
Over the years, I have stayed at multiple places but two of my favourite ones are:
Jayleen 1918 – A nice little boutique hotel. Nothing fancy, but it has private rooms and it's only 1-2 minutes from Clarke Quay MRT Station. 
Hotel Bencoolen Hong Kong Street – A very nice boutique hotel with a good breakfast. Spotless, modern rooms in a very convenient location. I really liked this place.
I personally prefer small private rooms as opposed to sharing a room in a hostel. But, many of the hostels here are also cheap and conveniently located.  
---
4. Scenic Singapore River Cruises
Clarke Quay is a popular destination and pick-up point for river cruises. I don't find this surprising at all considering how beautiful the area is!
Under normal circumstances there are two main pick-up and drop-off locations along the river:
Read Bridge Jetty (west side of the Singapore River)
Clarke Quay Jetty (east side of the Singapore River)
Most Singapore River Cruises consist of multiple destinations along the river, and Clarke Quay is one of the scenic places along the way.  Generally, popular river cruises in Singapore comprised of three main areas:
Marina Bay
Boat Quay
Clarke Quay 
You should highly consider taking a Singapore River Cruise to truly appreciate the beauty and wide array of architecture in Singapore's most famous areas. I have taken many cruises along the Singapore River and it is a really enjoyable experience for people of all ages! If you have the time and budget, consider taking a river cruise during the day, and then another one at night. The city transforms at night when all the old shophouses and tall skyscrapers are lit up with colours. 
---
5. Excellent Riverside Boardwalks for Exercise
As an active person, I really enjoy the riverside boardwalks throughout Clarke Quay. If you make your way to this area during the early mornings you will see a lot of people running, walking and jogging along the Singapore River. Since vehicles are not permitted to drive on the boardwalks you can simply listen to music and enjoy your time. 
Another cool activity while in Clarke Quay is to run from here through Boat Quay, and all the way around Marina Bay. A couple of noteworthy landmarks along the way will be the Asian Civilizations Museum and the Fullerton Hotel.  
If you travel in the opposite direction, you will make your way through Robertson Quay. 
Directly north of Clarke Quay is Fort Canning Park. You can also add this to your itinerary and run, jog or bike there as well. Just remember that Singapore gets really, really hot from 11 am – 3 pm. Therefore, you are best to exercise in the Clarke Quay area early in the morning, and close to sunset in the evening (if possible). 
---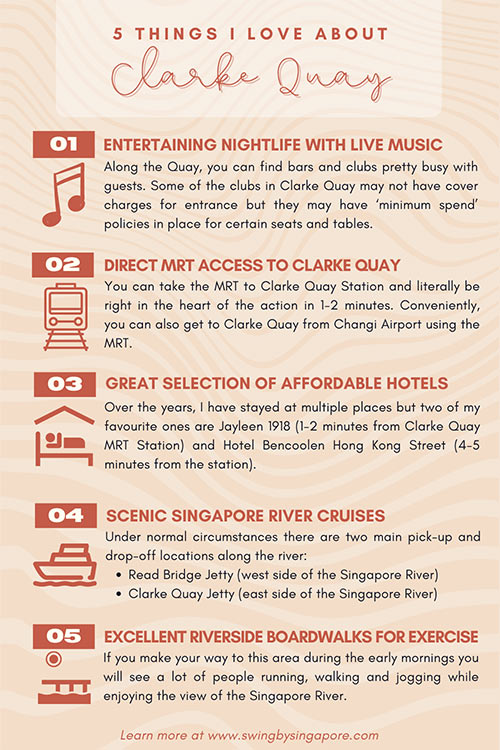 ---
When is the best time to visit Clarke Quay in Singapore?
The time in which you visit Clarke Quay in Singapore depends on your itinerary in the city. If you are taking a river cruise then you will have the choice of day or evening. Day cruises may be more ideal for families with small children. But night cruises have more of a romantic feel with the illuminated buildings after sunset. 
Partygoers prefer heading to Clarke Quay after sunset and later throughout the evening. It is common to see people hanging out having a few drinks near Read Bridge before all the bars and clubs get packed. 
You can also expect to see people exercising in the Clarke Quay area during the early morning hours. 
I personally like visiting Clarke Quay around dinner time. Eating dinner here near the Singapore River and then grabbing a few drinks afterwards is a solid evening. There are also riverside restos and bars in Robertson Quay and Boat Quay in case you want to walk along the river. 
Since Clarke Quay is a nightlife hub, there are lots of people here late at night, right into the morning. 
---
Any more questions about Clarke Quay?
So there you have it, 5 things that I love about Clarke Quay in Singapore! 
Clarke Quay, admittedly, is occasionally overlooked by visitors because there are world-famous areas like Marina Bay just moments away. If you want to explore Marina Bay and Sentosa, then it makes sense to add Clarke Quay to your 'evening itinerary'. This decision will make your time in the city more efficient. 
Other popular attractions such as National Gallery Singapore and Merlion Park are within walking distance of Clarke Quay as well. These are famous places to explore that are worth the time!
If you have any additional questions about visiting Clarke Quay or Singapore (in general) please don't hesitate to reach out! Our email and comment section is ready for your questions….!