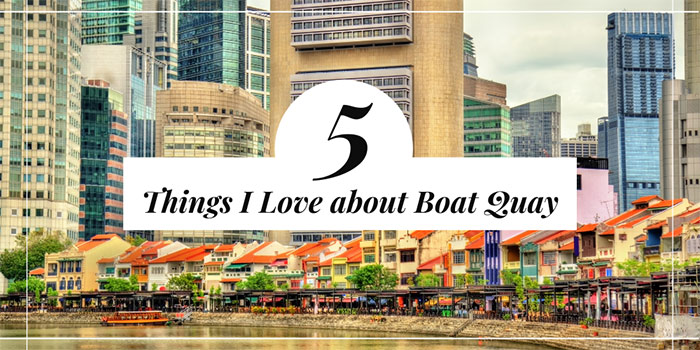 Here is my list of the 5 things I love most about Boat Quay in Singapore. 
Welcome to my list of the 5 things I love about Boat Quay. This is where I share my experiences staying in and visiting this beautiful area of Singapore. 
Although there are many famous sightseeing areas in Singapore, such as Marina Bay and Sentosa Island, Boat Quay still ranks super high on my preferred areas. I have had the opportunity to stay in Boat Quay on more than 5 occasions. Similarly, I have visited the area countless times. It is ideally located between two of Singapore's most popular areas – Marina Bay and Clarke Quay. 
Over the years, Boat Quay has become a place for dining, drinking, sleeping, sightseeing and exercising. Consequently, it deserves a place on most peoples' itinerary for Singapore. 
In this article, you will read about the 5 things I love about Boat Quay. While doing so, you will learn what makes this area a cool spot to visit regardless of your age or budget while in Singapore.
I hope you enjoy my suggestions! 
---
1. Amazing Photos with Vibrant Water Reflections
It didn't take me long to realize that Boat Quay in Singapore is a beautiful place to visit. As its name suggests, it is located directly beside the Singapore River. The east shoreline is dotted with beautiful architectural gems like the Parliament of Singapore and the Asian Civilizations Museum. 
The west side of Boat Quay features picturesque waterside restaurants and bars. 
One of my favourite activities in Boat is taking photographs from Elgin Bridge and Cavenagh Bridge. These are two excellent vantage points to capture awesome views of Boat Quay. 
In the late afternoon and evening (in particular), there are superb water reflections that are visible. I have spent considerable time in Boat Quay simply taking photos and videos. 
Along the western side of Boat Quay, tall skyscrapers like Maybank Tower and the Bank of China provide architectural contrast to the colonial structures around them. One of the best photos you can take in Boat Quay is of the elegant Fullerton Hotel and Cavenagh Bridge. Simply walk along the eastern side of Boat Quay (past the Asian Civilizations Museum), and you will see the beautiful Cavenagh Bridge and the Fullerton Hotel in the background. 
The Fullerton Hotel is not only one of the best luxury hotels in all of Singapore, it is also one of the most photogenic as well. If you can afford to stay there, do it!
---
2. Delicious Riverside Seafood Restaurants
The second thing I love about Boat Quay is the awesome selection of delicious waterside seafood restaurants. These restaurants are popular with both Singaporeans and visitors to the city. 
Head to the western shore of Boat Quay to find these impressive alfresco seafood restos. 
As you walk along the western boardwalk of Boat Quay, these restaurants will be obvious because there are containers with live seafood that are noticeable in front of each place. You can take a look at the lobsters, crabs, fish and select the exact ones that you want to have for your meal. 
Similarly, you can also tell your server how you would like it to be prepared and what sauces you would like with your meal. 
Also, expect to find other types of delicious restaurants here as well. Not all of them are seafood restaurants, but many of them are. I have eaten fish, lobster and also traditional Indian cuisine here over the years (and all of which were delicious). 
Prices in Boat Quay are not particularly cheap by international standards, and that's why it is common to see patrons celebrating special occasions such as birthdays, anniversaries and engagements here.  
---
3. Scenic River Cruises
As I mentioned before, Boat Quay is technically a part of the Singapore River. Consequently, it is a popular destination and pick-up point for river cruises. 
Most Singapore River Cruises consist of multiple destinations along the river, and Boat Quay is definitely one of the most scenic places. Generally, popular river cruises in Singapore comprised of three main areas:
Marina Bay
Boat Quay
Clarke Quay 
In Boat Quay there are two main places to either get on or off a river cruise:
Fullerton Jetty (adjacent to the Fullerton Bay Hotel) and….

Boat Quay Jetty (near the restaurants along the western boardwalk)
You should highly consider taking a Singapore River Cruise to truly appreciate the beauty and wide array of architecture in Singapore's most famous areas. I have taken many cruises along the Singapore River and it is a really enjoyable experience for people of all ages!
---
4. Convenient MRT Access to Boat Quay
Singapore is known for superb public transportation. The MRT network provides worry-free connectivity between the best areas and attractions in the city. Adding Boat Quay to your itinerary is super easy because you are literally 1-2 minutes away from different MRT stations. 
The two most popular MRT stations for accessing Boat Quay in Singapore are:
Raffles Place Station
Clarke Quay Station
Geographically, Raffles Place Station is the closest to Boat Quay since it is only 1-2 minutes south of the Singapore River. 
Over the years, I have also accessed Boat Quay by taking the MRT directly to Clarke Quay Station. From there you can enjoy a scenic walk along the western shoreline of the Singapore River to Boat Quay. This is my favourite way to reach Boat Quay because it includes a short but scenic waterside walk.
You can also get to Boat Quay from Changi Airport as well because both Clarke Quay Station and Raffles Place Station are accessible from Changi Station. 
Read More: How to get from Changi Airport to Boat Quay (Fast, cheap and easy).
Normally, Singapore's MRT network opens really early and closes super late, so this should accommodate most Boat Quay itineraries. 
---
5. Delicious and Affordable Hawker Stall Food
When you hear of Boat Quay most people immediately think of romantic waterside restaurants and elegant architecture. But, you may be surprised to hear that the Boat Quay area is actually one of the cheapest in the city for eating out!
I discovered the hawker stalls and boutique restaurants during one of my stays in the Boat Quay area.  
To find the cheap and delicious restaurants in this area all you have to do is walk along the western shoreline and then walk about 50 meters west until you reach Circular Rd. The small roads west of Boat Quay are lined with tiny restaurants that offer cheap traditional Singaporean dishes and even cheaper beer!
If you want to experience delicious food in Singapore, consider heading to this area after sunset. I have eaten here on multiple occasions and it is good value for the money you spend. Of course, these restaurants are not going to win any Michelin stars any time soon, but they do provide tasty food and buckets of beer for a fair price!
There are also a number of bars and clubs mixed throughout this area of Boat Quay as well, so consider spending the entire evening in this area. 
---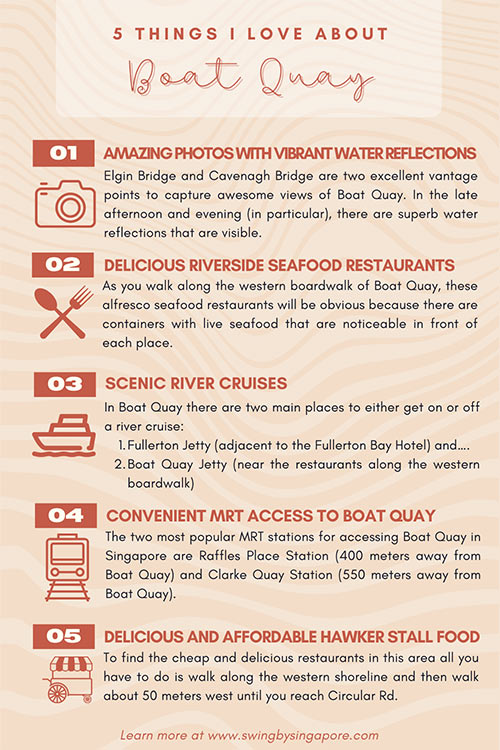 ---
When is the best time to visit Boat Quay in Singapore?
The time in which you visit Boat Quay in Singapore really depends on your itinerary and the activities you are participating in. 
For example, if you are taking a river cruise then you will have the choice of day or evening. Day cruises may be more ideal for families with small children. But night cruises have more of a romantic feel with the illuminated buildings after sunset. 
It is common to see a lot of people exercising in the Boat Quay area during the early morning hours. Obviously, Singapore gets really, really hot. I have seen countless people running, walking, and jogging before 9 a.m. in the Boat Quay area. 
I personally like visiting Boat Quay right before dinner time and then into the late evening. Boat Quay is a romantic place for dinner and since there are numerous bars and cafes along the water you can stay in this area for hours after your meal. 
Clarke Quay is also only a few minutes up the Singapore River from Boat Quay. Therefore, you may want to dine in Boat Quay and then make your way to Clarke Quay for some late-night partying afterwards.  
---
Any more questions about Boat Quay?
So there you have it, 5 things that I love about Boat Quay in Singapore! 
Boat Quay is sometimes overlooked because of popular areas such as Marina Bay that are so close by. It really should be visited by many more people than it actually is! 
A lot of tourists integrate Boat Quay with stops in Clarke Quay, Marina Bay and Robertson Quay. If you are interested in visiting these areas, I suggest starting in either Robertson Quay or Marina Bay and walking your way through the sights. I have walked along the Singapore River on many occasions during the late afternoon and evening and it is a very pleasant experience. 
Also, don't forget to visit the Asian Civilizations Museum while you are in Boat Quay. It is regarded as one of the best museums in Singapore.
If you have any additional questions about visiting Boat Quay or Singapore (in general) please don't hesitate to reach out! Our email and comment section is ready for your questions….