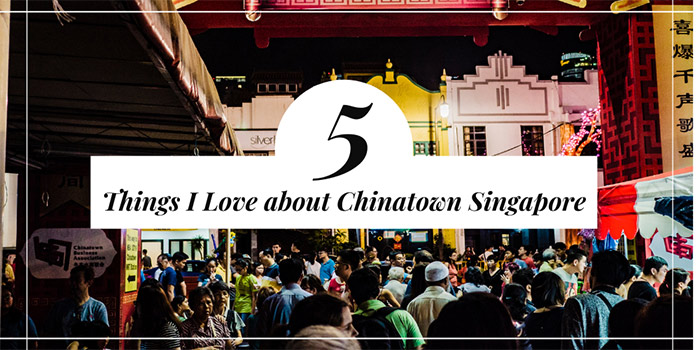 Welcome to my list of the 5 things I love about Chinatown Singapore. 
Welcome to my list of the 5 things I love about Chinatown Singapore. Ever since my first trip to Singapore, this has been one of my favourite areas, full of cultural gems and a bustling atmosphere that is sure to excite your senses. 
Chinatown in Singapore is definitely one of the most popular areas for sightseeing in the city, and for good reason. As you might expect, it is loaded with shopping opportunities, delicious food and a solid selection of cultural attractions that ensure visitors leave the area with an awesome photo gallery. Like other Chinatowns around the world, street markets are in full swing in Singapore. Regardless of whether you want to grab a meal or buy some cheap souvenirs before leaving Singapore, Chinatown is a great area that is suitable for all guests.
When you are developing an itinerary for Singapore, you should highly consider placing Chinatown Singapore at the top of your list. 
So here we go…the 5 things I love about Chinatown Singapore – I hope you enjoy these suggestions! 
---
1. Bustling Street Markets and Streetside Shops
Once you arrive in Chinatown it won't take you long to notice that many of the streets have stalls and small shops set up. If you enjoy shopping like I do this is one of the best places in Singapore to buy affordable products. 
If you are interested in buying souvenirs, then consider heading to Chinatown for some. I can still recall my first trip to this area and seeing all of the different keychains and little trinkets available. Cheap shirts, hats, jewelry and shoes are commonly sold at shops (among a whole pile of other things). At the time, vendors were offering great deals on buying 'bulk' souvenirs. In other words, you could buy 10 keychains and save a pile of money in comparison to buying only 1 or two. 
There are so many small shops and vendors that it is actually hard to determine which street is officially called a 'market'. I suggest that if you visit Chinatown, dedicate some time to walking around the area instead of visiting only one or two streets. The more shops you see, the greater the chance of finding the best bargains, while seeing the most products. 
The last thing you want to do is buy something at the first shop you see in a popular spot only to find the same product on a quiet road for half the price!
---
2. Direct MRT Access
The second thing I love about Chinatown Singapore is the convenient access to the MRT network. Singapore is known for superb public transportation. The MRT network provides worry-free connectivity between the best areas and attractions in the city. Adding Chinatown to your itinerary is super easy because you can literally walk from Chinatown Station and be right in the heart of the action!
The most popular station for accessing this area is Chinatown Station. But, it is also possible to walk from Telok Ayer Station (and even Raffles Place Station and Downtown Station if you are not shy of walking farther). 
It gets even better, fortunately….
Not only is Chinatown serviced by multiple MRT stations, but each station also has multiple exits to choose from. Consequently, you have all kinds of possibilities when it comes to building a Chinatown itinerary. 
You might want to arrive at Chinatown Station and then walk through the markets and attractions and then exit the area from Telok Ayer Station. I consider this an efficient and practical way to see the area without having to walk through the same area twice to get back to your original station. 
It's also possible to access Chinatown from Changi Airport using Singapore's world-class MRT network. Simply land at the airport, clear immigration and customs and follow the signs to Changi Station. 
Read More: How to get from Changi Airport to Chinatown Singapore (Fast, cheap and easy).
During my first trip to Chinatown in Singapore, I can recall eating a meal and buying a souvenir within 100 meters of Chinatown Station. Now that is convenient access to one of the most fascinating areas of the city!
---
3. Superb Budget Accommodation near the MRT
Although there are a few high-end places to stay in and around Chinatown in Singapore, this is definitely one of the BEST and CHEAPEST areas to stay in the city.
I have stayed on multiple occasions at Chinatown and I am the first to admit that it's probably the best budget-friendly place to stay. Singapore often gets labelled as very expensive in terms of accommodation. Although this stereotype may be true in some parts of the city such as Marina Bay, Chinatown still is affordable with an awesome selection of budget hotels and hostels. 
If you find a 2-3 star boutique hotel or a hostel that works, you can develop an affordable itinerary. 
Chinatown also has various 'cube', 'pod' or 'capsule' hotels. These options have become very popular amongst backpackers and budget travellers over the years. They are essentially a hybrid between a hotel and a hostel. You get a private sleeping area, but it is very small. In some cases, you might even get a TV screen, full cable and other amenities. 
Some of the most popular cube/capsule/pod hotels in Singapore's Chinatown include:
Chich Capsules – 2-star, 8.8/10 review score with greater than 1900+ verified reviews.
KeSa House – The Unlimited Collection by Oakwood – 3.5 stars, 9.1 review score.
Cube Boutique Capsule Hotel @ Chinatown – 2-star, 8.8/10 review score 
Many of Chinatown's hotels and hostels receive high review scores from verified guests. As a result, you can be selective and choose the best options for your trip. As a rule of thumb, if you can find a place with a review score of above 8.2/10 with at least 100+ reviews that is a good starting point. 
I personally, would avoid properties if their recent reviews aren't positive because there are tons of places to stay that are cheap and clean. 
---
4. Beautiful Architecture
Singapore is a city known for both modern and aged architectural wonders. Chinatown is positioned only minutes southwest of the main business skyline. Therefore, when you walk from Marina Bay to Chinatown you will see the transition from ultra-modern to the historic charm. 
I love the traditional window shutters throughout Chinatown in Singapore. Arched doorways and windows are also common throughout many of the shops, boutique hotels and eateries. 
Visiting Chinese New Year is an especially colourful and vibrant time of year. Lanterns hang and provide the perfect contrast for world-class street photography. I suggest heading here shortly after sunrise or before sunrise to capture the best photos and videos when the lighting is ideal. Then, stay a few hours longer and capture some night market photos when all of the buildings are nicely illuminated.
---
5. Temples, and more Temples
Would a visit to Chinatown ever be complete without a visit to at least one temple? 
Probably not.
Singapore's Chinatown is no exception. During my first visit to Chinatown, I remember walking from the MRT station to Sri Mariamman Temple. I was immediately impressed by its intricate design and vibrant colours. It is a popular Hindu Temple that has seen its fair share of worshippers and visitors over the years. Sri Mariamman Temple is one of the most photogenic temples in Singapore in my opinion. 
As you walk further southeast from Sri Mariamman Temple you will come across Thian Hock Keng Temple. Unlike Sri Mariamman Temple, Hock Keng Temple is visited by Taoist worshippers. Both of these temples should be on your itinerary of Chinatown. 
Conveniently, if you access Chinatown from Chinatown Station and walk south to Hock Keng Temple, you will only a few minutes away from Telok Ayer Station. It is a short walk northeast of the Temple. Alternatively, you could access the area from Telok Ayer and work your way northwest to Chinatown Station to exit the area.
Always remember to dress respectfully and appropriately if you are going to visit the temples in Chinatown. Tourists are welcome, but if people are praying you should be respectful of their beliefs. Something tells me that visiting temples would not rank on my list of the 5 things I love about Chinatown Singapore if people didn't respect local traditions!
You might also enjoy checking out some of the temples in Little India and making comparisons between both areas.  
---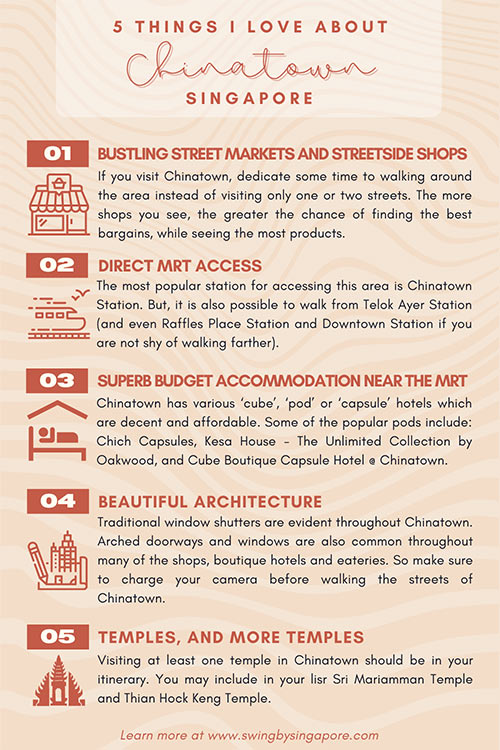 ---
When is the best time to visit Chinatown in Singapore?
Chinatown in Singapore has a lot to offer a wide variety of visitors, so it tends to be bustling a lot of the time. But unless you are trying to visit wet markets, you might enjoy visiting Chinatown later in the day. 
Personally, I enjoy visiting Chinatown during the late afternoon before sunset because of the 'golden' hour for photos. Secondly, most street markets and hawker stalls will be open at this time. 
After some sightseeing, an afternoon visit opens up the possibility of eating dinner and then checking out some night markets. It also avoids Singapore's intense mid-day heat and humidity.
Let's not forget about having a few drinks and some late-night snacks. 
Since the Chinatown area is fully serviced by MRT it's possible to get here early and to leave late. 
---
Any more questions about Chinatown?
So there you have it, 5 things that I love about Chinatown Singapore! 
Chinatown is a staple of itineraries for Singapore, and for good reason! A lot of tourists integrate Chinatown with other popular areas such as Marina, Clarke Quay, Boat Quay and Little India. Although the MRT is super popular in terms of getting from one area to the next, walking is also possible.
I have walked from Chinatown to Clarke Quay, Boat Quay and Marina Bay on multiple occasions. Depending on when you go it's possible to get a lot of shade on the way!
If you are concerned about spending too much money while being in Singapore, highly consider staying in Chinatown. It has excellent budget accommodation, cheap eateries and affordable beverages to keep you well hydrated. It isn't pretentious, but it is much cleaner than other Chinatowns in South East Asia. Actually, I have never seen a cleaner Chinatown than here!
I have always felt safe walking around Chinatown, but Singapore is generally safe in most areas so that doesn't come as a surprise. 
If you have any additional questions about visiting Chinatown or Singapore please don't hesitate to reach out! Our email and comment section is ready for your questions….