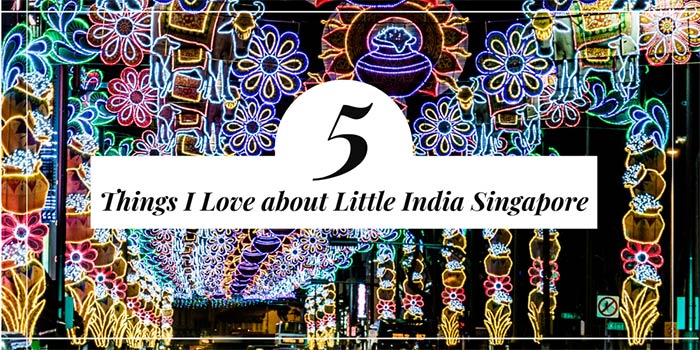 Welcome to my list – the 5 things I love about Little India Singapore. Enjoy….
Welcome to my list of the 5 things I love about Little India Singapore. Throughout my time and travels in Singapore, one thing is certain – it is a city that has been influenced by many cultures. Little India, for one, is a bustling area of the city that is colourful, vibrant and steeped in history. In this article, I will share my opinion about many of the best features of Little India and Singapore. 
Ideally, by reading this article, you will gain important insights about Little India. You might want to add a stop to Little India to your itinerary or you may want to book a room here to access nearby attractions and shopping centres. 
Little India is a popular area of the city for both locals, permanent residents and visitors in the city. It consists of numerous cultural and religious sites that are scattered throughout the colourful streets in this area. If you like temples, then Little India is one of the best places to explore in Singapore. Furthermore, Little India is known for some of the cheapest prices in the city. Consequently, you can expect to see lots of people shopping at markets and shops in Little India on a daily basis. The food here is delicious and strongly influenced by many generations of family members. Hopefully, after reading about the things I love about Little India you can see for yourself whether your impression of the area is the same or different. 
So here is my list – 5 things I love about Little India in Singapore!
---
1. Rock-bottom shopping prices. 
One thing that I love doing in Little India is shopping. I can still remember my first trip to this area of the city. It has many shops that specialize in budget-friendly textiles, imported products and electronics. 
I spent considerable time at the Tekka Centre. This is regarded as one of the cheapest shopping centres in Singapore. I was also surprised by how large it is as well, with a wide variety of products. 
There are also lots of streetside shops scattered throughout this area. Some even consider themselves to be the cheapest in the entire city. It is common to find rock bottom prices for things like perfumes, colognes, t-shirts, hats and pants in Little India. 
Drop-in a few shops and compare prices before buying products. I love that Little India is not a pretentious place. It doesn't try to be fancy and consequently, it feels authentic. 
---
2. Budget Accommodation near the MRT
Although there are a few high-end places to stay in and around Little India, this is definitely one of the cheapest areas to stay in the city. I have always loved that Little India still manages to offer many affordable accommodation options. Singapore often gets labelled as ridiculously expensive in terms of accommodation. Although this stereotype may be true in some parts of the city such as Marina Bay, Little India still caters to budget travellers. 
With a large selection of budget-friendly shopping malls and restaurants to choose from, Little India is one of my favourite 'cost-effective' places to stay. If you find a 2-3 star boutique hotel or a hostel that works, you can develop an affordable itinerary. An added bonus is that Little India MRT Stations provide direct access to Singapore's extensive public transportation network. 
I am not saying that all budget hotels in Little India are good, however. Some places actually receive low review scores which reflect poor service standards. Be sure to shop around to find the best place to stay that consistently receives positive review scores from guests. 
To learn more about hotels and hostels read our very popular article on the best places to stay in Little India. 
---
3. Delicious Traditional Indian Food
Similar to Little India in Kuala Lumpur, I love the cuisine in Singapore. If you want traditional Indian food, then head to Little India. You can find both specialty restaurants, streetside hawker stalls and large food courts. Banana leaf restaurants are popular choices definitely worth trying.
I can still remember the first time I had a meal in Little India. The delicious tandoori chicken and biryani rice left a lasting impression to this day. Similar to other things you can buy in Little India, food prices tend to be very reasonable. As a general rule of thumb, hawker stalls and food courts are the cheapest places to eat. Expect to pay considerably more at proper restaurants with service. 
The level of spice can vary. Therefore, be sure to ask before ordering to confirm whether something is suitable for you and your family members. In some cases at restaurants, they may be able to change the level of spice if it wasn't prepared beforehand. 
---
4. Intricately Designed Temples
I always love exploring temples in different countries. Singapore is no exception. 
Little India in Singapore has various temples integrated throughout different neighbourhoods. You can expect to see a mix of worshippers and tourists while sightseeing at these religious centres. 
The temples in Little India are colourful and intricately designed. I personally enjoy checking out the detailed wood carvings that highlight the amount of time devoted to making them. 
Always remember to be considerate of local worshippers at the temples. It is usually alright to take photos but make sure that you dress appropriately and maintain respect at all times. 
Some of my favourite temples in the Little India area include:
Sri Veeramakaliamman Temple
Shree Lakshminarayan Temple
You can easily walk to either one of these temples from Little India Station (best choice) or Rochor Station. 
---
5. Colourful, Bustling Streets
Little India in Singapore always impresses me with all the sounds, colours and level of activity. Streets here tend to have a lot of pedestrians heading from one place to another. It simply has an energy that many other areas simply don't have. 
I enjoy just simply walking around Little India and people watching. It is one of those types of places. Street photography is also awesome here. Very colourful street corners and traditional Indian clothing make for vibrant photos. 
Always remember the golden hours for photography. Sunrise and sunset in Little India are the best times to capture the best colours. 
---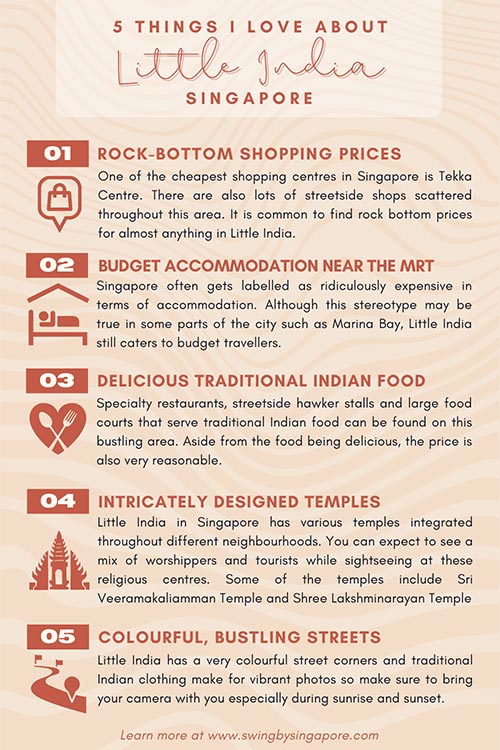 ---
When is the best time to visit Little India?
Most shops in Little India are open quite late during most days of the week. Therefore, it's possible to shop during the morning, afternoon and evening. 
Singapore is known for the intense afternoon heat. Consequently, unless you are planning on being inside, you might be better off to avoid the peak heat from 12-3 pm if possible. 
Markets are best to visit in the morning when everything is fresh and ready. 
The MRT servicing Little India is open every day from really early in the morning to super late at night. You should have no problem getting to and from this area unless you are clubbing into the mid-morning!
In my opinion, I prefer to head to Little India in the late afternoon after 4 pm. It isn't too hot outside and this leaves just enough time to do some shopping and sightseeing before dinner time. 
---
Any more questions about Little India?
So there you have it, 5 things that I love about Little India Singapore. It won't be the last article you read about my experience in this area of Singapore. It has been part of many of my itineraries. Don't forget that it is only minutes away from other popular sightseeing areas in Singapore such as:
Marina Bay
Chinatown
Kampong Glam 
Clarke Quay
It is also possible to access Little India from Changi Airport using the MRT.
If you have any questions about visiting Little India (like where to stay, what we recommend, etc.) don't hesitate to add a comment or send us an email. We would be more than happy to help you as best we can. In the meantime, enjoy your time in Little India Singapore and make the most of your time in the city.