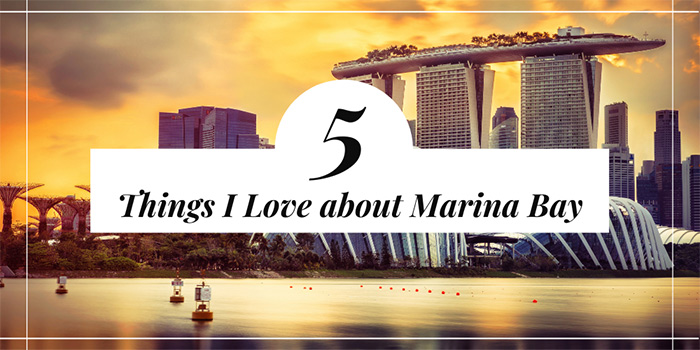 This is where I share the 5 things I love the most about Marina Bay – one of Singapore's most spectacular areas.
Welcome to my list of the 5 things I love about Marina Bay. As one of the most spectacular tourist areas in the world, I can still fondly recall my first visit to Marina Bay. 
I don't think that I have ever visited an area around the world that has such integrated world-class tourist attractions with breathtaking skyline views. As one of Singapore's most popular areas, very few people leave Singapore without visiting multiple points of interest in this area. Marina Bay Hotel and the Merlion often get featured in postcards representing Singapore, but there is so much more to explore in this area that I would like to share with you. 
When you are developing an itinerary for Singapore, you should highly consider placing Marina Bay at the top of your list. To explain why read more about the 5 things I love about Marina Bay below! 
---
1. World-Class Skyline Views
A lot of cities throughout Asia have modern skylines such as Shanghai, Bangkok, Hong Kong and Seoul to name a few. Singapore, fortunately, can be immediately grouped in the list for best skyline views in my opinion. 
So what makes the views so spectacular around Marina Bay?
Well, for one, Singapore has a densely packed business district that features many tall skyscrapers. Therefore, regardless of whether you visit Marina Bay during the day or at night, you can expect to see a modern skyline composed of world banks, office towers, 5-star luxury hotels and elite condo residences. 
Marina Bay's skyline is unique in that there are multiple vantage points to take photos. For example, if you go to the Marina Bay Sands SkyPark, then you can take unobstructed panoramic photos and videos of the business district. This is probably the best spot to take photos of the business district in my opinion. However, if you take a ride on the Singapore Flyer then you will naturally capture breathtaking views as well. Even by simply walking around Marina Bay at ground level you will get a sense of why this area is famous for its views. 
Additional places for skyline views include TreeTop Walk and the rooftop of the Marina Barrage building. 
I strongly suggest that you should visit Marina Bay during the day and also at night to see how the ambiance changes throughout the course of a day. Walking around Marina Bay at night is one of the most romantic things to do in Singapore. Highly consider a late-night walk when things are quiet. 
I have placed skyline views at the top of my list of the 5 things I love about Marina Bay for a reason – they are awesome!
---
2. Amazing Attractions for Visitors of all Ages
The second thing I love about Marina Bay is the wide arrange of awesome attractions for visitors of all ages. 
A lot of travel companies will 'pump up' attractions to make them seem better than they actually are, but there is no need to do this in the Marina Bay area. 
As mentioned before, many of the attractions in Marina Bay are focused on views of the skyline and the water reflections in the Bay. But, there are other major attractions such as Gardens by the Bay that attract tons of visitors. 
Gardens by the Bay is one of Singapore's best and most innovative attractions. If you want to see how a smart design and excellent landscaping can result in a futuristic garden, this is the place. When you visit Gardens by the Bay you can visit other points of interest that are very popular with guests such as:
Cloud Forest
TreeTop Walk
OCBC Skyway
Flower Dome
If you walk past Gardens by the Bay you will eventually reach Marina Barrage. This too is an innovative place to check out that is near Marina Bay. 
The 'green' rooftop is one of my favourite places in this area. You can also do outdoor activities here like kayaking and cycling and there is a boardwalk that provides access to the other side of the reservoir. 
Singapore Flyer, Marina Bay Sands Casino and Theatre and Merlion Park are also popular attractions that you can check out. These cater to different age groups and types of tourists which is awesome. 
---
3. Superb luxury hotels with spectacular views. 
With so many sights and attractions in Marina Bay, there is always a high demand for convenient places to stay nearby. With so many families and affluent travellers in Singapore, Marina Bay is a luxury accommodation haven. 
It is challenging to find another area in Singapore with such an extensive selection of 5-star hotels. Some of the world's top brands are here and they are prominently located with skyline views of the business district of Marina Bay Sands and the ArtScience Museum. 
When you are booking a room here, it's very important to distinguish between 'bayfront' and 'city' views. I personally love the view of the bay from my room. These naturally offer views of the skyline as well. 
Prices can vary significantly depending on the view that you book. Therefore, be really careful when you confirm your booking because you don't want to shell out a pile of cash only to find out that you don't get the famous views that you were originally looking for. 
Based on my experience staying in this area, it's tough to beat the view from Marina Bay Sands Hotel. As one of the most famous hotels in Asia (because of its location and iconic architectural design), most people already know about it. Nonetheless, the views are superb and something worth looking into. 
There are also historic hotels in this area of the city that feature elegant interior decor and superb service standards. 
A few names that immediately come to mind are:
Raffles Hotel 
Fullerton Hotel 
Needless to say, if you book a room at one of the 5-star hotels near Marina Bay you can expect excellent cuisine, amenities and service standards. They are also typically well connected to public transport (MRT stations). 
---
4. Seamless access to multiple MRT stations
Another reason why I love Marina Bay is the convenient access to multiple MRT stations. You can enter the area using one MRT station and then exit later using another. 
It's also possible to access Marina Bay from Changi Airport using Singapore's world-class MRT network. Simply land at the airport, clear immigration and customs and follow the signs to Changi Station. 
Read More: How to get from Changi Airport to Marina Bay Sands (Fast, cheap and easy).
A lot of cities around the world are tough to navigate. Singapore, fortunately, is not one of them. The Marina Bay area is very organized, well planned and supported with clear signs to relevant stations. 
Marina Bay can be accessed using the following MRT stations (and a short walk):
Bayfront Station
Raffles Place Station
Downtown Station
Marina Bay Station
Esplanade Station
Promenade Station
City Hall Station
The station that I use the most frequently to get to Marina Bay is Bayfront Station. It is physically connected to the Marina Bay Sands integrated complex which offers dining shopping and sightseeing options. If you have the time, consider getting off at Bayfront and then walk around Marina Bay to another station such as Downtown to capture the full experience. 
---
5. Excellent shopping and dining at your fingertips
With the business district and sightseeing district overlapping in Marina Bay, there are a lot of people to feed on a daily basis! Fortunately, there are multiple shopping malls filled with excellent restaurants and food courts to cater to people of all ages. 
The Shoppes at Marina Bay Sands is a very popular mall which is attached to the hotel, casino and theatres. Marina Square and Suntec City are other popular options for visitors and Singaporeans. 
Prices can vary significantly depending on your preferences. But, as a rule of thumb, if you are looking to save some cash, then food courts are your best bet! Eating out in Singapore is known to be expensive but foodcourts are considerably cheaper than full-scale restaurants with service charges, etc. 
Consider buying drinks in grocery stores as opposed to restaurants if you are on a strict budget. However, if money is not an issue try some of the celebrity chef restaurants in Marina Bay to enjoy the best tastes in town!
---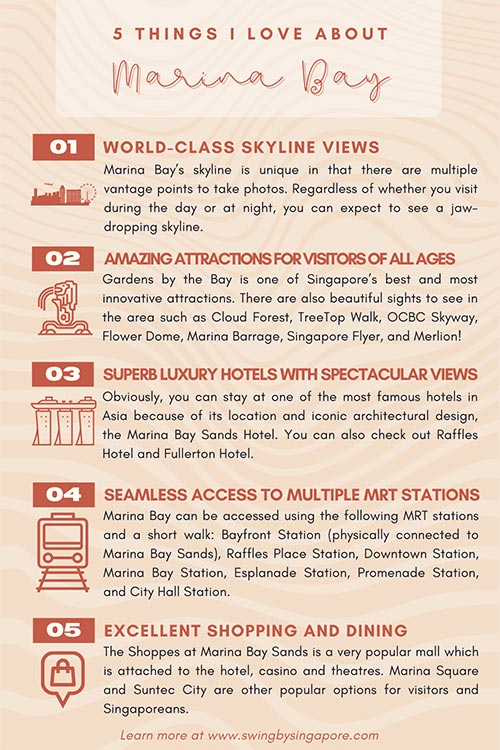 ---
When is the best time to visit Marina Bay?
Marina Bay has so much to offer at different times throughout the day. In the morning, it's cooler for sightseeing. You will also see a lot of people running and exercising around Marina Bay before it gets too hot outside. 
Malls usually open from 9-11 am depending on the day and time of year. 
The afternoon hours tend to be quite hot in non-shaded areas so be sure to bring along extra fluid, a change of clothing and an umbrella to block some of the rays. 
Lots of people head out for lunch from business offices and restaurants are busy during dinner time. 
With evening production shows at the Esplanade and the Theatres at Marina Bay Sands you can see people well-dressed and ready to have a few drinks. Similarly, the Casino at Marina Bay Sands attracts people late at night. 
In my opinion, it's worth visiting Marina Bay a few times (morning, dinner time, late-night) to get the full experience. 
---
Any more questions about Marina Bay?
So there you have it, 5 things I love about Marina Bay. But something tells me this isn't the last list that I will share with you! Marina Bay is a really cool area to visit and one that is challenging to forget. 
Marina Bay is a staple of itineraries for Singapore and for good reason! A lot of tourists integrate Marina Bay with other popular areas such as Chinatown, Clarke Quay, Boat Quay and Little India. You might find it challenging to see all that Marina Bay has to offer on the same day as Sentosa Island. So, it might be more practical to visit Marina Bay one day and then Sentosa the next. There are simply too many things to see in a single day to combine them. 
If you have any questions about visiting Marina Bay (like where to stay, what we recommend, etc.) don't hesitate to add a comment or send us an email. We would be more than happy to help you as best we can. In the meantime, enjoy your time on Marina Bay and make the most of your time in Singapore.